Blacksmith shapes career with skills honed in Germany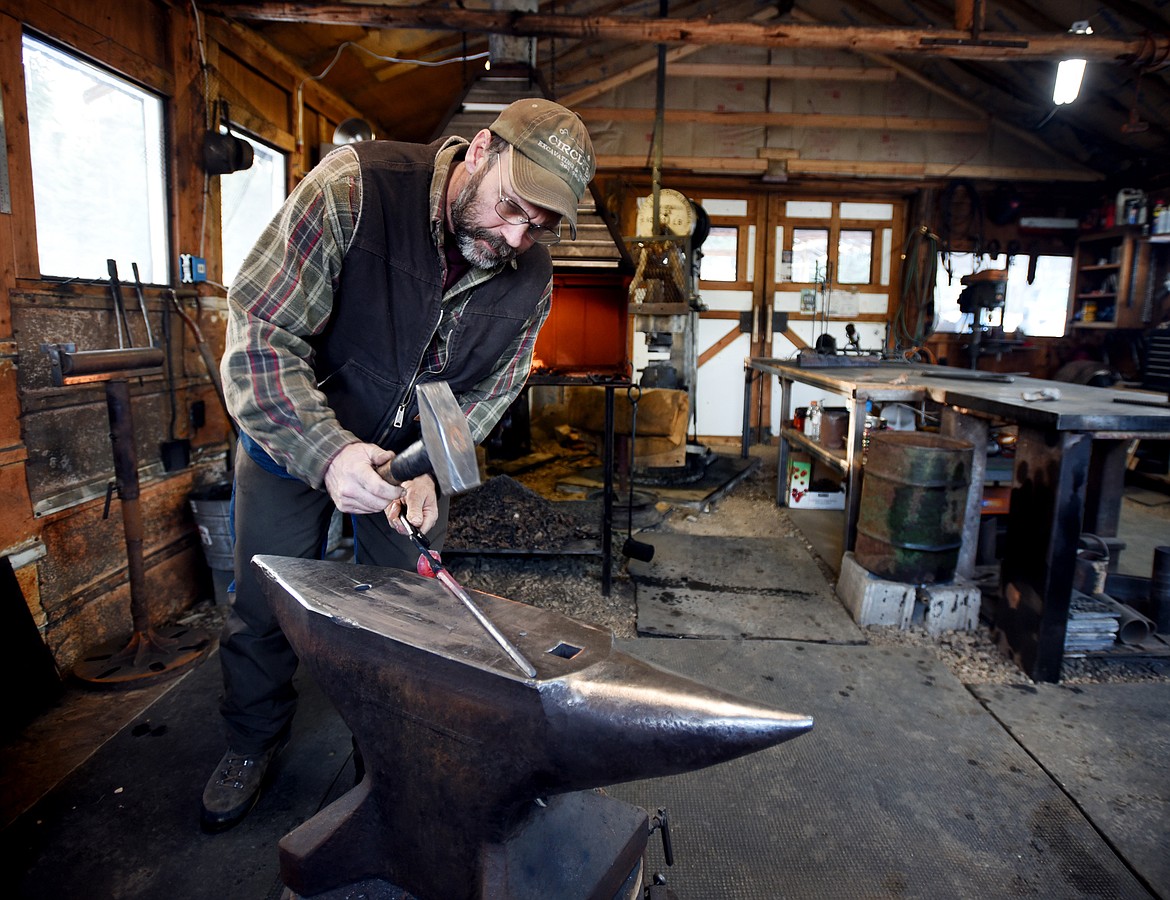 Andreas Hornsteiner works in his Rebel Mountain Forge near Trego on Dec. 13. The 552-pound anvil he is using is one he brought with him from Germany. He has been using it since he was 10 years old.  (Brenda Ahearn/Daily Inter Lake)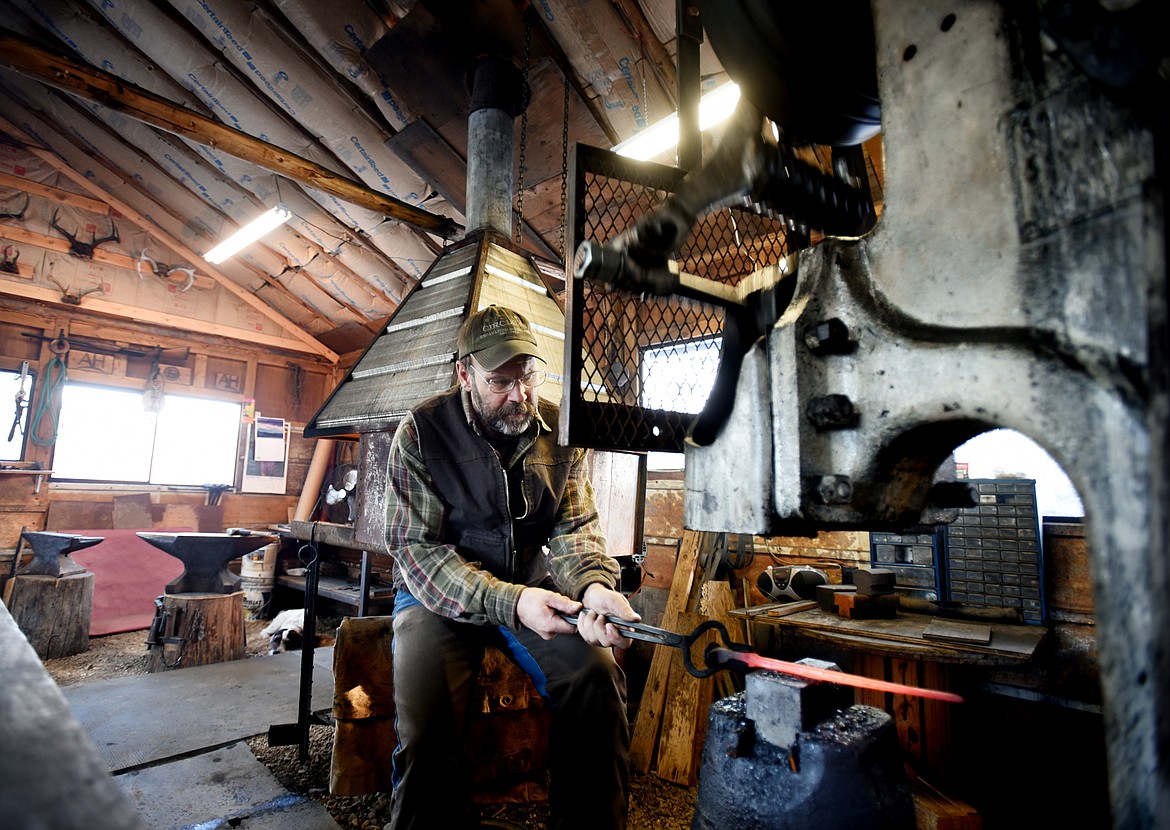 Andreas Hornsteiner working in Rebel Mountain Forge on Tuesday, December 12, in Trego.(Brenda Ahearn/Daily Inter Lake)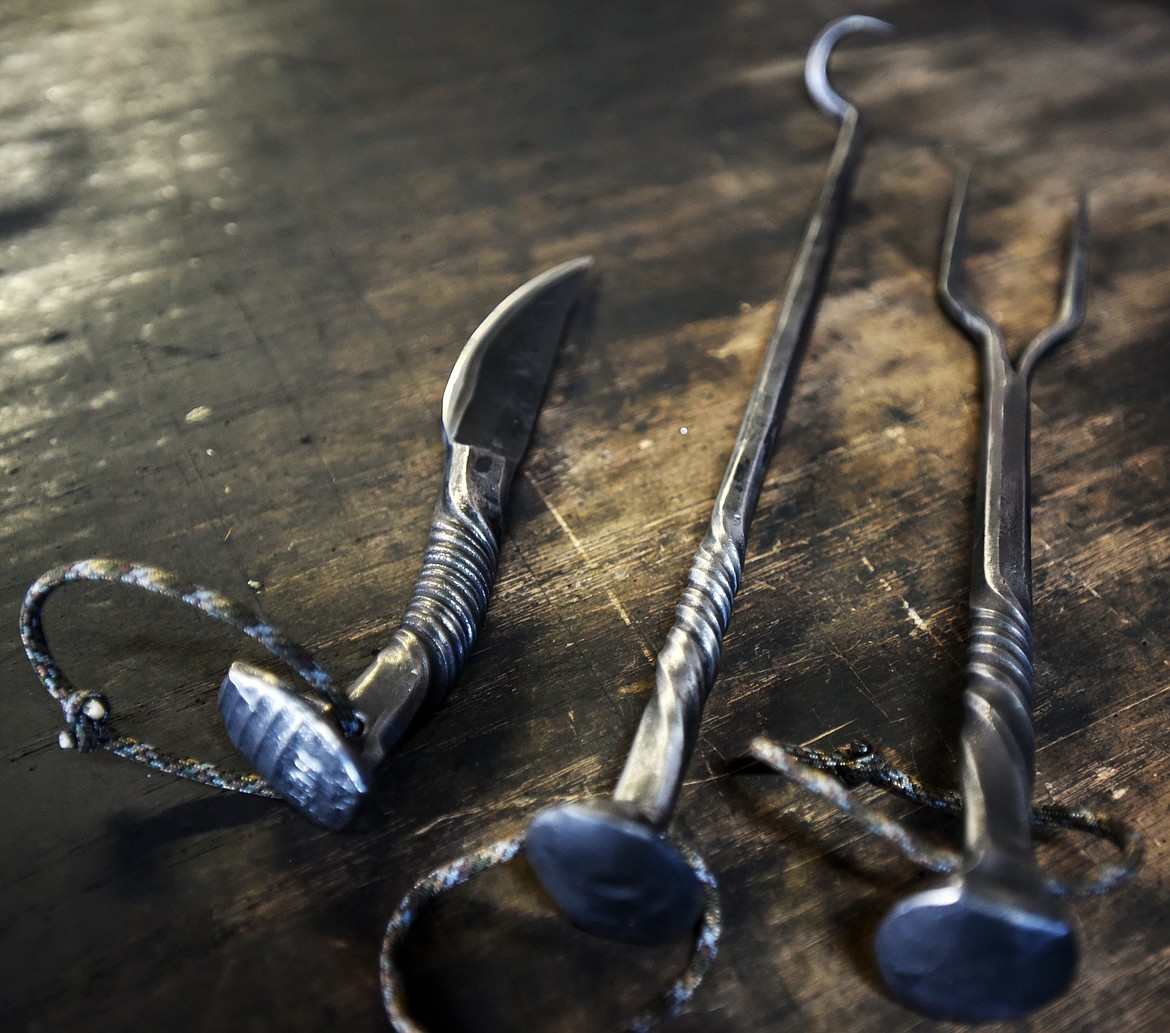 A collection of utensils created by Andreas Hornsteiner at Rebel Mountain Forge by using old iron railroad spikes. Hornsteiner has been selling his wares at local farmers markets.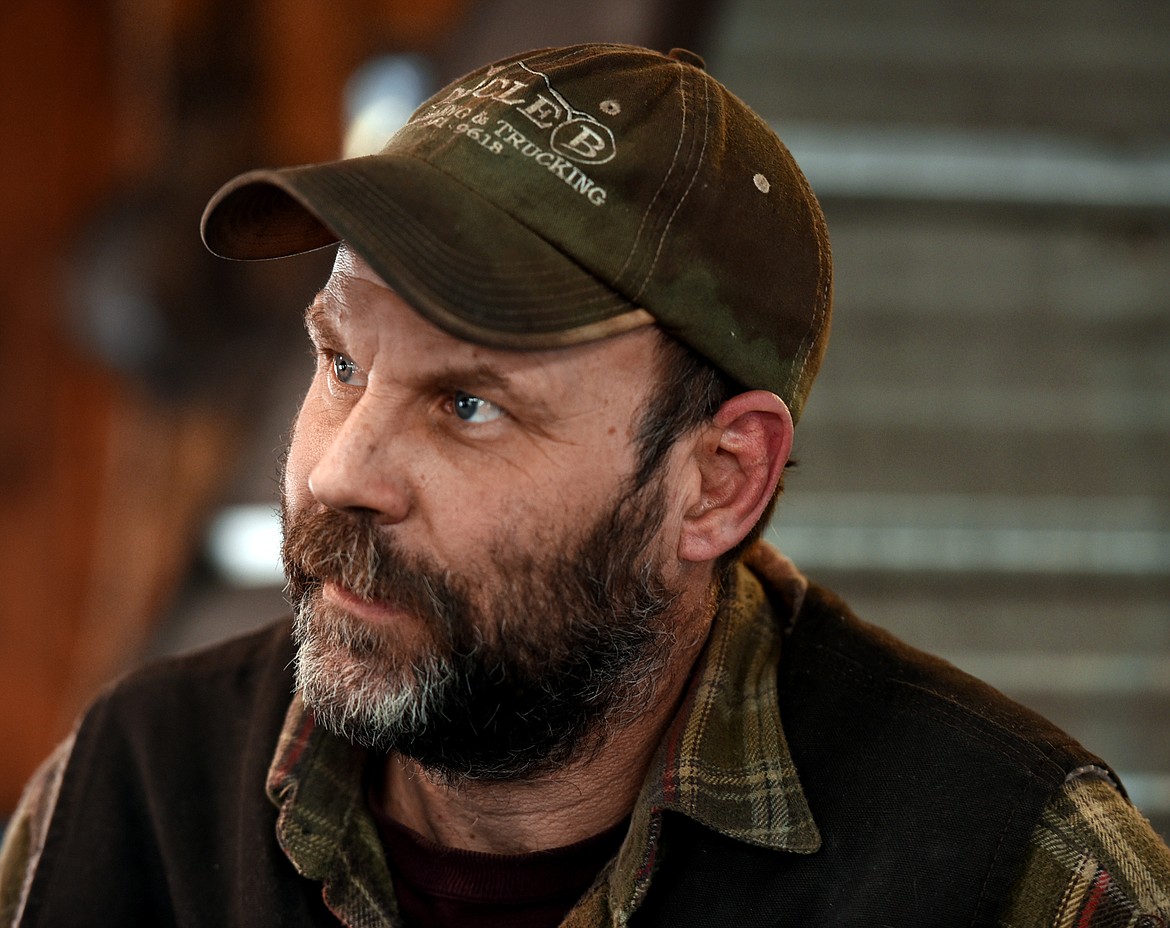 Andreas Hornsteiner began helping in his father's blacksmith shop in Germany when he was a young boy. He now owns and operates Rebel Mountain Forge near Trego.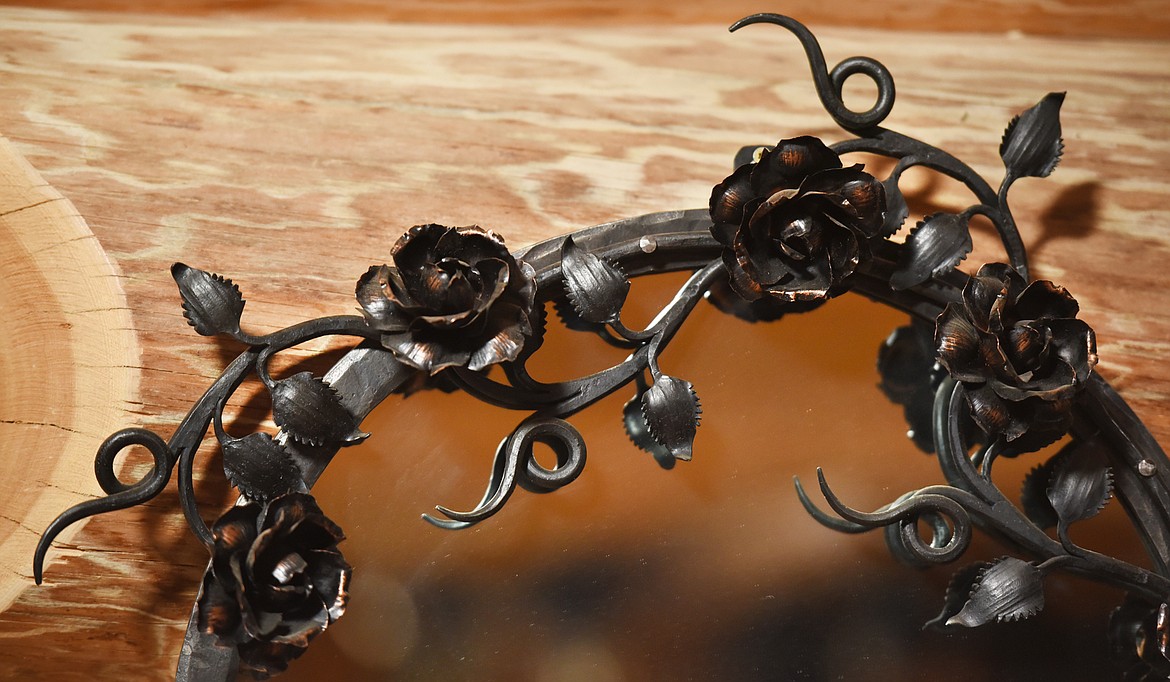 Roses made of copper are riveted on forged stems through a series of welding and forge-welding processes. The decor adorns a mirror in the home of Andreas Hornsteiner. (Brenda Ahearn photos/Flathead Journal)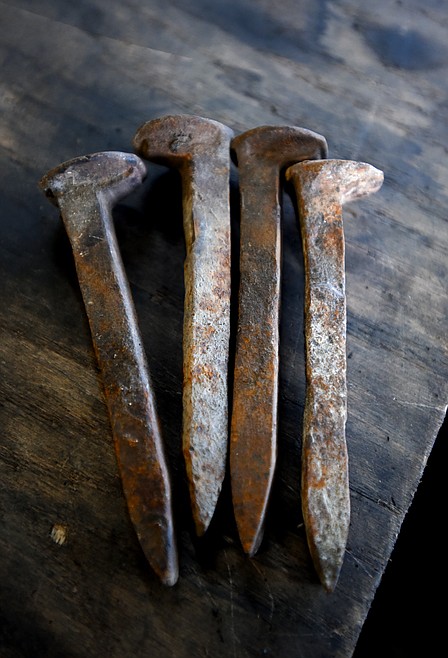 Railroad spikes are the raw material for some of Andreas Hornsteiner's pieces. (Brenda Ahearn/Daily Inter Lake)
Previous
Next
by
Peregrine Frissell Flathead Journal
|
December 20, 2017 3:53 PM
A trip to Rebel Mountain Forge near Trego is long no matter where you begin, but owner Andreas Hornsteiner's trip will always be the longest.
A native of Mittenwald, Germany, Hornsteiner spent almost a decade becoming a master blacksmith in his native country before immigrating to the United States.
"My dad had his own blacksmith shop, he was a master in that little town," Hornsteiner said. "As soon as I could pick up a hammer he had me working."
Hornsteiner went on to complete the years of school necessary to become a master blacksmith in Germany. He said over there the trade entails a lot more than just working in a forge, but includes a lot of construction techniques and welding and many skills necessary to be a highly skilled tradesman.
Those skills have come in handy in Hornsteiner's 47 years, but now he is getting back to his traditional roots and producing artistic tools with practical uses and selling them at crafts fairs across the state as he gets his new business, Rebel Mountain Forge, off the ground.
"Over here in the United States being a blacksmith is just forging, but over there it has a whole other meaning," Hornsteiner said.
In the early 1990s Hornsteiner first came to the U.S. with his father, who always had a dream of being a blacksmith in America. The family lived in Arizona for a year before heading back to Germany. Hornsteiner came back the next year and began racing motocross bikes, and has been mostly been working in the U.S. in various trades since then.
He spent time running a concrete-pouring business in Florida before he finally found himself in Montana. For years he ran a similar concrete business in Eureka. Finally, he found a piece of property at the end of a remote road near a remote town in a remote corner of a remote state. There, he has taken pieces of his father's influence and his own experiences and used them each to forge a new life.
When he bought his land outside Trego about 12 years ago, there was only one small, under-insulated home. He said he almost froze to death his first winter out there. The next year he insulated and added windows, and every year since then he has made improvements.
He's drawn to his patch of land by qualities many Montanans unite behind.
"I like the hunting and the fishing and the horses and the mountains and the freedom," Hornsteiner said.
Now, he has a shop with a forge inside that he built himself. Up on a hill he built a larger new log home where he lives in with his partner, Kelsey Hooper. The home has panoramic views of the surrounding mountain ranges, and operates off the grid except for a telephone land-line and satellite internet.
He's drilled a well, built several wood-heated fireplaces, decorated the home with hides from animals he mostly shot himself, and filled it with gorgeous hand-wrought art that he fashions down the hill and now sells at crafts fairs across the state.
In the last year, Hornsteiner has quit the concrete business and began pouring energy into selling his forged wares. A generator powers the lights and radio in the shop, and while it runs it charges batteries up at the house that Hornsteiner and Hooper use for the trace amounts of electricity they use each evening for running the lights and a small television.
"Living off the grid isn't as simple as everyone thinks it is," Hornsteiner said. "People think that living off the grid means that you have no bills. Life still goes on. You still have bills, you still need a job."
He said the biggest challenge in the whole venture is finding and paying for materials. Despite his labor being highly skilled, it only factors into a small portion of the final costs of his products.
He runs his forge with coal, and the coal mined in Montana is too soft for that type of work. He had to make a trip to Alabama and order 10 tons of coal, which he said cost tens of thousands of dollars to ship back up to where he needed it in Trego.
He gets his steel from Pacific Steel in Kalispell, and he said there are a lot of projects he would like to do, but having a large stock of steel just laying around is prohibitively expensive. Many of the work benches he has in his shop he fashioned from found materials. He said he would like to build railings around his new log home, but the steel alone would cost thousands of dollars that he can't afford right away.
Hornsteiner said he works as a blacksmith mainly to earn a living, but it rings with the same irony as people who say live in the backcountry because they say it is a simple life.
One doesn't have to look far to see the immense amount of pride with which Hornsteiner hones his craft. In one corner of his shop, he has the same anvil his father used growing up. He had it shipped to the United States so he could carry on the family tradition, and uses it with every piece he makes.
"I'll make it, I have no doubt about it," Hornsteiner said.
Right now he makes a variety of household products, from wine holders and toilet-paper rods to steak flippers and knives fashioned from railroad spikes he found on his property after he moved out there. He also has dinner bells, mirrors trimmed with ornate steel roses and fireplace tool sets.
He hopes to get his name recognition developed to a point that he can make larger-scale projects such as curtain rods and hand rails for stairs, for high-end clientele.
Hornsteiner sold his products at the Kalispell and Columbia Falls farmers markets last summer and went to the Made in Montana trade show in Helena and the craft fair at the Adams Center in Missoula last year, too.
He hopes to add the Whitefish Farmers Market to the rotation this summer. His products can also be found and purchased on his website at rebelmountainforge.com, and he also has a Facebook page.
Reporter Peregrine Frissell can be reached at 406-758-4438 or pfrissell@dailyinterlake.com.
---