Linderman school upgrade about half done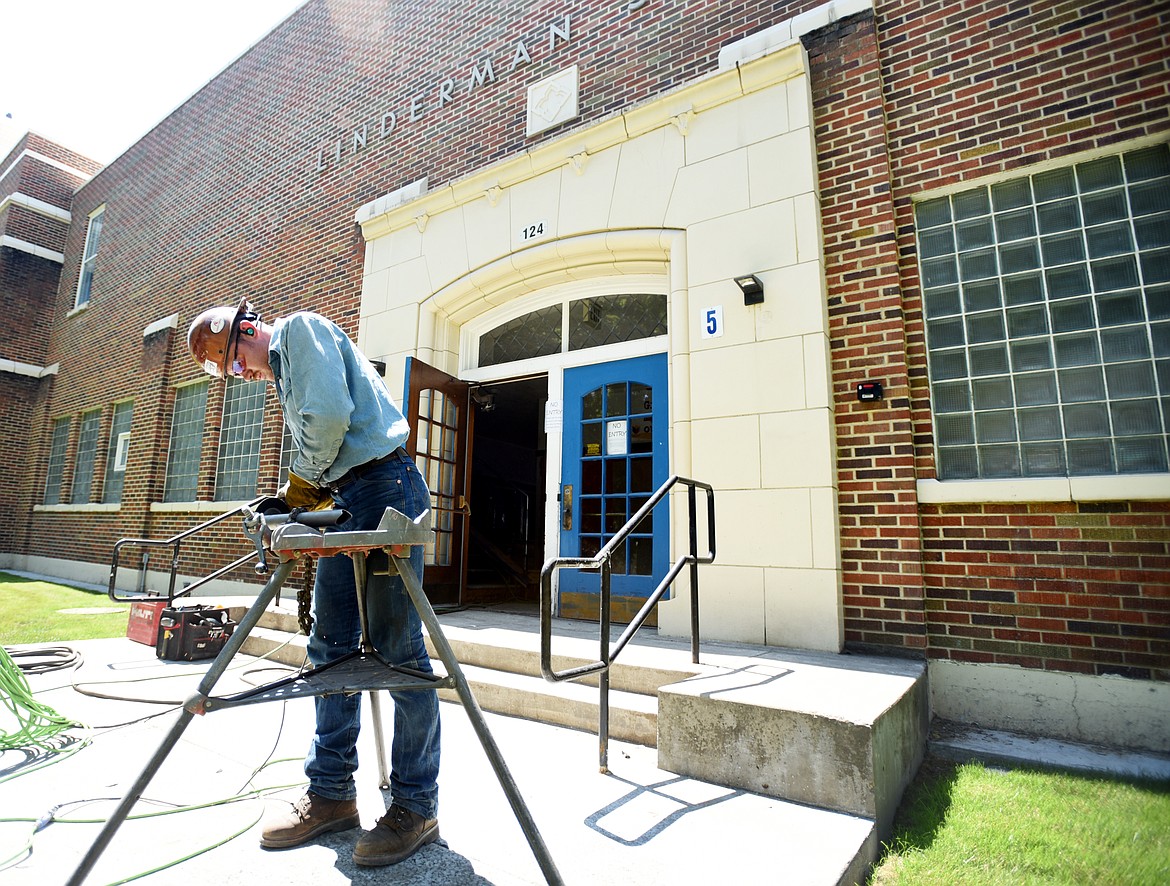 Construction is underway at Linderman Education Center on Tuesday in Kalispell. The project is part of a $28.8 million high school district bond issue that also impacts Flathead High School, H.E. Robinson Vocational Agriculture Center, Legends Stadium and Glacier High School. (Brenda Ahearn/Daily Inter Lake)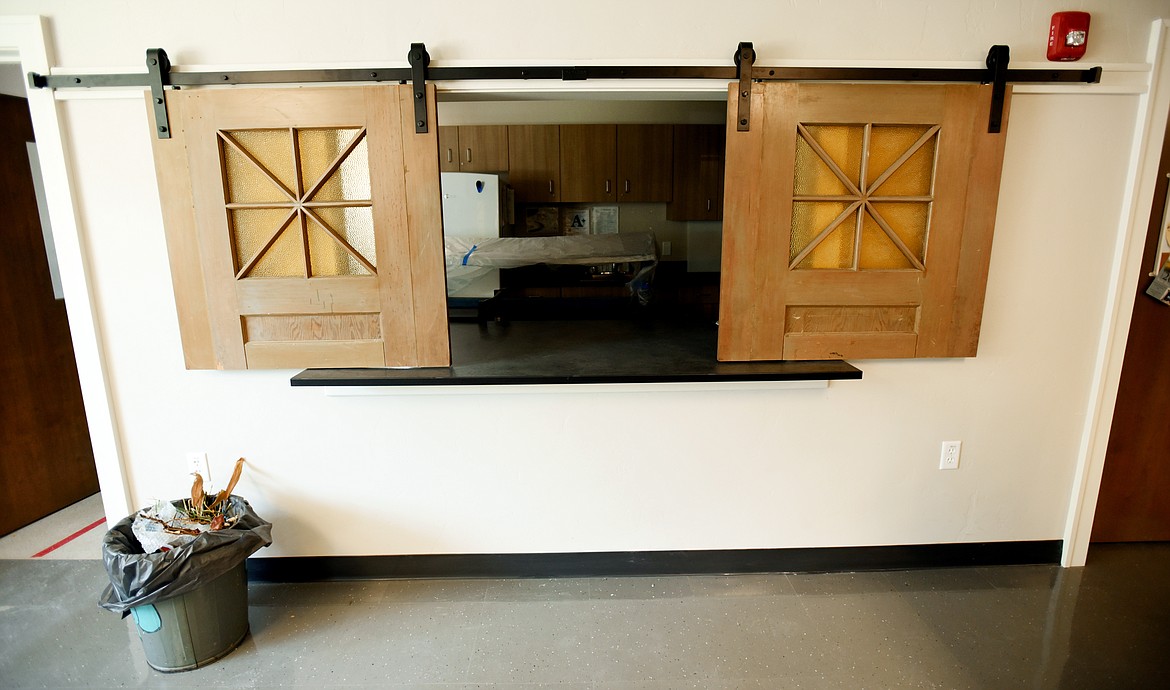 Old doors on a portion of the Linderman Education Center building that originally served as a church, were preserved and transformed into sliding doors for the cafeteria. The basement of the building was remodeled into the cafeteria, which was previously held on the gym stage. (Brenda Ahearn/Daily Inter Lake)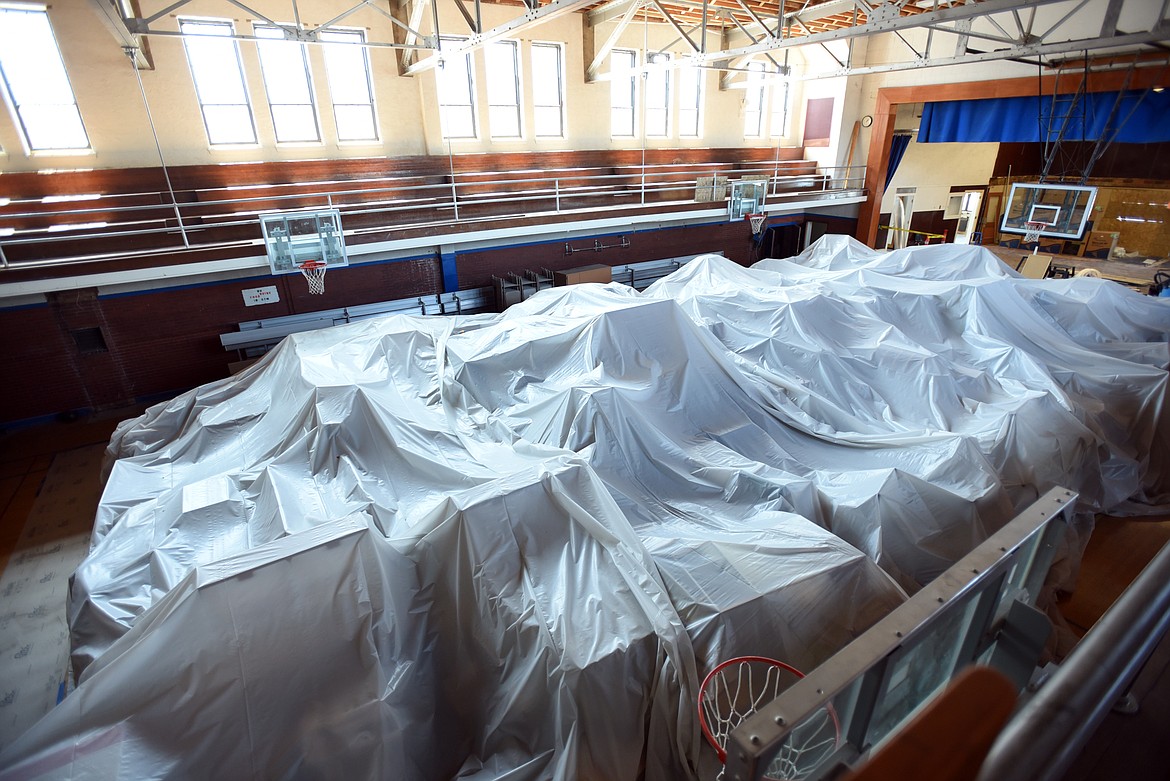 furniture?and supplies the school uses have been packed into the gymnasium and covered under protective plastic as construction takes place at Linderman on Tuesday, July 9, in Kalispell. (Brenda Ahearn/Daily Inter Lake)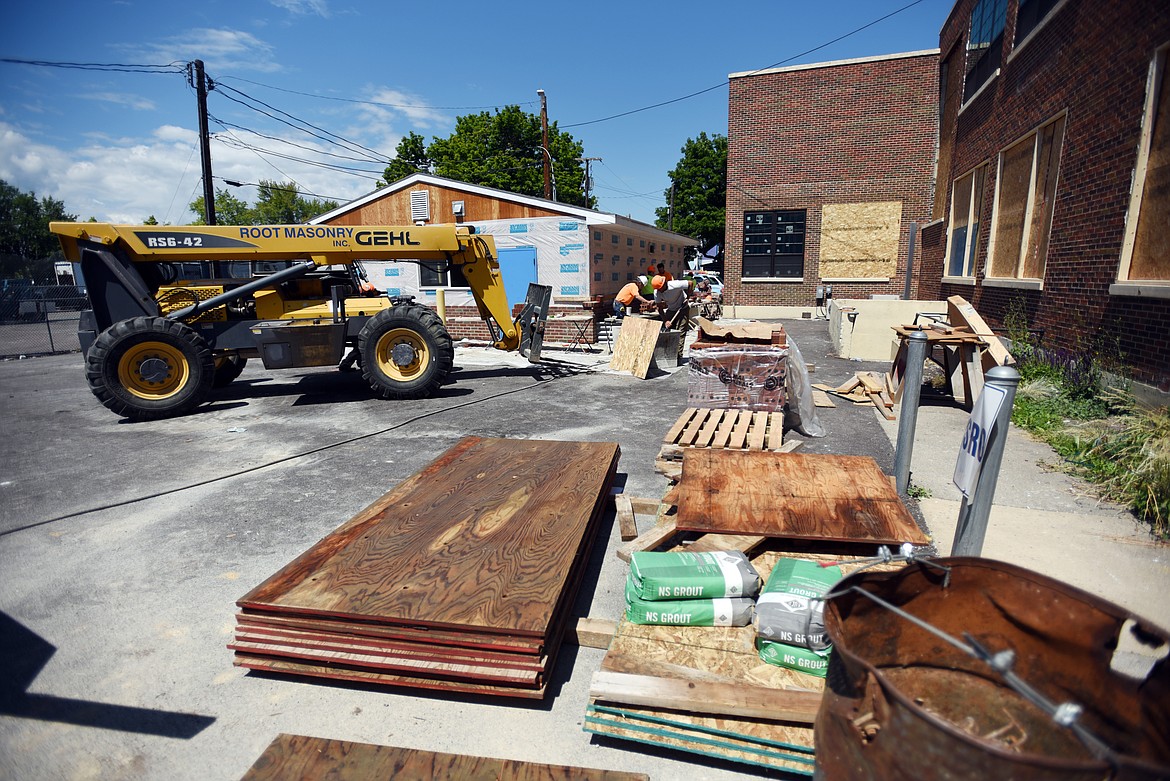 The crew from Swank work on Linderman Education Center on Tuesday, July 9. Most of the work will be done in the fall. (Brenda Ahearn/Daily Inter Lake)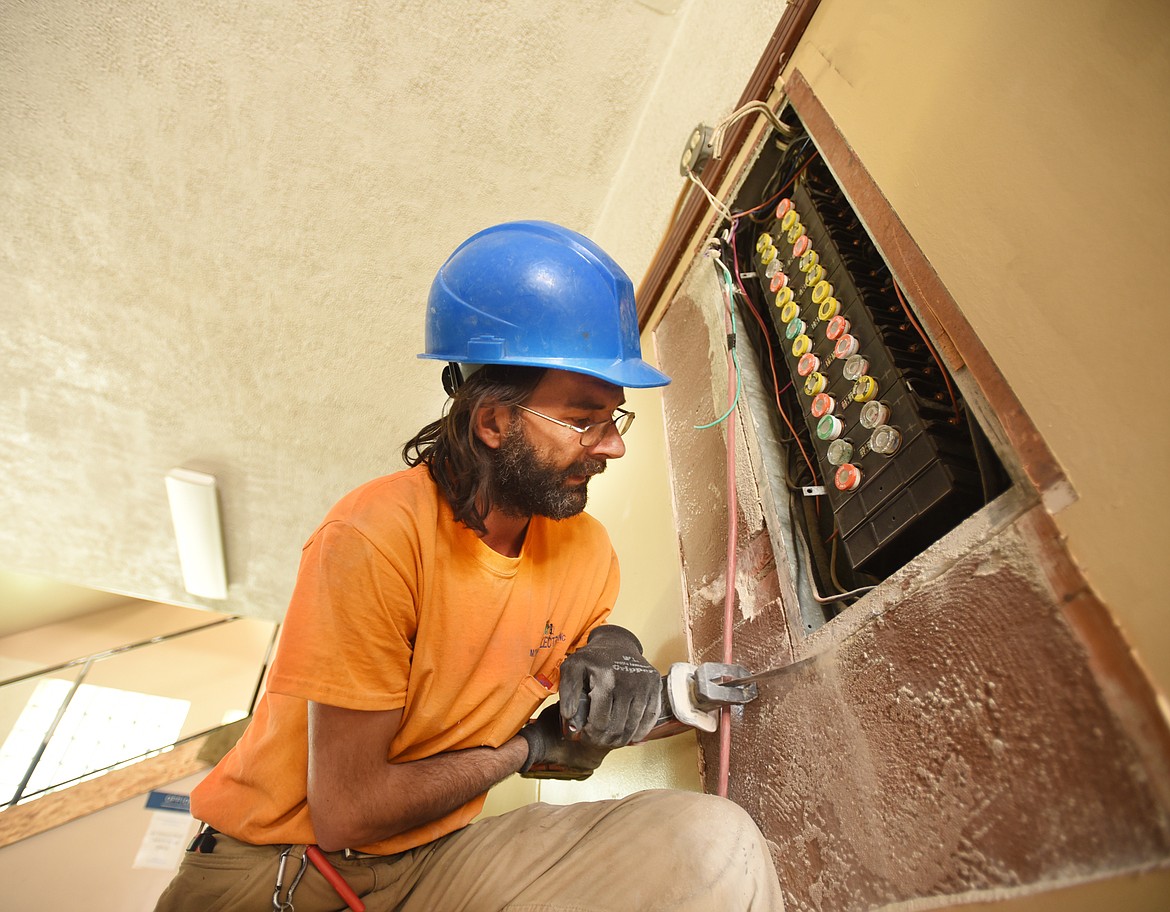 A fuse box with 1950s technology is cut out Tuesday at Linderman Education Center in Kalispell. In 2016, district officials noted the center's electrical system wasn't built to carry the load of modern-day needs in explaining why bonds were necessary. (Brenda Ahearn/Daily Inter Lake)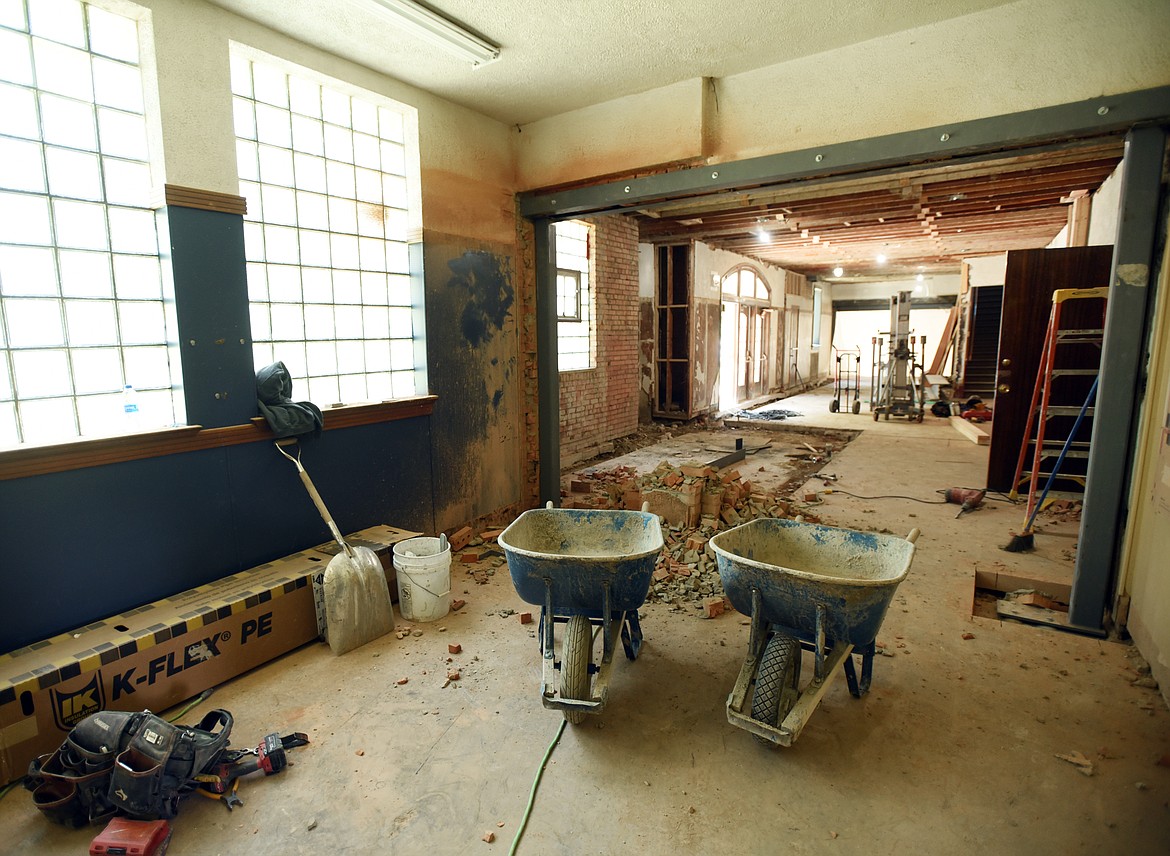 What was a narrow corridor between the office and the gym at Linderman has been significantly expanded. Boy's and girl's bathrooms were taken out to serve as a commons area for students. (Brenda Ahearn/Daily Inter Lake)
Previous
Next
by
Hilary Matheson Daily Inter Lake
|
July 12, 2019 4:00 AM
A $5.8 million renovation of Linderman Education Center on Third Avenue East in Kalispell is about 45 percent completed.
Inside one of the front entrances, bricks are piled on the floor, evidence of recent demolition work to remove bathrooms and widen the space into a commons area.
On Tuesday, crews were working on mechanical, electrical and plumbing rough-in.
"We started on the south end of the building this fall and worked on that through the winter," Project Manager Shawn Baker of Swank Enterprises said. "We jumped to the north end of the building around spring break. Right around middle of May, when it got warm, we cut the boilers off and moved the old boiler over to district storage."
The school is in the process of switching from a steam boiler to a hot water boiler system.
In the coming weeks Baker said crews will begin installing flooring and drywall.
Baker walked up a set of stairs to a balcony area overlooking the gym. Natural light flooded through windows, that, prior to construction were boarded up with insulated coverings to prevent heat and energy loss of single pane-windows, which have been replaced with double-pane windows.
The Linderman renovation project initially had a budget of $3.4 million. However, in March 2018, the district allotted an additional $2.1 million to the project once architects and contractors came on board and figured actual costs from pre-bond estimates. When figuring costs, it became evident that infrastructure priorities such as mechanical, electrical and plumbing were eating up the budget, among other factors. Also factoring into the decision to increase the budget was that the general contractor bid for the Flathead High School renovation and addition project came in under estimates.
The building is a collection of construction methods, materials and technology dating back to the 1920s.
The original part of the building was completed 1939. A second-story addition was built onto the north wing in 1959. Around this time, a 1926 church building located on the south side of the center, was purchased and connected to Linderman. The last time any upgrades were done on the building was in 1995.
Baker led the way downstairs to the basement, which has been transformed into a cafeteria and multipurpose room. Lunch was previously served on the gym stage. The gym stage will be turned into a weight room.
Renovating old construction is not without its challenges as new problems are uncovered.
The basement of the old church building is a good example. He tapped on a new structural steel column that replaced a rotting, wooden one.
"There was a wooden column that was rotten out on the inside and there was just like 1-inch pine trim on the outside that was sitting on slabs. It was the trim that was holding the second floor," Baker said.
Baker said the building wasn't in immediate danger of collapse since the rest of the building was supported, but would have sagged severely over time. He also noted areas of problematic settling.
"There was an area probably 20 feet by 20 feet where the slab was just held up by its edges," he said about dirt that had settled underneath the slab, motioning his hands in bowl shape.
"So we took out all that clay — dug it down, put in new gravel — new big concrete footings under these columns and took temporary shoring out," he said. "Nothing moved, it was all good."
One of the fascinating things uncovered when digging was a layer of ash that looked like clinker (residue from burned coal).
Flooring that was mostly asbestos tile has also been removed throughout the building.
"Almost anywhere you see 9-inch square tiles its asbestos," he said.
Outside, Linderman Director Jodie Barber arrived on the campus for a construction meeting.
"I think we were smart in our decisions as far as how to make the building run more efficiently as a school," Barber said.
Linderman Education Center serves both Flathead and Glacier high school students in an alternative high school setting.
While the project has a December completion date, Baker thinks it will be finished ahead of schedule.
The construction project comes out of a $28.8 million high school district bond issue that impacts Flathead High School, H.E. Robinson Vocational Agriculture Center, Legends Stadium renovations and additions and deferred maintenance at Glacier High School.
Hilary Matheson may be reached at 758-4431 or hmatheson@dailyinterlake.com.
---