St. Matthew's students get lessons in life skills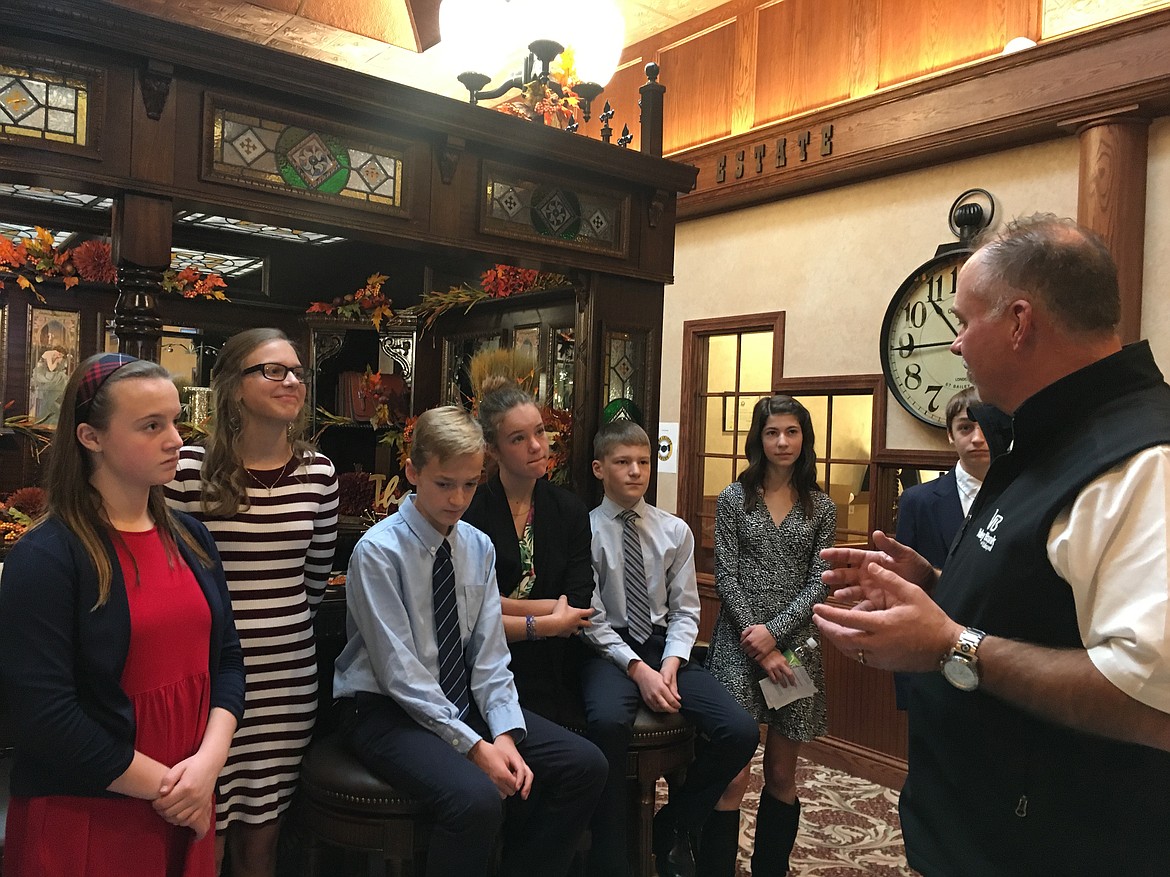 Mark Hensley, one of the judges for The Amazing Shake presentations and an owner of Valley Bank, talks to St. Matthew's School students, from left to right: Alaura Olszewski, Gianna Reiner, Henry Steurer, Claire Ennis, Jackson Heino, Lauren Welch and Mark Ahner.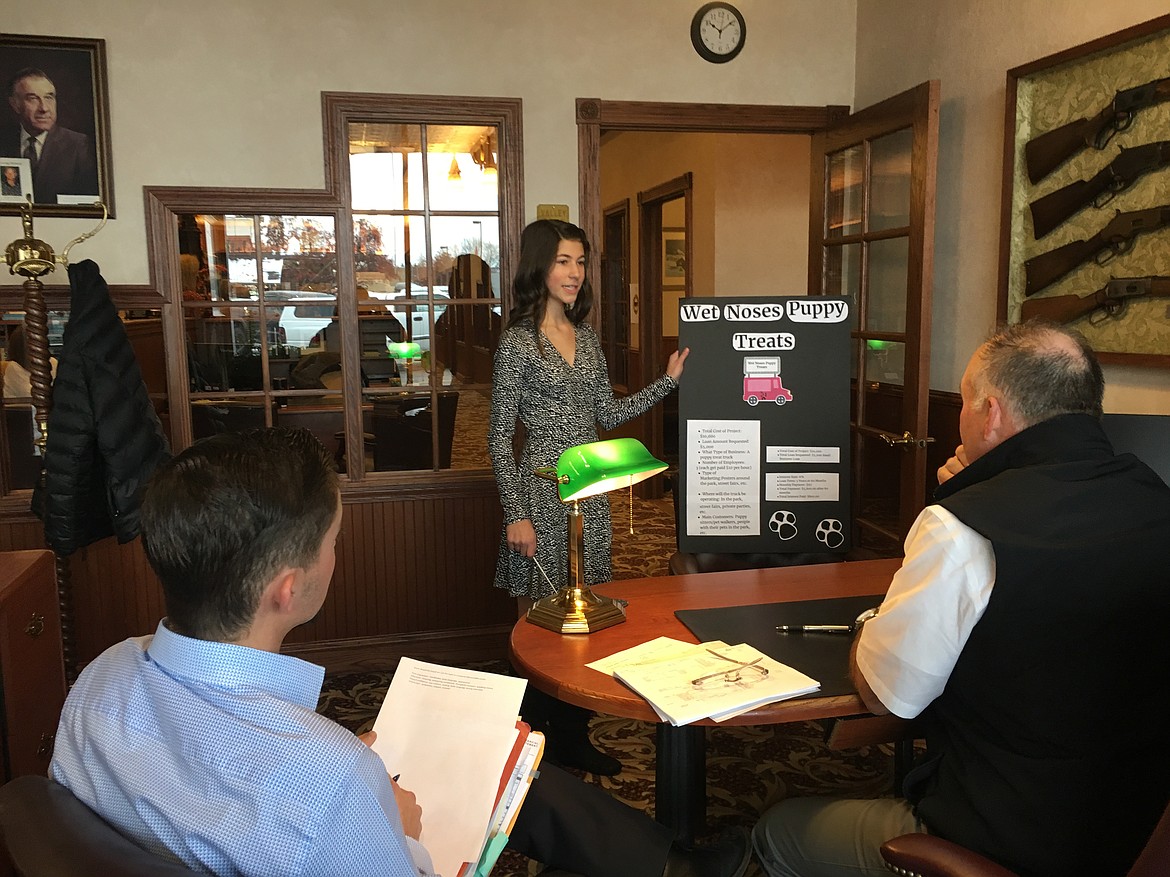 Lauren Welch presents her business idea to Logan Hensley and Mark Hensley of Valley Bank. (Photos courtesy of St. Matthew's Catholic School)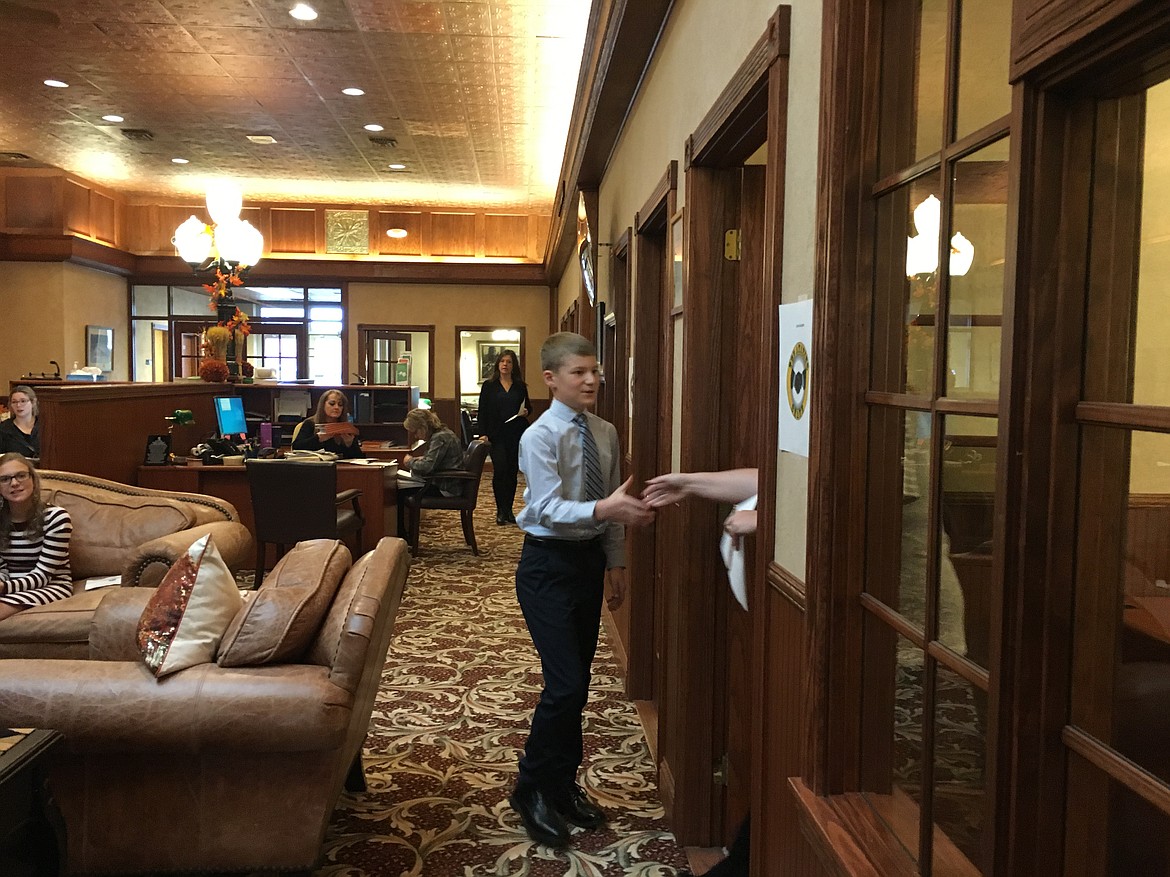 Jackson Heino prepares to shake the hand of an interviewer at Valley Bank during Round 2 competition of The Amazing Shake.
Previous
Next
by
Lynnette Hintze / Daily Inter Lake
|
November 16, 2019 4:00 AM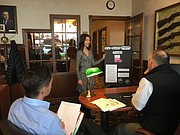 Most people in the business world know the importance of a firm handshake. It's the opportunity for a first impression, and a powerful communication tool.
St. Matthew's Catholic School fifth- through eighth-graders have been practicing their handshakes and a whole lot more through the school's annual "Amazing Shake" competition that tests students' professional skills and ability to navigate life.
The Amazing Shake program was developed by the Ron Clark Academy in Atlanta, Georgia, and is now used by many schools nationwide to teach students discipline, respect and professional conduct.
St. Matthew's is in its fourth year of offering The Amazing Shake, and just completed the second of three rounds of competition to determine an overall winner.
"It's life skills these kids don't always get taught," said Myrna Matulevich, who teaches sixth-, seventh- and eight-grade science at St. Matthew's. "It tests our student's business professional skills, such as a firm handshake, making eye contact, poise, confidence, public-speaking skills, and their ability to think on their feet."
During Round 1 on Oct. 23, the students competed in four different skill areas: impromptu speech, making and taking a phone call, public speaking and answering a question.
"They always have to make a phone call, and that's usually the thing that scares them most, they don't talk on the phone, they text," Matulevich said.
And since land lines are a thing of the past in most homes and people individually have their own cellphones, students often have little to no experience in answering a phone.
The top 10 finishers of Round 1 moved on to Round 2 on Nov. 14. Due to a tie, 11 students went to Valley Bank on Thursday. Each student prepared a presentation asking for a $5,000 loan to start a food-truck business. They also did other interviews in which they answered job interview-type questions.
Three Rivers Bank has also hosted the St. Matthew's students for Round 2.
The final four chosen to move onto the final round coming up yet this month are Claire Ennis, Henry Steurer, Jackson Heino and Baylanna Brash.
The itinerary for The Amazing Shake changes each year, Matulevich said.
For example, last year the students participated in a simulated presidential press conference and press corps, complete with the speaker being peppered with questions from the news media.
They took part in a Shark Tank type presentation to a faux school board to pitch something they'd change about the school. In the past, students also have gone to Norm's News to get insight into running a restaurant.
"This year they called a fake business to make an auction solicitation for St. Matthew's," she said.
Making an impromptu speech with just three minutes to prepare was another task for this year's competition.
The goal is to equip these future civic and business leaders with the confidence and skills they need to compete in the real world.
At the heart of it all, though, is the proper handshake.
"I have them shake my hand," Matulevich said, explaining how she grades each handshake on a scale of one to 100, aiming for a perfect 50. A score of 70, the handshake is too hard; a 20 and it's too soft.
Standing up tall and straight, and making eye contact also accompany the perfect handshake. In the real world, these simple skills can make all the difference.
News Editor Lynnette Hintze may be reached at 758-4421 or lhintze@dailyinterlake.com.
---