Montana hospitals' capacity in focus for pandemic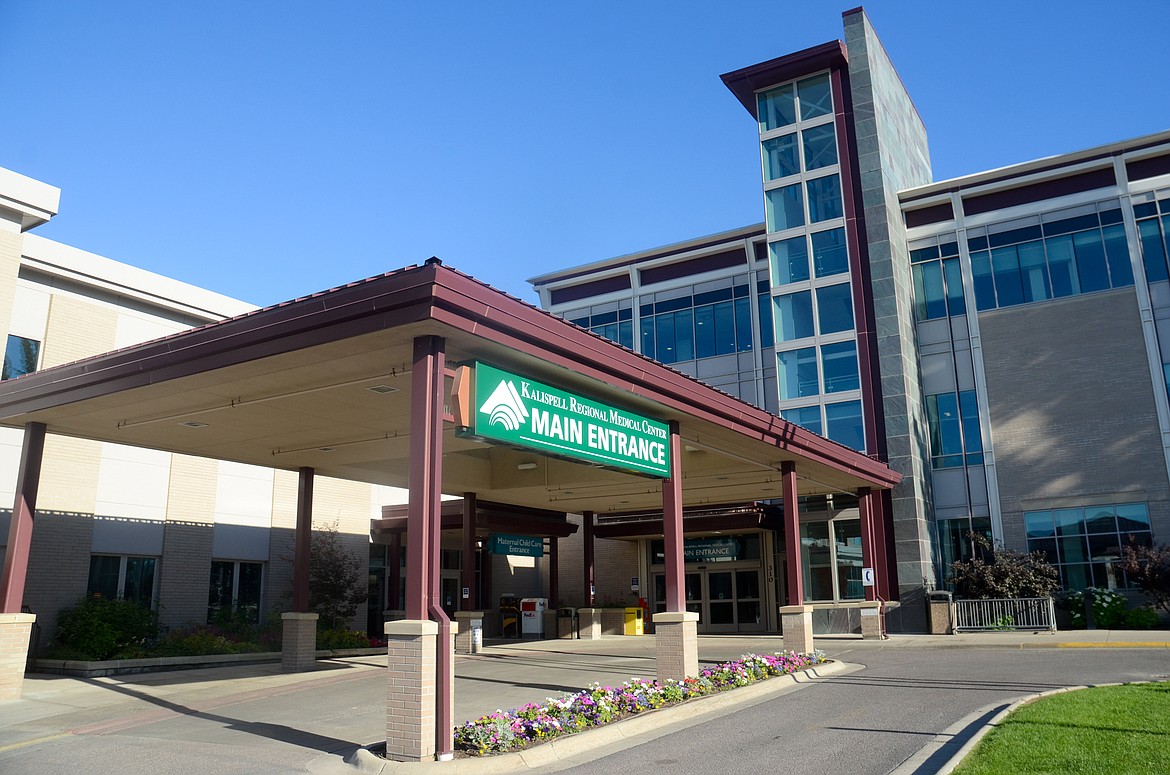 The main entrance to Kalispell Regional Medical Center. (Matt Baldwin/Daily Inter Lake)
by
KIANNA GARDNER
Daily Inter Lake
|
April 4, 2020 7:26 PM
On March 15, Montana officials announced the state's first four cases of coronavirus, and about three weeks later that figure is well on its way to the 300s. And as the case tally increases on a daily basis, questions related to hospital capacity are at the forefront of people's minds as health-care providers brace for an outbreak officials say is far from peaking.
According to Definitive Healthcare, a company that provides data and intelligence on hospitals, physicians and more, Montana has 3,381 licensed hospital beds and 165 intensive-care unit beds. These are spread out across critical-access hospitals, short-term and long-term acute-care facilities and psychiatric hospitals.
When this bed capacity is compared to the state's overall population of more than 1 million residents, there is a significant disparity in the number of hospital beds available per Montanan, at about .003 beds per resident.
At first blush, the number is startling. And it's particularly difficult to digest as states prepare for an outbreak the Centers for Disease Control and Prevention predicts may impact 60% of the population. But according to Montana Hospital Association Chief Executive Officer Rich Rasmussen, hospitals were never built with the intention of treating a pandemic.
"There is no country in the world, or state in the nation, or community in Montana that will ever have enough bed capacity or ventilator capacity to treat something like this. This is particularly true if we ignore directives from health and government officials who are pleading with us to stay at home," Rasmussen said. "The only way we can get ahead of this silent killer is if we take these orders seriously. The public has a big role to play here."
Rasmussen said it's important to remember that hospitals and clinics are businesses where in some cases, empty beds equate to losses in revenue.
"Nationwide, hospitals are looking to be as efficient as possible, which is being pushed by primary payers, or in other words, Medicare and Medicaid," Rasmussen said. "Bed capacity is based on service needs. You're not going to build a hospital and add more beds if you can't sustain it."
ACROSS MONTANA'S 65 medical facilities the average bed utilization rate is about 46%. However, the number of licensed beds and usage rates of those beds in these clinics and hospitals range greatly. For example, at Garfield County Health Center in Jordan, Definitive Healthcare data shows there are only four licensed beds with an average usage rate of 1%, according to the data, but there are 530 licensed beds at Benefis Hospital's East Campus location in Great Falls, where the average usage rate of those beds is about 36%.
More than half of the 65 facilities statewide have usage rates above the average, and whether a clinic or hospital is in a rural location versus a more populated area appears to have little bearing on these rates. For example, according to the data, Kalispell Regional Medical Center has 178 licensed beds with an average utilization rate of 62% and serves Flathead County with a population of more than 100,000. But St. James Healthcare in Silver Bow County has 98 licensed beds with an average utilization rate of 55% and serves a population of about 35,0000. Both hospitals are short-term acute-care facilities.
The point of looking at average bed usage is to understand that for typical community needs, Montana facilities are able to meet health-care demands. However, Rasmussen said this does not necessarily mean all 65 facilities can handle a local outbreak of coronavirus.
"The goal of Montana's health-care system is to be able to ensure those who have the most medically complex needs go to those hospitals with the highest service capability," Rasmussen said. "We have rural hospitals, for example, that have no ventilators in them. We don't want to have a patient in a facility where they can't be appropriately treated."
RASMUSSEN SAID because some hospitals have more specialty staff and more supplies available to treat the critically ill, there may be a juggling of patients down the road.
As an example, Rasmussen pointed to Flathead County, where the Kalispell Regional Healthcare system has respiratory doctors and infectious disease specialists — employees that are rare in more rural critical-access facilities. Therefore, Kalispell may see an influx in patients from elsewhere in need of such services including from Glacier, Lincoln and Sanders counties.
Doug Nelson, chief medical officer with Kalispell Regional Healthcare, said Thursday the hospital has already treated an out-of-county patient and he expects the facility will see more in the coming weeks.
"We are here for our neighbors. If we need to take people in from elsewhere we are certainly capable of doing that," Nelson said. He added that hospital officials are in close daily contact with nearby rural counties regarding patients and any needs they may have.
"Larger hospitals need to be totally in-sync with smaller hospitals. This is what's dynamic about our health-care system is that because our state is so big, our facilities have already had these communication lines in place for some time," Rasmussen said.
This possible back-and-forth of patients will be particularly critical, Rasmussen noted, in areas where there are no facilities at all and to those with more vulnerable populations.
For example, there are hospital no beds in Petroleum, Wibaux, Treasure, Judith Basin, Powder River, Jefferson and Golden Valley counties that collectively, according to the U.S. Census Bureau, are home to an estimated 17,000 or so Montanans. And in Golden Valley County alone, about 25% of the population is 65 years of age or older — a group the Centers for Disease Control and Prevention considers to be high-risk for coronavirus.
Montana is the oldest state in the western part of the country, which means during the coronavirus outbreak, hospital officials need to pay particularly close attention to areas with sizable senior populations.
Kalispell Regional Medical Center, for example, is the state's fifth-largest short-term acute-care hospital. However, in terms of where the biggest five hospitals are located, Flathead County contains the largest senior population, according to U.S. Census Bureau estimates. The valley is also bordered by rural counties with even higher senior populations such as Lincoln and Sanders counties, where at least 27% of these areas' populations are 65 and older.
Kalispell Regional officials say these statistics are not lost on them. Nelson said hospital beds will be devoted to the sickest patients, which most anticipate will include older adults and individuals with pre-existing conditions such as heart or lung disease. He also said bed capacity can "flex up" if needed.
MONTHS FROM now, when chaos from the coronavirus has hopefully subsided, Rasmussen said he hopes everyone will understand a few points: for a frontier state, Montana has plentiful health-care resources and that battling such a crisis requires teamwork from providers, the community and policymakers.
Montana is lucky, he said, to have the number of critical-access hospitals it does.
"Our state is the largest frontier state in the nation, and the sheer fact that we have 49 critical-access hospitals that have survived is incredible," Rasmussen said. "We haven't lost one of these hospitals for more than 40 years."
The rest of the nation is battling a rural hospital closure crisis — an event that has shuttered more than 120 rural hospitals in the nation over the last decade, according to one recent study from the Chartis Center for Rural Health.
The survival of critical-access hospitals, which are generally located where populations and patient numbers can fluctuate, is dependent on state and federal government figures that understand the value of such resources. Rasmussen pointed to the Rural Health Clinic Service Act of 1977 that was enacted to address an inadequate supply of physicians serving Medicare and Medicaid beneficiaries in rural areas and to increase the utilization of non-physician practitioners. He added that moves such as Montana's Medicaid expansion are crucial to maintaining hospitals in rural areas.
"We are fortunate enough to have senators and a governor here who understand how important these resources are and who are continuing to fight for more resources and more COVID testing," Rasmussen said. "When we have these in place and community members listen to directives, those on the front lines can continue their work and we can all help our neighbors on Main Street."
Reporter Kianna Gardner can be reached at 758-4407 or kgardner@dailyinterlake.com
Recent Headlines
---