Rise of Vanterpool: Wolfpack ace's work paid off with stellar 2019 campaign
By FRITZ NEIGHBOR
Daily Inter Lake
When Sage Vanterpool got frustrated with her pitching, she looked forward to her next at-bat. When she was frustrated with her hitting, she looked forward to getting back on the hill.
If neither was going well, she had the weight room.
So, what now?
"Now I do a lot of cardio," said Vanterpool, the ace pitcher for the Glacier Wolfpack softball team. "Like running three miles a day."
It's not preferable to getting into Glacier High with its batting cage and weight racks. Those have to wait while the country softens the impact of the COVID-19 pandemic.
"I'm so thankful we get to use that – and a little sad I can't use that right now," Vanterpool said. "I would do anything to get back in there."
Vanterpool was a terror at the plate last spring, hitting .418 with four homers, 19 runs batted in and an OPS – on-base percentage plus slugging percentage, a popular metric in baseball – of 1.267.
On the hill she went 9-2 with 3.68 earned-run average, fanning 96 hitters in 74.1 innings.
And in the weight room: A Glacier-record 255 pounds in the squat.
These numbers are related.
"She had talent – has talent – and works super hard to bring that to its full potential," Glacier coach Abby Connolly said. "She got more (pitching) speed last year, and that was a tribute to a program she went on between sophomore and junior years. That really increased her arm speed."
Connolly remembers Vanterpool coming into Glacier as a not-too-imposing 5-foot-5 freshman – except for the attitude.
"She has that mentality of a pitcher. Give me the ball, get me on the mound," Connolly said. "Our only other two pitchers in our program that year (2017) were seniors. She pitched mostly JV, and a little bit at the Great Falls jamboree."
Then, as Glacier faltered in the postseason, Vanterpool was called on to close out a game. It gave a glimpse of what was ahead.
"I don't play any other sport," Vanterpool said. "My goal is to put in as much offseason time as I can. It was almost daily training. I did go on a diet and lost quite a bit of weight – I would say that helped. But I just logged a ton of offseason work time.
"I was in there every single day, hitting, pitching and cardio."
"She probably throws four or five pitches," Connolly said. "She has a good rise and has a good curve that cuts right outside the strike zone. She has a pretty good drop ball as well, but her rise – if we're looking for a strikeout pitches that's the one we go to."
Connolly has the added advantage of putting Vanterpool, who now stands 5-8, in the middle of the lineup.
An example is a critical 4-3 win over Missoula Sentinel last April 25. Vanterpool banged a line drive off the fence, drove in a couple runs and then took over the pitching chores late. She went from Babe Ruth to Greg Maddux with the flick of a bat.
"That was my favorite game," she said. "We were up by one in the last inning. Two or three on base, bottom of 7. The girl up at bat – if she even hits a single we lose.
"She drove it up the middle and I caught it. It was crazy."
The win earned the Wolfpack a tie-breaker over Sentinel and – with wins two days later over the Helena schools – a conference title.
Vanterpool knows a couple of the Sentinel girls because of travel ball, and it was on one of those Montana Avalanche trips that the coach at Walla Walla Community College , Logan Parker, chatted her up. She made several college visits and chose Walla Walla over Big Bend CC in Moses Lake.
"It felt homey there," she said. "Thick trees and forest. I decided to sign with them late fall, and now I'm a Walla Walla Warrior."
The Warriors are getting someone who throws weights and rising fastballs with equal vigor. If only those were on the schedule tomorrow or the next day.
"I'm definitely missing that right now," Vanterpool said. "It's kind of hard, you know? I've been playing with these girls since we were nine.
"The amount of time we've spent together on the diamond is crazy. Basically the whole team is the same team I played travel ball with in seventh and eighth grade."
That was then; in a perfect world there would be a now for Vanterpool and the Pack.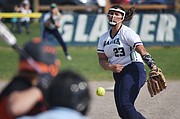 ---