Commission to consider proposed Flathead wildlife area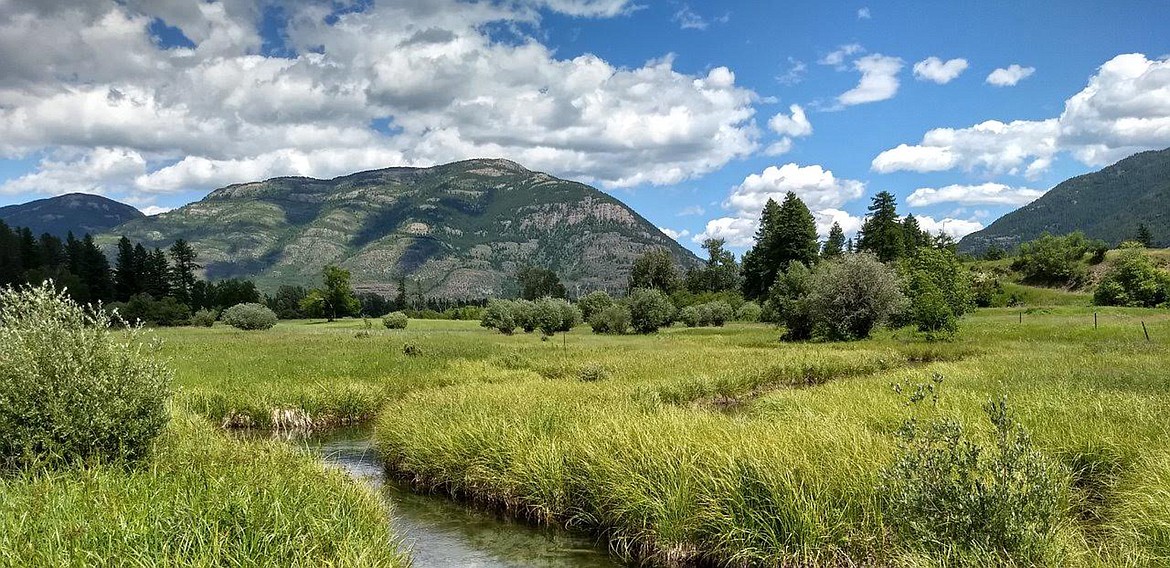 A spring channel runs through a 772-acre property at the mouth of Bad Rock Canyon. Montana Fish, Wildlife and Parks is seeking to purchase the land from the Columbia Falls Aluminum Co. for a proposed wildlife management and recreation area. (Courtesy of Flathead Land Trust)
by
SCOTT SHINDLEDECKER
Hagadone News Network
|
August 6, 2020 10:16 AM
Montana Fish, Wildlife & Parks wants to acquire a chunk of forest land along the Flathead River near Columbia Falls for a new wildlife management area.
The Bad Rock Canyon Wildlife Management Area proposal is on the agenda for the Montana Fish & Wildlife Commission's Aug. 13 meeting. If the commission approves the plan, Fish, Wildlife & Parks will be able to move forward with the plan, which will include accepting public comment.
According to documents on the department's website, the agency is proposing buying 800 acres of forest along 1.6 miles of the Flathead River near Columbia Falls. It is located east of the Flathead River and just north of Columbia Falls.
One of the many highlights of the project is it would provide permanent access for youth and disabled hunters.
The land is currently in block management through the state, which currently provides an excellent opportunity for youth and disabled hunters to harvest elk and white-tailed deer just minutes from Columbia Falls, an opportunity unavailable elsewhere in Montana that could continue under state ownership, according to Fish, Wildlife & Parks.
The parcel became available when the Columbia Falls Aluminum Company, a subsidiary of Glencore, decided to sell the property.
The aluminum company has given Fish, Wildlife & Parks and the Flathead Land Trust, the agency's partner on this project, a two-year window to complete the project.
Fish, Wildlife & Parks says the project would protect water quality and important fish and wildlife habitat, provide free public recreation access while halting private development.
The property is highly developable and threatened by the rapidly growing city of Columbia Falls, but would be protected as a Wildlife Management Area under the proposal.
The U.S. Forest Service's Forest Legacy Program, Habitat Montana, and Pittman-Robertson could all be possible funding sources for this project, along with private funding raised by the Flathead Land Trust.
The Fish, Wildlife & Parks report says access to the property is highly coveted and all available days during the hunting season see a party of hunters on the property. The property generates about $7,000 per year in direct expenditures to the local economy through this limited hunting opportunity.
The Flathead River along the project property is used by 5,000 boaters and anglers per year. Angler use represents roughly $750,000 per year in local economic activity. This project will allow other compatible public uses that will provide additional economic benefits for the local community.
"This proposed conservation project is an exciting opportunity to protect critical wildlife habitat along the Flathead River at a focal point of landscape connectivity and secure public access near the community of Columbia Falls," said Paul Travis, Executive Director of the Flathead Land Trust. "The project is contingent upon approval by the MT Fish, Wildlife and Parks Commission at their meeting Aug. 13 and we're hopeful it will receive their support to move forward."
The property is winter range for elk, moose and white-tailed deer.
Completion of this project would safeguard vital habitat and a travel corridor for bull trout and grizzly bears, ESA-listed species found on the property. This key corridor is located at a geographic pinch point where the Flathead River flows through the very narrow Bad Rock Canyon. The project is adjacent to a stronghold of public lands and would add to a 12,000-acre network of conserved land along a 43-mile reach of the Flathead River between Columbia Falls and Flathead Lake.
Also, a trail is being built on the property by Gateway to Glacier Trail, Inc., a local nonprofit group granted a revocable license issued by the aluminum company to allow access for hikers, bikers, birdwatchers and others.
Under FWP ownership, public access could be managed to preserve wildlife presence and hunting opportunities while allowing compatible trail and property use.
According to agency documents, if the project fails, the property would most likely be quickly sold, subdivided, and developed into a high-density neighborhood that would include highly sought-after riverfront lots.
Fish, Wildlife & Parks said the proposal has support from Sen. Jon Tester, federal agencies, Confederated Salish and Kootenai Tribes, Flathead County Planning & Zoning, and many conservation groups.
If the commission endorses moving forward with this project, FWP would conduct further analysis and a public review processes.
There are other proposals of note to Western Montanans which will be presented at next week's meeting.
One includes a mandatory catch, kill and report order of walleye in the entire Western District. The previous order specified locations which included the three Thompson Lakes as well as the Swan River and Swan Lake.
The agency wants to eliminate walleye from Western Montana waterways due to their threats to native fish and sport fishing opportunities.
Finally, there is a proposal to create a limit on the number of crayfish which be taken from McGregor Lake. The limit would be 20 daily and in possession. Females with egg clusters would have to be released.
Fish, Wildlife & Parks' reasoning for the proposed limit is due to growing interest in the harvest of crayfish from the lake.
The proposal reasons crayfish in McGregor are native and concerns have been raised about overfishing. Also, wanton waste, where intact crayfish have been seen in garbage dumpsters and in shallow water, has been confirmed.
The agency reported limiting crayfish harvest will reduce waste, but still allow capture with traps, snorkeling, SCUBA or bait on fishing line.
The Montana Fish & Wildlife Commission meeting will use the video conferencing platform Zoom. Details on how to access the meeting will be posted on fwp.mt.gov closer to the meeting date.
The meeting will also be audio streamed online at fwp.mt.gov. The meeting begins at 8:30 a.m.
Recent Headlines
---