Builders can't keep up with demand; manufacturers short on supplies
by
BRET ANNE SERBIN
Daily Inter Lake
|
August 12, 2020 1:00 AM
Summertime is construction season in the Flathead Valley, and while the COVID-19 pandemic has hindered a variety of local business sectors, the building industry certainly isn't one of them.
Custom home builder Jeff Moser, for instance, said his company is booked out for residential projects until April 2022.
"We're never booked out this far in advance," Moser reported.
Starting in April, interest exploded for new homes in the valley, particularly among out-of-town buyers looking for a safe, remote place to build a home.
In July, Moser started getting more calls from the 406 area code as local residents decided to take advantage of low interest rates. But at that point, Moser became so inundated with requests that he had no choice but to turn people away.
He said he'd like to pass clients off to colleagues in the business, but there's simply "no way" any reputable builder in the area will have an opening anytime throughout 2020.
Moser is already working 60 or 70 hours a week to try to keep up. After building more than 300 homes in the Flathead — and becoming a grandfather — the builder doesn't think it's sustainable to keep up this frenetic pace.
"We just don't live that kind of life here in this valley," he pointed out.
Still, he said, "I'm certainly grateful for the work. I'm not stressed out."
Both new construction and existing home sales seem to be flying off the local market this summer.
"Realtors are busier than ever," reported Jeri Moon, the Executive Officer of the Northwest Montana Association of Realtors.
Based on NMAR's data, the median sales price for a home in Flathead County in May 2020 was $335,000 and Flathead County homes spent an average of 40 days on the market. NMAR also reported 2,116 closed sales in Flathead County over the course of the past three years.
But the pandemic isn't the sole cause of recent trends, clarified David Fetveit with PureWest Real Estate.
"The national studies are definitely showing a migration out of city centers to more rural communities as a result of the pandemic," Fetveit told the Inter Lake. "The reality is that this dynamic was already an increasing trend and has been increasing for the past 10 years of this recovery. The challenge is the ability to categorize buyer motivation."
Besides anecdotal observations from Realtors and builders, Fetveit said there has yet to be conclusive research about out-of-state buyers purchasing Flathead Valley properties more quickly, in higher numbers or exclusively because of the pandemic.
"Inventories in most segments of the market were already decreasing with increased demand from both local and out-of-state buyers prior to COVID, resulting in upward price pressure," Fetveit explained. "This trend has continued and possibly increased because of the pandemic, but [it's] really unprovable."
But the overall impact on local manufacturing is undeniable. Smaller manufacturers, like LodgeCraft Furniture in Somers, saw increased demand during Gov. Steve Bullock's stay-at-home directive in March and April.
"Our showroom in Somers was of course closed, but our website (www.lodgecraft.com) saw an increase in online orders," noted Tracey Kincheloe, who co-owns the business with her husband Adam. "We ship all over the U.S., and since people weren't able to physically go to the store, we saw an increase in online shopping."
Kincheloe said locals make up the bulk of their showroom visitors, whether they are full-time residents or second-home owners. So far, she said a slower tourist season hasn't seemed to impact LodgeCraft's sales, and she was confident summer will still be the manufacturer's busiest time of year.
The biggest challenge, she said, was managing the personal and professional sides of the family business during the pandemic.
"Since we're family owned and operated, the main adjustment we had to make was learning how to run our business while at the same time homeschooling and caring for our children full time," she said.
Of course, family obligations aren't the only challenge facing local manufacturers, even though the industry as a whole has stayed strong.
One of the most persistent problems seems to be tracking down supplies with disruptions in the global supply chain.
Stone countertops are taking about three months to arrive, according to Moser. A shortage on breakers is stalling a lot of home construction, and Moser said his company has been incredibly fortunate to be able to source dimensional lumber with the continued closure of the Canadian border.
Kincheloe agreed: "It has been challenging working with our suppliers since they're located all over the U.S., and restrictions are different everywhere. Some companies we work with are back to full-time, while others are still only working part-time hours."
Skilled labor, too, is in short supply. Moser said many of his colleagues have struggled to find roofers, framers, siders and other workers. His business has only been able to keep up with demand, he said, because they have their own workforce of 30 loyal employees.
"We're self-sufficient as a company," he explained.
And even though Realtors are seeing a surge in new home buyers, the changing conditions are making their work trickier, too. Jill Brass with the Montana Real Estate Association said her sales have taken a hit because social distancing and travel restrictions have made it harder to show properties, especially to out-of-state clients.
The general uncertainty has also taken a toll on buyers and Realtors, according to Brass. In the spring, she stopped taking on requests for new construction because the process had become too capricious.
"It's hard to predict," she noted. "Are they going to be able to move here? Are they going to be able to sustain jobs?"
"I don't know how it's going to affect overall sales," she admitted.
Reporter Bret Anne Serbin may be reached at (406)-758-4459 or bserbin@dailyinterlake.com.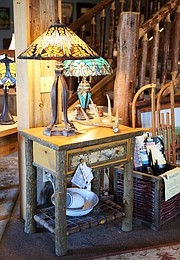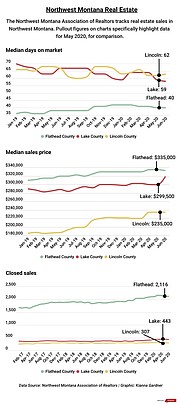 Recent Headlines
---