People's Center moving forward with fresh start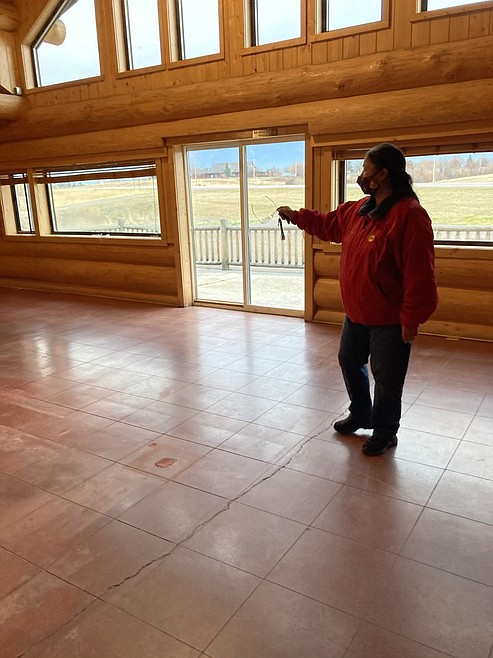 The People's Center Director Marie Torosian shows the new gift shop location that opens this week in St. Ignatius. The Center signed a one-year lease for the log building that was Altitude Restaurant at 77549 U.S. 93 in St. Ignatius. (Carolyn Hidy/Lake County Leader)
by
CAROLYN HIDY
Lake County Leader
|
December 1, 2020 12:00 AM
When The People's Center, a cultural museum and gift shop in Pablo that provides education about traditional lifestyles and histories of the Salish, Pend d'Oreille and Kootenai people, was destroyed by arson in September, many artifacts, including beaded buckskin dresses and vests and historic photographs, were destroyed along with the center's gift shop.
But with painstakingly careful work, some beadwork and many photos and other items were salvaged and stored while the center's staff looked for another site.
Marie Torosian, director of The People's Center, said last week she expects the gift shop to be open once again by Dec. 1 at a new site in St. Ignatius.
"We are excited to be opening again," Torosian said. "It will be a new beginning, starting over, picking up the pieces."
She and her staff have leased the building that was once Altitude Restaurant, on U.S. 93 for one year as they consider how to move forward.
"We want to help customers get their Christmas shopping done," Torosian said. "People have been messaging us, wanting us to reopen and giving us support."
Beads and beading supplies, blankets and many other items are arriving to greet holiday shoppers.
Torosian says The People's Center had been considering rebranding and renaming itself to be "more distinct, more representative of our people."
This new site opening is a good time for that, she said. A new name is still under consideration.
"We are having to say goodbye to a lot of collections that were lost," Torosian said. "But we have our stories, our languages, our history."
The gift shop will open first, but the new building has space for a gallery and educational programs that will follow.
New donations are starting to come in. Two beaded bags that were owned by Mary Kaiser in the early 1900s were recently given to the center, and other donations and loans are in the works.
"This shows me the community still supports us. The community is a big part of us," Torosian said.
For more information on The People's Center, call 406-370-7355.
---