Retired Flathead District Judge Ted Lympus dies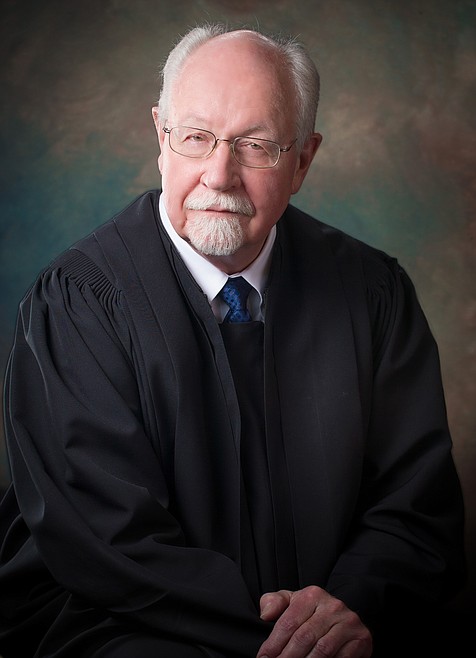 by
LYNNETTE HINTZE
Daily Inter Lake
|
December 4, 2020 12:00 AM
The Honorable Ted O. Lympus, a former Flathead County Attorney and Flathead District Court judge for decades, died peacefully Thursday morning, surrounded by family members at home in Missoula. He was 77.
Lympus served as a judge for the 11th District Court in Montana for 23 years, retiring in 2015. Prior to that he spent 13 years as the county attorney for Flathead County.
His friends and colleagues say they'll remember the integrity and compassion he displayed throughout his career, and his love of God and family.
"He was just an honest man who loved the community, loved being the county attorney and then district judge, and all aspects of that. I always felt his humanity made a difference," said Bonnie Olson, who worked with Lympus as office manager first at the County Attorney's Office and later as court administrator at Flathead District Court.
"He was a family man first and foremost; it was so incredibly important to him, and his religious beliefs carried him throughout his career, both personally and professionally," Olson recalled.
Olson said she admired how he dealt with the victims of crimes in all of his cases.
"I'll remember how empathetic he was, and his integrity in dealing with both offenders and victims," Olson said.
Former Flathead District Judge Katherine "Kitty" Curtis remembered his help and support when she was running for District Judge. She became a judge in January 1995, at a time when Curtis and Lympus were the only District Judges serving this district. Now there are four judges.
"No matter how experienced you are in the legal field, there's a big transition in becoming a judge, the number of different things you handle," Curtis said. "It's being thrown into the lion's den right off the bat, and he was just such a gem in helping me get my feet under me.
"I could go into his office any time, any day and ask him anything and he would help me work my way through it," Curtis said. "He wanted things to work the best they could, so we could be the best public servants we could.
"That camaraderie and spirit of cooperation continued through the time Stew [Stadler] became a district judge," she continued. "The three of us, together with Bonnie [Olson] just worked so incredibly well together."
Lympus' dedication to public service made him both a good county attorney and a good district judge, Curtis said.
"He had tremendous compassion for people, for coworkers and attorneys and just everyone," Curtis recalled. "He approached everyone with a spirit of 'how can we work this out for the best,' wanting to understand what people needed from the court.
Former Flathead County Attorney Tom Esch said Lympus was a big influence in his life.
"He was a true mentor. He taught me a lot about the profession, and about people," Esch said. "He had a tremendous capacity for empathy of victims of crime."
Esch worked as a deputy county attorney under Lympus, and was elected county attorney when Lympus became a district judge.
"Part of his modeling to me was his relationship with his family," Esch said.
Retired U.S. Magistrate Bart Erickson also recalled Lympus as a "great family man," and a "huge Griz fan."
Lympus, a 1966 University of Montana graduate and 1972 UM Law School graduate, was well-known for his love of tailgating at Griz games.
"There will be many future tailgates to celebrate his life and toast his resurrection," Lympus' obituary states.
Lympus' son Steven said a service will be held at some point in the future when everyone can gather.
"I'll remember what an honorable and loyal man he was to everyone," Steven Lympus told the Inter Lake, "and how much he loved his family and friends and the Flathead. He loved his work, loved God, loved Glacier Park."
Lympus and his wife Patsy received the UM Community Service Award at a Grizzly football game in 2001. Sponsored by UM and coordinated by the Alumni Association and Grizzly Athletic Association, the award was given to the couple for their dedication to the university and Flathead Valley community.
During his many years in the Flathead, Lympus was active in Kalispell Rotary, the Community Education Forum on Methamphetamine Abuse, the Montana Sentencing Commission and the Montana Commission on Criminal Procedure and Jail Standards.
He chaired the Montana Drug Task Force and was a board member of the Glacier Orchestra and Chorale and The Salvation Army.
Among Lympus' survivors are his wife Patsy, son Steven, daughter Renn Lympus Weida and eight grandchildren.
Memorial gifts can be given to UM Grizzly Athletics, Montana CASA/GAL Association, and Humane Society of Northwest Montana.
News Editor Lynnette Hintze may be reached at 758-4421 or lhintze@dailyinterlake.com.
---