New high-school band director keeps the beat in Whitefish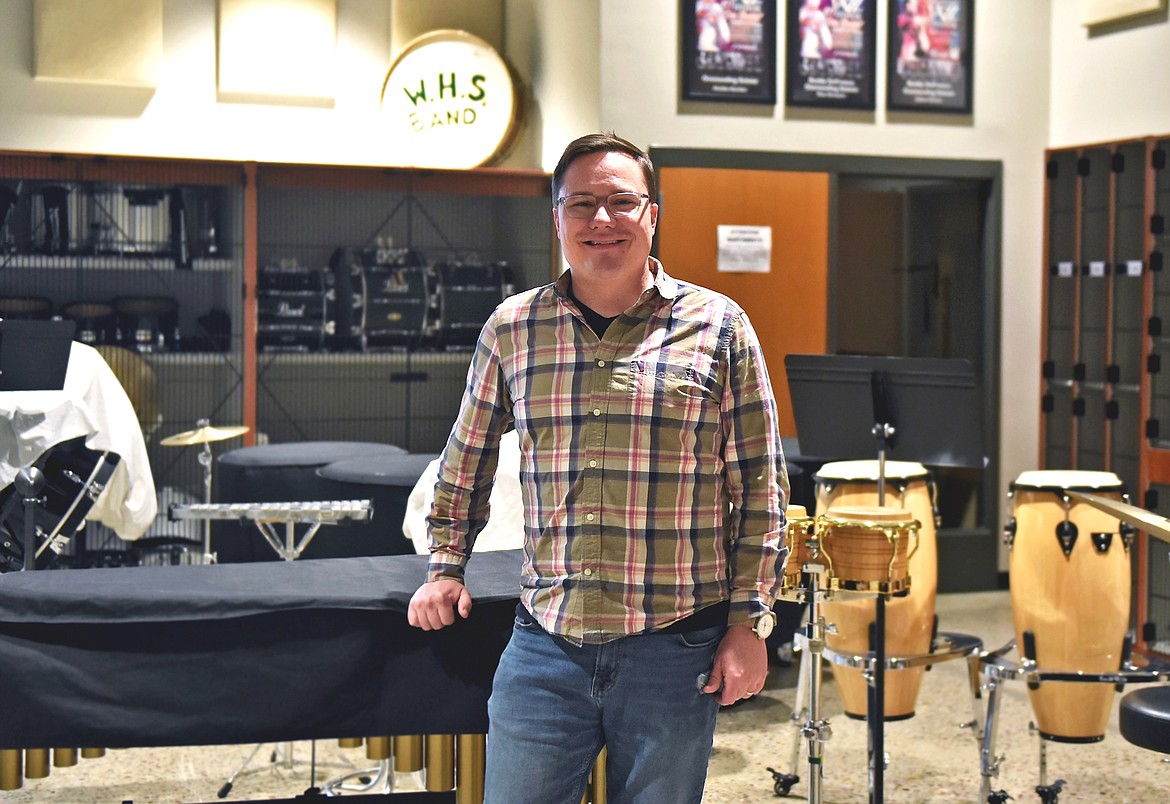 Whitefish High School Director of Bands Matthew King took over the program at the start of the school year in August, replacing Mark McCready, who now teaches at Whitefish Middle School. (Whitney England/Whitefish Pilot)
by
WHITNEY ENGLAND
Daily Inter Lake
|
December 9, 2020 12:00 AM
Matthew King stood on the ladder podium conducting the famous Ohio State marching band during the second quarter of the BCS National Championship college football game in early 2015 when the Buckeyes defeated Oregon.
King, who is the new Whitefish High School band director, refers to that memory as a "pinch me" moment in his career. He was at Ohio State during that time completing his master's degree in wind conducting, which is a highly selective program that usually only accepts two students at a time. That prestigious degree could have taken him almost anywhere, but he's known all along that his passion lies within teaching at the high school level.
"A lot of my colleagues were then auditioning to get into doctorate programs, but I knew and felt passionately that I just want to go back and teach high school — that's what I love," King said. "Looking back now four to five years after that it still feels like the right decision, this is where I'm supposed to be," he added.
King joined the Whitefish High School band program this fall and despite the many challenges surrounding teaching during the COVID-19 pandemic, he hasn't missed a beat. The previous director, Mark McCrady, moved to teaching at Whitefish Middle School full time and a new position was created for King as the local programs continue to grow.
The new director brings a flood of experience to an already thriving band program at the high school and he is looking forward to showcasing just how much the students have been able to progress despite some uniquely challenging times.
"I'm anxious to show that we're still doing awesome things and the kids are working hard even in the midst of this and even in the transition," he said.
King says he knew from the time he was in high school himself that he wanted to teach band. He was highly influenced by his director in high school and formed the desire to be that support for his own future students.
He went on to attend Anderson University in Indiana, a small liberal arts college, and is grateful he is one of the few that made it through his bachelor's of music education, student teaching and found a job following graduation.
"There's a lot of people who start that degree and just get burned out on it or it's not for them, but I just found energy and joy in doing it," King said. "I love interacting with students, I love, especially at the high school age, the relationships we get to form and the way I get to encourage and challenge them, push for excellence with them."
His first teaching job after college was at Stillwater Christian Academy in Kalispell, and it was the Midwesterner's first taste of Montana. He and his wife, Eleine, were married in 2008 and right after their honeymoon moved to the Flathead in a whirlwind adventure, he says.
He taught at Stillwater for five years, which he enjoyed and said the Flathead Valley felt most like home. In 2013 he made a difficult decision to head east again with plans of pursuing graduate school in an all-encompassing wind conducting master's program.
"I thought, I can write papers during the summer and get a music education master's degree for the paper, or to further my career — but if I want to be a better teacher, that was the way to do it," King said.
He started a master's program at the University of Massachusetts, but soon transferred to Ohio State after a grueling application process. After being raised as a Buckeye fan, the opportunity to attend Ohio State was a dream for King, not to mention that the school has a world-renowned marching band, famous for its synchronized drill patterns.
King spent two years as an assistant graduate director of bands at Ohio State and recounted several awe-invoking memories from his time there. He had responsibilities of rehearsing the band, writing some of the drill formations and the thrilling experience of conducting during the football games.
"That was just a ton of fun and, man, I just grew exponentially as a teacher," King recalled.
After graduating with his master's from Ohio State, he was hoping an opportunity to move west again would arise. He was hired as the band director at a large, 1,400-student high school in Colorado Springs, with over 150-member band programs and a competitive marching band.
Although exciting and captivating to be a part of a program like that, King said it was also exhausting. Despite the long hours, he did feel fulfilled and really only one thing could have pulled him away from that program — a chance to return to the Flathead Valley.
King began talking with McCrady about the opening at Whitefish High School and it all seemed to just fit into place.
King also plays the tuba semi-professionally in community bands, including playing with the Glacier Symphony when he lived in the valley previously. He's been playing the tuba for over 20 years, also enjoys the upright bass for jazz music and is well-versed in all band instruments.
"I think band is one of the best ways to really encourage students to be super well-rounded and grow as a person, music in general I think is a wonderful way to do that," King said. "(In band) nobody takes a backseat, one person not holding themselves accountable influences the entire group — what an amazing lesson for a high schooler to learn."
---