Event at Rebecca Farm still on, with modifications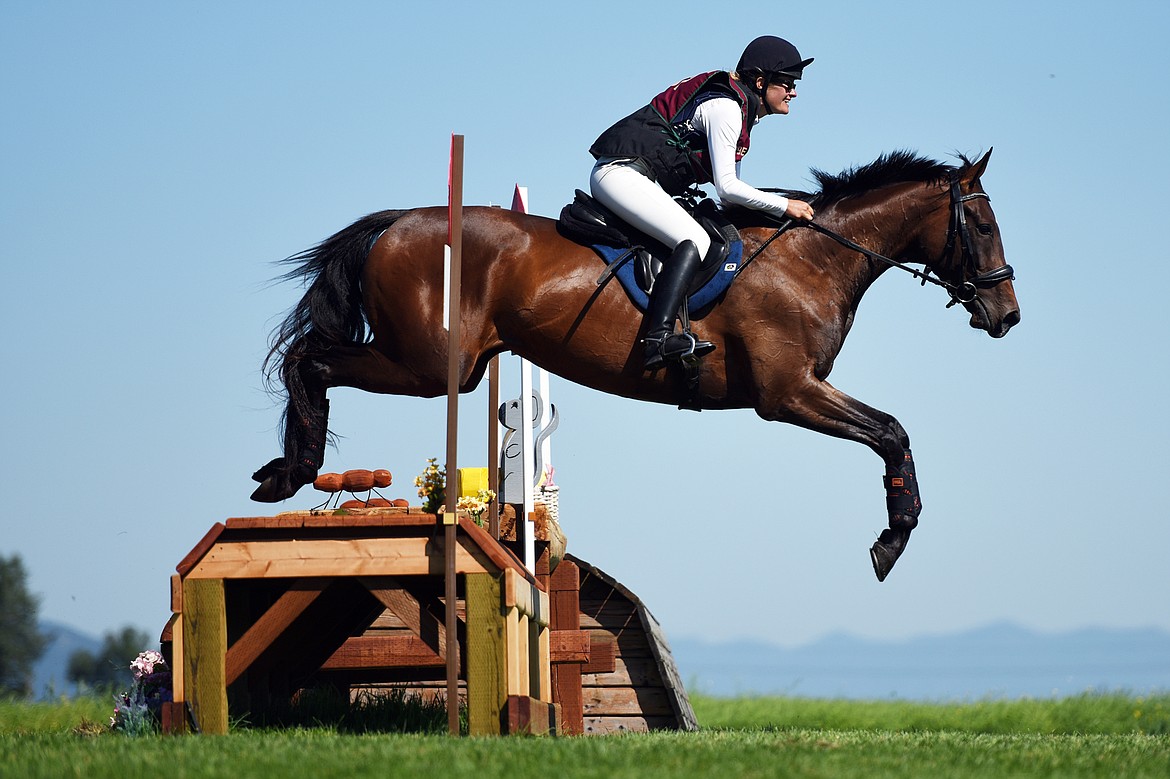 Amy Bowers rides Del Mar Belle in the Senior Open Novice E cross-country division during The Event at Rebecca Farm on Thursday, July 25, 2019. (Casey Kreider/Daily Inter Lake)
by
KATIE BROWN
Daily Inter Lake
|
July 10, 2020 7:14 PM
Things may look a little different this time around but the Event at Rebecca Farm is still happening.
"We're looking forward to hosting the Event," event manager Sarah Broussard said. "We understand it's going to be under very different circumstances than normal."
The United States Equestrian Federation (USEF) has formulated an action plan in response to the COVID-19 crisis. All events sanctioned under the USEF umbrella must adhere to these guidelines, Rebecca Farm included.
One of the most notable changes is that non-essential personnel, which includes spectators, will not be allowed on the Rebecca Farm grounds during the Event.
The Event is one of the premiere three-day eventing competitions in the west and typically attracts more than 5,000 spectators to the Kalispell farm.
Broussard said she is saddened by this, but understands that it is necessary for the Event to be held.
"You have to play by the rules," Broussard said. "And I think that most people will be very cognizant and accepting of that because everybody wants something to happen. Everybody's been home. No one's gone to any event. No one's gone to any shows. People are champing at the bit to get out."
Entries are cut in half this year, from the typical 650 in previous years down to around 350 competitors.
This is because there will only be national divisions offered through the advanced level, including a new division, beginner novice.
There are no international divisions offered this year, because riders have to qualify to compete at Rebecca Farm and there have been no qualifying events in Area VII due to COVID-19. .
"It'll be kind of exciting to see some of those (national) competitors because they've never been here before, because we've never offered that level."
Under the United States Eventing Association, Area VII encompasses Montana, Washington, Idaho, Oregon and Alaska. Rebecca Farm will be the first event to be held in Area VII this season.
"Everybody has to make an adjustment in order to move forward with the sport," Broussard said.
Every volunteer, staff member and event official will have their temperature taken when they arrive on the property each day.
Volunteers are a crucial part of helping the Event run smoothly. On typical year, Broussard said there are probably around 200 people volunteering. This year there will be about 150 and they are considered essential personnel.
"We'll have less volunteers in general," Broussard said. "And I also think that some of our dedicated volunteers may not feel safe coming out."
Riders are trusted to take their own temperature and self-report any symptoms.
"I can't chase down 300 people to make sure they've taken their temperature in the morning," Broussard said. "So a lot of that is basically on the honor system."
There is a USEF emergency response plan that will go into effect should any competitor or event staff report possible COVID-19 symptoms that includes isolation and contact tracing.
Everyone on the Event grounds is encouraged to social distance and wear a mask if they plan to be within six feet from another person.
"If you're out walking cross-country course with your husband or wife or children you don't have to wear a mask," Broussard said.
Hand wash stations will be accessible all over the farm.
"The office will be different, probably open a window through the window rather than having people come inside," Broussard said.
There will not be any VIP sponsor areas or award ceremonies in an effort to reduce social contact and avoid spreading the virus through touching the trophies and ribbons.
Stabling will be set up for 380 stalls with 20 stalls in each run. Normally the barns are set up with 30-40 stalls.
"There will be smaller barns with more space in between them," Broussard said. "And then ideally, we keep a group together at each barn. There will be space for empty stalls in between people."
The Event, going into its 18th year, will be run over three days instead of five and will begin with dressage on Friday, July 24. Show jumping will follow on Saturday and cross-country will be on Sunday.
"It's sad to us that we won't have as many competitors, that we won't have the spectators, that we will not be able to have our sponsors and VIP and such but we're hoping that everything gets back to normal next year," Broussard said. "And it'll be different this July. But it's going to be fun."
---