Law enforcement officials weigh in on mask mandate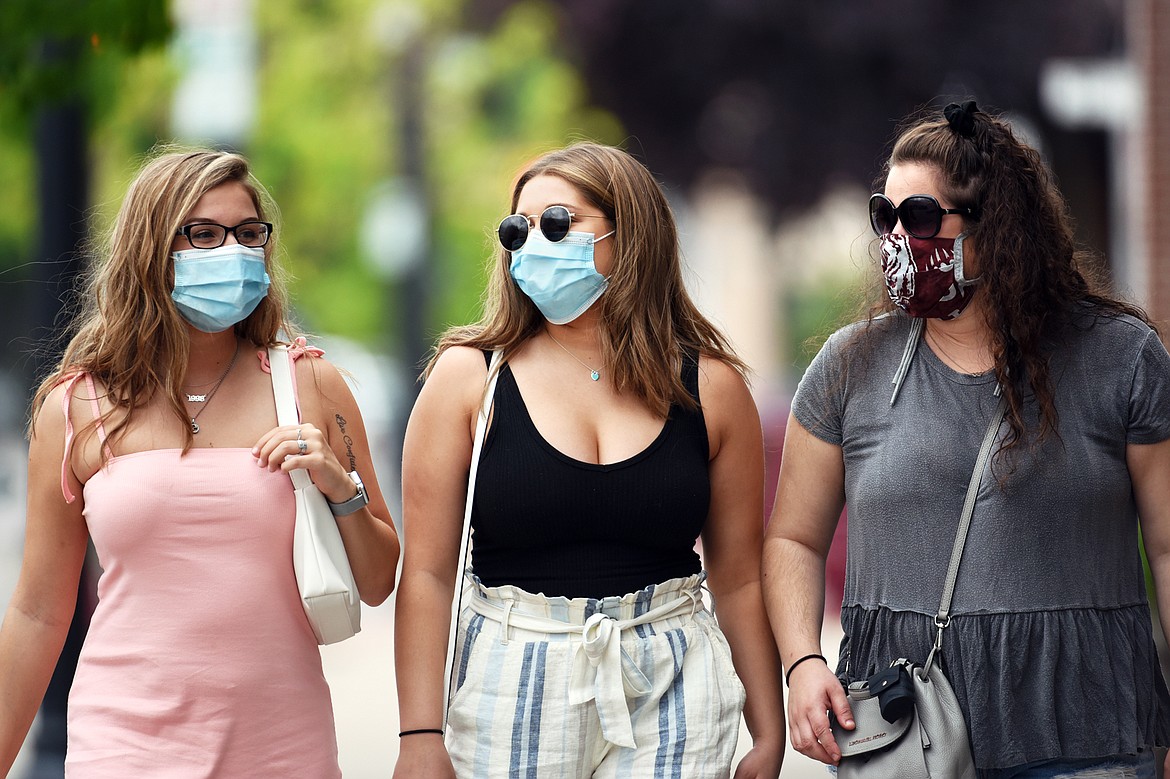 Three women wear face masks along First Avenue East in Kalispell on Friday. (Casey Kreider/Daily Inter Lake)
by
SCOTT SHINDLEDECKER
Daily Inter Lake
|
July 18, 2020 1:00 AM
The jail roster listing inmates in the Flathead County Detention Center typically includes people accused or convicted of murder, drug offenses, driving under the influence and partner or family member assault. But don't expect to see people listed there because they violated Gov. Bullock's mask directive.
Bullock issued the order Wednesday, July 15. It is five pages in length, but what it mostly boils down to are people entering businesses, government officers and indoor spaces open to the public, publicly or privately owned.
Earlier this month, the governor declined to issue a mask order, but with the number of cases rising dramatically statewide, things have changed.
According to the state's Coronavirus Task Force, Montana had 2,366 COVID-19 cases as of Friday. Flathead County had five new cases and 28 active. Overall, the county has a total of 102 cases with two deaths and 72 recovered. Flathead County public health and law enforcement agencies are preaching education before enforcement when it comes to the directive.
Flathead County Sheriff Brian Heino said officers may respond to a business only if it reports people not wearing masks, asks them to leave and they refuse.
"A person would be warned and asked to leave," Heino said. "If someone returns to a business, doesn't wear a mask, refuses a request by the owner or manager to leave and an officer responds, a ticket could be written."
The charge would be a misdemeanor.
Whitefish Police Chief Bill Dial said his department won't file charges for disorderly conduct if people don't wear masks.
"If someone enters a business and won't wear a mask, the business owner could call us for assistance," Dial said. "Our officers would use their discretion in each case. There are ways to resolve issues without writing tickets."
In Kalispell, Police Chief Doug Overman said his department will respond to mask-related calls if it has to.
"We're essentially not getting in the middle of people wearing masks, but businesses are being forced to and we'll respond if called," Overman said. "We would try to reason with people.
"It's like if people aren't wearing a shirt inside a business where they are required to do so," Overman added.
He said his officers would wear masks in certain situations, but there would be many scenarios where they wouldn't because of the things they have to do while on the job.
In Columbia Falls, Police Chief Clint Peters issued a statement on social media.
"In regards to the Directive, our department will respond to calls for service placed by a business owner who reports a customer is either refusing to leave the premises when asked (trespassing), and/or when a customer is causing a disturbance that would constitute disorderly conduct as outlined in Columbia Falls City Code 9.16.020," Peters wrote.
"Businesses have always had the right to refuse service to individuals that are not abiding by the business rules (no shirt, no pants, no shoes, no service, etc.) and businesses also have the right to refuse service to anyone who refuses to comply with wearing a mask. Businesses are private property, and the business owner has the right to ask you to leave their private property for any reason; to include not complying with the Governor's Directive."
Peters also asked residents to not call 911 if they feel there is a violation of the directive.
"Our department will not be responding to calls of individuals who are not abiding by the suggested social distancing or who are not in compliance with the Governor's executive order requiring the use of masks," Peters wrote. "If you, as a concerned citizen, would like to report a violation or feel a business is not in compliance, please contact the Flathead County Health Department by visiting flatheadhealth.org."
There is a link on the website for residents to file a complaint against a business or organization violating the directive.
Flathead City-County Public Health Officer Hillary Hanson said she had hoped it didn't have to come to a mandate.
"We know it's essential for the health of our communities and keeping our businesses open," Hanson said. "We've been recommending mask use for quite a while but we're definitely not seeing use to the level I would have liked."
Hanson said health department officials met with the county Attorney's Office and Sheriff's Office Wednesday to discuss the mandate.
"We're starting with a message of education first, following the governor's mandate," Hanson. "We want people to be educated about it and why it's important."
The directive does not require face coverings in counties with three or fewer active cases or for children under 5, though face coverings are strongly encouraged in both cases. Other exceptions include children under 2, while eating or drinking at businesses that sell food or drinks, during activities that make face coverings unsafe (like strenuous physical exercise or swimming), while giving speeches or performances in front of a socially distanced audience, while receiving medical care or for people with a preexisting condition that would make wearing a face covering unsafe.
Reporter Scott Shindledecker may be reached at 758-4441 or sshindledecker@dailyinterlake.com
---