State adjusts COVID testing priorities to tackle wait times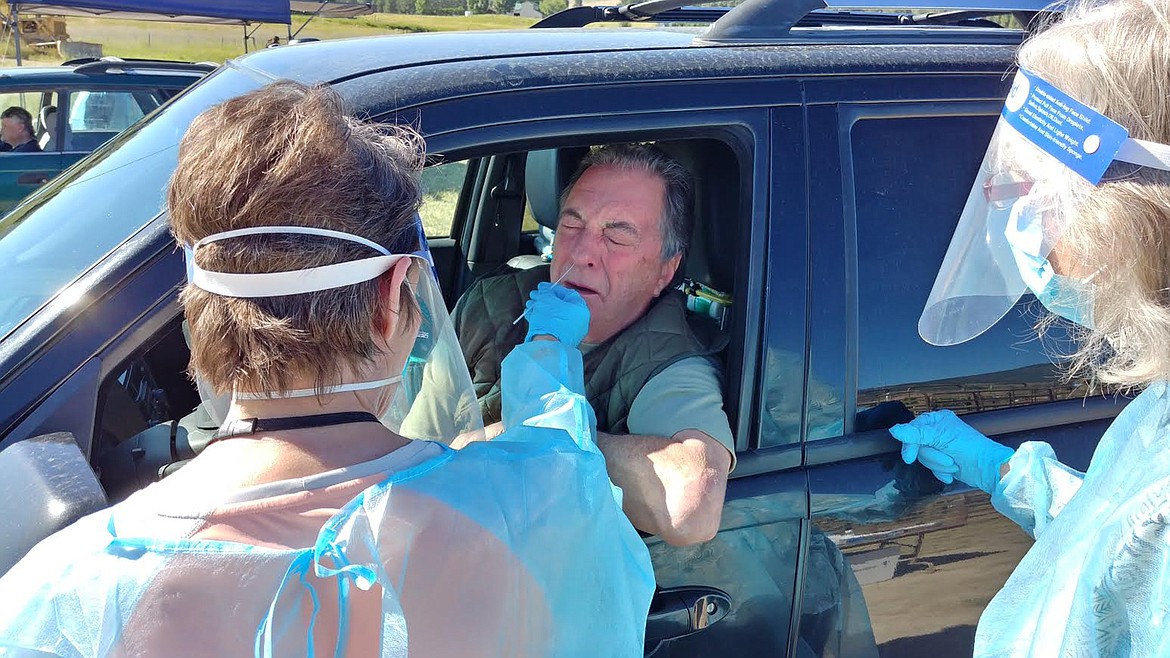 Hot Springs resident James Wray gets swabbed in the nose during last week's COVID-19 testing event. (Chuck Bandel/Valley Press)
by
KIANNA GARDNER
Daily Inter Lake
|
July 22, 2020 1:00 AM
In an effort to combat growing wait times for COVID-19 test results, the state of Montana recently made adjustments to who will receive priority testing at the state lab in Helena.
According to Montana Department of Public Health and Human Services spokesperson Jon Ebelt, the company that typically performs testing at the state laboratory, Quest Diagnostics, is no longer able to provide rapid results due to increased test loads. A few months ago, individuals were able to receive results within about 72 hours, but now, it can take anywhere from 10 to 12 days.
"Every state has been impacted by a lack of a comprehensive, federal testing strategy with increasing cases and each state is having to navigate finding new solutions," Ebelt said in an email.
While state officials work to find a replacement for Quest Diagnostics, guidelines at the state laboratory have shifted in an effort to guarantee symptomatic individuals and other priority groups receive results first.
According to the new guidelines, those who fall into the "Priority 1" category are those who are symptomatic, are considered close contacts to symptomatic individuals and others involved in outbreak investigations coordinated by local health authorities.
Those in the "Priority 2" category for testing include frontline employees such as health-care workers in high-risk situations and staff of assisted-living facilities and long-term care centers and residents of "selected congregate settings," such as group homes.
In addition, asymptomatic people are now considered "low priority" and therefore, "testing will be conducted as resources allow, but may not be a priority." The low priority rating for asymptomatic individuals, or those who are exhibiting no COVID-19 symptoms, recently prompted various health-care organizations throughout Montana to either suspend or decrease testing for such individuals.
According to Christopher Leopold, spokesperson for Kalispell Regional Healthcare, the hospital system will decrease asymptomatic patient testing beginning Wednesday (today). In an email, Leopold said this is "because of very limited on-site testing supplies and long turnaround times for reference laboratories."
He added the hospital has "very limited" rapid turnaround in-house testing available, and for send-out testing at reference laboratories the turnaround times have been as high as 10 days. According to Leopold, this is largely due to "increased national demand for testing."
Kalispell Regional will continue testing asymptomatic patients who will require inpatient hospitalization after surgery, as well as patients with outpatient surgical procedures who are considered high risk and all asymptomatic patients who are admitted to the hospital.
While some health-care organizations have chosen to pull back on asymptomatic testing, other entities have decided to temporarily suspend the option all together.
The Flathead Community Health Center suspended testing for asymptomatic patients on July 17 and won't offer testing for those without symptoms until staff is "able get results more quickly," according to the center's website.
Health Center Director Mary Sterhan recently told the Hungry Horse News the center is testing about 450 to 500 people per week and to date, no asymptomatic person has tested positive.
She said those who are tested are currently having to wait up to 12 days before their receiving results.
Reporter Kianna Gardner can be reached at 758-4407 or kgardner@dailyinterlake.com
---