'Black Lives Matter' protests ramp up in Flathead Valley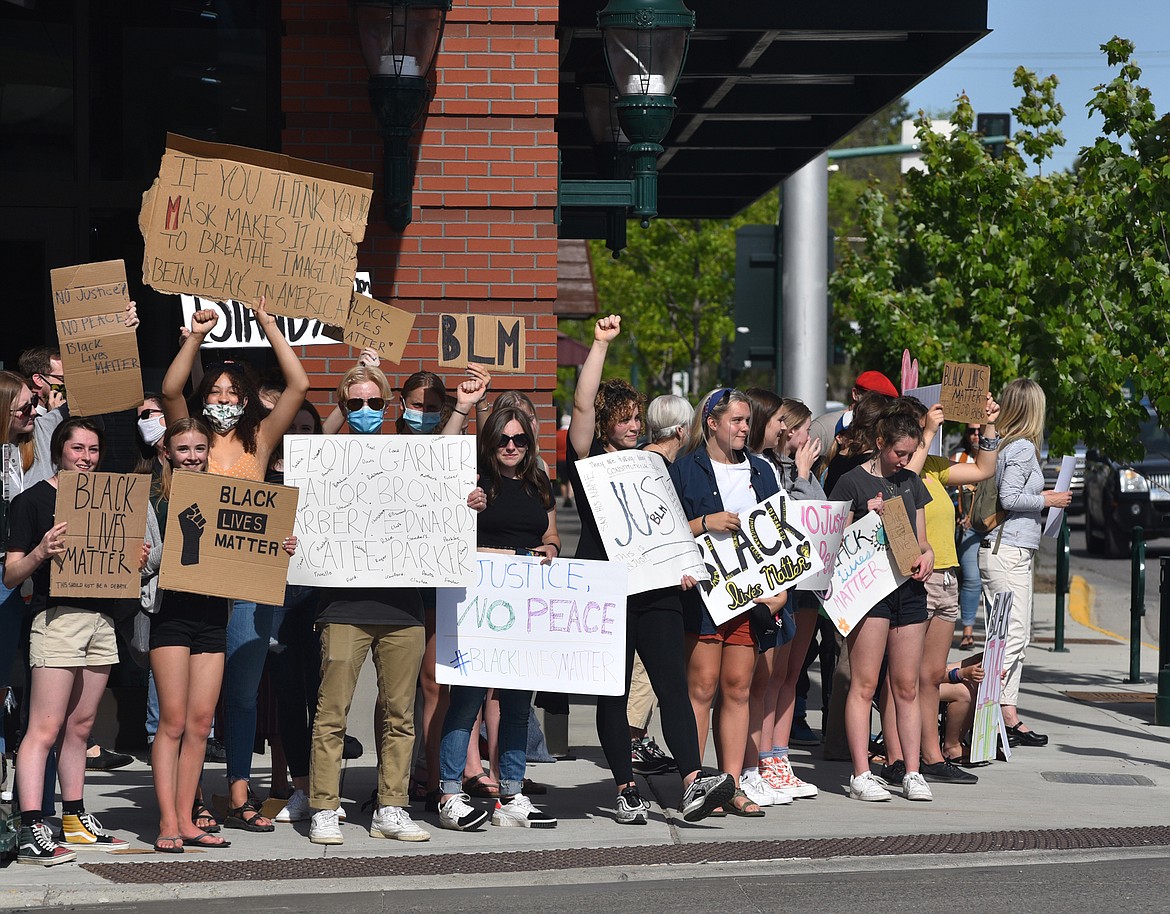 A group of demonstrators gather in front of Whitefish City Hall Wednesday evening protesting the recent death of George Floyd and showing support for the Black Lives Matter movement. Demonstrators stood at both the Baker Avenue and Second Street and the Second and Spokane Avenue intersections. The protestors have been gathering every evening for a few hours in downtown holding up signs and chanting. At times about 100 people were assembled. (Heidi Desch/Whitefish Pilot)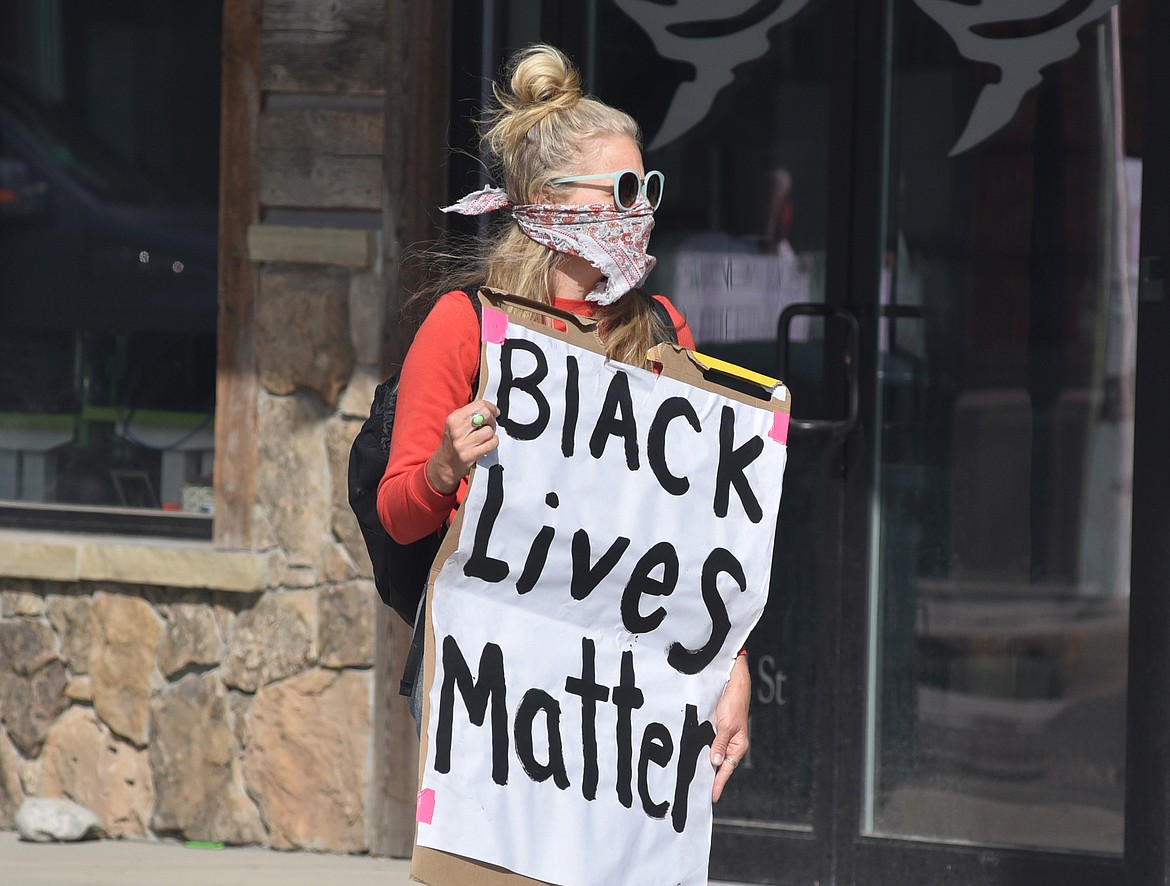 Allison Williams holds up a Black Lives Matter sign on Wednesday evening in downtown Whitefish while standing amongst a group of people gathered to protest the recent death of George Floyd and show support for the Black Lives Matter movement. (Heidi Desch/Whitefish Pilot)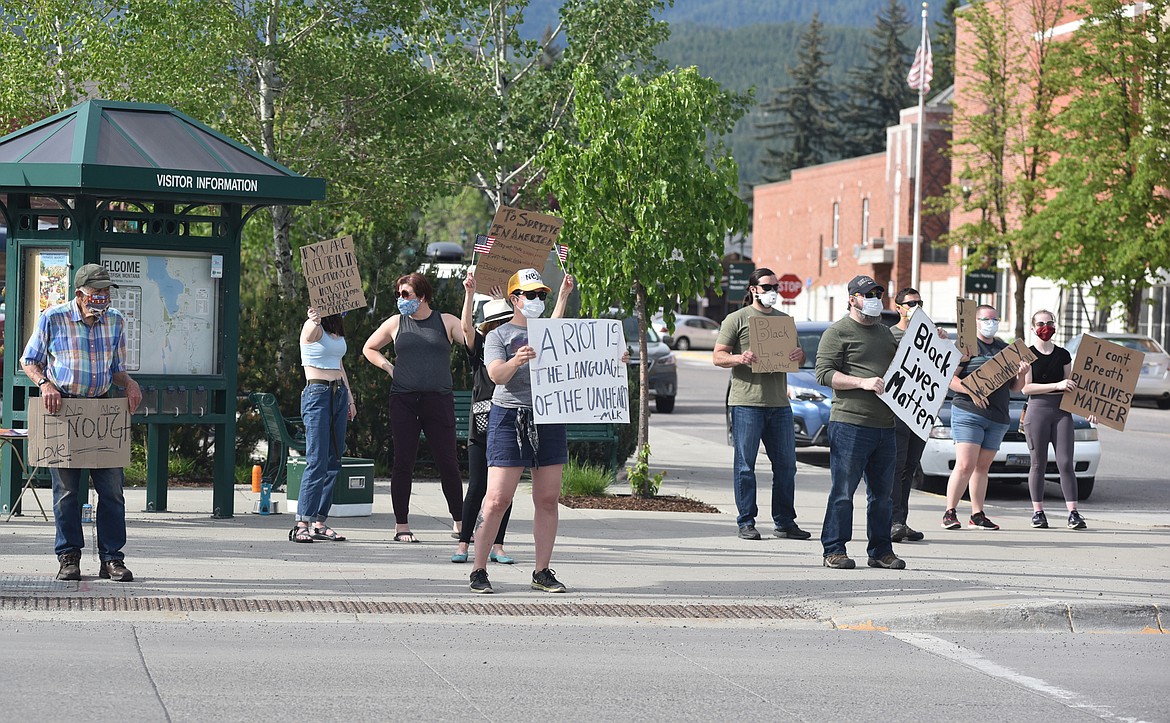 A group of demonstrators gather at the intersection of Second Street and Spokane Avenue in downtown Whitefish Wednesday evening. Demonstrators were protesting the recent death of George Floyd and showing support for the Black Lives Matter movement. A group also gathered in front of City Hall. (Heidi Desch/Whitefish Pilot)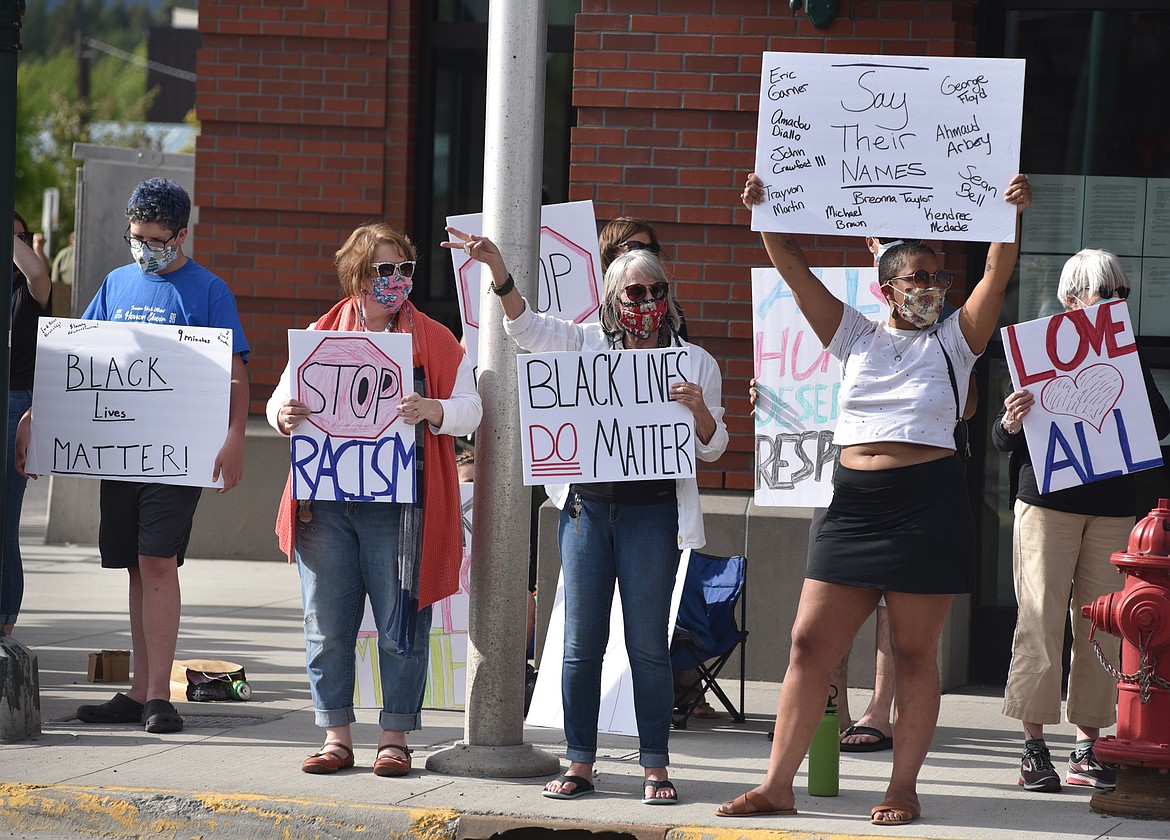 Demonstrators hold up signs in front of Whitefish City Hall downtown Wednesday evening protesting the recent death of George Floyd and showing support for the Black Lives Matter movement. (Heidi Desch/Whitefish Pilot)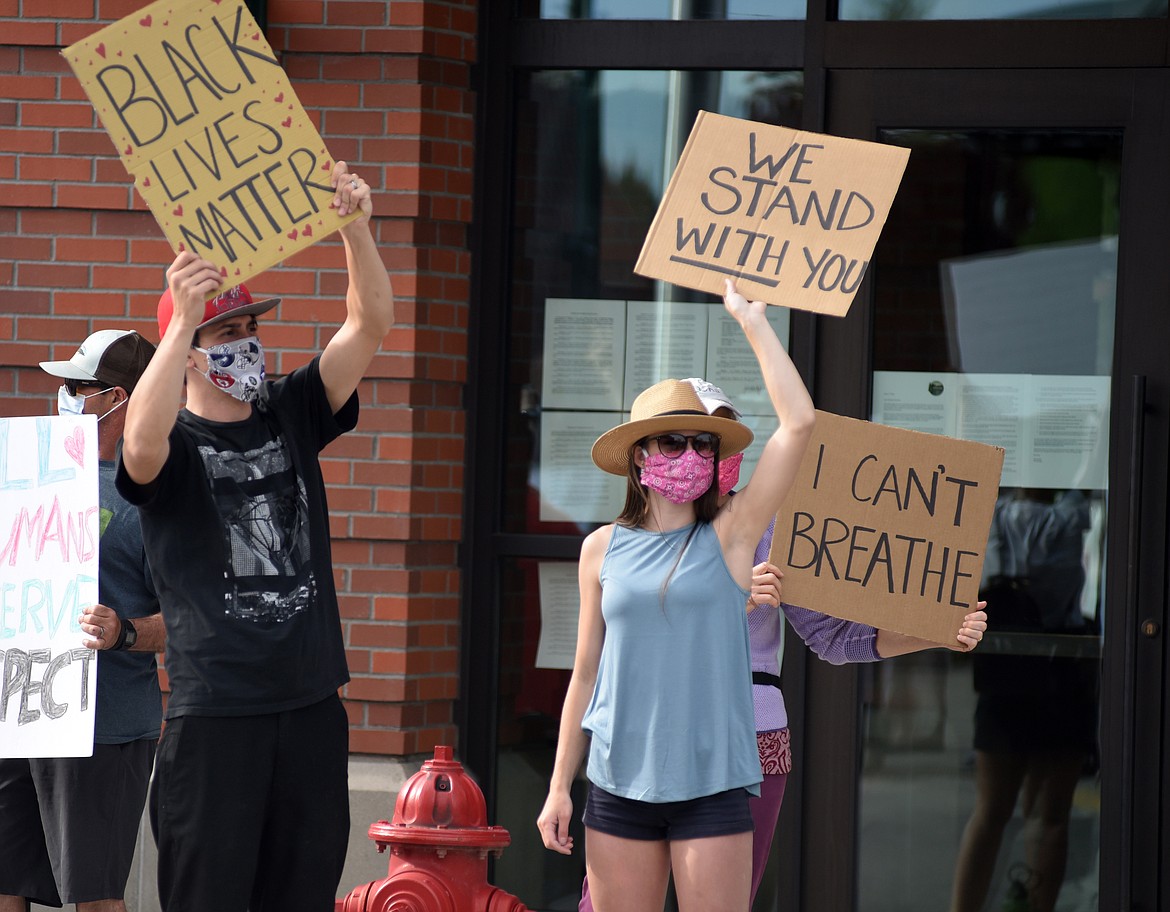 Anthony Correa and Carley Joe Correa stand holding signs in front of a group of protestors outside Whitefish City Hall Wednesday evening. Demonstrators were gathered protesting the death of George Floyd and showing support for the Black Lives Matter movement. (Heidi Desch/Whitefish Pilot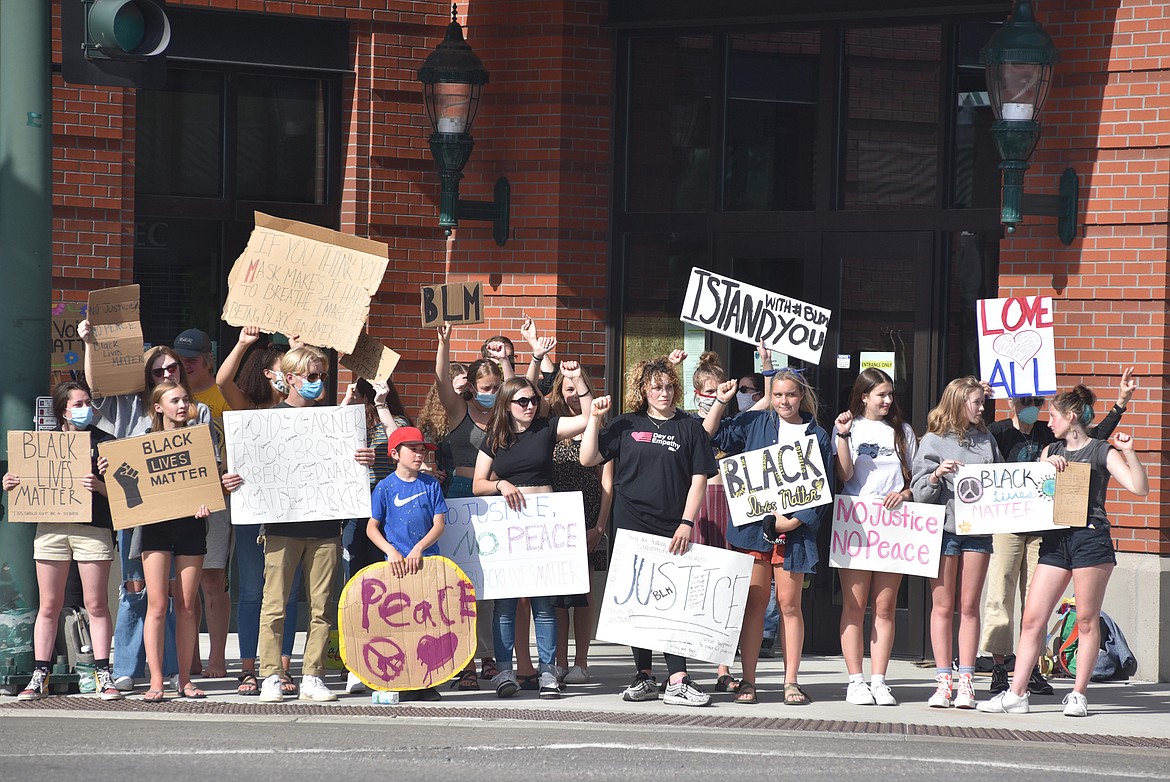 A group of demonstrators gather in front of Whitefish City Hall Wednesday evening protesting the recent death of George Floyd and showing support for the Black Lives Matter movement. Demonstrators stood at both the Baker Avenue and Second Street and the Second and Spokane Avenue intersections. The protestors have been gathering every evening for a few hours in downtown holding up signs and chanting. At times about 100 people were assembled. (Heidi Desch/Whitefish Pilot)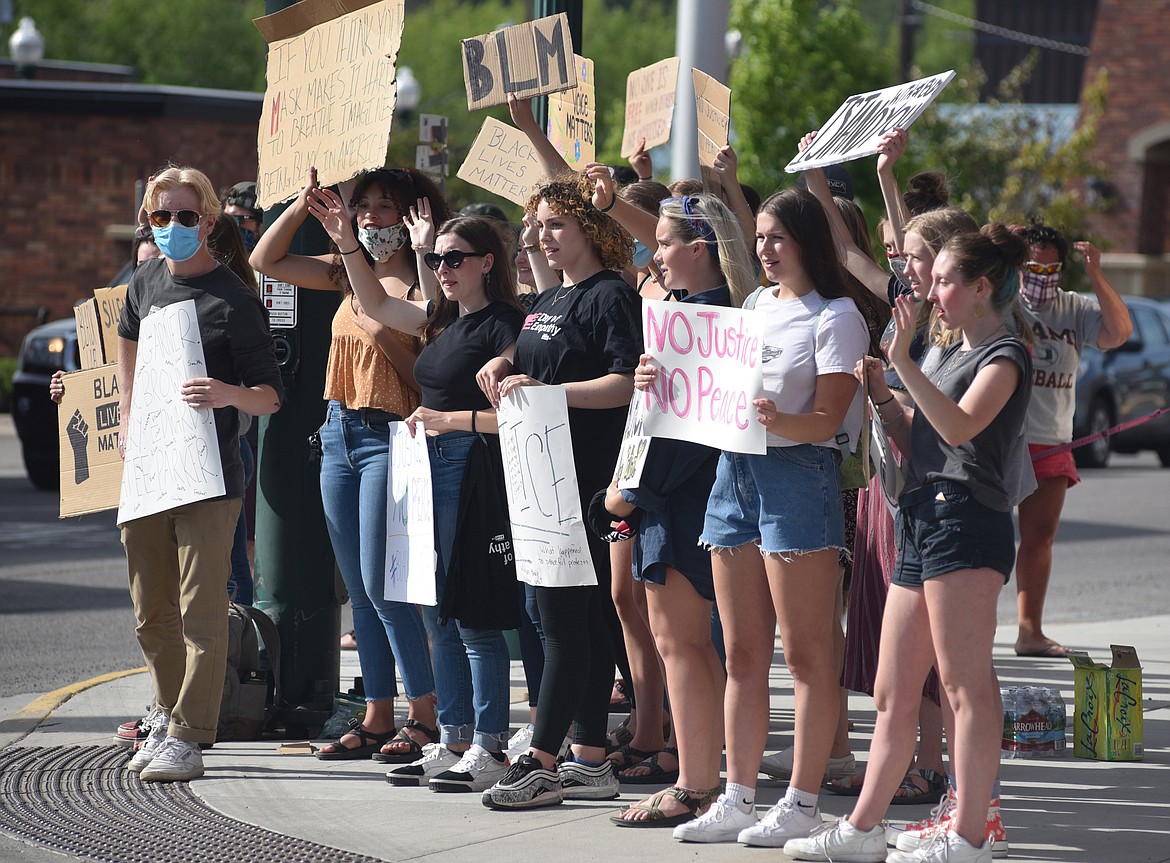 Protestors in front of Whitefish City Hall Wednesday wave to passing traffic. The group of demonstrators protesting the recent death of George Floyd and showing support for the Black Lives Matter movement grew to about 100 people at times. They received several honks of support from passing vehicles. (Heidi Desch/Whitefish Pilot)
Previous
Next
by
KIANNA GARDNER
Daily Inter Lake
|
June 4, 2020 3:56 PM
Local law enforcement leaders, city officials and others say they hope ongoing protests in Whitefish and a protest planned Saturday afternoon in Kalispell will remain peaceful as local residents and others come together in support of the Black Lives Matter movement that has gained global momentum in the past week after the officer-involved killing of George Floyd, a black man from Minneapolis.
On May 25, Floyd was killed after a white male police officer with the Minneapolis Police Department knelt on his neck for more than 8 minutes — a tragedy that was caught on video and sparked widespread outrage in the form of protests, riots and looting. Floyd, who was unarmed, can be heard repeatedly saying "I can't breathe."
The officer who pinned Floyd's neck to the ground, Derek Chauvin, faces a second-degree murder charge and three other officers who were present at that scene, Thomas Lane, Tou Thao and J. Alexander Kueng, face aiding and abetting charges. All four have been fired from the Minneapolis Police Department.
Whitefish Police Chief Bill Dial said the protests in Whitefish began earlier this week.
On Monday, about a dozen individuals were gathered on the corner of Baker Avenue and Second Street in front of the Whitefish City Hall. On Tuesday, Dial said the group had grown to about 70 individuals. And on Wednesday, at least 100 protesters — many of them wearing medical or homemade masks — had expanded from City Hall to the intersection of Spokane Avenue and Second Street, and beyond.
Protesters held signs reading "Black Lives Matter," "Justice for Floyd," "I can't breathe" and other messages. Some opted to hold their fists in the air as a sign of solidarity.
Dial said the organizers of the Whitefish protest said they will be gathering every day at least until Friday, beginning at around 5 p.m. He said thus far, the protesters have not impeded on foot or vehicle traffic in the downtown area, have not damaged public or private property and "have overall been very respectful."
On Wednesday morning, Dial said he hadn't experienced any issues so far, adding that "what happened in Minneapolis was horrendous, there's no doubt. We encourage people to go out and exercise their rights and do so peacefully and we are proud of how these protests are being handled."
But according to a Whitefish Police Department press release Thursday afternoon, a Whitefish resident "became confrontational with the protesters and police intervened, removing the individual from the scene." Chief Dial said Jay Snowden, 51, of Whitefish was charged with one count of disorderly conduct on Thursday morning after Whitefish Police consulted with the Whitefish city prosecutor.
Dial said on Wednesday he anticipates the protest will continue to grow in size in the coming days and said so long as everything continues to unfold "in an appropriate and respectful manner," then there will "be no reason to use police force."
Similar sentiments were echoed by Kalispell Police Chief Doug Overman, who said a protest in Kalispell is expected to occur near Depot Park in downtown Kalispell on Saturday beginning at 5 p.m.
On Wednesday morning Overman said all law enforcement leaders in the valley have been in close contact with one another and "are prepared to act appropriately should the protest be hijacked by people who want to confuse the message of the protesters or act out in violence."
But according to a press release sent out Wednesday afternoon by the Kalispell Police Department, "all information at this time indicate(s) the organized event is intended to be a peaceful, lawful demonstration."
He said there is currently no information as to how many people are expected to attend Saturday's protest in Kalispell, but added the department "respects the rights of anyone who wishes to exercise their rights to free speech and to assemble peacefully."
In separate press release from the department that was sent out Thursday, Overman addressed various concerns related to the pending protest in Kalispell. The press release starts by confirming that the city of Kalispell does not require permits for people to gather when there is no exclusive use of city property or services. Therefore, the protest can continue as planned.
There were other questions related to the possible cancellation of special events due to coronavirus-related concerns. But the press release said such cancellations "are a determination of the respective event organizer in conjunction with state guidance related to the pandemic and/or other related concerns that may be present for their respective event."
DIAL SAID he had been approached by a group looking to defend the Whitefish and Kalispell communities from any "outside agitators." He said one caller said he had hundreds of armed men "ready to assist," but Dial said the police department had no interest in receiving such support.
The police chiefs said there have also been rumors circulating on social media that Antifa, which the Anti-Defamation League defines as a "loose collection of groups, networks and individuals who believe in active, aggressive opposition to right-wing movements," might be present at the protests.
"We have heard concerns that these individuals may be coming in from Idaho and elsewhere, but so far those rumors are just rhetoric," Dial said. "I certainly believe the people who have been protesting here are good people and I don't think they want Antifa here, either."
The Montana Human Rights Network released a statement on Thursday also stating the rumors are unfounded. The Network's press release said misinformation can be traced to when Sen. Jennifer Fielder, R-Thompson Falls, posted a note on Facebook warning that "multiple reports from credible witnesses" said a caravan of Antifa members was planning to infiltrate anti-racist protests planned in Coeur d'Alene, Idaho, before heading to Missoula.
The network said variations of Fielder's claims were then widely shared in "militia and other anti-government" Facebook groups and that members of those groups "have responded by fantasizing about the chance to shoot Antifa demonstrators." But the press release said there was no caravan, and the Montana Human Rights Network "thoroughly researched the situation" and was unable to find any supporting proof and neither could law enforcement agencies.
Several news organizations, including the Idaho Statesman and Associated Press, have published articles debunking the claim as well.
The press release from the Montana Human Rights Network said the "Antifa Fantasy" is a widespread one. "By making it sound like protesters could be out-of-state Antifa members, it's easier for armed militia activists to try and justify violence towards people of color and concerned community members at anti-rascist events."
In a prepared statement, Travis McAdam of the Network said "I can tell you these militia folks have very itchy trigger fingers and are excited by the possibility of 'protecting and saving' their communities. When Antifa hasn't shown up, the armed militias are taking credit for scaring them away, even though the caravan never existed."
The Montana Human Rights Network recommends community members call on their local governments to "publicly denounce the rumors and make a statement rejecting the presence of armed paramilitaries at peaceful anti-racist protests held in their communities."
Reporter Kianna Gardner can be reached at 758-4407 or kgardner@dailyinterlake.com
---