Glacier standout Hill appreciates the challenges, friendships of cross country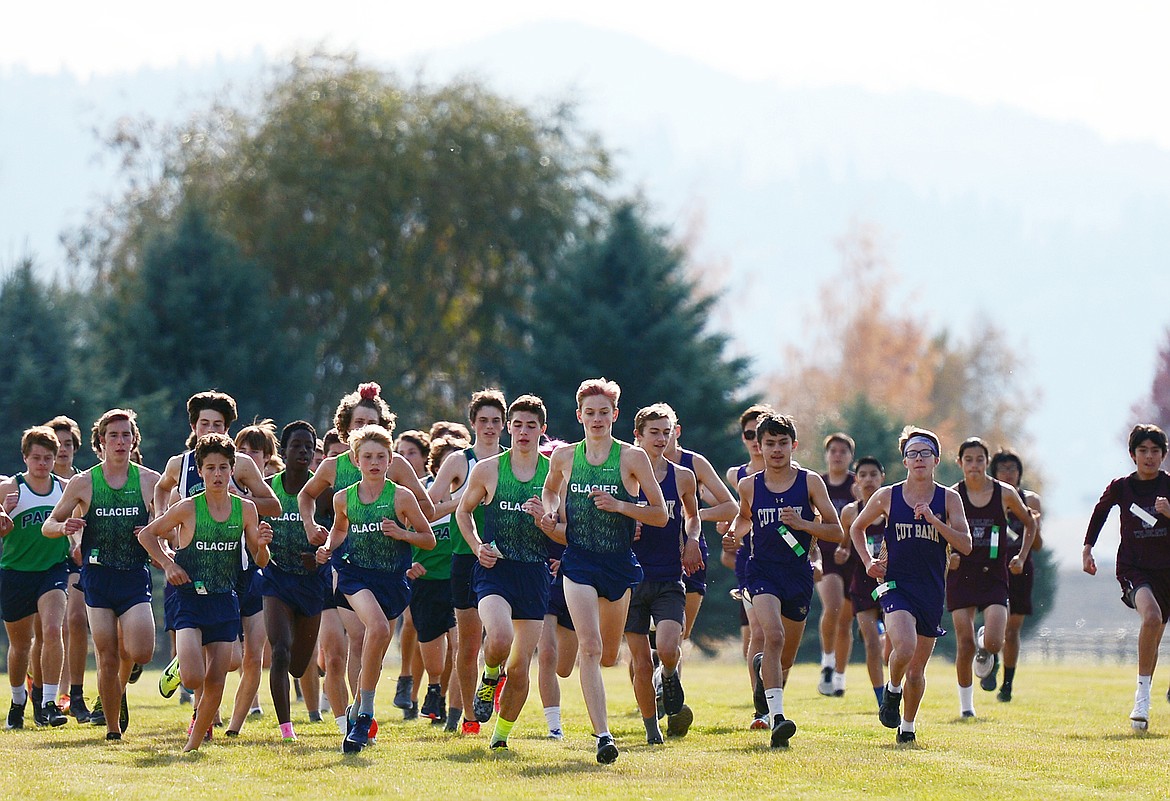 Glacier's Simon Hill, center, leads the pack at the start of the Glacier Invite at Rebecca Farm on Wednesday, Oct. 16, 2019. Hill placed first in the boys' race. (Casey Kreider/Daily Inter Lake)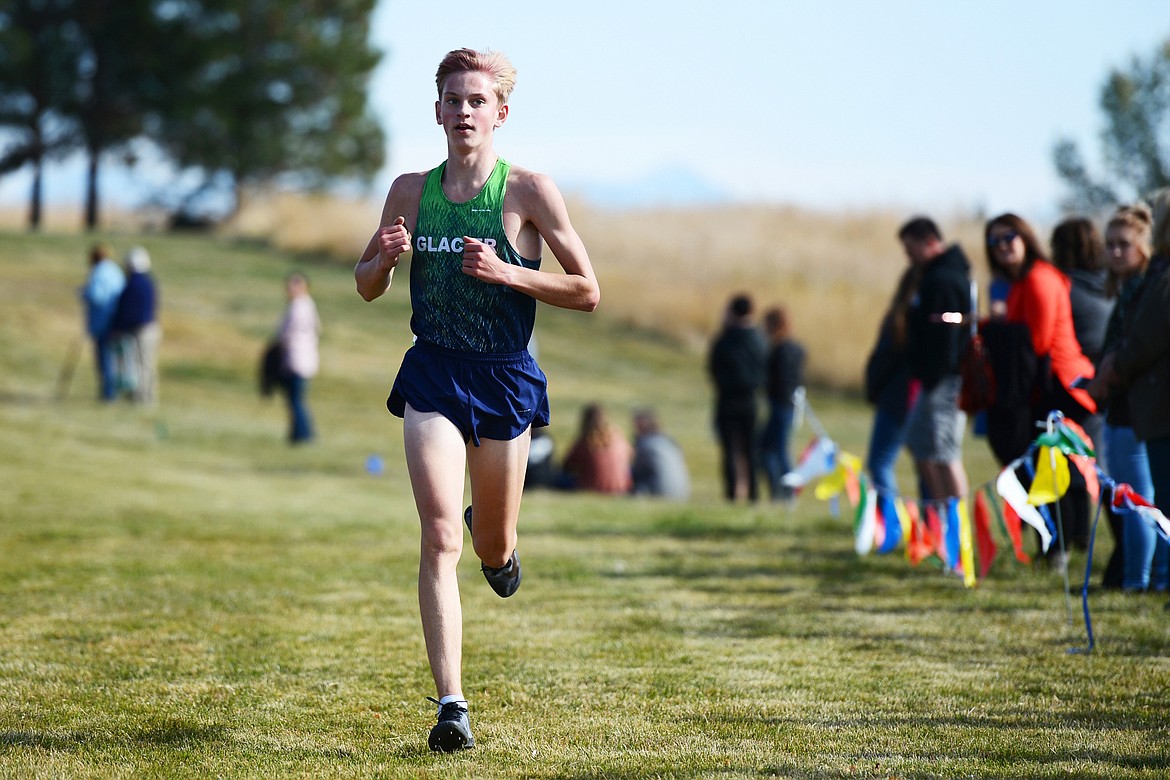 Glacier's Simon Hill heads down the home stretch at the Glacier Invite at Rebecca Farm on Wednesday, Oct. 16, 2019. Hill placed first in the boys' race. (Casey Kreider/Daily Inter Lake)
Previous
Next
by
FRITZ NEIGHBOR
Daily Inter Lake
|
March 24, 2020 4:48 PM
Simon Hill is a state champion in two disciplines – cross country and speech and debate. There's no question which run-up to competition makes him more nervous.
"The moment before a 5K," Hill said this week. "For a speech, I just have to prepare and get it memorized. Once I do that I know I can perform it."
His sophomore year at Glacier High School, Hill led the pack: He took first at the Class AA Speech and Debate championships is Humorous Interpretation and, with Matthew Glimm, Duo Interpretation.
The championship in cross country was more of a grind. Hill placed 26th as a freshman, 10th as a sophomore, then second as a junior to Flathead's Ben Perrin. Then, this past Oct. 26, he won.
"With a race you don't know how the cards are going to lay down every time," Hill said. "There's always something new, every race. And you have to trust your training. I think that's what kind of puts pressure on – you have to trust how physically fit you are and do your best. But it's much more nerve-wracking before a race.
"One of my coaches always says, 'If you can get your butterflies in formation, you'll be OK.'"
***
With high school activities suspended amid the COVID-19 pandemic, Hill is thankful for the experiences he had. It helps that he ran well enough – his winning time at state was 15 minutes 50.69 seconds – to earn a partial scholarship to the University of Montana.
But the comradery mixed in with the competition is something he'll always appreciate.
"Runners like (Missoula) Hellgate's Ian Curtis and Iggy Fitzgerald, and Owen Smith of Billings Senior," Hill began. "We've always been really friendly, and keep in contact with each other. Everybody wants to win, but you can't always win, every time.
"At the end of the day you celebrate with the guy that won, and if you lost then that was a carrot to chase the next race."
In 2019 he was often the rabbit, though Curtis beat Hill at the Missoula Coaches Invitational in September.
"Our first race," Hill said. "He out-kicked me by about 10 seconds. He just stole away on that one. He knew he had it."
Curtis went on to win the Bozeman Invitational a week later, but at the Mountain West meet in Missoula Sept. 28, Hill won a back-and-forth kick to the finish. He was fourth overall, and first among Montana runners. Curtis was fifth. And afterward, no animus.
"No, he was happy for me and said that I deserved it," Hill said. "And then he said, 'Hey, I'm still coming for you.' It's awesome to have had that race and still have that friendship in the running community.
"Cross country has been an awesome experience for me, and I'd say it was for those times."
***
The eve of the state meet brought snow to Great Falls – it appeared the runners had been dealt a bad hand.
"I remember waking up and thinking, 'It's only a little bit and it's not going to affect me,' " Hill said. "Starting the day like that instead of, oh no, it snowed – that makes a big difference in how you run your race.
"We had one of the later races and it got warmer, melted off. It made for a pretty decent running surface."
It was one he'd been on before: If Hill felt he had an edge it was that he ran the Great Falls Invitational on Sept. 20 while Hellgate's squad went to the Bob Firman Classic in Boise, Idaho.
Hill had a little more experience with Eagle Falls Golf Course.
"I thought there were two defining moments," Hill said. "The state course is two loops. Right after the mile marker there's a little uphill stretch and we were still pretty well grouped up. I threw in a 50- or 100-meter surge to pull away from the pack."
Hill looked around, he said, and he'd built a lead on everybody except one: Ian Curtis.
"He was the only one that came with me," Hill said. "It was at that moment I knew I'd have to out-kick him. Which I'd only done once before."
Toward the end the runners had to climb that hill again ahead of a slight downhill stretch to the finish. Hill let Curtis lead on the rise.
"And right before we crested I took off with everything I had," he said. "I thought of every run that'd I'd done with my sister (Annie Hill, State AA champ in 2014 and '15) that summer. I'd come this far, and it wasn't to lose. It was pretty surreal."
***
Curtis finished in 15:52.90, and told him to watch out this fall.
"I'm sure whatever is in store is going to be awesome for him," Hill said. "I cannot speak highly enough of him. I don't know him as a teammate, but just observing him and his team, they love him and he's a great leader. Great competitor."
Hill is excited for the future, having met Montana cross country coach Clint May and been in contact with his future teammates, including fellow recruits.
Of course he could be more excited, but spring sports are in doubt.
"I train as if I'm racing," said Hill, who was named Montana's Gatorade cross country runner of the year in February. "My coach (Arron Deck) has given me workouts and I'm doing them as best I can."
Last fall the threat of a winter storm canceled Helena's 7-on-7 meet, a favorite of Hill's. The storm fizzled, but Hill salved his disappointment by noting some things outrank sports.
The current situation dwarfs that.
"Like I said before, some things are bigger than yourself," Hill said. "You have to do your part to make everything better. It may not happen quickly but it's going to happen eventually.
"It's like getting in shape to race: It's a slow but steady process."
Then, you get your butterflies in formation.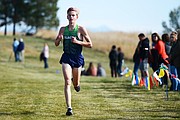 ---