Barron scores four as Bulldogs park Livingston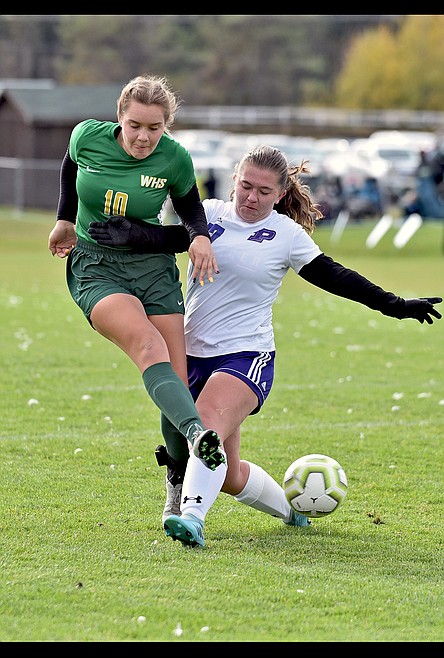 Whitefish senior Ali Hirsch gets a shot off under pressure from a Park High defender in a quarterfinal playoff match Saturday at Smith Fields. (Whitney England/Whitefish Pilot)
by
KATIE BROWN
Daily Inter Lake
|
October 17, 2020 10:10 PM
WHITEFISH — Emma Barron scored four goals as the Whitefish Bulldogs beat the Livingston Rangers 5-1 in a Class A quarterfinal game, and coach Roland Benedict was content to watch the show.
"Saturdays are just kind of me hanging out on the sidelines watching," he said. "My job's done on the training field, they do the job out here."
That's not to say Benedict and his staff don't offer any guidance — but the trust is in the players to problem solve.
"We try to let the players know that when you are out on the field you shouldn't be looking to the sideline," Benedict said. "Hopefully you're equipped to solve problems on your own and the coaching staff at halftime can give you some ideas on ways we can fix it but ideally the players can make the reads and make the adjustments."
There wasn't much adjusting that needed to be done Saturday, anyway. Whitefish parked itself in Livingston's end for most of both halves of the game.
Whitefish is nothing if not efficient — Barron scored her first half hat trick in a span of nine minutes. Ali Hirach assisted on the first goal.
The Rangers (3-5) broke through once — Hailey Smith scored in the 36th minute — but the Bulldogs otherwise kept the leash short. It was 3-1 Whitefish at the half.
"I think we were fairly in control the whole game and I don't think we should have conceded anyway, but things happen," Benedict said.
"The girls played great," he added.
Olivia Genovese found the back of the net early in the second half, assisted by Adrienne Healy. The Bulldogs led 4-1 at this point but didn't let up. Barron scored her fourth at 51:00, as if for good measure.
Whitefish (10-0-1) is headed for a semifinal date with Billings Central next Saturday, which is to be expected in Class A soccer.
"We've usually made it to the semis and you've got to beat Billings and Laurel to get to the final and they've been the teams that have stopped us from doing that," Benedict said. "I think we've got the team that can make the push and challenge one of them this year."
Unlike Class AA, where the eastern and western conferences don't meet until the postseason, Class A teams have a little more familiarity with the other side from playing non-conference matches. This season was the exception, with everyone playing a conference-only schedule.
"I know Billings fairly well," Benedict said. "They're gonna be good. They're going to be better than the team we played today but I think we can play with them. We can hang."
The Bulldogs still have some players out with injuries that are hoping to return for the semis, Benedict said.
"They're not done for the season but they're in a rush to see if they can play," he said.
Livingston 1 0 — 1
Whitefish 3 2 — 5
W - Emma Barron (Ali Hirsch) 14:00
W - Barron, 20:00
W - Barron, 25:00
L - Hailey Smith, 36:00
W - Olivia Genovese (Adrienne Healy), 42:00
W - Barron, 51:00
Shots on goal - Livingston 7, Whitefish 21. Goalie saves - Livingston 13 (Ava Braham), Whitefish 6 (Sami Galbraith). Corner kicks - Livingston 4, Whitefish 7. Fouls - Livingston 18, Whitefish 9.
---