Bulldog boys keep marching, beat Lone Peak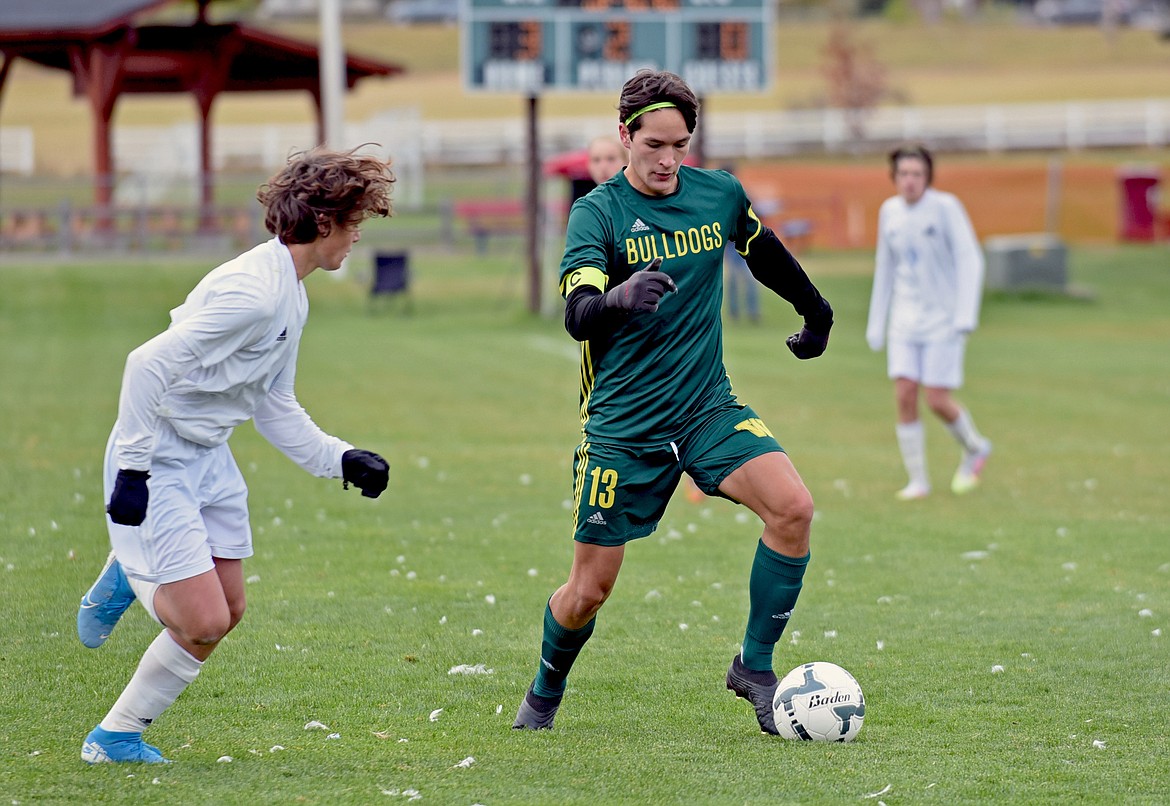 Whitefish senior captain Joshua Gunderson advances the ball upfield against Lone Peak in a quarterfinal playoff match Saturday morning. Gunderson made his return to the lineup after an injury sidelined him over the last few weeks. (Whitney England/Whitefish Pilot)
by
KATIE BROWN
Daily Inter Lake
|
October 17, 2020 10:16 PM
WHITEFISH — Five goals. That's the grand total allowed by the Whitefish Bulldogs all season. Saturday was no exception, as the Bulldogs won 3-0 over the Lone Peak Bighorns in a quarterfinal game.
That was all fine and dandy, but coach John Lacey just wished they'd scored a few more goals.
"Another clean sheet, we're proud of that," he said. "That's the standard. It's just got to be going forward. But it's also the reason we want to be hungrier than just putting three on."
Whitefish (11-0-1) has won several games by impressive margins this season — a 12-1 game against Libby comes to mind — so it's no question the Bulldogs are capable.
A couple close calls in the second half are what gave Lacey pause, the otherwise immaculate game aside.
Keeper Joseph Brandt saved a ball that caromed off players and hit the left post in the second. If that goes in, maybe the Bighorns get a little momentum going and the game turns out differently.
"Either one of those goes in and it's a 2-1 game or a 3-1 game and that's a lot different than what we had," Lacey said. "We want to give ourselves a cushion ... They've got to still get four or five more as opposed to two more to make it tight."
As it turns out, Lacey probably didn't need to worry but the game provided some homework for practice this week.
"We want to be sharp," Lacey said. "We want to finish goals. So I'm sure there's going to be something for us that says we've got stuff to work on."
Collin Lyman scored 20 minutes in with Aaron Dicks assisting. Marvin Kimera and Brandon Mendoza also found paydirt before the half was over. It was up to the defense and goalkeeper to hold the 3-0 lead.
"When we finally broke through it was good, it gave us a little bit of momentum … A good start for us," Lacey said. "At this point it's about advancing and I'm pleased that the boys put it together enough to get us through the next one, so it was a good day."
Up next for Whitefish is Corvallis in the quarterfinal next Saturday. The Blue Devils prevailed in penalty kicks over Livingston Saturday.
Lone Peak 0 0 — 0
Whitefish 3 0 — 3
WF - Collin Lyman (Aaron Dicks), 20:00
WF - Marvin Kimera (Brandon Mendoza), 32:00
WF - Mendoza (Gabe Menicke), 39:00
Shots on goal - Lone Peak 4, Whitefish 21. Goalie saves - Lone Peak 18 (Michael Romney), Whitefish 1 (Will Peppmeier, Joseph Brandt). Corner kicks - Lone Peak 0, Whitefish 7. Fouls - Lone Peak 6, Whitefish 9.
---