Whitefish girls upset Billings Central, head to final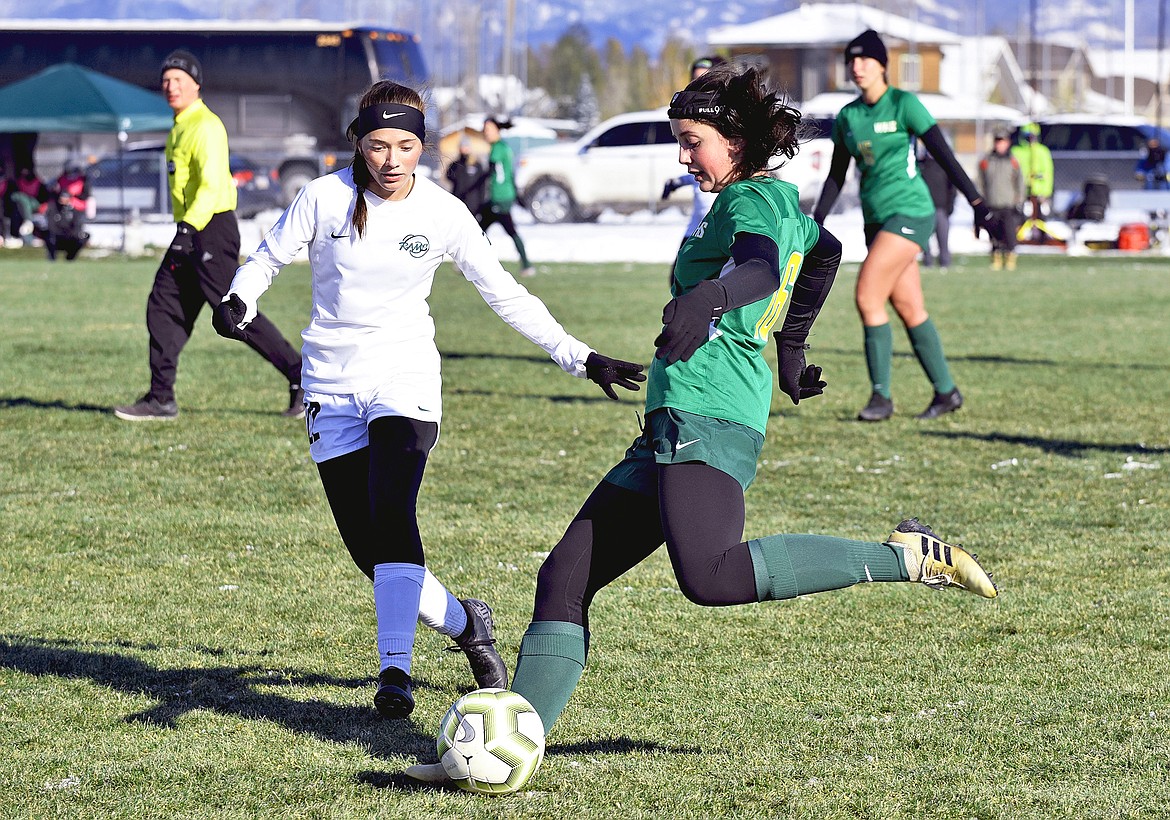 Whitefish defender Maya Lacey prepares to kick the ball upfield to advance her team into Billings Central territory in a Class A semifinal game Saturday at Smith Fields. (Whitney England/Whitefish Pilot)
by
Daily Inter Lake
|
October 24, 2020 10:19 PM
WHITEFISH — It's been years since any school that isn't named Billings Central or Laurel played each other for the girls Class A soccer championship. That's about to change. The Whitefish Lady Bulldogs upset the balance with a 1-0 semifinal win over the Billings Central Rams on Saturday, earning a trip to Laurel for the state title game, their first since 2013 (Billings Central won 4-1 that year).
Adrienne Healy scored the only goal of the game in the 68th minute and the Bulldogs throttled the Rams' state-best offense, ending their streak of five consecutive state final appearances.
"It's not only a big deal for us, it's a big deal for soccer," Whitefish coach Roland Benedict said. "They're a successful program but you can see over the last six years we've been knocking at the door."
It was a windy day at Smith Fields, and the wind was strong enough to affect the ball in play – given the conditions, and Whitefish's stingy defense, a low scoring game may have been a given.
A bit of hubris might have been in play as well and the Bulldogs seized on it. Healy's goal was scored during a scrum in front of the Rams' keeper.
"I think they played a little different because they didn't know us," Benedict said. "We caused them problems. They came in expecting to win."
"We deserve it, we're hungry," he added.
Billings Central 0 0 — 0
Whitefish 0 1 — 1
W - Adrienne Healy, 68:00
Shots on goal - Billings Central 12, Whitefish 6. Goalie saves - Billings Central 1, Whitefish 10 (Sami Galbraith). Corner kicks - Billings Central 5, Whitefish 2. Fouls - Billings Central 12, Whitefish 15. Cards - Billings Central 1.
---