Workmanlike Whitefish back in boys' final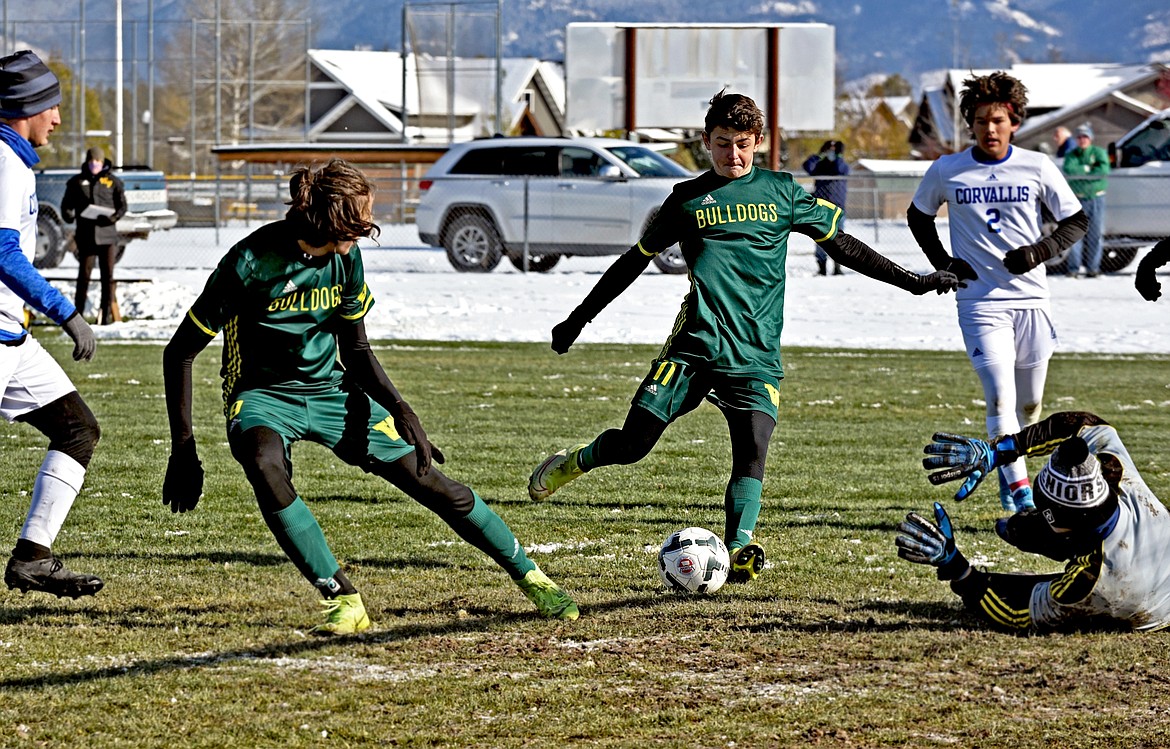 Whitefish freshman Collin Lyman scores a goal in the first half against Corvallis in a Class A semifinal match Saturday at Smith Fields. (Whitney England/Whitefish Pilot)
by
Daily Inter Lake
|
October 24, 2020 10:21 PM
WHITEFISH — The Whitefish Bulldogs took care of business and earned their fourth consecutive trip to the Class A state championship game with a 6-0 semifinal victory over the Corvallis Blue Devils Saturday at Smith Fields.
Collin Lyman scored two goals, Aaron Dicks added a goal and two assists and Gabe Menicke scored a goal and had one assist for the businesslike Bulldogs, who will play for their third straight Class A title against rival Columbia Falls, who beat Billings Central 2-1 in its semifinal game.
Since both teams are from the same conference (Northern A) conference champion and No. 1 seed Whitefish will host.
"Just really excited about what hopefully should be an exciting match next week with Columbia Falls," Whitefish coach John Lacey said.
The win was Whitefish's 12th of the year and the team has a 41-0-2 record since losing in the state final in 2017. One of the two ties was with Columbia Falls this fall; the other came against Polson in 2018.
Lacey commended the hard work of those who cleaned Smith Fields Saturday morning, post historic winter storm – there were crews out at 8 a.m. clearing the snow, sweeping and painting lines.
"We had a great day of soccer because of that work," Lacey said.
Corvallis 0 0 — 0
Whitefish 3 3 — 6
WF - James Thompson (Gabe Menicke), 18:00
WF - Aaron Dicks (Brandon Mendoza), 33:00
WF - Collin Lyman (Mendoza), 35:00
WF - Menicke (Dicks) 44:00
WF - Marvin Kimera (Dicks), 56:00
WF - Lyman (Niath Edland), 78:00
Shots on goal - Corvallis 6, Whitefish 12. Goalie saves - Corvallis 6 (Hunter Linnewah), Whitefish 6 (Will Peppmeier). Corner kicks - Corvallis 3, Whitefish 6. Cards - Corvallis 2, Whitefish 1.
---