Pack hosts Helena Capital; boys tie, girls win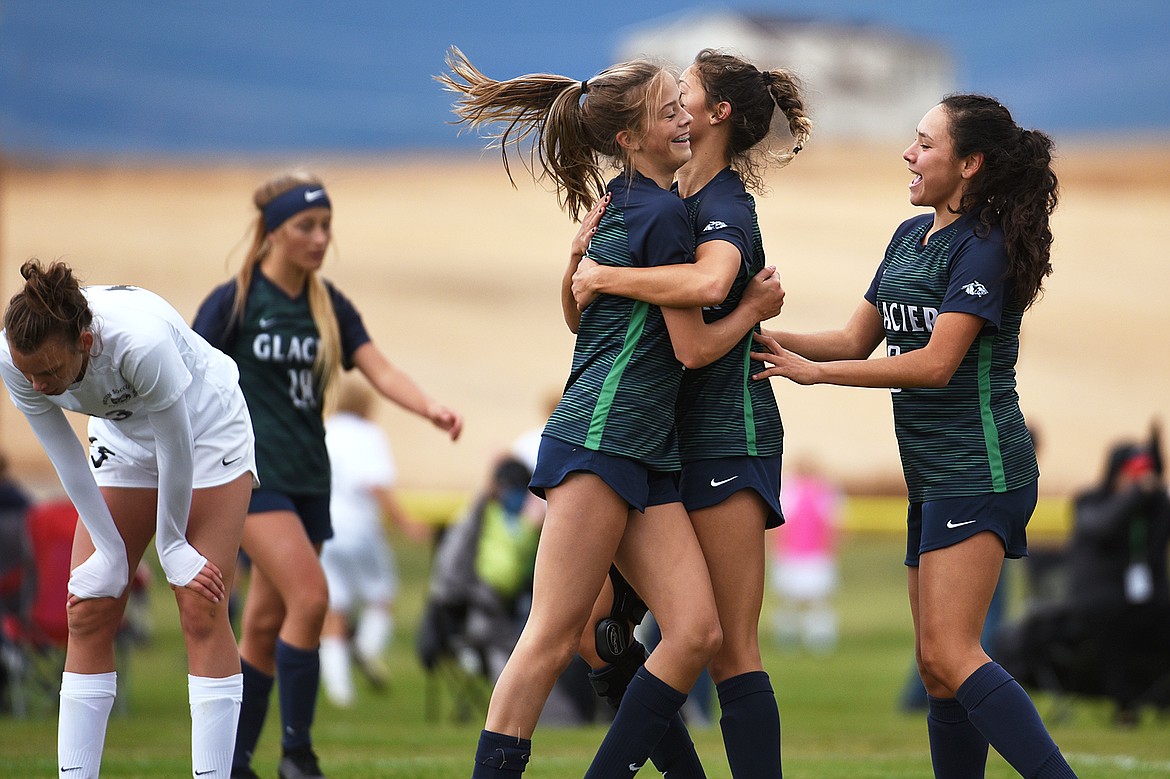 Glacier's Reagan Brisendine (3), left, celebrates with Taylor Brisendine (23), center, and Ady Powell (9) after her first of two second half goals against Helena Capital at Glacier High School on Saturday. (Casey Kreider/Daily Inter Lake)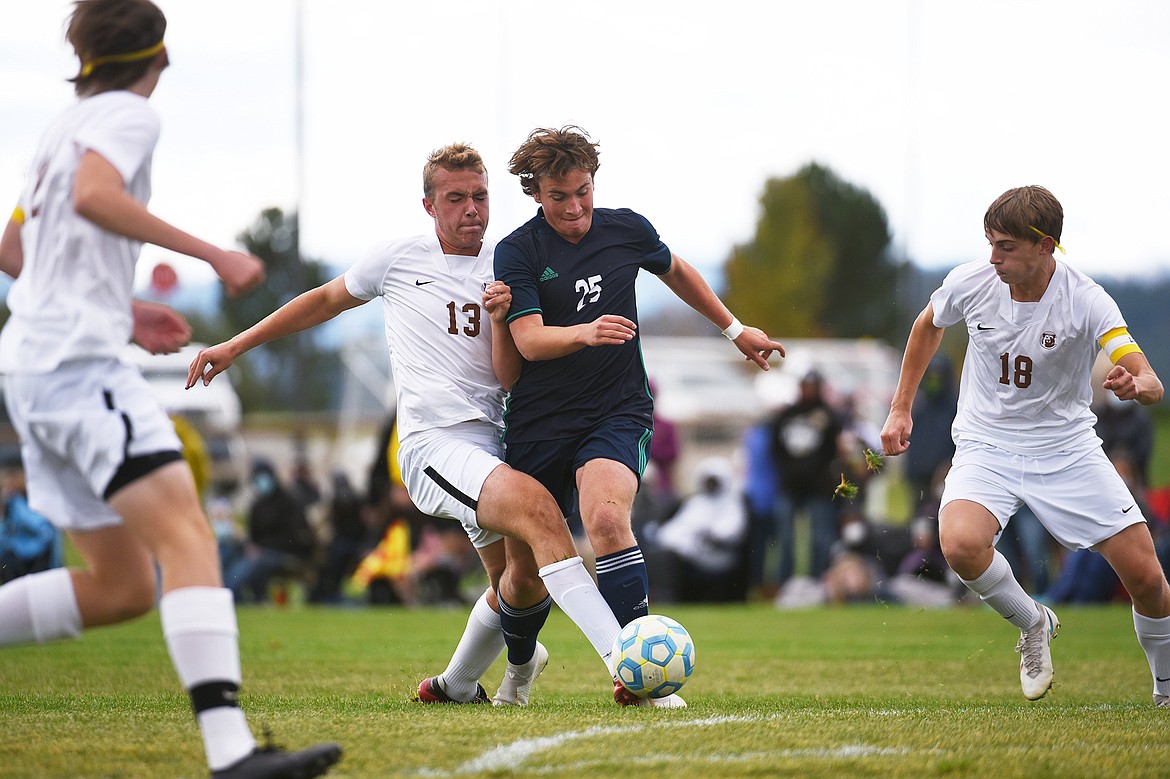 Glacier's Braden Nitschelm (25) tries to dribble through Helena Capital defenders Eli Voss (13) and Auggie Tupper (18) in the first half at Glacier High School on Saturday. (Casey Kreider/Daily Inter Lake)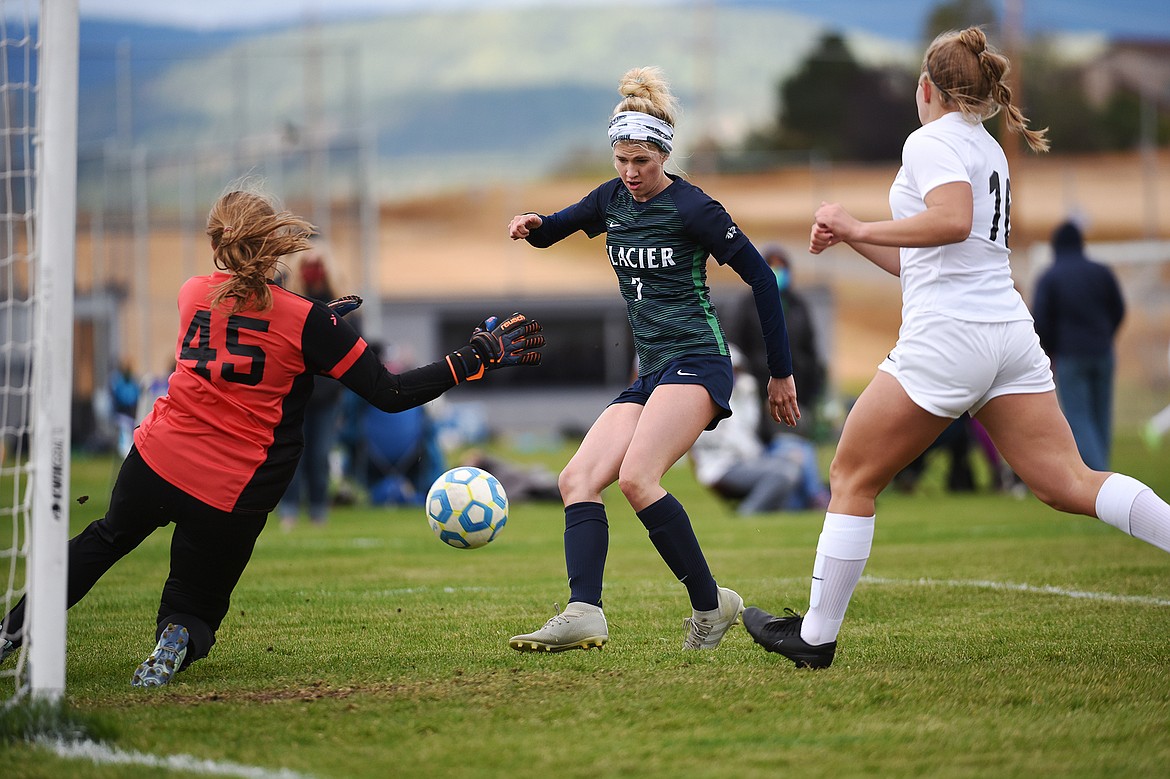 Glacier's Reese Leichtfuss (7) has a shot stopped by Helena Capital keeper Brooklyn Brisco (45) in the second half at Glacier High School on Saturday. (Casey Kreider/Daily Inter Lake)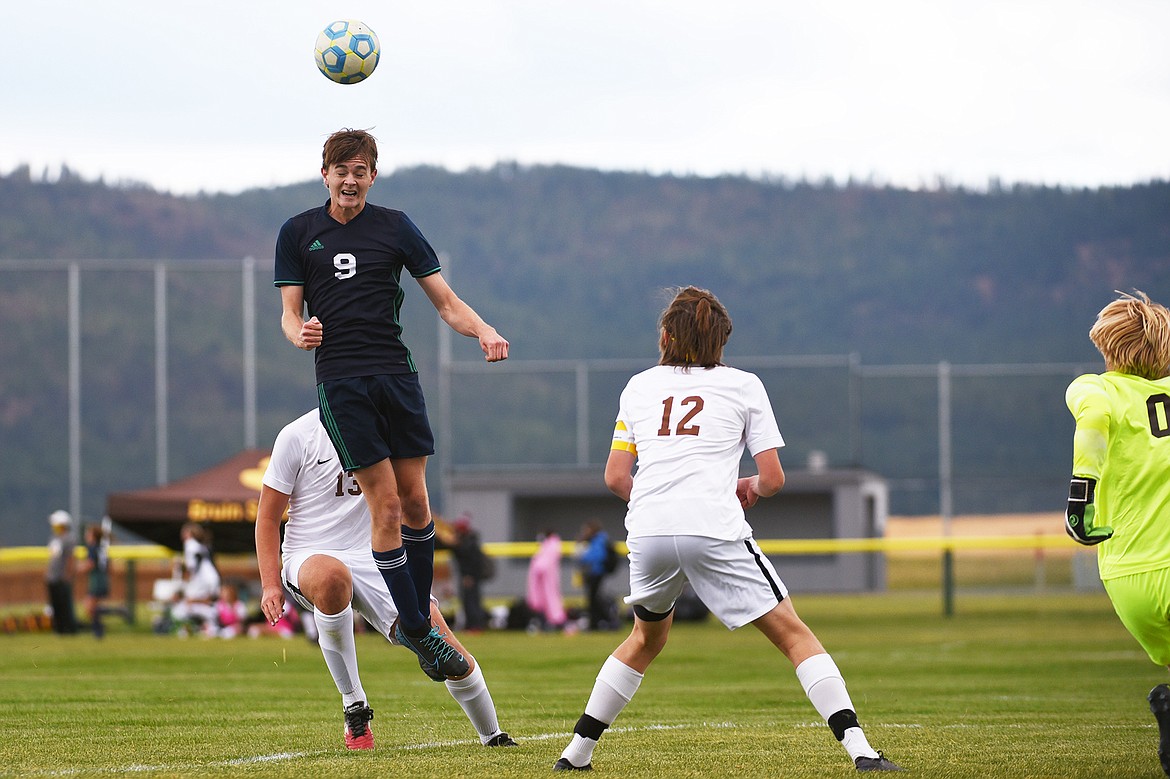 Glacier's Daniel Camp (9) heads a kick just wide of the net in the first half against Helena Capital at Glacier High School on Saturday. (Casey Kreider/Daily Inter Lake)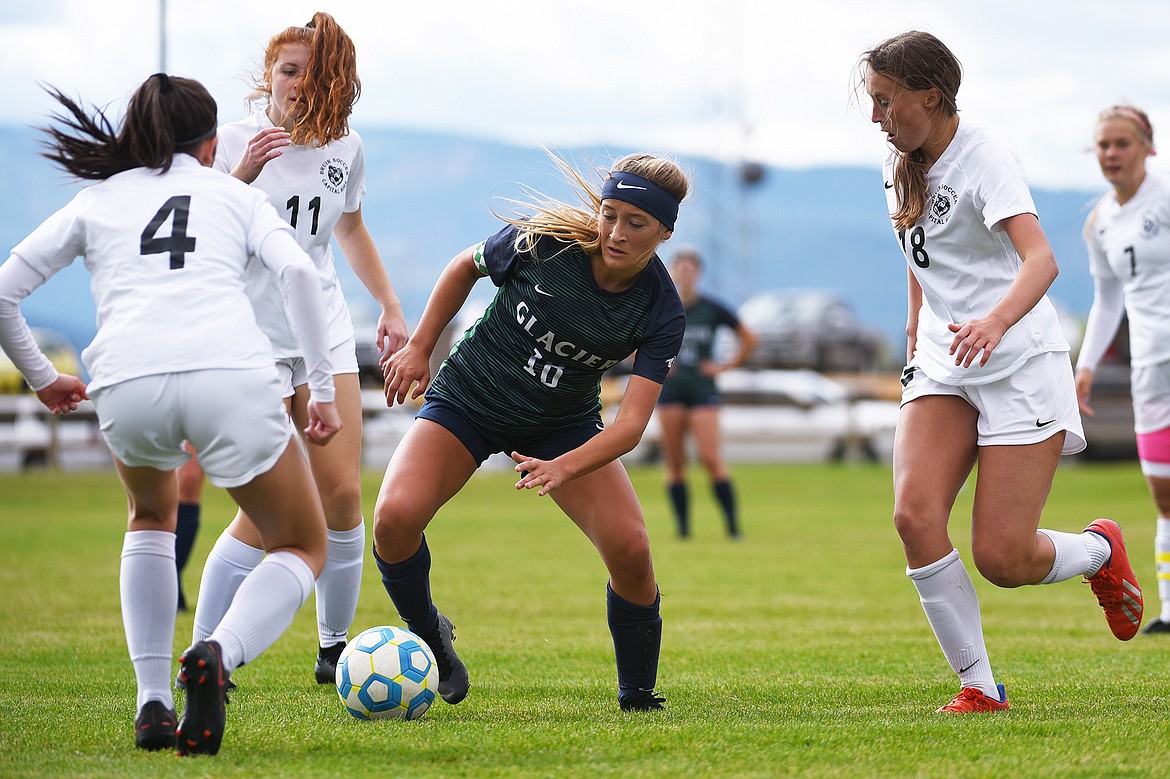 Glacier's Madison Becker (18) dribbles into traffic against Helena Capital at Glacier High School on Saturday. (Casey Kreider/Daily Inter Lake)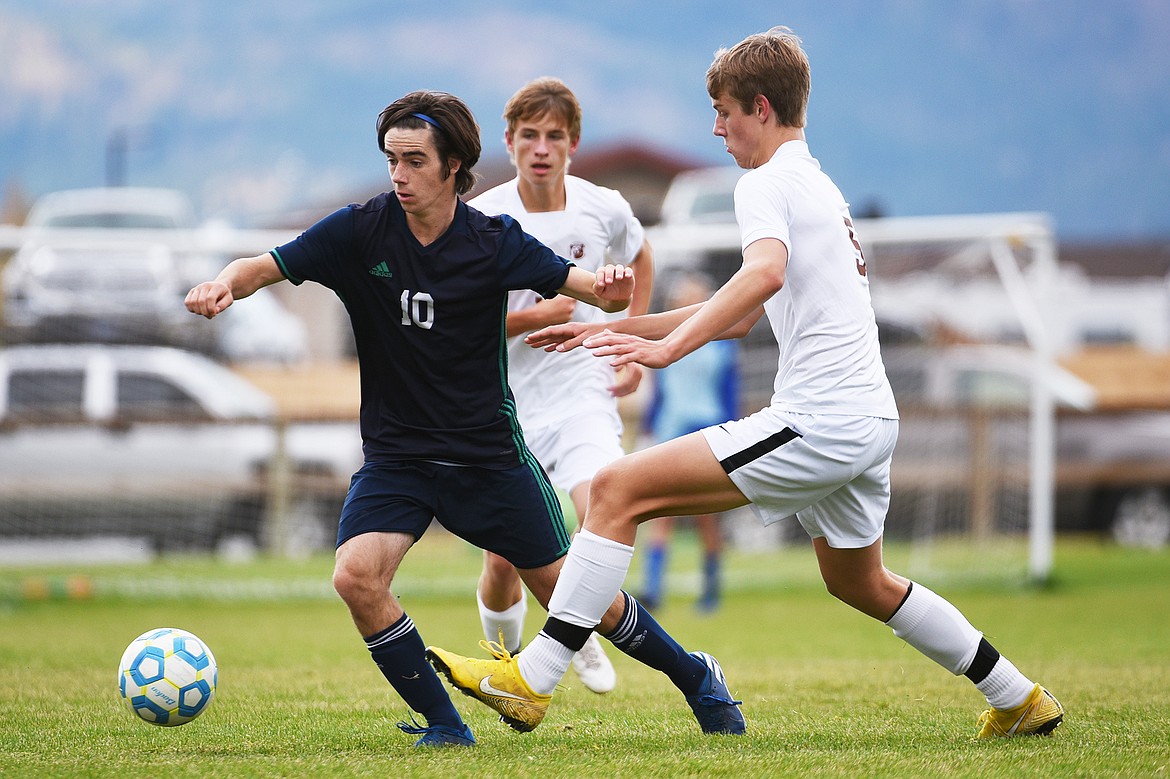 Glacier's Zane Elliott (10) moves the ball upfield against Helena Capital at Glacier High School on Saturday. (Casey Kreider/Daily Inter Lake)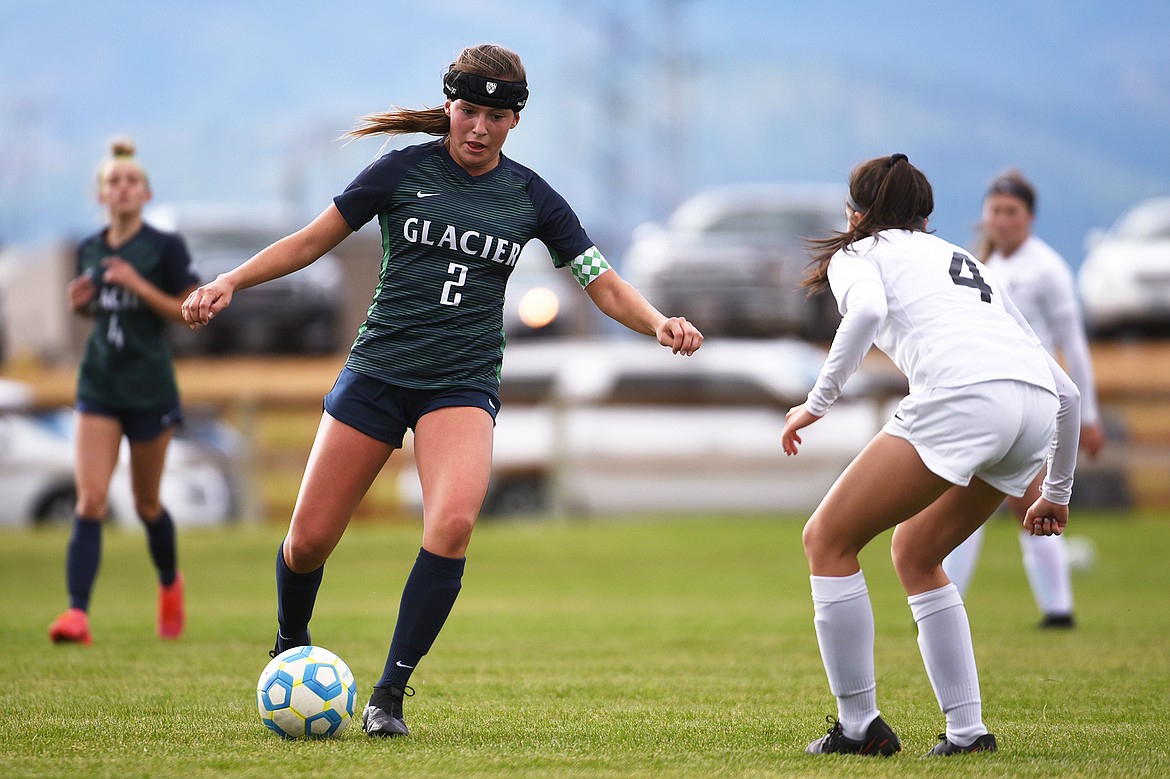 Glacier's Emily Cleveland (2) works the ball upfield against Helena Capital's Vivian Schuma (4) at Glacier High School on Saturday. (Casey Kreider/Daily Inter Lake)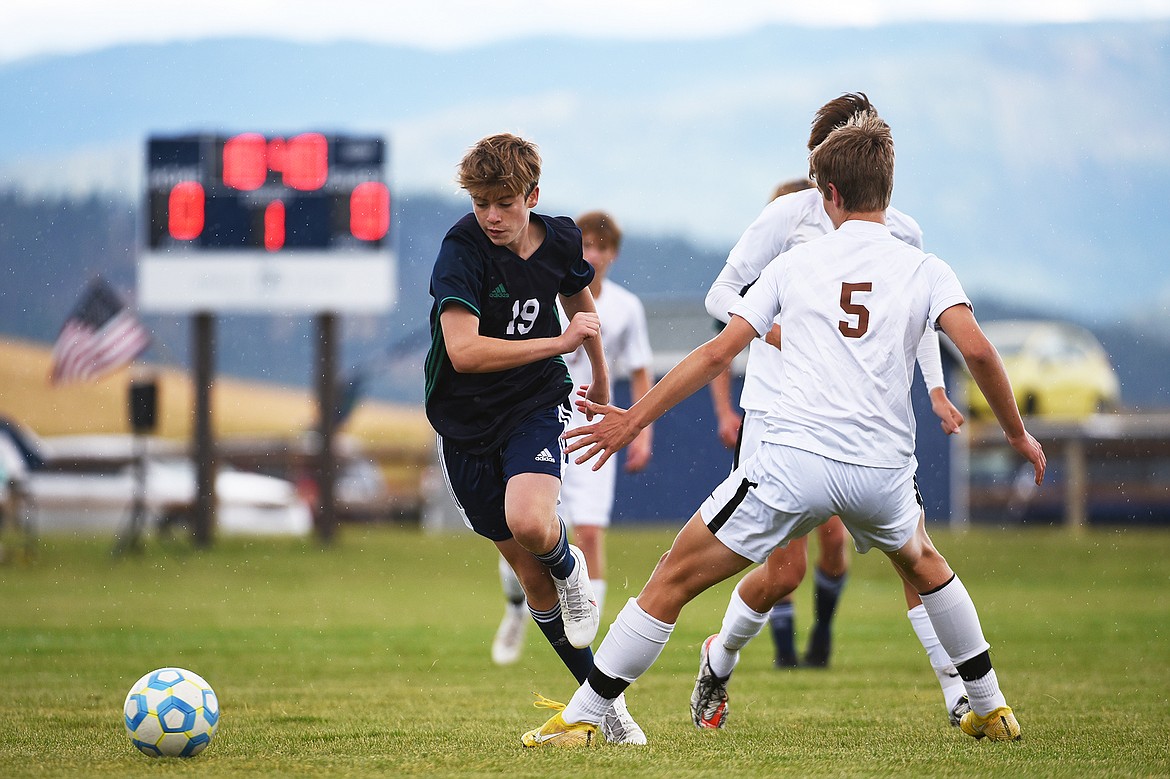 Glacier's Harrison Sanders (19) moves the ball upfield against Helena Capital at Glacier High School on Saturday. (Casey Kreider/Daily Inter Lake)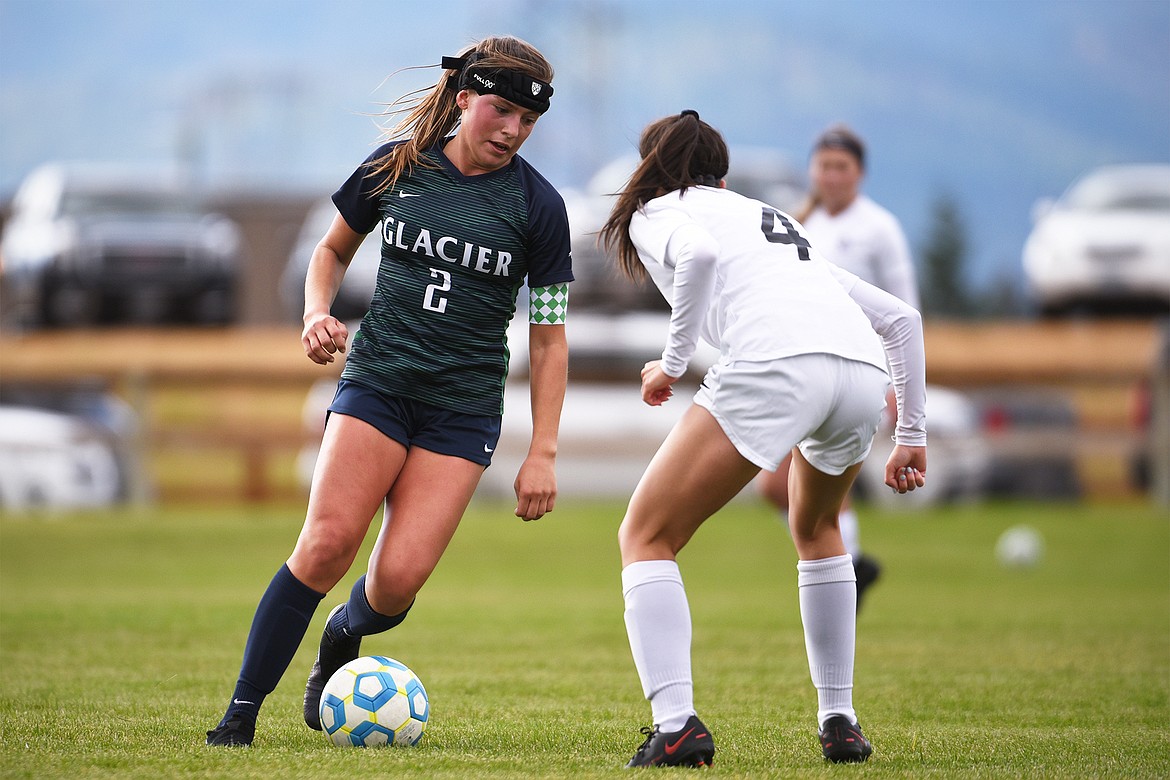 Glacier's Emily Cleveland (2) works the ball upfield against Helena Capital's Vivian Schuma (4) at Glacier High School on Saturday. (Casey Kreider/Daily Inter Lake)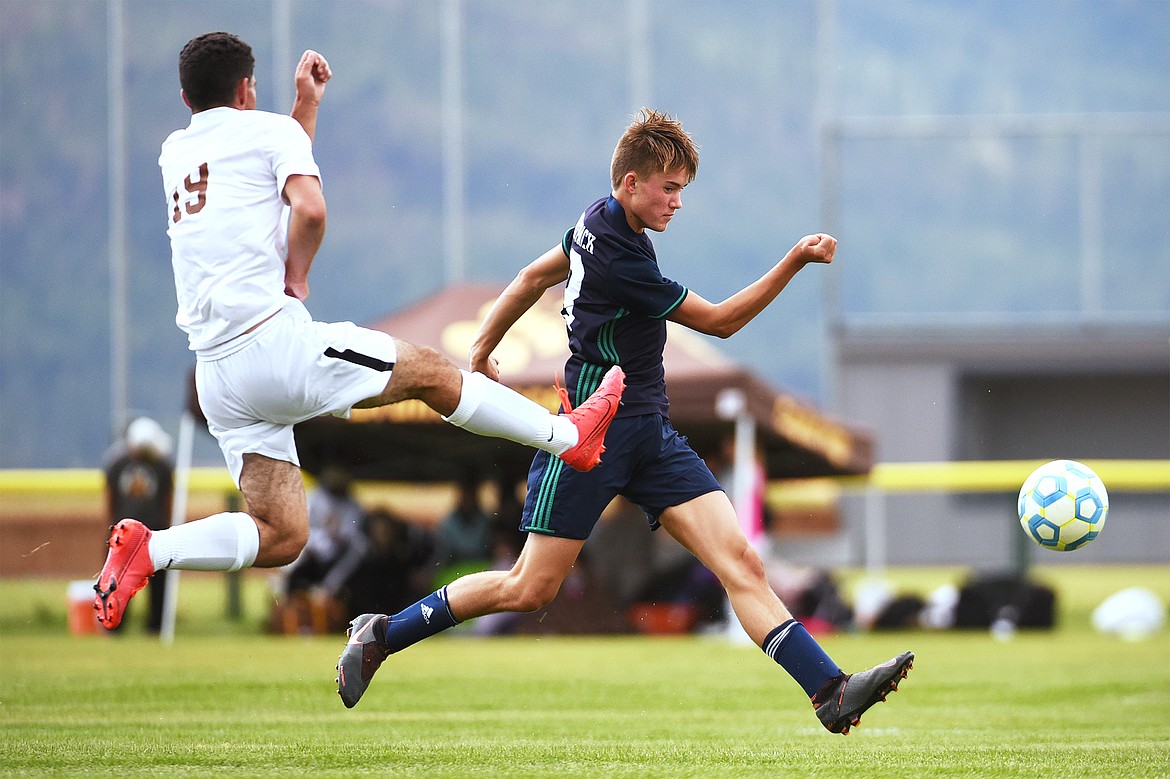 Glacier's Joey Paolini (18) looks to shoot past Helena Capital's Jared Nelson (19) at Glacier High School on Saturday. (Casey Kreider/Daily Inter Lake)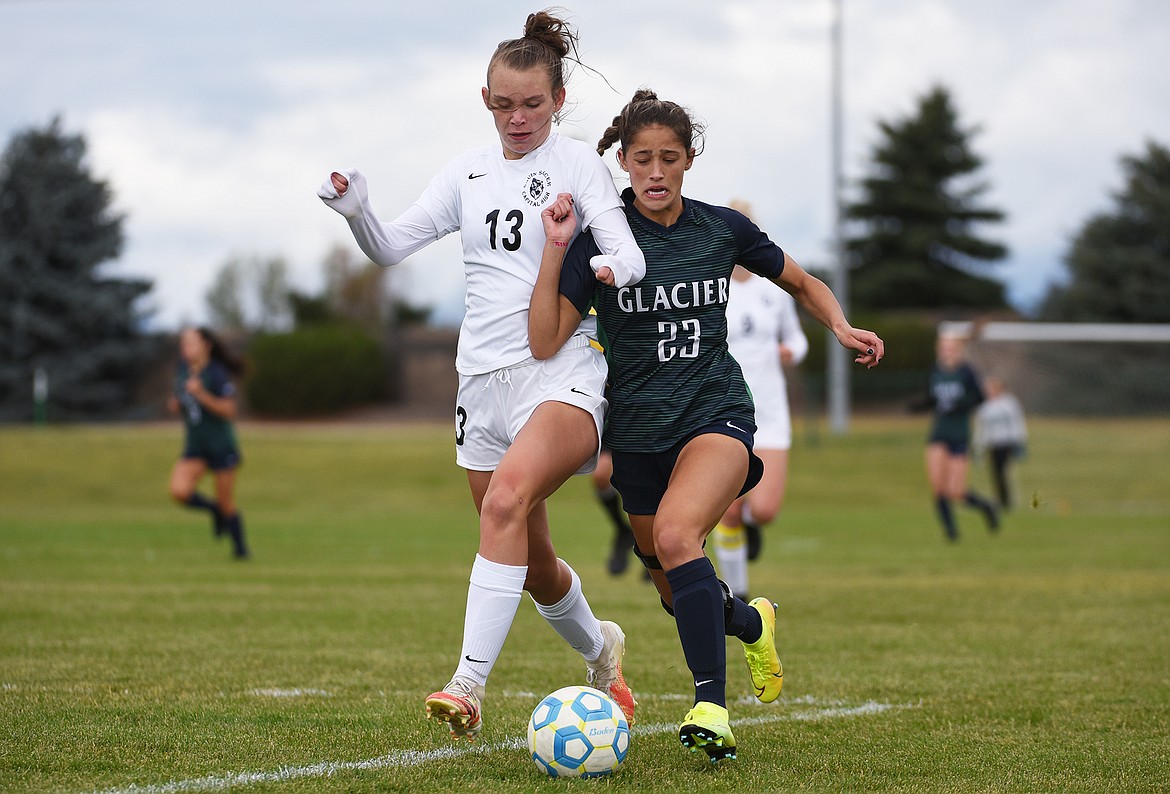 Glacier's Taylor Brisendine (23) battles for possession with Helena Capital's Rylee Cummings at Glacier High School on Saturday. (Casey Kreider/Daily Inter Lake)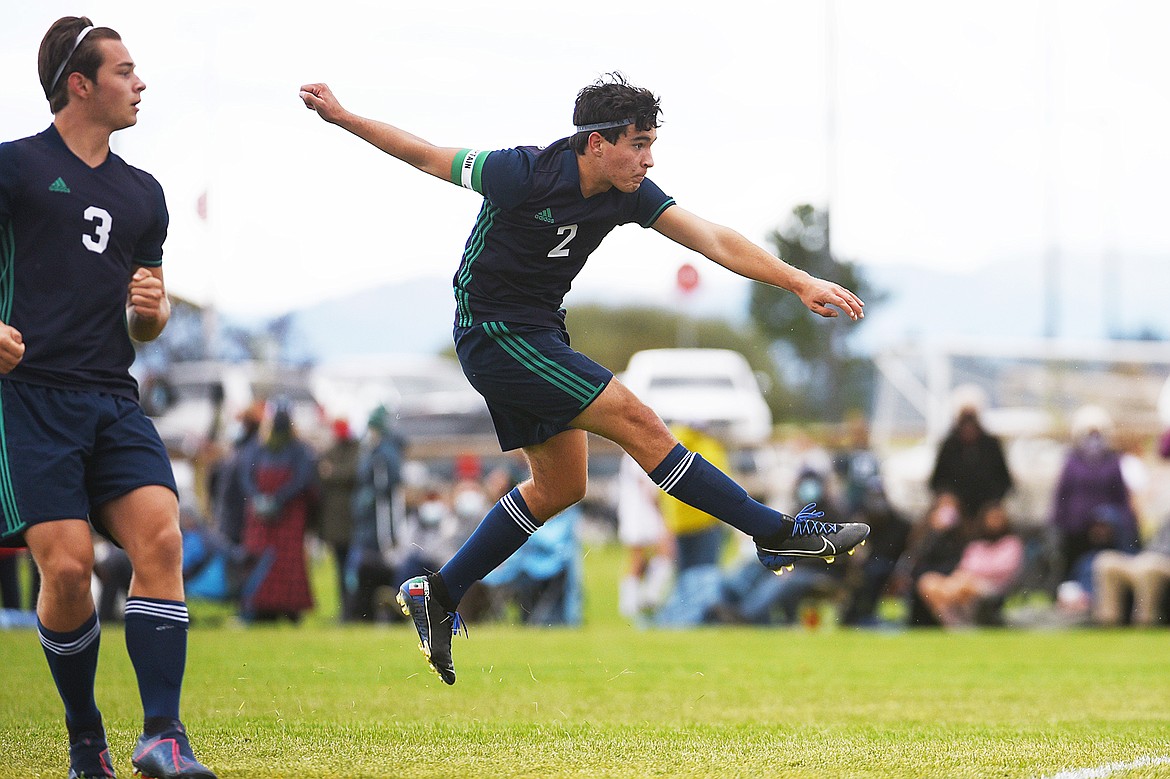 Glacier's Diego Mendoza (2) takes a free kick in the first half against Helena Capital at Glacier High School on Saturday. (Casey Kreider/Daily Inter Lake)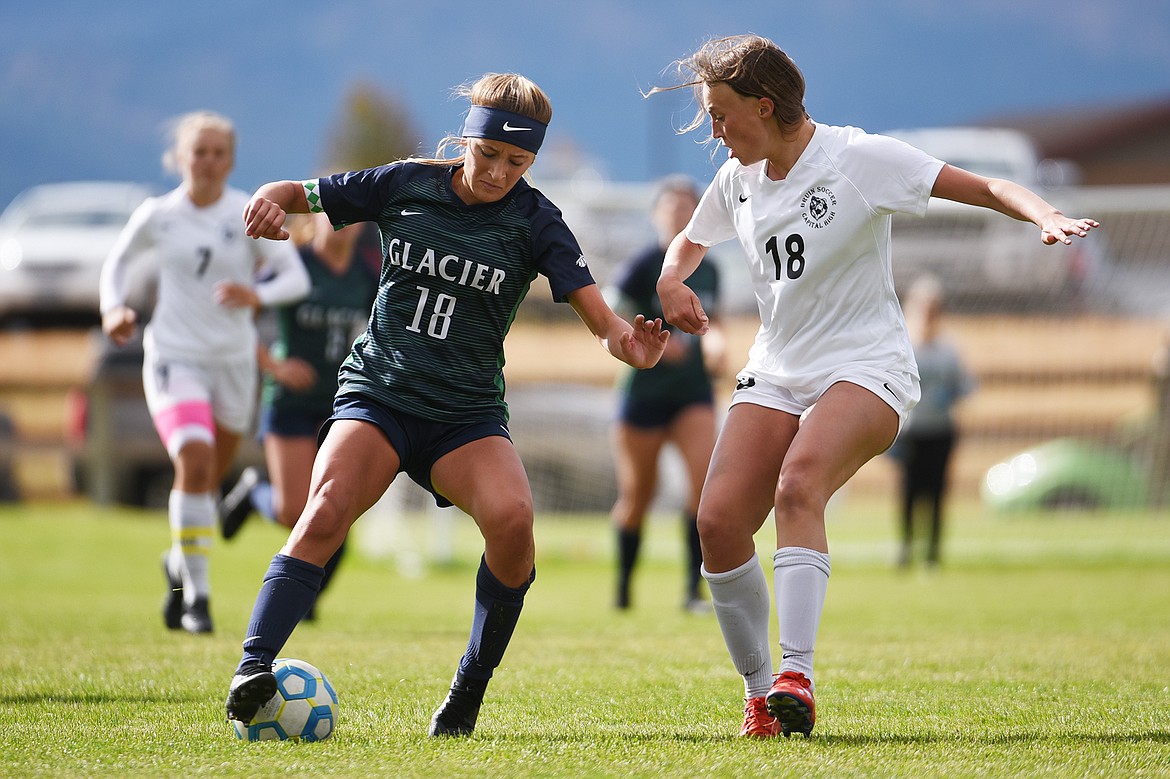 Glacier's Madison Becker (18) works the ball upfield against Helena Capital's Lauren Hoxie (18) at Glacier High School on Saturday. (Casey Kreider/Daily Inter Lake)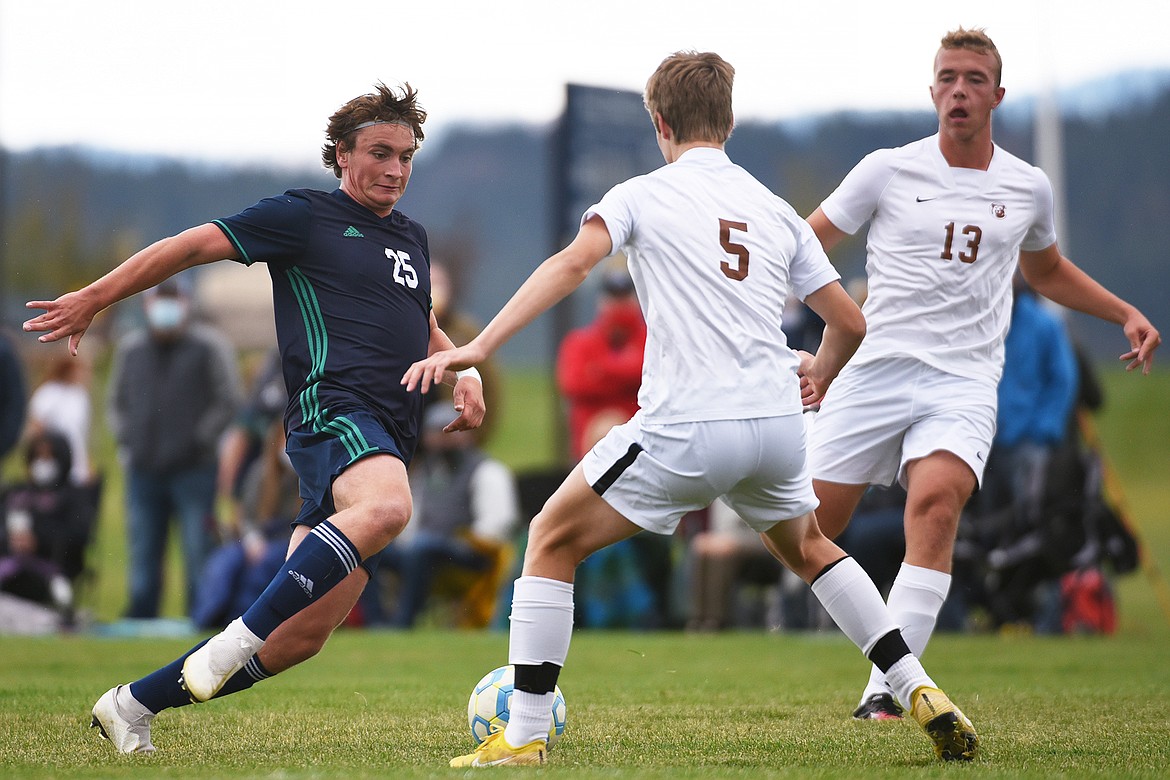 Glacier's Braden Nitschelm (25) moves the ball upfield against Helena Capital defenders Luke Kailey (5) and Eli Voss (13) at Glacier High School on Saturday. (Casey Kreider/Daily Inter Lake)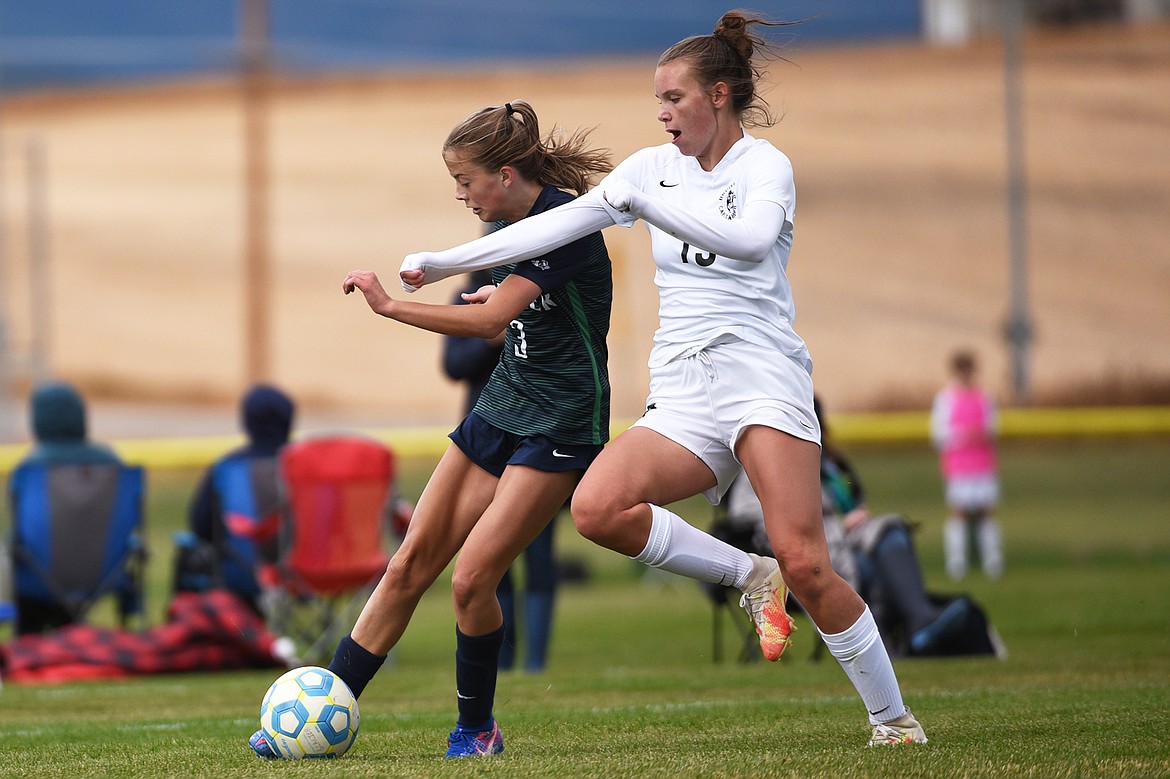 Glacier's Reagan Brisendine (3) scores her second of two goals in the second half against Helena Capital at Glacier High School on Saturday. (Casey Kreider/Daily Inter Lake)
Previous
Next
by
Daily Inter Lake
|
September 26, 2020 10:38 PM
The Glacier Wolfpack finished its season series with Western AA rival Helena Capital with a 0-0 tie at Glacier High School on Saturday.
Despite lobbing nine shots on the Capital goalkeeper, nothing found the back of the net for the Pack (6-2-2).
Glacier coach Ryan Billiet was pleased regardless.
"Really a well fought match by both teams," he said. "For us to hold a shutout and not give up a lot of chances shows we're very organized defensively."
Billiet was especially impressed with the team's performance after a Thursday game in Helena High (a 1-0 win) ended up an extremely late night — the team didn't arrive in Kalispell until after midnight.
"The guys really held it together and put a good match together," Billiet said. "Just couldn't get on the other end of finishing today."
Glacier visits Missoula Sentinel on Tuesday.
Helena Capital 0 0 — 0
Glacier 0 0 — 0
Shots on goal - Glacier 9, Capital 3. Goalie saves - Glacier 3, Capital 7. Corner kicks - Glacier 7, Capital 2. Fouls - Glacier 2, Capital 2. Cards - Capital 1.
Helena High 1, Flathead 0
Helena's Jacob Demmons scored a goal in the fifth minute and the Bengals made it hold up for a 1-0 win over Flathead Saturday in Western AA boys' soccer at Kidsport.
Flathead was outshot 15-4 while falling to 2-8-0, though Braves' coach Zach Brenneman was encouraged.
"I thought we played a good game and worked hard for all 80 minutes," Brenneman said. "Our defense played the best we've played all season. It was a much better result than last time we played them (a 4-0 Helena win), so I'm very proud of our team."
Helena 1 0 - 1
Flathead 0 0 - 0
H - Jacob Demmons, 5:00
Shots on goal - Helena 15, Flathead 4. Keeper saves - Helena 4 (n/a), Flathead 14 (Jonathan King) Helena 4 (n/a). Corner kicks - Helena 3, Flathead 0. Fouls - Helena 9, Flathead 14. Cards - Flathead 1 yellow.
Girls
Glacier 4, Helena Capital 1
Reagan Brisendine scored two second-half goals to help the Western AA-leading Glacier Wolfpack beat the Helena Capital Bruins 4-1.
The game was tied 1-1 at the half by goals from Glacier's Emily Cleveland and Capital's Lauren Hoxie.
Reagan Brisendine gave Glacier a 2-1 lead with the first of her two goals.
Taylor Brisendine also found the net for Glacier (7-3) and had one assist. Madison Becker netted two assists.
"The whole team rebounded so well after the loss to Helena High," Glacier coach Brenden Byrd said. "Freshman Reagan Brisendine played like a seasoned veteran, making a huge presence know on the field. Our back line was extremely tidy against a relentless Capital attack."
Helena Capital 1 0 — 1
Glacier 1 3 — 4
G - Emily Cleveland (Reagan Brisendine), 9:00
H - Lauren Hoxie, 13:00
G - R. Brisendine (Taylor Brisendine), 55:00
G - R. Brisendine (Madison Becker), 62:00
G - T. Brisendine (Becker), 78:00
Shots on goal - Glacier 26, Capital 4. Goalie saves - Glacier 1, Capital 12. Corner kicks - Glacier 8, Capital n/a. Fouls - Glacier 7, Capital 5. Cards - none.
Flathead 1, Helena 0
The Flathead Bravettes beat Western AA foe Helena High for a second time this season with a 1-0 win on Saturday.
Skye Thompson scored the winning goal in the 52nd minute, assisted by Lily Tanko.
"We showed we play great and we know how to compete with everyone in our conference," Flathead coach Bledy Doda said. "I'm very happy and proud of my team. We showed that we can battle everyone."
Flathead (5-3-2) heads to Missoula Sentinel on Tuesday.
Helena 0 0 —0
Flathead 0 1 — 1
F - Skye Thompson (Lily Tanko), 52:00
Shots on goal - Flathead 10, Helena 4. Goalie saves - Flathead 4, Helena 9. Corner kicks - Flathead 2, Helena 5. Fouls - Flathead 7, Helena 9. Cards - none.
---