Area track teams ready to hit the oval after lost season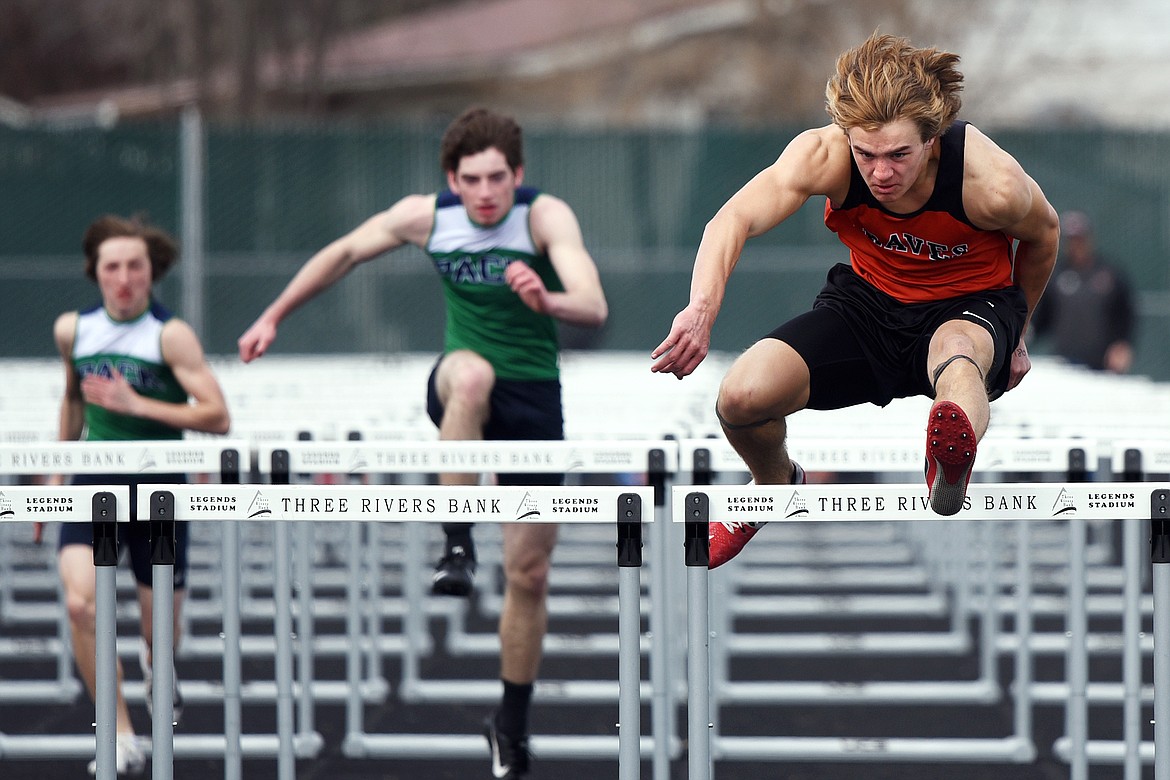 Flathead's Camas Rinehart clears the last hurdle in the boys' 110 meter hurdles during a crosstown track and field meet with Glacier at Legends Stadium on Tuesday, April 16, 2019. (Casey Kreider/Daily Inter Lake)
by
FRITZ NEIGHBOR
Daily Inter Lake
|
April 1, 2021 10:15 PM
There was supposed to be a track and field season in 2020 until there wasn't, and now the area high school teams are picking up the pieces.
Some, like the Flathead Bravettes, have more of those athletes than others. The Flathead boys were third in 2019, but a smallish senior class makes it unlikely Dan Hodge adds to the seven state titles the Braves have won under his watch.
Whitefish, stationed 15 miles north, has a quartet of talented girls back on a team that won the 2019 State A championship and Bigfork's boys — one state placer back from 2019 — might have to be reckoned with in Class B.
Here's a look at what we can see on the ovals in Northwest Montana, a year after the COVID-19 pandemic ended the run:
Glacier
Count Wolfpack boys' coach Arron Deck among those who missed track in 2020, when the Montana High School Association canceled spring activities after a week of practice.
"We were looking forward, obviously, to last year," said Deck, whose son Drew was defending 300 hurdles champion. "We had some guys ready to go and make a nice little run.
"But to be honest I think everybody's in the same boat. It's just tough for the freshmen and sophomores, to miss that developmental year. And even the seniors that are competing are kind of jumping into the deep end."
Adding to the uncertainty is spring break kept some athletes from getting the required 10 practices in. Still, Deck has some leaders among his 90 or so athletes for today's home dual against Helena Capital, like senior Kale Mayhue in the sprints and jumps.
A bunch of juniors could make noise: Jake Turner and Connor Sullivan in the sprints and jumps; Sam Ells in the distances; Jackson Barney in the pole vault and Caleb Bernhardt in the hurdles.
Glacier's boys were fifth at the State AA meet two years ago. Coach Jerry Boschee's girls were ninth, and have a solid core returning: Taylor Brisendine and Bethany Sorensen in the high jump, Kenzie Williams in the javelin; Hannah Deck in the middle distances and Sidney Gulick in the hurdles.
It might be hard to pick up where you left off, when you left off almost two years ago.
"But like I said, same boat," Deck said. "We're just excited to have track and field."
Flathead
Charlie Dotson's Bravettes were eighth at the 2019 State AA, but he's happy with his numbers (109 girls) and returning talent.
Tori Noland-Gillespie (University of Mary signee), Hannah Perrin and freshman Lily Rumsey-Esch lead the distance crew; Cerise Lee placed in the 400 and ran on Flathead's winning long relay as a freshman in 2019; UM soccer signee Skyleigh Thompson and sophomore Akilah Kubi are in the sprints.
"She is fast," Dotson said of Kubi. "Competitive as all get out."
Dotson also singled out javelin thrower Tali Miller, middle-distance runner Peyton Walker and all-around athlete Maddy Moy, but sounded most pleased with senior Rebecca Eacker, who is throwing the discus with a brace guarding the ACL she tore midway through basketball season.
"I was watching her throw today and I was like, 'Ok,' " Dotson said. "She's throwing the heck out of it.
"Right now we're young," he added. "I'm excited to watch them compete, especially after missing last year — we had a really good freshman class. But I'm just grateful to get out there and compete."
Hodge has 62 boys out for his 46th season as Flathead's head coach, and he's somewhat blunt.
"I don't have a kid on my track team that has scored a point at a divisional, even," he said. "I have a completely untested team. We're untried. Our time trials will be basically in the meet tomorrow in Missoula."
That's against defending state champion Sentinel, at MCPS Stadium. The Spartans were loaded before landing speedy Frenchtown transfer Jace Klucewich; they won the State AA cross country title last fall as well.
Flathead hosts a triangular Tuesday at Legends Stadium, with Columbia Falls and Eureka.
Class A
Officially this is Kelliann Blackburn's second season as Whitefish girls' coach. Realistically it's not.
"Last year was my first year, but I only got a week of it," she said.
In Derek Schulz's final season as coach the Bulldogs took the State A girls' crown, while the Whitefish boys — now coached by Willie Roche — tied for sixth. Blackburn, who's been at Whitefish for 25 track seasons, 13 as a varsity assistant, is happy with the leadership in place. It starts with junior Mikenna Ells, the 400 meters champion who also ran on both relays that won state in 2019; sprinter Tommye Kelly; thrower Jennifer Patten and Erin Wilde, who was second in the high jump in 2019.
Blackburn, who has 55 girls out (Roche has the same numbers), might have Ells in the high and long jumps.
"She's just so talented," Blackburn said. "She has potential, is one of our captains and an all-around great kid. She was just a young freshman; now she's coming off three sports and looking really strong."
Two years ago the girls were third at the Northwest A Divisional before claiming state.
"We sat and talked about it, and here's how Whitefish rolls," Blackburn said. "We're not too worried about winning these duals and triangulars during the season. We'll compete and then we're going to Laurel (for the State A) and see what happens."
The Bulldog boys are building behind a pair of talented jumpers: Marvin Kimera and Bodie Smith.
Columbia Falls' boys were eighth at state in 2019, and the girls were sixth. Maddie Robison was fifth in the long jump as a freshman and Lara Erickson was fifth in the 3,200 two years ago.
Other Wildkats that could make noise include: Rebekah Walker in the pole vault; Hannah Sempf, a vaulter who has shown promise in the distances; and Mady Hoerner in the javelin. An ankle injury is going to keep Hoerner from jumping right away, coach Jamie Heinz noted.
For the boys, distance runner Richard Role is back along with vaulter-jumper Jaxon Heinz and Bailey Sjostrom in the 400 and 800.
Libby's boys were 17th and the girls were tied for 18th with Ronan two years ago. The Loggers should have a top boys' sprinter in Jay Beagle.
Class B
If you wondered whether Bigfork coach Sue Loeffler minded missing last year, the answer is yes.
"You feel like you're almost starting over," she said Thursday. "You've got to think like your sophomores are freshman, so probably 75 percent of your team hasn't run high school track."
Loeffler has 39 boys and 34 girls out, and a good number saw action at the 2019 State B meet, though only Wyatt Duke (second in the high jump) scored. The Vikings were 15th among the boys' teams; the Valkyries were seventh.
Backing up Duke are hurdlers Jordan Betts, Andrew Olson and Cormac Benn, vaulter Wyatt Herd and sprinter Noah Kinslow. Levi Taylor adds the rare combination of high jump and shot put; Benn made it to state for Malta in the jumps in 2019.
The girls are led by sprinter Audrey Buenz, vaulter Allie Reichner and thrower Quinlan Nissen.
"I think the boys are going to be really strong, and we have some good girls," Loeffler allowed. "We're not all young, but the upperclassmen that missed last year — it's going to take a while to get them back where we need them.
"But it's fun. It's kind of like starting over. We're very excited."
Eureka's teams are now under the lead of Andrew Gideon, who guided the Lions to another State B boys' cross country title last fall.
The leader back from 2019 is Maya Carvey, who was second in the 100 at state; the boys have Joseph Kindel in the javelin, Colter Casazza in the pole vault and Joshua Butts in the jumps.
---