Glacier thumps Kats in season opener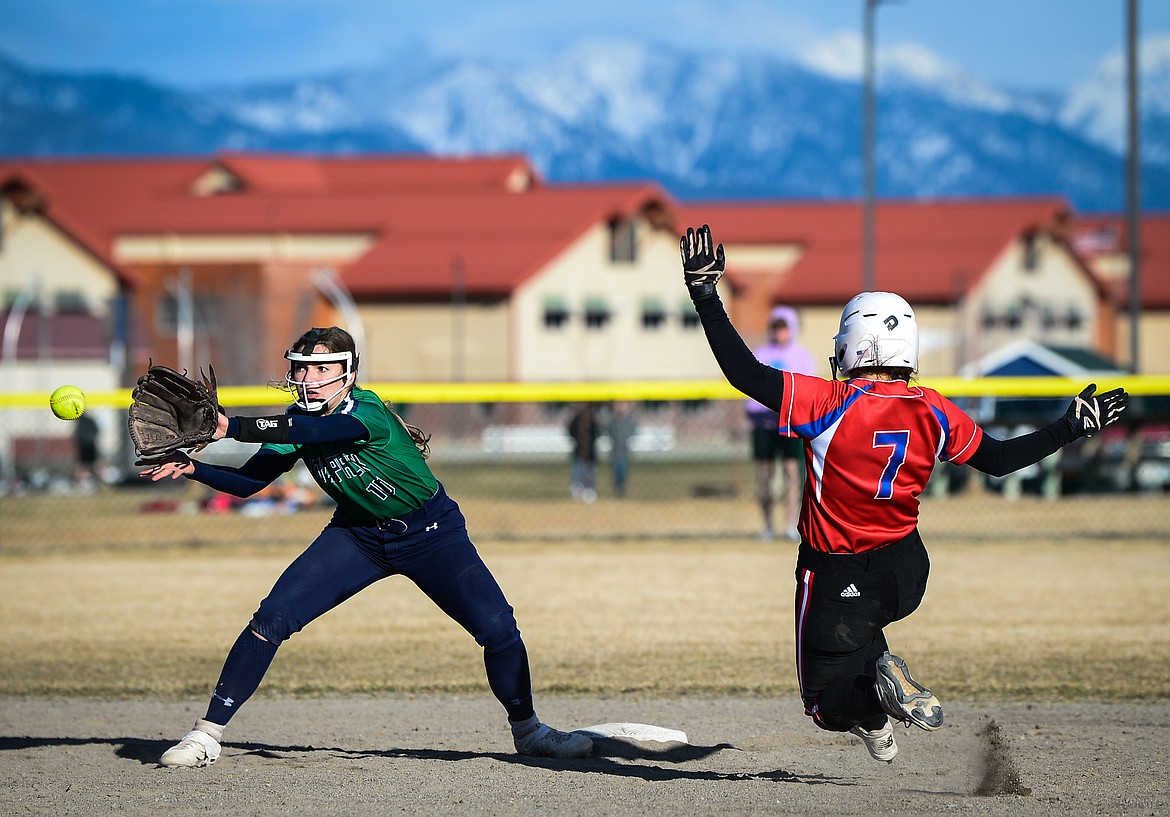 Columbia Falls' Alyssa Blankenship (7) slides into second base ahead of the tag by Glacier shortstop Sammie Labrum (10) in the top of the third at Glacier High School on Thursday. Blankenship brought in a run and advanced to second base on the throw to home plate. (Casey Kreider/Daily Inter Lake)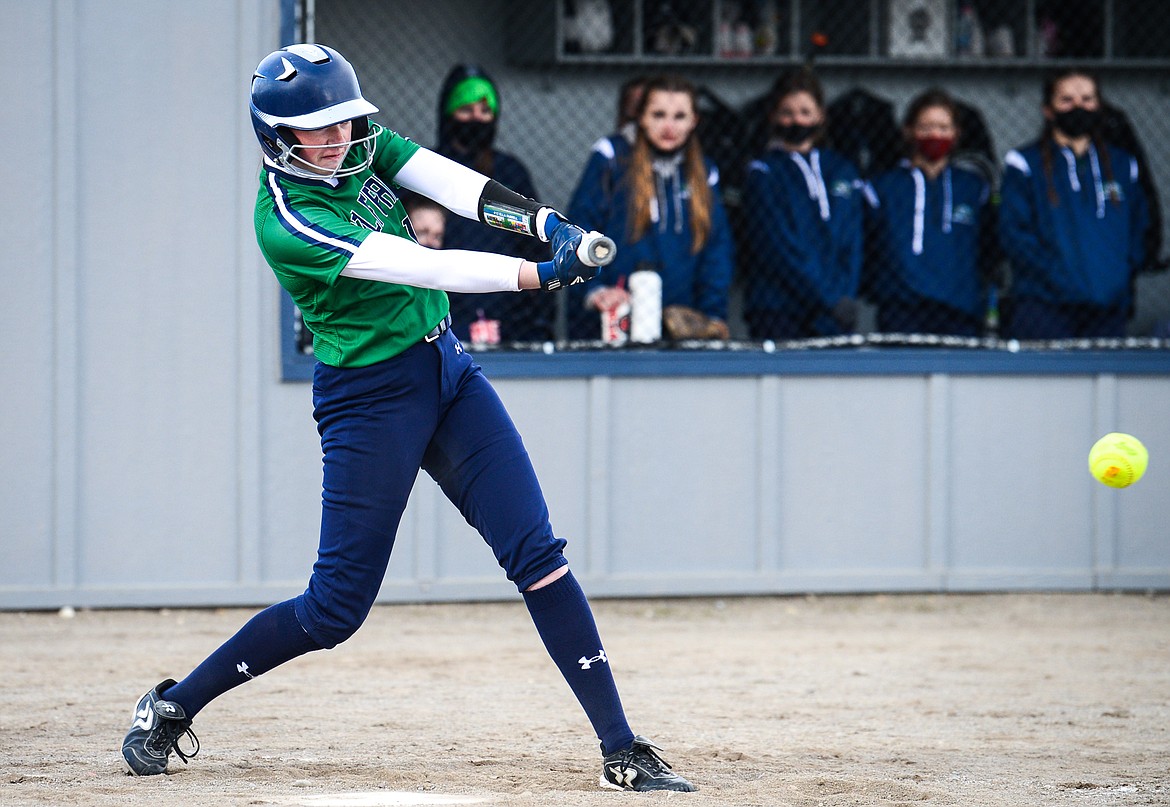 Glacier's Alli Kernan (11) brings in a run against Columbia Falls at Glacier High School on Thursday. (Casey Kreider/Daily Inter Lake)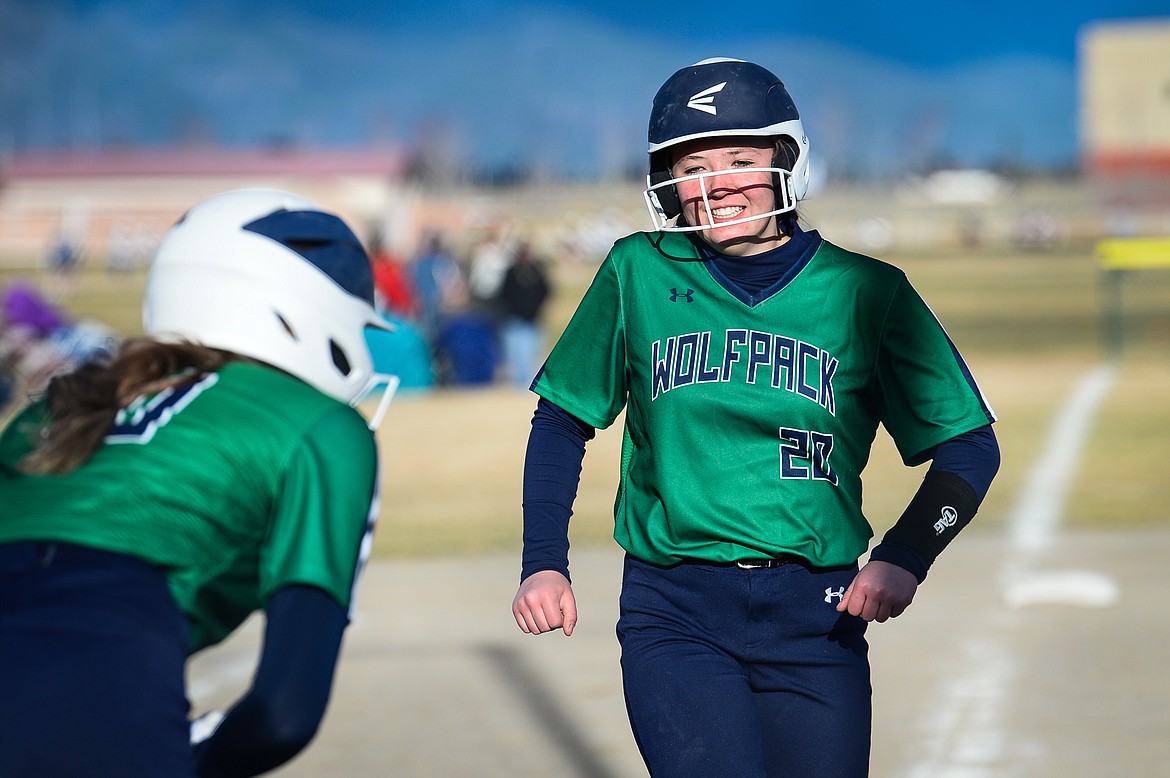 Glacier's Kenadie Goudette (20) celebrates with teammate Sammie Labrum (10) after Goudette's solo home run in the botttom of the third inning against Columbia Falls at Glacier High School on Thursday. (Casey Kreider/Daily Inter Lake)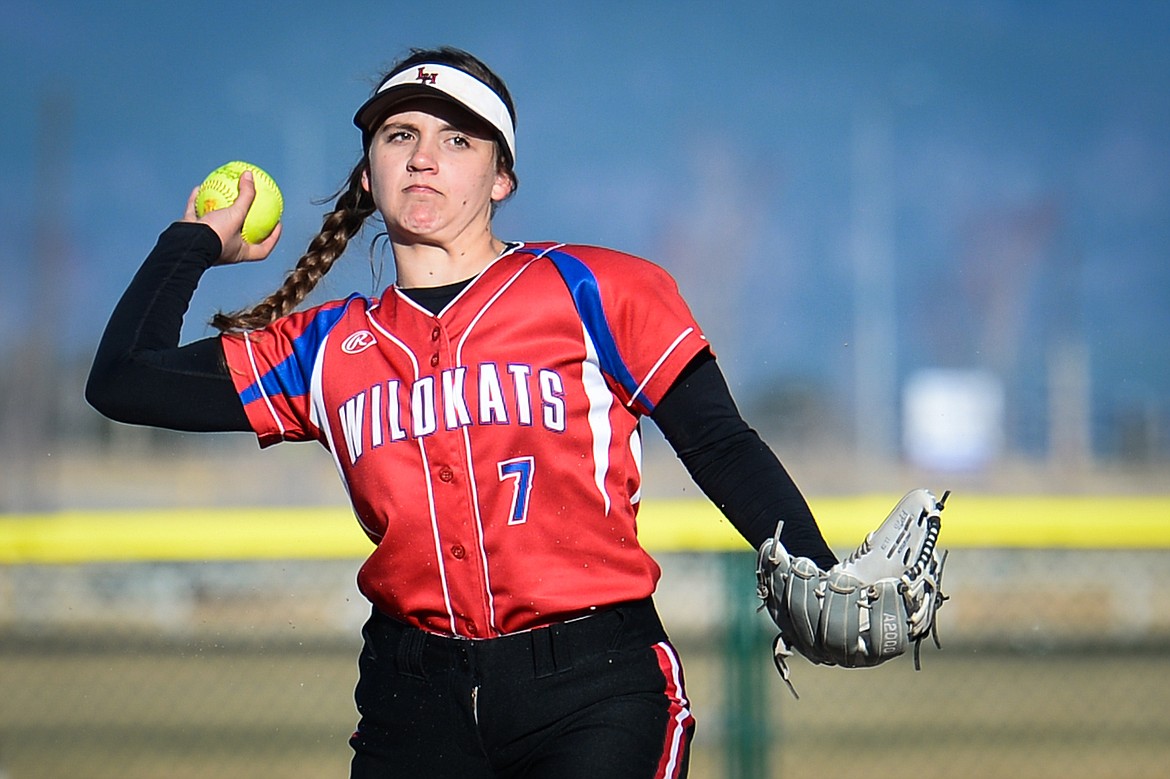 Columbia Falls shortstop Alyssa Blankenship fires to first against Glacier at Glacier High School on Thursday. (Casey Kreider/Daily Inter Lake)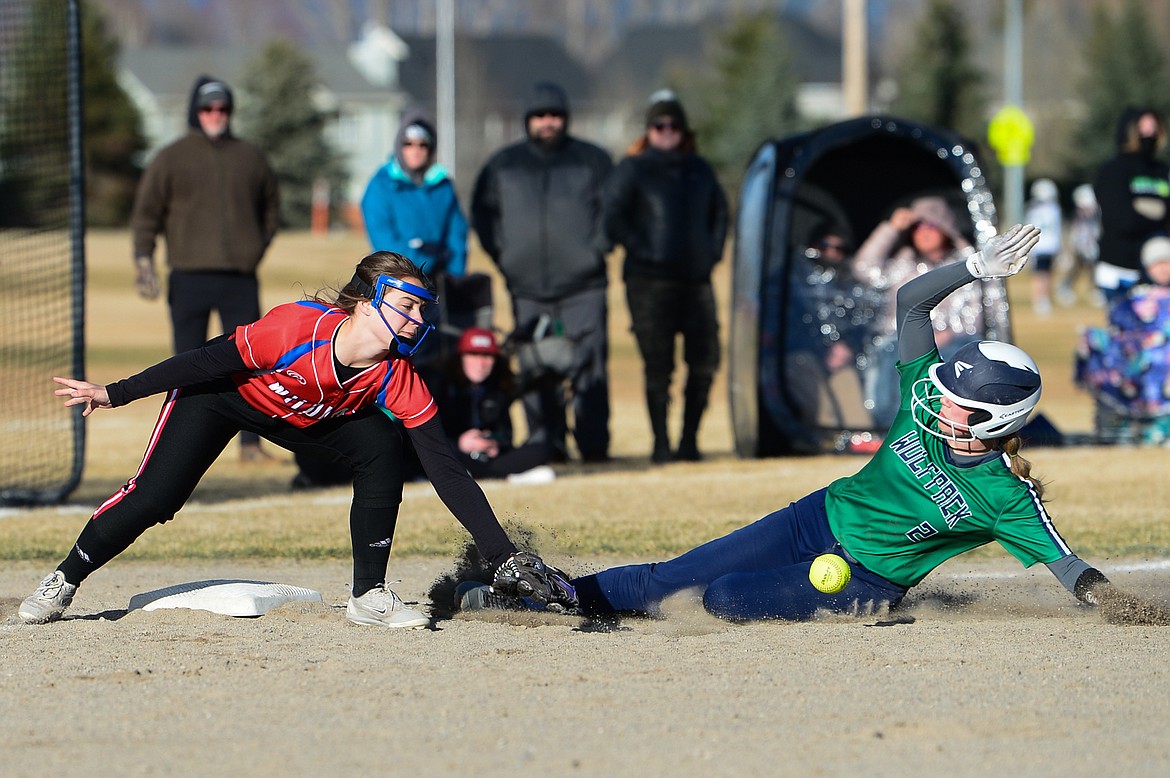 Glacier's Halle Schroeder (2) steals third base as the throw gets away from Columbia Falls third baseman Aletheia Fisher (2) at Glacier High School on Thursday. (Casey Kreider/Daily Inter Lake)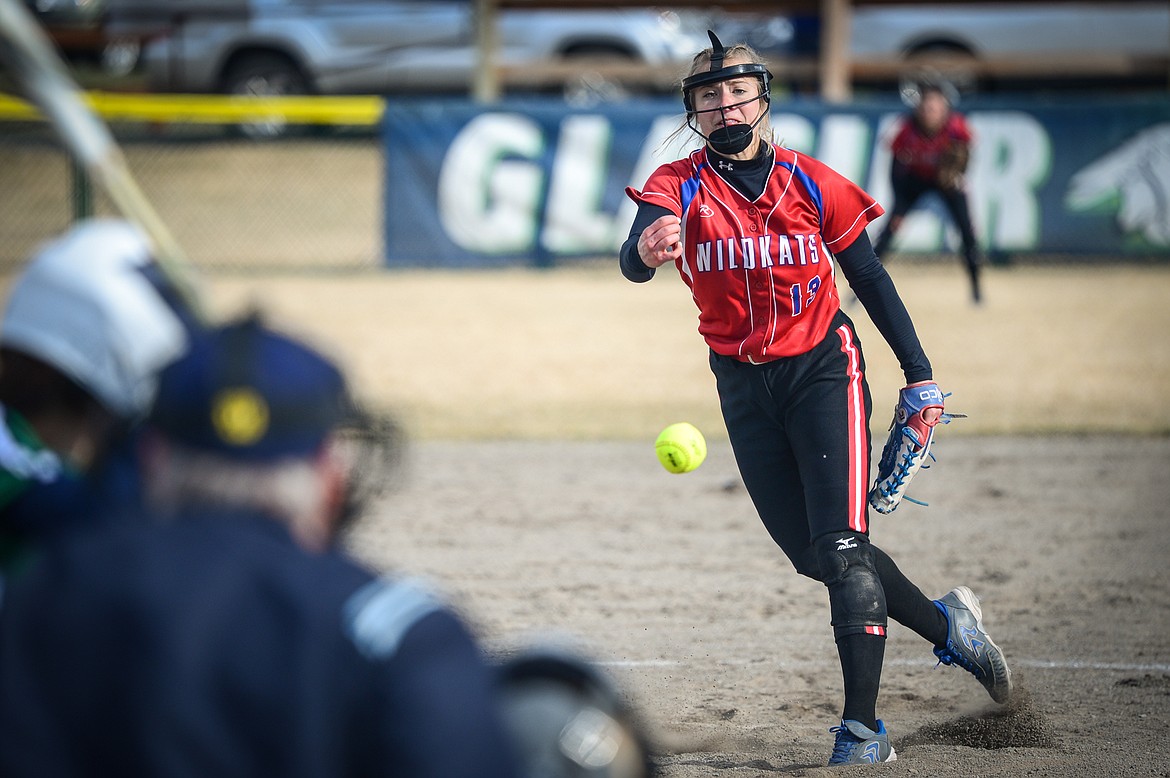 Columbia Falls pitcher Sydney Mann fires a pitch against Glacier at Glacier High School on Thursday. (Casey Kreider/Daily Inter Lake)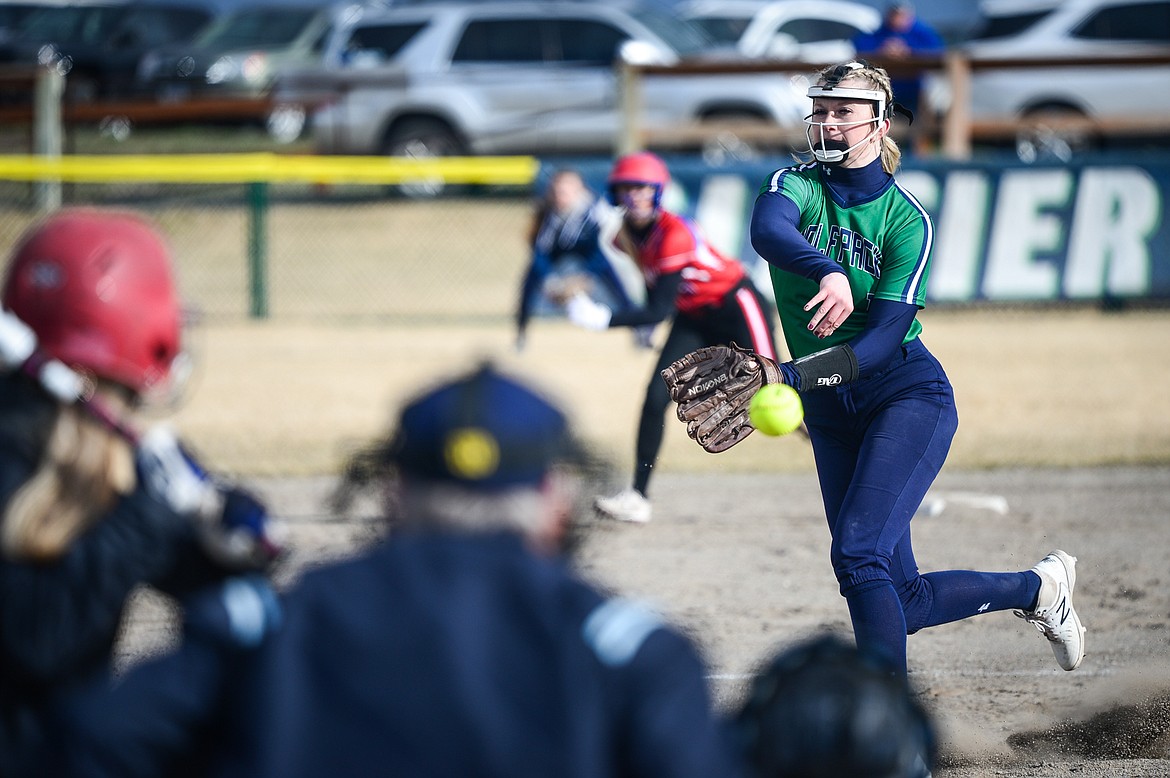 Glacier pitcher Kynzie Mohl (1) fires a pitch against Columbia Falls at Glacier High School on Thursday. (Casey Kreider/Daily Inter Lake)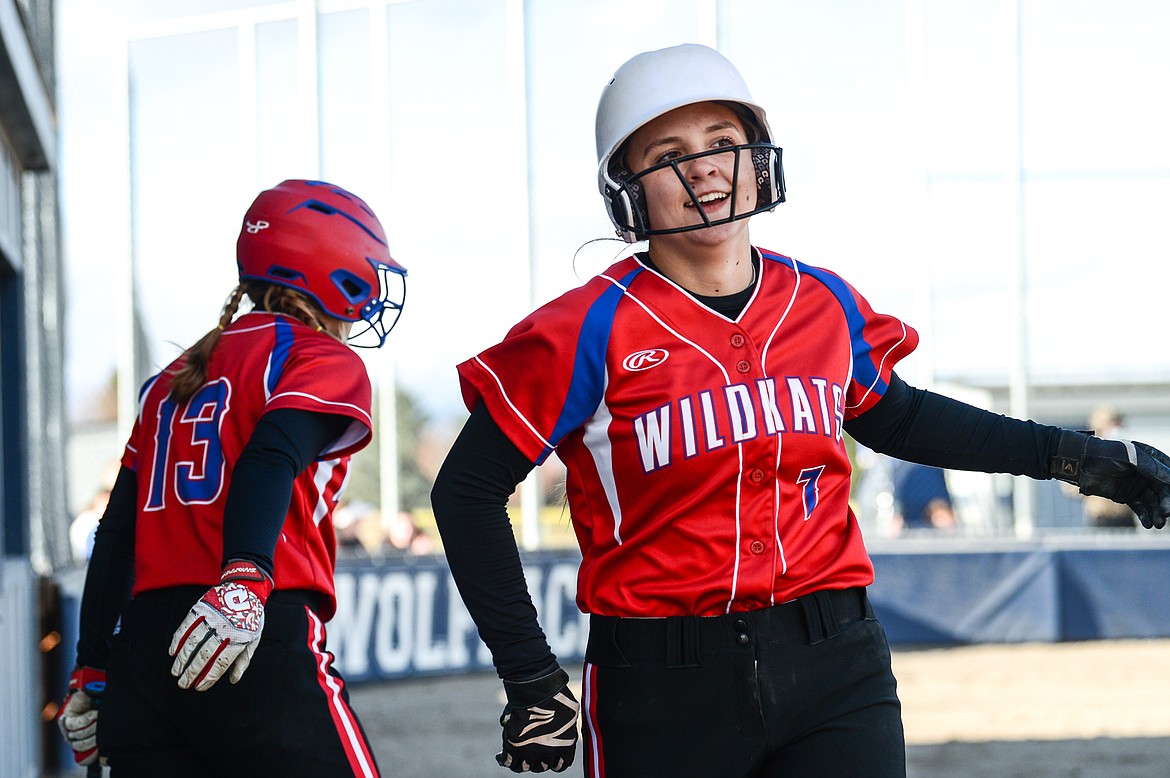 Columbia Falls' Alyssa Blankenship (7) gets congratulated by teammate Sydney Mann (13) after Blankenship scored a run against Glacier in the top of the third at Glacier High School on Thursday. (Casey Kreider/Daily Inter Lake)
Previous
Next
by
Daily Inter Lake
|
April 8, 2021 9:47 PM
Kynzie Mohl threw a 3-hitter and doubled, and Kenadie Goudette doubled and homered as Glacier won its 2021 softball opener Thursday, 13-3 over Columbia Falls.
Mohl went the distance in a game shortened to six innings because of the 10-run rule. She walked three and fanned six.
The Wolfpack trailed 3-2 heading to the bottom of the third inning but scored twice in their half — including a solo homer from Goudette, a freshman — and pulled away.
"I was very impressed with our balanced performance," Glacier coach Abby Connolly said. "We started three freshmen and one sophomore and were still able to produce runs in every inning.
"Kynzie Mohl did a great job pitching. She really picked up momentum in those third and fourth innings. Halle Schroeder did a great job behind the plate and hitting.
Emma Cooke, another freshman, hit two doubles. Mohl, Goudette and Schroeder all drove in two runs.
Alyssa Blankenship had two hits and an RBI for Columbia Falls.
The Pack is home again today, playing Great Falls Russell at 3 p.m. and Great Falls High at 5.
Col. Falls 102 000 - 3 3 4
Glacier 112 126 - 13 15 3
Sydney Mann, Abbey Underdahl (3) and Abbie Darsow. Kynzie Mohl and Halle Schroeder.
COLUMBIA FALLS - Haylee Lawrena 0-2, Abbie Darsow 1-3, Alyssa Blankenship 2-3, M. Rensel 0-3, Mann 0-3, Darsow 0-2, A. Fisher 0-1, Hannah Tyler 0-2, Isabell Johnson 0-1, Underdahl 0-3, K. Stacey 0-0.
GLACIER - Kenna Vanorny 1-4, Kynzie Mohl 2-3, Kenadie Goudette 2-4, Sammie Labrum 2-2, Ella Farrell 0-3, Halle Schroeder 2-4, Emma Cooke 2-3, Teagan Powell 2-4, Avalon Viau 0-0, Alli Kernan 2-4.
2B - Cooke 2, Mohl, Labrum, Powell, Goudette. HR - Goudette. RBIs - Blankenship, Mohl 2, Goudette 2, Schroeder 2, Labrum, Farrell, Cooke, Powell, Kernan.
---