Lady Griz hire Oregon State assistant Holsinger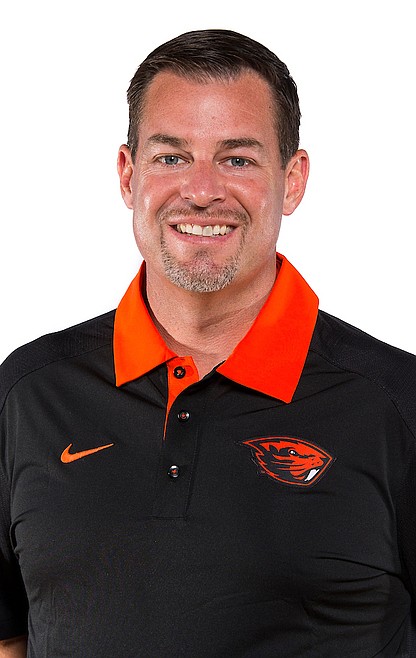 Brian Holsinger. (Photo courtesy UM Sports Information)
by
Daily Inter Lake
|
April 13, 2021 9:55 PM
The Lady Griz have a new coach: Brian Holsinger, who has spent 13 seasons as a Pac-12 assistant coach, the last five at national power Oregon State.
Holsinger was one of four finalists for the job, including interim coach Mike Petrino, who guided the Lady Griz to a 12-11 record in his one season.
"We had tremendous candidates, and the committee worked really hard. It was a long process, a thorough process," Montana athletic director Kent Haslam said Tuesday in a UM press release. "Brian rose to the top with his experience, his record of success and his deep ties to the Northwest.
"He understands the history and pride of the Lady Griz and knows how important the program is to this university and this community. I'm excited for him to get going and building the Lady Griz to what we expect it to be."
It is the second head coaching job for Holsinger: He led Montana Tech's women's program for two seasons (2005-07) before joining Chris Albrecht's staff at Washington state for eight seasons.
In 2016 he joined Scott Rueck's staff at Oregon State, not long after the Beavers made the NCAA Women's Final Four. The Beavers have made ever NCAA Tournament since.
Hulsinger signed a four-year contract Monday night.
"I want to first thank President Bodnar, Athletic Director Kent Haslam and the members of the search committee for this amazing opportunity," Holsinger said. "I am deeply honored, humbled and grateful to be the next head coach of the Lady Griz.
"This program is steeped in tradition, and I am well aware of what this program not only means to the University of Montana but also to the state."
Holsinger, married with one son and two daughters aged 6-10, becomes the seventh coach of the Lady Griz, but third in three seasons. Petrino, a Flathead High graduate, was elevated to lead the program upon the dismissal of Shannon Schweyen, who guided UM from 2016-20.
Schweyen succeeded Robin Selvig, who came on as UM became an intercollegiate program and built a legendary career over 38 seasons — 865 wins, 24 20-win seasons and 21 NCAA Tournament appearances.
"If that sort of legacy doesn't scare you a little bit, you're not human, but I've never been afraid of a challenge. I think it's a good thing. It's healthy, it drives you," Holsinger said. "It makes you want to do great things.
"He will be the first phone call I make. I have the utmost respect for him and who he is and what he's done. Any advice I can get from him will be welcomed."
As reported by skylinesportsmt.com, Petrino was a finalist along with Oregon associate head coach Brian Campbell and North Texas head coach Jamie Carey.
Petrino at one point had the Lady Griz 12-6 before four straight losses to Idaho and Idaho State — the in-state rivals battled for the Big Sky tournament championship — and a stunning upset loss to Sacramento State that dropped UM to 1-7 in Big Sky tourney games, post-Selvig.
Two of Montana's best players from the 2019-20 season, Gabi Harrington and Jamie Pickens, played for Idaho and Carroll College last season.
"First I want to acknowledge and thank Mike Petrino and his staff, Jordan Sullivan, Nate Covill and Jace Henderson, for the leadership they provided this last year," Haslam said. "It was a very different year. You add in a pandemic and it makes it even more unique. They always operated with the highest class and worked extremely hard. The university and this athletic department will always be thankful for their hard work."
When Holsinger was at WSU, he came to Dahlberg Arena twice: In December 2007 the Lady Griz beat the Cougars 74-54 and in the 2014 WNIT Montana prevailed 90-78.
"It was an intimidating, tough place," Holsinger said. "Then you went against Robin-coached teams and they were disciplined, they played together and they were tough. Those experiences helped me realize how special of a place this is.
"I'm thrilled. It's a huge honor to be the coach of the Lady Griz. There are very few programs that have that unique brand, and it's because of Robin Selvig."
---