Glacier senior Rory Smith's title defense begins now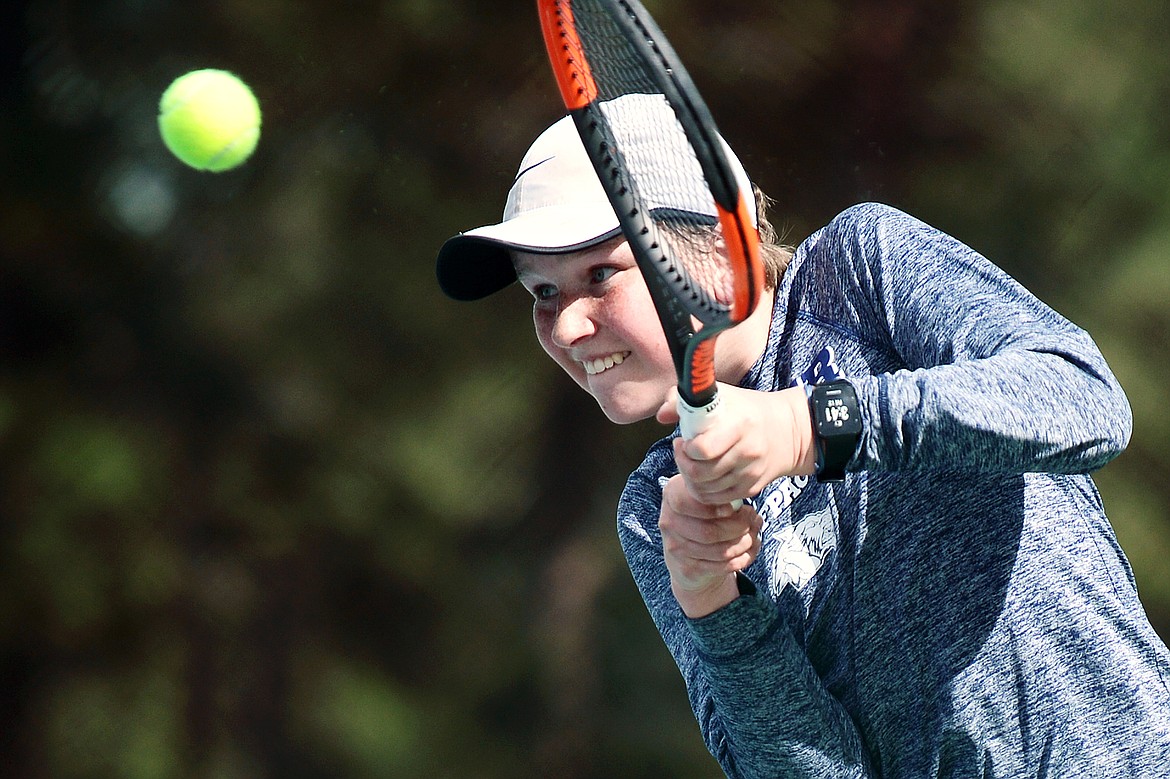 Glacier's Rory Smith hits a return against Flathead's Nolan White during a crosstown tennis match at Flathead Valley Community College on Friday, April 12, 2019. (Casey Kreider/Daily Inter Lake)
by
KATIE BROWN
Daily Inter Lake
|
April 14, 2021 9:44 PM
Nearly two full years after Glacier's Rory Smith won his first State AA tennis title, he's back and gunning for another.
"I feel very motivated to try to repeat it or at least do really well this year," Smith said. "I think I come back with a little bit of motivation after taking such a big break from not only just high school tennis, but competitive tennis as a whole."
As a sophomore, Smith upset Bozeman's Connor Loly in 2019 and won the state boys' singles title. Loly is back this year too.
"He's always a really good player," said Smith of Loly. "It's always fun to play him, so hopefully we can get back up there."
Smith is the second boy to win a state tennis title at Glacier. Kellen Bates was the first, winning four consecutive titles from 2010-2013.
Smith won't get the chance to play for even three titles since the 2020 spring season, his junior year, was cancelled during the first few months of the COVID-19 pandemic.
"It's still something he wants to leave with," Glacier tennis coach Josh Munro said. "It was a motivation when he won two years ago. There's definitely a target on his back."
Smith didn't struggle so much with the quarantine part a year ago — it was the waiting.
"I felt like we were kind of being led on the whole year, cause it was just like, well maybe if we are back in school by like mid-April or early May, we'll be able to have a season," Smith said. "I had two older siblings who graduated last year, it was tough for them not to have their senior seasons. It was just kind of a difficult time just having to do without having a season."
With no courts to practice on, Smith said he tried to stay active and keep a routine — he's a creature of habit — while balancing the transition to virtual school.
Though courts were available at FVCC, Smith said he was wary of going there to play. It was in the early days of the pandemic, and everyone was living in a state of uncertainty.
He didn't get much tennis in until the courts at the Summit in Kalispell reopened by the end of June.
"It kind of blew some life into tennis in Kalispell," Smith said. "So that was good. After that happened, I feel like I just picked up right where we left off."
An informal summer league began to form between summer residents and the usual crowd as they built a little momentum.
"He got stuck with old guys like me," Munro quipped.
Smith added a few inches to his frame over the past year, and that's forced some adjustments to his game.
"It adds a lot to his game," Munro said. "He's definitely more powerful. He's got a little more on that serve and it creates more angles for him just having that reach."
His defensive game hasn't suffered either, and he's still adept at making adjustments.
"He's been able to play and adjust kind of at his own pace and not be forced into a lot of the crazy competition travel schedule and making adjustments on the fly," Munro said. "But at the same time, something that I think we all miss was playing last year."
Smith hasn't decided where he'll attend college (he has several offers), but knows he wants to take a pre-med track and study to be a doctor. He probably won't play tennis at the collegiate level, though he hopes to find a club team to play with.
Glacier won its ninth boys divisional championship in 2019 (the girls won their seventh overall) and might be considered the team to beat in Northern AA, if only anyone knew what everyone else's team looked like. Seniors have graduated and there is no shortage of new talent on the court at every school.
"I think it will be a challenge," Smith said. "It's not going to be easy just to win the divisional. So we're definitely not going to stop working."
Munro expects Bozeman to contend for a state title, and says Great Falls C.M. Russell looks strong already. And then there's Flathead, whose No. 1 boys singles player Nolan White has gotten off to a hot start this season. Munro's crew will get to see that firsthand today, when Flathead and Glacier meet for a crosstown dual for the first time this season and the first time in nearly two years. Matches start at 3 p.m. at the FVCC tennis courts.
"I would say that in general, it's kind of the same," Munro said. "We always look to the same few teams, but it's hard to tell because everybody's in a new place."
"The whole landscape has changed," Smith said. "There was a really good group of juniors and seniors two years ago and all of them graduated. And so the whole dynamic of the state has changed. I think it's good for the state to have new faces on the court, but it's weird, you know?"
Sports editor Katie Brown can be reached at 758-4426 or kbrown@dailyinterlake.com
---