Tea and tarts: Beloved local chef whips up new cookbook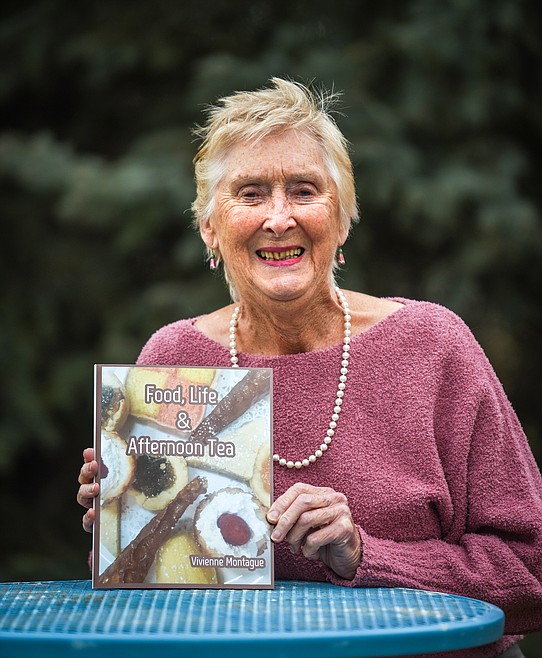 Vivienne Montague with her book "Food, Life & Afternoon Tea" on Thursday, Dec. 18. (Casey Kreider/Daily Inter Lake)
by
CAROL MARINO
Daily Inter Lake
|
January 4, 2021 12:00 AM
Vivienne Montague named her very first restaurant Rose Cottage. She was 7 years old and it was located inside an air raid shelter post-World War II in London where she grew up. Capable of lighting her own cooking fire, she would serve jam tarts at tea parties and invite all her dolls and Teddy bears.
A lifetime later, after living her dream of owning her own restaurant, first the Columbia Café in Columbia Falls and then Vivienne's Fifth Street Café in Kalispell, Montague has published some of her favorite recipes in a new book, "Food Life & Afternoon Tea."
Montague was born in 1938 in the small town of Stoneleigh on the outskirts of London. When she was 4 and her sister Janet, 9, they were whisked off by the British government — a common practice during the war — to a volunteer family and kept out of harm's way for two years until it was safe to be returned to their parents.
Her childhood and adolescent years were at once idyllic — blackberry picking and playing ping-pong outside in the summer — and turbulent.
"We moved to a lovely house in the suburbs with a garden," Montague recalled. "My father had an antique shop and a bar was across the street. Whenever he made a big sale he would go to the bar to celebrate. He was an alcoholic and he went in debt. But my mother loved that house and was working two or three jobs to keep it."
When Vivienne was 13 and her sister 19, the family had to go to court.
"We lost the case and we lost the house," Montague said.
By then her father was out of the picture and the three were suddenly out on the street while the bailiffs came and took all of their antique furniture out of the house.
"We were not allowed to feel sorry for ourselves," Montague said. "It's not the British way. You just get on with it."
Her mother rented a tiny one-room apartment and they later lived on a houseboat for a while.
MONTAGUE CAME to America in 1965 with her husband, their two girls and a cat. Her sister was living in New Jersey at the time.
"It was so exciting. When my sister and her husband picked us up at the dock, I remember driving back to their house and everything was so spacious. I could see for miles. London wasn't like that,' Montague said. "The people were so warm and welcoming. We made friends right away."
The couple rented an apartment, had two more children and that was their home for the next 25 years, during which Montague made and sold pasties and Christmas pudding.
It was the invitation of family and especially her first grandchild that pulled Montague to Montana in 1988. Living in South Carolina at the time, she was hesitant to make such a big move.
"I looked at the map and saw how far it was," she said. "But I was afraid I'd never see my grandson again. I decided to come out for a year."
She put whatever belongings would fit in her hatchback, along with her dog, and made the long journey.
Three years later she and a friend opened the Columbia Café. They'd gotten an offer they couldn't refuse on a location and went into business. Montague went on to work at the Blue Moon Café and a few other endeavors, before things fell in place and in 1996 she found a spot to call her own, Vivienne's Fifth Street Café in Kalispell, where she enjoyed 16 years of restauranteering. Even though owning your own restaurant involves plenty of long hours and hard work, Montague never tired of it.
"I would not have had the courage to open my own restaurant anywhere else," she said. "I've always loved putting a plate of food in front of someone for them to enjoy," she chatted while steaming her Christmas pudding at home just before the holiday.
Montague also has the patience for the minutiae of baking pastries, tarts and scones, which she's provided for the Conrad Mansion's annual Christmas teas.
"I love that kind of fiddling," she said with a laugh.
Over the years, Vivienne's cafe became well-known for its pastries and home-cooked food; and perhaps even more well-known for its well-attended twice weekly afternoon teas. She occasionally bumps into people who recognize her and exclaim, "I know who you are! My grandmother brought me to tea when I was little and I've always remembered that."
Retired since 2012, Montague's restaurant is still in good hands. Her daughter Sarah and son-in-law Mike now operate The Knead Café in the same Fifth Street location.
She credits her son Adam with convincing her to write her new book. Her first book, a book of poetry titled, "Word Upon Word," was published two years ago and is still in print.
"Adam said to me, 'What I want you to do, Mom, is write your life story."
And so Montague penned "Food, Life & Afternoon Tea," filling it with wonderful recipes that will elevate even the simplest occasion, along with stories about her adventurous life; and now she can pass both her recipes and those stories on down to her 14 grandchildren and three great-grandchildren.
Copies are for sale at The Knead Café, located in the Devonshire Building, 21 Fifth St E., Kalispell; or email vivmontague@gmail.com
Community Editor Carol Marino may be reached at 758-4440 or community@dailyinterlake.com.
Brandy snaps recipe from 'Food, Life & Afternoon Tea' by Vivienne Montague
350 degrees
8-10 minutes
Makes 25
Melt together: 1 stick butter, cut up and 3 Tbsp molasses.
Stir in:
½ c flour
½ c sugar
1 tsp ground ginger
¼ tsp salt
On sheet pan covered with parchment paper, drop one teaspoon at a timer, six to a pan. Gently spread with fingers to a 3" circle.
Bake 8-10 minutes. They will be quite dark and run together.
Remove from oven and let cool for 3-4 minutes – enough to handle – and roll into a cone. If they get hard before you have rolled them, put them back in the oven for 1-2 minutes until they soften.
Fill them with whipped cream.
Filled brandy snaps won't stay crisp – so fill right before eating.
You can make these gluten free by using gluten-free flour. (I like Bob's Red Mill) and adding 1/8 tsp xanthan gum.
I think this may be a World War II recipe, being able to make 24 little desserts with a mere ½ cup flour and sugar!
---