Is it time to hunt grizzly bears?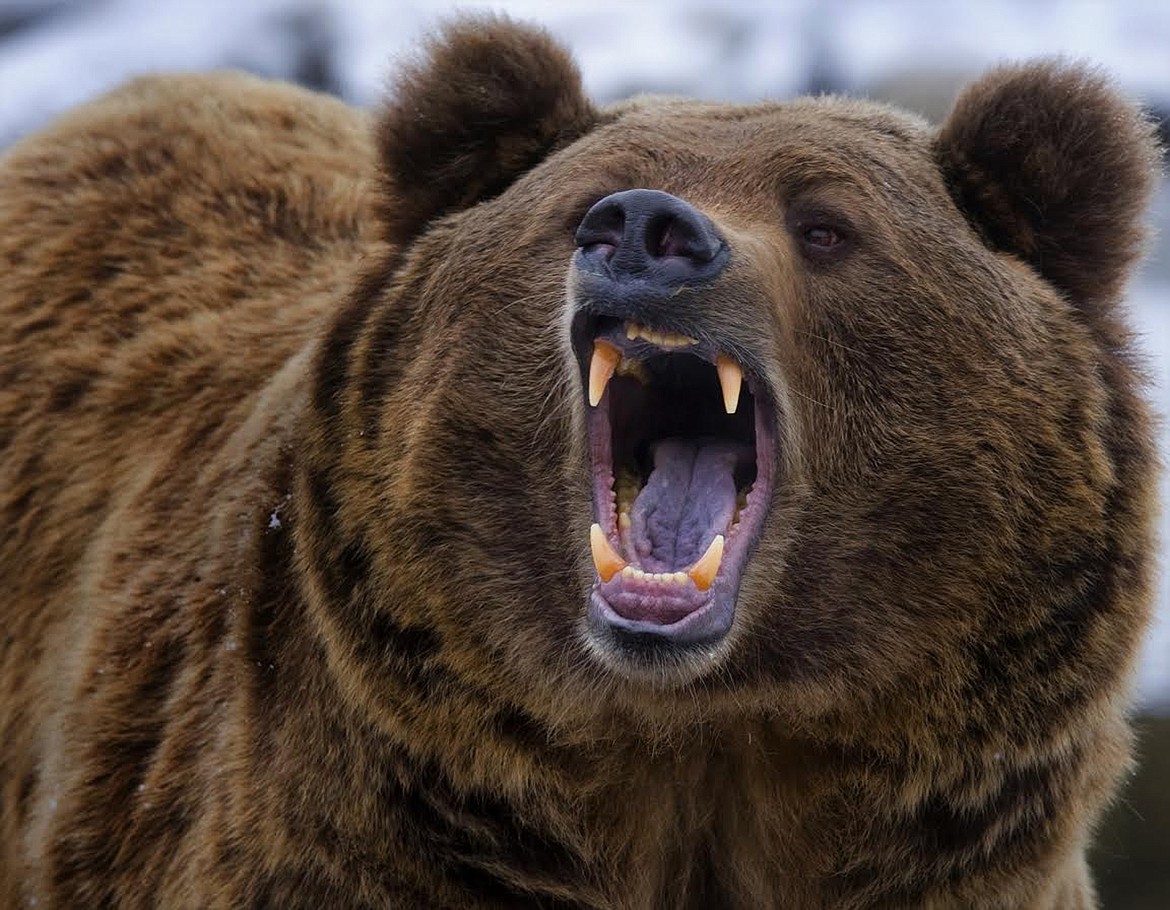 A GRIZZLY BEAR at Yellowstone National Park. (Jeremy Weber/Daily Inter Lake)
|
January 9, 2021 12:00 AM
It's been 30 years since Montana held a hunting season for grizzly bears, but as their numbers increase in the Northern Continental Divide Ecosystem, the day when a season returns could be getting closer.
Wyoming and Idaho were set to hold grizzly hunts in 2018 after the U.S. Fish and Wildlife Service delisted grizzlies in the Greater Yellowstone Ecosystem in 2017. But U.S. District Court Judge Dana Christensen halted it.
Montana Fish, Wildlife and Parks opted to not hold a hunt. Montana was the last state to hold a grizzly hunting season in the lower 48 states. It occurred in 1991 and three bears were killed.
The Northern Continental Divide Ecosystem grizzly population, which includes Northwest Montana, Glacier National Park and the Bob Marshall Wilderness and east to Rocky Mountain Front, is estimated at more than 1,000 bears, the largest in the state.
Grizzlies were classified as a threatened species in 1975 in the Lower 48 states under the Endangered Species Act.
A recently published survey by Montana Fish, Wildlife and Parks and the University of Montana indicated Montanans favor grizzly bear hunting by an overwhelming majority.
The survey was mailed to 5,350 addresses of Montana adult residents from November 2019 to January 2020.
A total of 1,783 Montanans returned the survey, about 38%.
Forty-nine percent supported enough hunting to manage grizzly bear population size, while 30% supported a very limited season that does not affect the population size. Four percent supported as much grizzly bear hunting as possible.
Seventeen percent said grizzlies should never be hunted in Montana.
ONE PERSON who has intimate knowledge of the great bear is Micky Cheff, a rancher and hunting guide who lives outside of Ronan near the Mission Mountains Wilderness. He says it's time for a hunt.
"The population is plenty healthy to hunt them," Cheff said. "Most outfitters are used to seeing them in their travels.
"There are at least as many grizzlies as there were 50 years ago. I hope they start giving out tags. If people are out there hunting them, they'll realize just how many are really out there."
The Cheff family roots in Northwest Montana date back to the early 1800s when some arrived with explorer David Thompson.
The most famous of the bunch is probably Micky's great grandfather, Bud Cheff Sr., who was born in 1915 and died in 2011. Bud Sr. began taking customers into the Bob Marshall Wilderness in 1933 and he spent considerable time in the Missions. Grizzlies were always part of the landscape and numerous, too.
Micky says a future hunt includes a question of where the bears are hunted.
"Is it in the wilderness or near where people live?" Micky said. "The bears which spend more time in the valley get into trouble with chickens and pigs and they're active getting into garbage in May and June.
"They don't bother with cattle much," Cheff said.
Cheff said he and his family still run about 300 cow-calf pairs and a neighbor had a grizzly attack some calves a few years ago.
"Maybe one bear realizes how easy it is to go after cattle, but it's rare here," he said.
While bears that spend more time in wilderness areas don't bother livestock, some present challenges to those who do business in the backcountry.
"If a grizzly gets to an elk or deer a hunter gets, it belongs to the bear. Once they have it, it's theirs," Cheff said.
He'd like to see the state make it legal for houndsmen to be able to run grizzlies out of the edges of towns where people live. Currently, it's not legal for outfitters or hunters to chase bears with dogs.
WHILE there are people in favor of hunting grizzlies, there are plenty who are not.
Swan View Coalition's Keith Hammer is one who doesn't see a need for a hunt.
"What really stood out to me in the Fish and Game survey was a fair amount of support for hunting grizzlies," Hammer said. "It's very much at odds with the results from the governor's advisory council poll, which had 13,000 comments against hunting and 1,000 for.
"It was encouraging to see a good amount of people who want to live with bears, but I don't think grizzly numbers support a hunt," he said.
"Hopefully the numbers published are true, but I just don't believe we have room for added mortality that would come with a hunt," Hammer said.
Grizzly bear mortalities run the gamut from animals killed in traffic and train collisions to illegal kills or euthanasia for livestock predation.
In 2018-19, grizzly mortalities totaled 102 animals in the Northern Continental Divide Ecosystem. It was a marked rise from a time period including 2004-2017 when bear mortalities never exceeded 34 in a year.
In 2020, the mortality number fell back to 35 in the Northern Continental Divide Ecosystem. The number was reported by state Fish, Wildlife and Parks bear biologist Cecily Costello at a meeting of state, federal, and tribal bear managers and biologists in Northwest Montana in late November.
Those bear deaths don't include ones from the Cabinet-Yaak Ecosystem, which is separate from the NCDE.
According to a Dec. 2, 2020, story in the Hungry Horse News, 15 of the known mortalities were due to removal by government agencies for livestock depredation or for getting into garbage.
Four bears died in traffic accidents while four bears were orphaned because their mother was killed. Two were poaching cases and five more, including two of the orphans, were considered "under investigation."
The governor's council included 18 members and 14 supported a limited hunt of grizzlies, while four did not.
REGARDLESS OF how many people believe there should be a grizzly bear hunting season, it's still likely years from happening, if it ever does.
Montana Fish, Wildlife and Parks Region 1 wildlife Program Manager Neil Anderson said grizzlies would first have to be delisted from the Endangered Species Act by the U.S. Fish and Wildlife Service.
While the estimated number of grizzlies in the Northern Continental Divide Ecosystem exceeds the minimum 391 necessary for delisting in the Fish and Wildlife Service's Montana Grizzly Recovery Plan, it's not a sure thing.
If delisting occurs, then Montana Fish, Wildlife and Parks would have to develop a hunt proposal. It would have to accept public comment before the Montana Fish and Wildlife Commission would be involved.
The Commission would also have a period for public comment before it would vote on any proposed hunt.
Of course, myriad lawsuits would be likely, challenging the validity of a hunt.
Scott Shindledeckermay be reached at 406-758-4441 or sshindledecker@dailyinterlake.com.
---