Room to grow: Special Ed Co-op grateful for larger building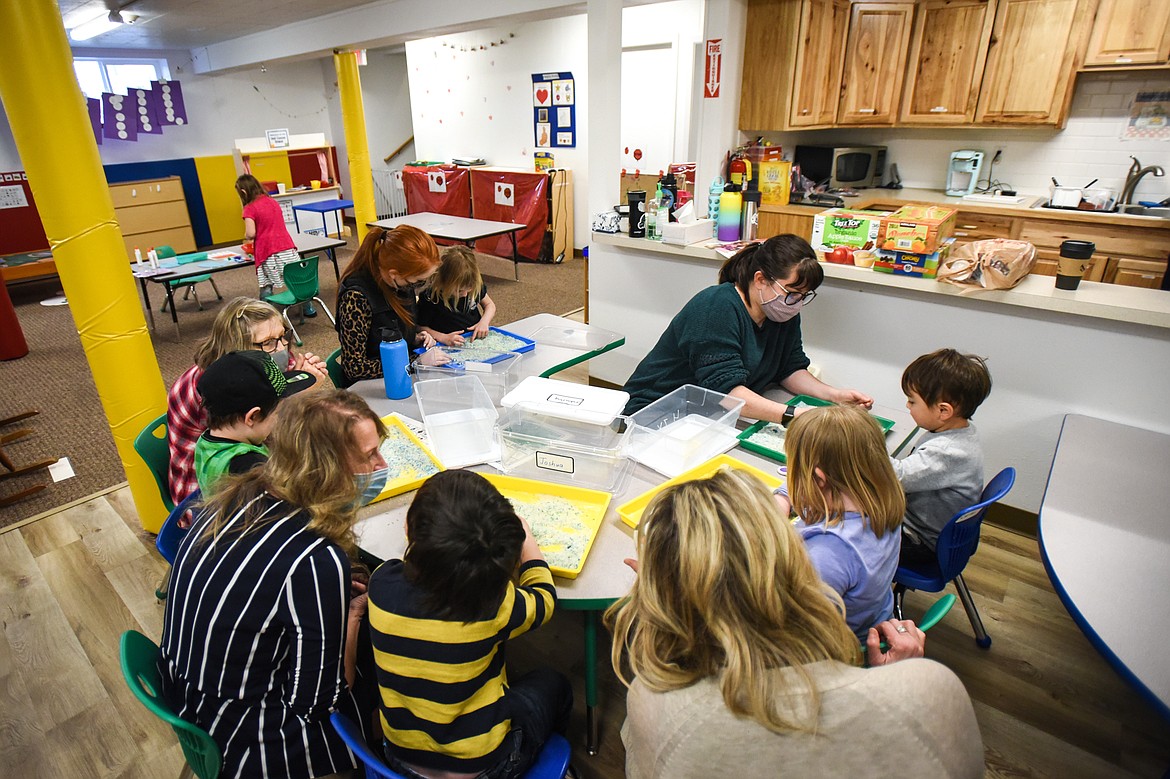 Teachers work with students inside a preschool classroom at Flathead Special Education Cooperative in Kalispell on Tuesday, Jan. 5. (Casey Kreider/Daily Inter Lake)
by
HILARY MATHESON
Daily Inter Lake
|
January 10, 2021 12:00 AM
KALISPELL — After relocating to 305 Third Ave. E. in Kalispell more than a year ago, Flathead Special Education Cooperative staff and students have settled into the more spacious building, which has been a silver lining to operating during the COVID-19 pandemic.
"We went from 1,900 to 5,700 square feet," Special Education Cooperative Director Cheryl Russell said.
Previously located on Meridian Court, the cooperative sold the property and the proceeds went toward the purchase and renovation of the Third Avenue East building.
With the additional space, staff members are able to separate students in its preschool and communications program to reduce the number of people children come into contact with. The space also offers room to spread out and store more supplies to provide individual students with materials and reduce sharing.
The cooperative serves 16 rural school districts, covering Flathead, Lake and Lincoln counties.
Plans to either expand the Meridian Court property, relocate or build new were years in the making. Making a decision became urgent in 2018, when the cooperative began housing the preschool program in a converted conference room. This was done to centralize the growing program, where previously teachers would travel between schools.
"The program grew to where they were unable to drive to all those schools," Russell said.
ON TUESDAY, the sounds of excited and curious 3- to 5-year-olds participating in a sensory activity could be heard in the lower-level preschool area. The children were gathered around a table. In front of them were trays filled with rice, which the preschoolers sifted, patted and clutched handfuls of, releasing and scattering it like snow across their trays.
The airy space has a kitchen and two sets of restrooms, which are great for working with this age group, according to lead preschool teacher Marcia Stolfus.
"Everything is right here for us to grab. You have to be ready — quickly," Stolfus said when working with a young age group.
"We are able to break out more centers like a dramatic play area, block area, arts and crafts area," Stolfus said.
"Because of COVID our sensory tables are now individualized instead of one table," she said, adding that students are supplied with their own materials such as markers and Play-Doh.
Upstairs off a corridor, teachers in the communications program help a student regulate by using equipment such as a swinging, hammock-style chair and trampoline. The program serves kindergarten through eighth-grade students who have communication disorders.
"The communications program serves our students with more severe disabilities who are sometimes nonverbal, and oftentimes, not always, that includes autism. Being able to express themselves verbally is a great struggle for them being here gives them, in particular in the communications program, that one-on-one all day long," Russell said.
At the end of one hall, Russell shows the sensory room, which has additional equipment children can use to regulate.
"This is just a place where they can come. We have swings, they can listen to music, there are toys that light up — just a lot of sensory activities for kids," Russell said. "This used to be a shared room, but it's separate now because of COVID. We have a separate sensory room set up downstairs for preschool kids."
Space for sensory rooms and activities was one of the key things employees looked for in the building. It was also important for this particular building since there isn't a grassy area for a playground. The neighborhood location, however, means there are plenty of sidewalks to take daily walks to places such as the post office. Students also may take regular field trips to stores and businesses, which are also part of the curriculum, Russell said, where students learn skills such as how to ride in a van, walk through a store and cross the street.
"The neighborhood knows us," one of the communications teachers said, smiling.
Wheelchair accessibility was the top priority in searching for a new location.
Russell said the former office building underwent a complete remodel and many walls were torn down. She said it was a challenge to find a building that ticked all the boxes for what the cooperative needed, and while it was in rough shape, staff could envision the possibilities.
"I think it had the bones for what we needed," Russell said. "In particular, what we needed was to meet ADA requirements. The hallways were already the correct width and they had ramps along with stairs."
She said construction crews did a great job in renovating the building.
Stolfus added, "I think this is the best thing that could have happened for our program. We have the space we need to meet individual needs."
In addition to the preschool and communications program, the cooperative employs a staff of psychologists, speech-language pathologists, occupational and physical therapists, and other specialists who travel between schools to provide a Free Appropriate Public Education to students with disabilities. These schools are often located in rural areas where it is difficult to recruit and retain specialists. School districts that choose to become cooperative members are assessed a fee.
Reporter Hilary Matheson may be reached at 758-4431 or hmatheson@dailyinterlake.com.
Recent Headlines
---