New homeless liaison connects kids with resources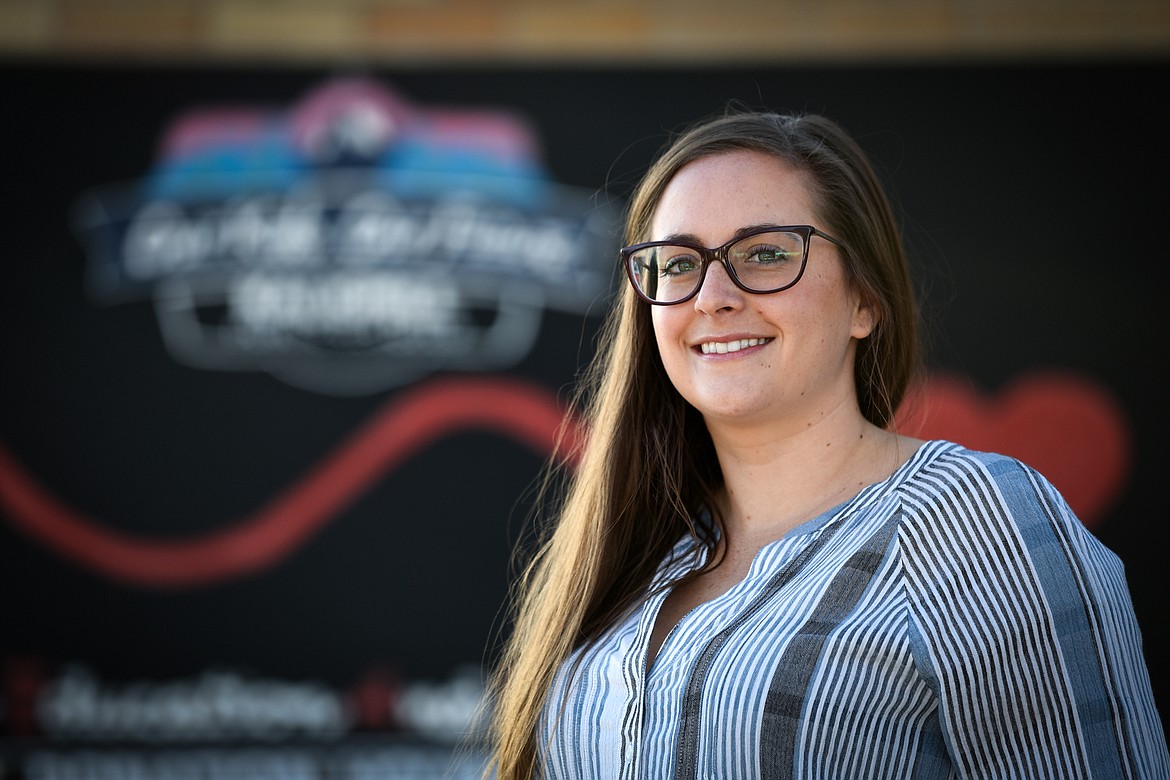 Casey Driscoll outside the HEART Locker in Kalispell on Thursday, Jan. 14. (Casey Kreider/Daily Inter Lake)
by
HILARY MATHESON
Daily Inter Lake
|
January 16, 2021 12:00 AM
Casey Driscoll is the new homeless education liaison for Kalispell Public Schools and Evergreen School District and director of the HEART Program.
Since July, Driscoll has worked alongside former liaison and director Nichole Heyer as an AmeriCorps Vista member.
Heyer took a position as the youth homelessness demonstration project navigator for the Montana Legal Services Association.
As the homeless education liaison, Driscoll works directly with students identified as homeless under the McKinney-Vento Homeless Assistance Act to connect them with resources and support such as free meals and transportation to and from school. From year to year, 300 to 400 students in the two school districts are identified as homeless under the act, which defines homelessness as lacking a fixed, regular or adequate nighttime residence.
"I make sure the students are aware of their educational rights," Driscoll said about her primary role as a liaison.
Students do not have to be sleeping outside, in their car or a shelter to be considered homeless under this definition. It includes students who live in hotels, motels, trailers and campgrounds for example, or they could be living with friends or family members who aren't legal guardians.
"They might be in a position where they're OK and have adequate shelter, but it isn't guaranteed. This would be an example of a child staying with one or both of their parents, but their nighttime residence is with family friends, an aunt or uncle. It's still considered homeless because the parents aren't on the lease and they could get kicked out at any time."
"We work with teachers, counselors and staff at all levels, to help us identify those kids," Driscoll said. "They have children in the classroom all day and get a sense of a child's home life. We also use enrollment forms to identify which children are living in temp or a temporary situation."
The HEART Program, housed at 514 E. Washington St., is where students get connected with other basic necessities such as clothing.
As the program director, Driscoll manages the HEART Locker, a place for students to shop for free clothing, bedding and hygiene products. The HEART Locker Learning Center, which offers students a safe place to study, hang out or find part-time jobs after school; and student food pantries located in schools.
"It's a really unique position," she noted.
DRISCOLL HOLDS a master's degree in psychology from Stony Brook University where she worked in the career center and became interested in a career helping students. After graduation, she moved to Florida where she worked as a college recruiter. Her job entailed recruiting non-traditional students and she got experience helping people from a variety of backgrounds.
"They could be from low socioeconomic backgrounds, have a disability, be the first in their family to attend college — basically students at-risk of not continuing their education," Driscoll said. "I think that's where I realized I enjoy what I'm currently doing."
When she took a job in sales and quality assurance back in New York, Driscoll quickly learned she wanted to go back to working with students in an educational or nonprofit setting. AmeriCorps provided the opportunity to transition back into her desired career path.
Driscoll said she was very intentional about her AmeriCorps placement and looked for a small nonprofit setting where she could "wear many hats," and become "well-rounded."
When the liaison and director position opened up, Driscoll was excited.
"I wanted a job I could get behind and support," she said.
Currently, Driscoll said she is working on a website of community resources, applications or how-tos that are specific to the needs of homeless students in the valley. She said it's not always clear to students what to search for if they don't know what's available.
"We can still provide here on a case management basis, but sometimes it is easier to jump online and find it," Driscoll said.
While the learning center is currently closed as a precaution due to COVID-19, the locker remains open by appointment.
For more information or to make an appointment call 751-3630, email driscollc@sd5.k12.mt.us, or visit https://www.kalispellheartprogram.org.
Reporter Hilary Matheson may be reached at 758-4431 or hmatheson@dailyinterlake.com.
Recent Headlines
---