AA Lakers cruising into league play 18-3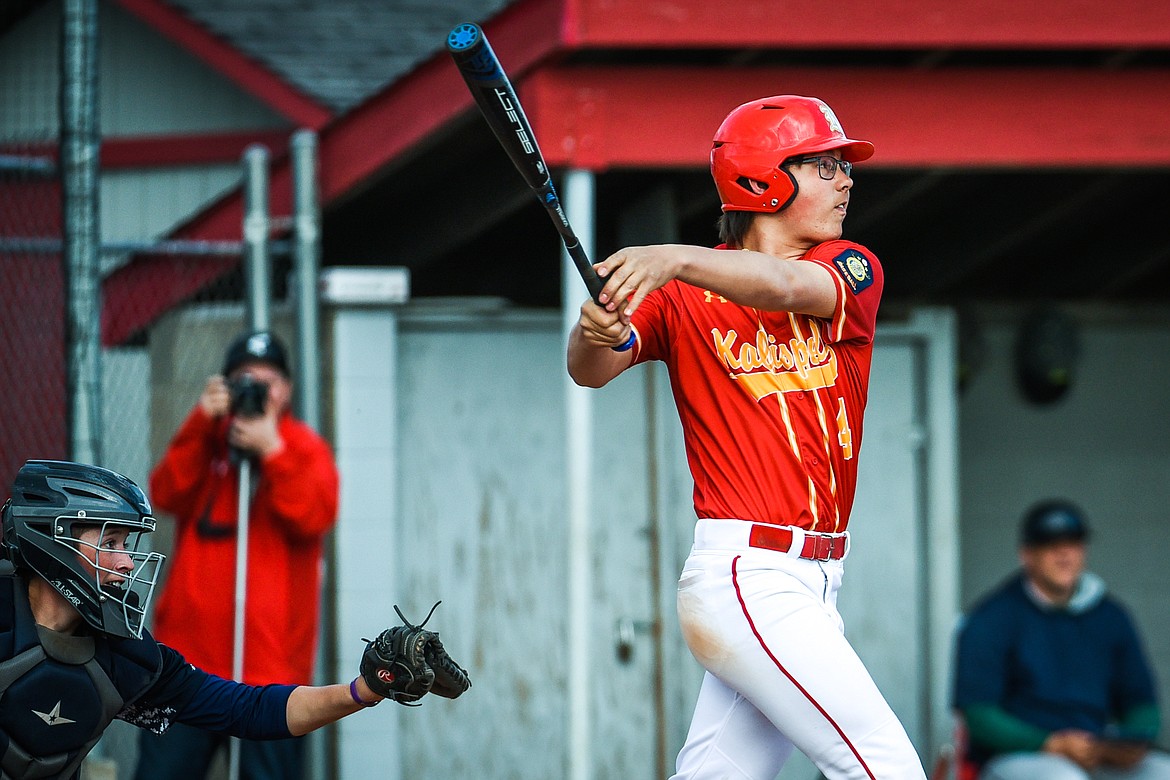 Kalispell Lakers AA's Kostya Hoffman (4) follows through on a triple against the Mission Valley Mariners at Griffin Field on Wednesday. (Casey Kreider/Daily Inter Lake)
by
FRITZ NEIGHBOR
Daily Inter Lake
|
June 5, 2021 8:25 PM
An 18-3 record has the Kalispell Lakers AA feeling good about their American Legion season, but coach Ryan Malmin feels their best baseball is still ahead.
"Honestly, we're just trying to keep with the goal of, 'One week at a time," Malmin, the Lakers' 15th-year coach, said. "And then evaluate on the weekend and see what we can do better the next week."
He might need a magnifying glass, since the team holds a 2.51 earned-run average and 11 players are hitting .295 or better. If there are clouds on the horizon, as the Lakers open up AA conference play, it is the relative health of the pitching staff.
AJ Wood, one of the top three returning pitchers, is out indefinitely with an injury; Malmin also calls pitcher Danny Kernan, "limited."
"It's kind of unfortunate in that we're a M*ASH unit right now," he said. "Two of our top three guys on the mound are either out or looking at a limited role.
"That being said, the thing we're most peasled with is despite those injuries and missing some guys we've had some kids really step up — especially those that are new to the AA level. They've gained confidence with each outing."
Max Holden has stepped in and performed admirably, with a 5-0 record and an ERA under one. He and veteran pitcher Kostya Hoffman (4-1, 3.39) have thrown a team-high 31 innings each. Malmin notes Holden, Caleb Morgan and Ayden Driear have had to be the next men up for the staff, and that Joe Schlegel had added some middle relief to his steady defense.
Thomas O'Connell, who missed last year after shoulder surgery, has returned from Miles Community College (he played in 12 games for the 44-16 Pioneers, hitting .222) to bolster the middle of the lineup and shore up the outfield.
O'Connell is hitting .636 in a small sample size; Ethan Diede is hitting .458 with a team-high 28 runs batted in and Gage Brink is at .444 with a team-high 30 runs scored.
Schlegel (.426) and Kernan (.400) are right behind (complete statistics are on Page B4).
"Ethan Diede and Gage Brink have been anchors for us offensively," Malmin said. He notes that Diede and Connor Van Aken (.306) have nagging injuries, but that the depth and the Lakers' defense — Malmin notes Elijah Owens' (.349) work in the outfield — has evened things out.
The losses have come to the Belgrade Bandits, Mission Valley Mariners and conference rival Great Falls Chargers. A matchup with the Glacier Twins, for the championship of the Canadian Days tournament on May 23, was washed out.
The Lakers play at Missoula today to open the conference slate. The AA Mavericks are 10-20 and at one point lost 14 of 15 games. Charlie Kergan is among the Mavs' top players.
"They've got three of their top four pitchers back on the mound," Malmin noted. "They're guys that pitch to contact and rely on their defense behind that, and they're a team that perennially hits the ball well.
"We have to continue to do what we're doing, where we're able to consistently throw strikes with 2-3 pitches in any count."
The Lakers had better get used to the road; their next home games aren't until July 5, a doubleheader against the Bozeman Bucks.
---