Flathead man achieves dream of summiting Mount Everest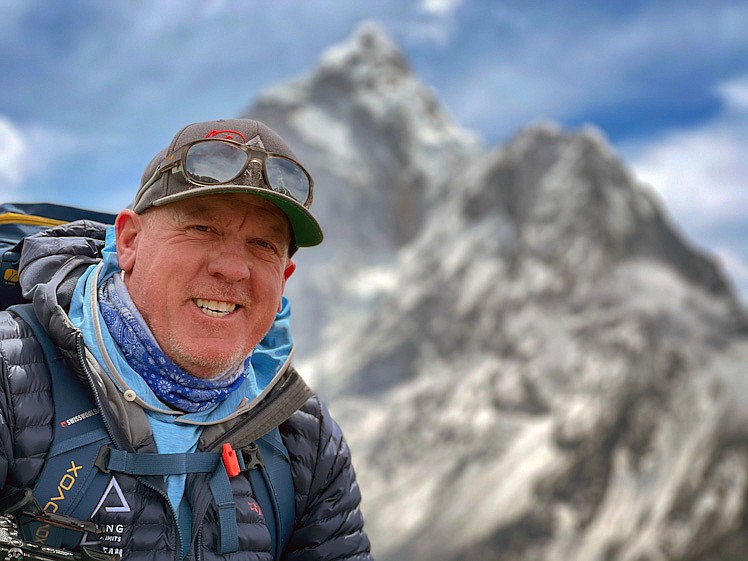 Flathead Valley golf pro Steve Stevens stops for a photo in front of Mt. Everest in Nepal. Stevens achieved his lifelong dream May 12 as he stood atop the 29,029-foot peak. (Photo courtesy of Steve Stevens)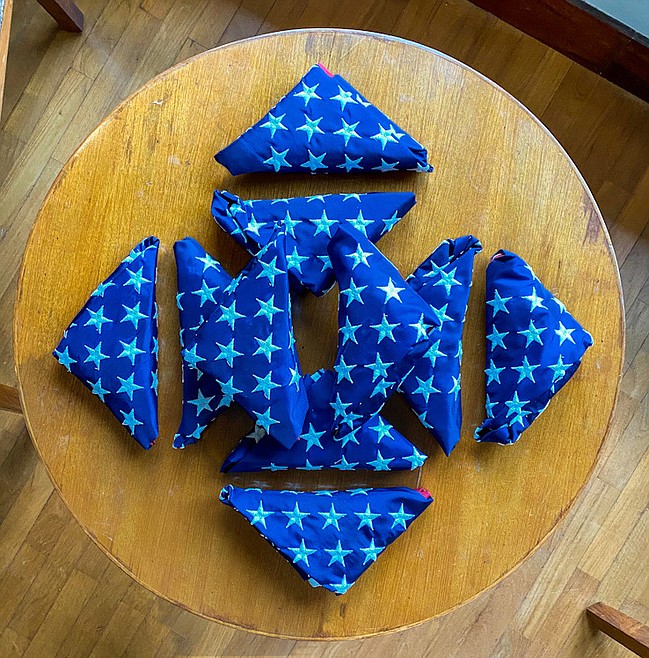 Steve Stevens carried 10 folded American flags with him during his climb to top of Mt. Everest May 12 to help raise fund for the Folds of Honor Foundation, which provides scholarships to spouses and children of America's fallen and disabled service members. Stevens hopes to auction the flags at PGA golf tournaments this year to help support the organization. "This is a way for me to be able to give back to others. What the Folds of Honor does is amazing and I would love to be able to help them out," Stevens said. (Photo courtesy of Steve Stevens)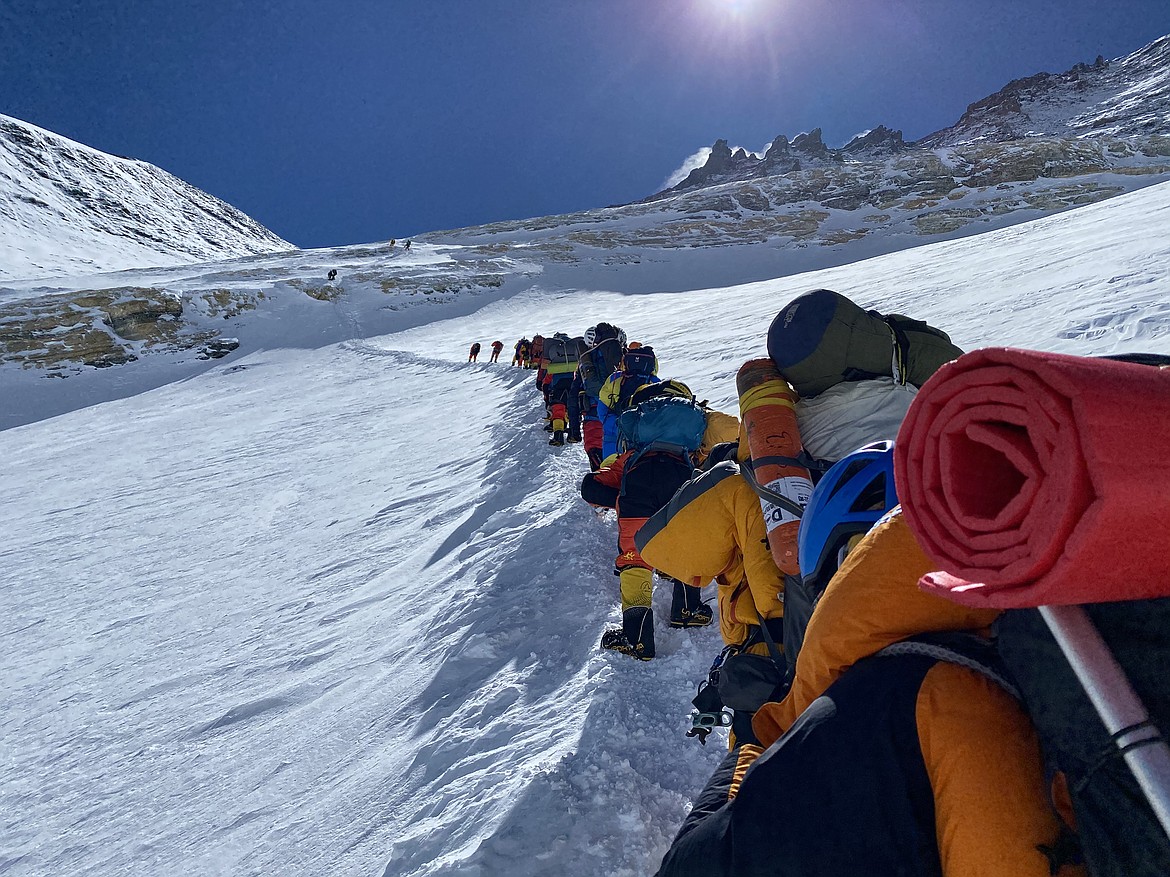 Climbers pass the Yellow Band on their journey from Camp III to Camp IV on Mt. Everest. (Photo courtesy of Steve Stevens)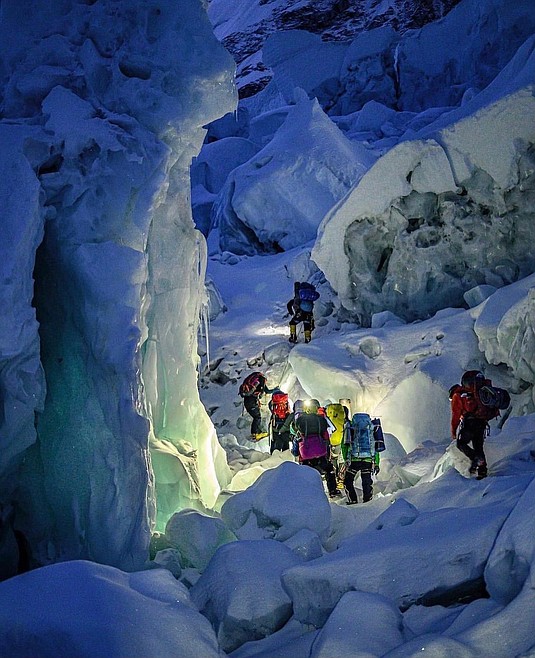 Climbers make their way through the Khumbu Icefall between Base Camp and Camp I on Mt. Everest. (Photo courtesy of Steve Stevens)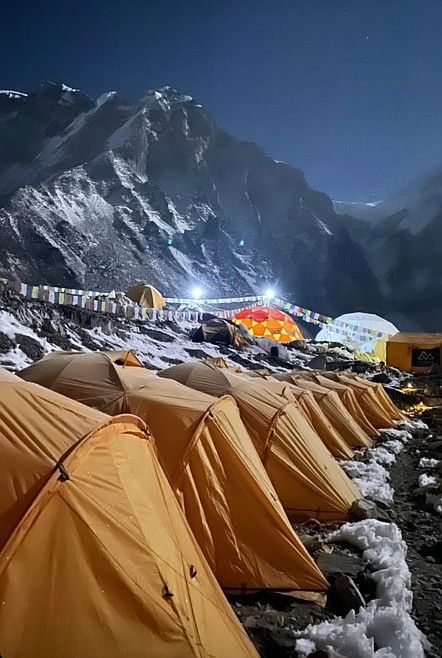 Nighttime at Everest Base Camp in Nepal. (Photo courtesy of Steve Stevens)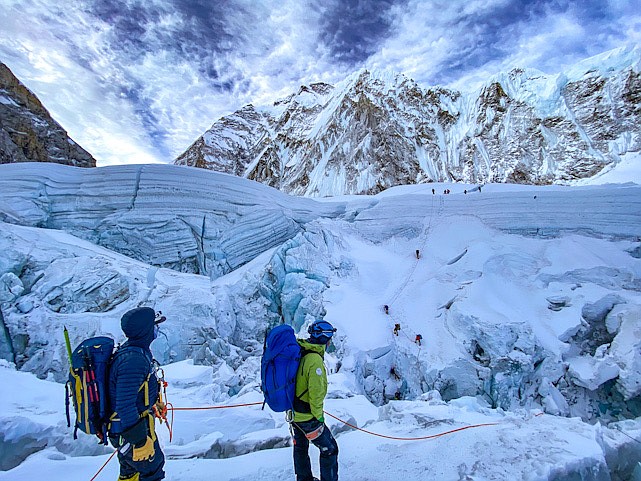 Lhakba and Steve Stevens make their way through the Khumbu Icefall. (Photo courtesy of Steve Stevens)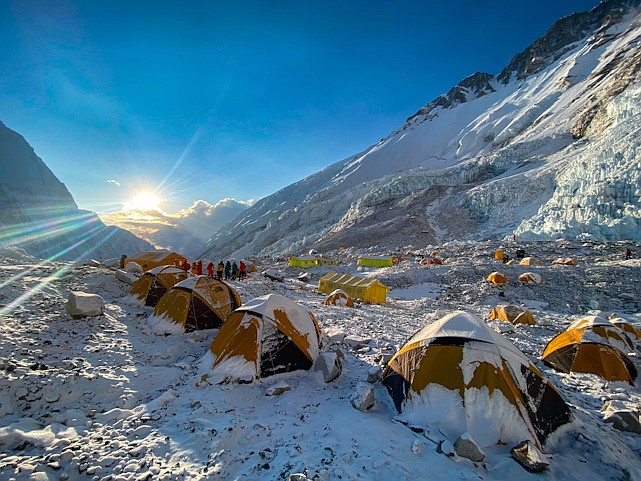 The sun rises over Camp II on Everest at 21,300 feet. (Photo courtesy of Steve Stevens)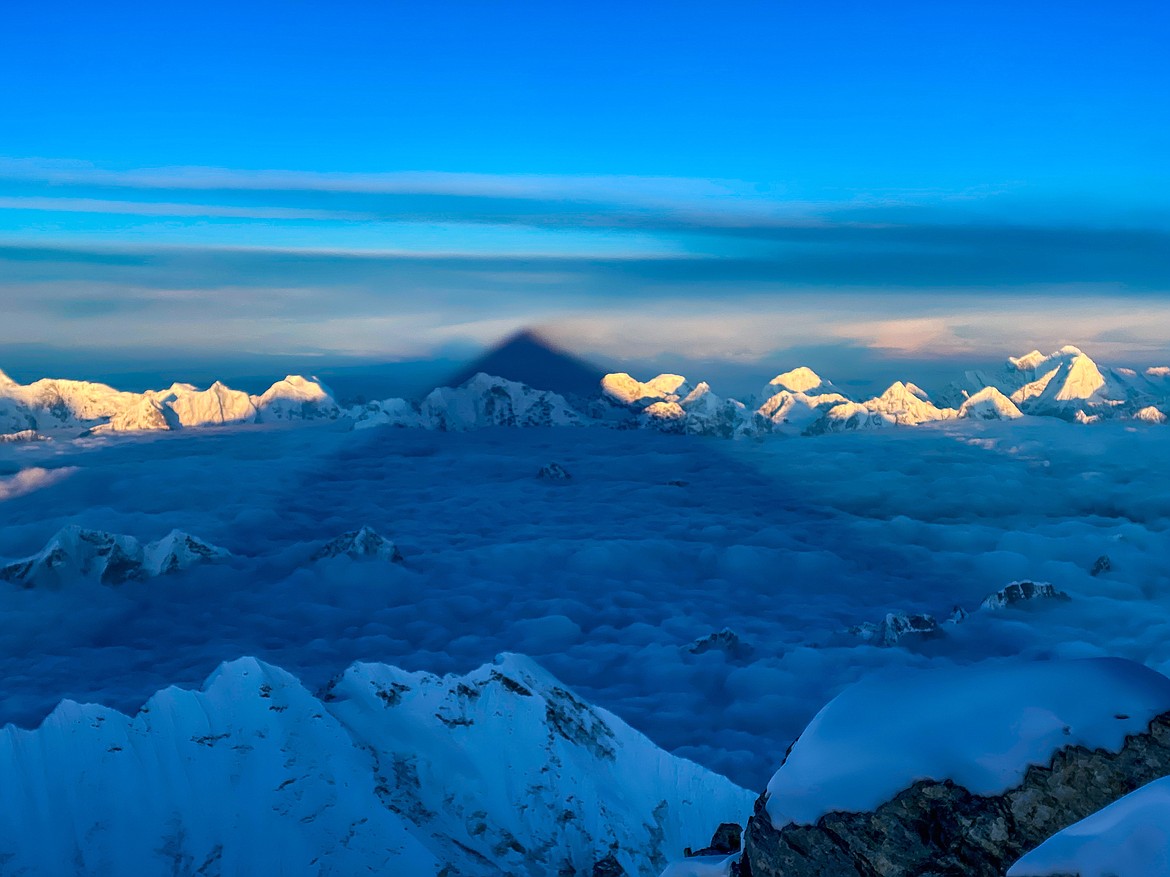 The shadow of Mt. Everest stretches across to the horizon as the sun rises over the Himalayas May 12. (Photo courtesy of Steve Stevens)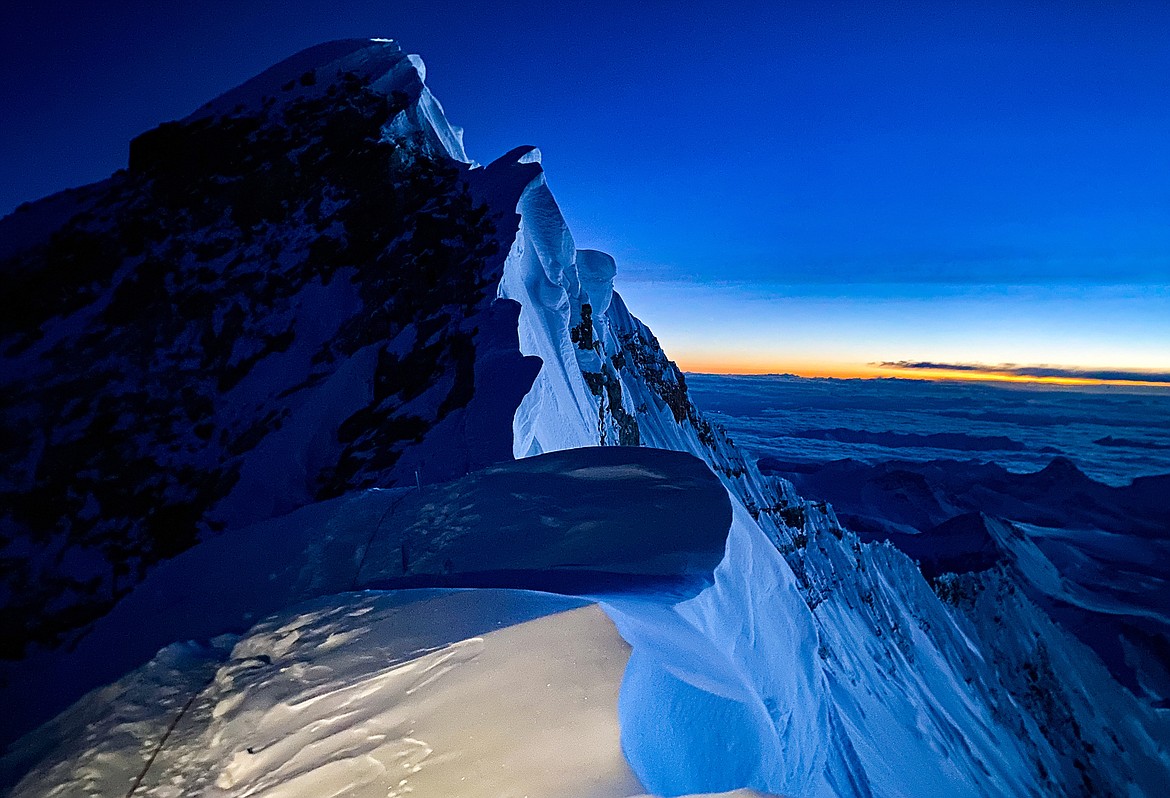 Daylight begins to fill the horizon behind the Cornice Traverse near the summit of Mt. Everest May 12. (Photo courtesy of Steve Stevens)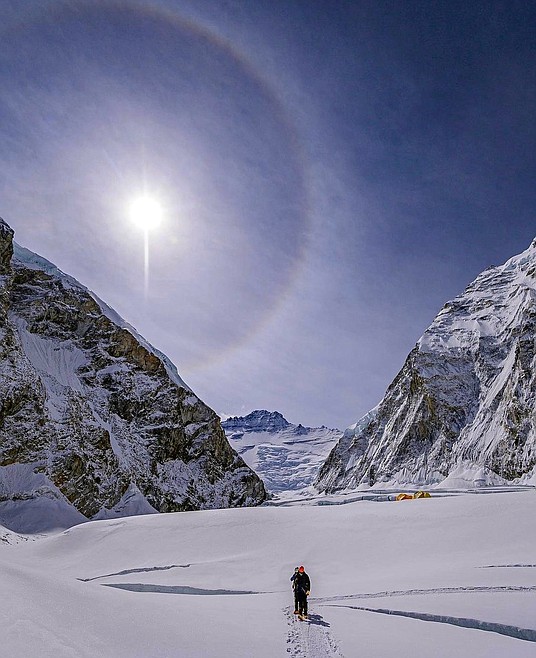 Steve Stevens makes the trek through the Western Cwm on Mt. Everest in Nepal. Camp I is visible in the background. (Photo courtesy of Steve Stevens)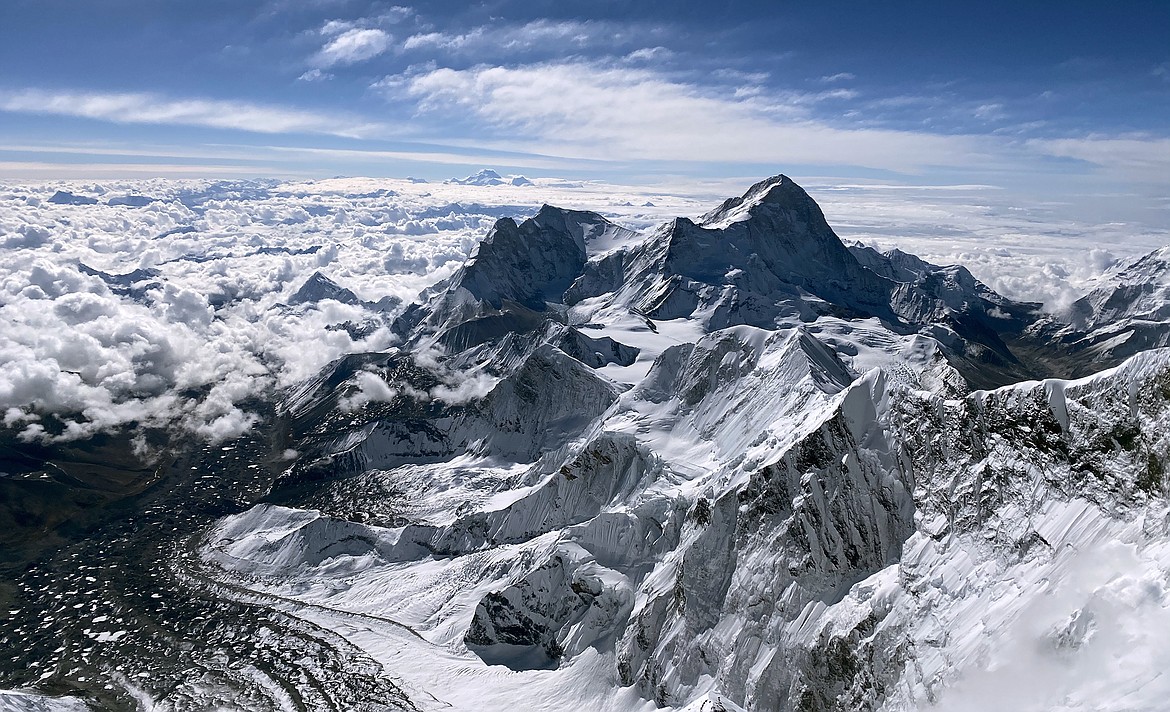 The view towards the southeast from the top of Mt. Everest. The fifth tallest mountain in the world, Makalu, sits below in the distance at 27,838 feet. (Photo courtesy of Steve Stevens)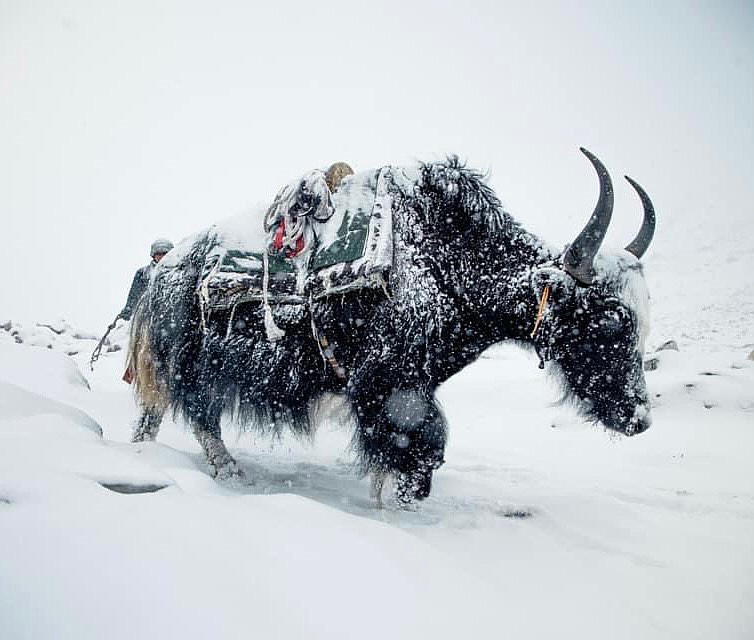 The workhorse of the Himalayas, a yak delivers supplies to Everest Base Camp. (Photo courtesy of Steve Stevens)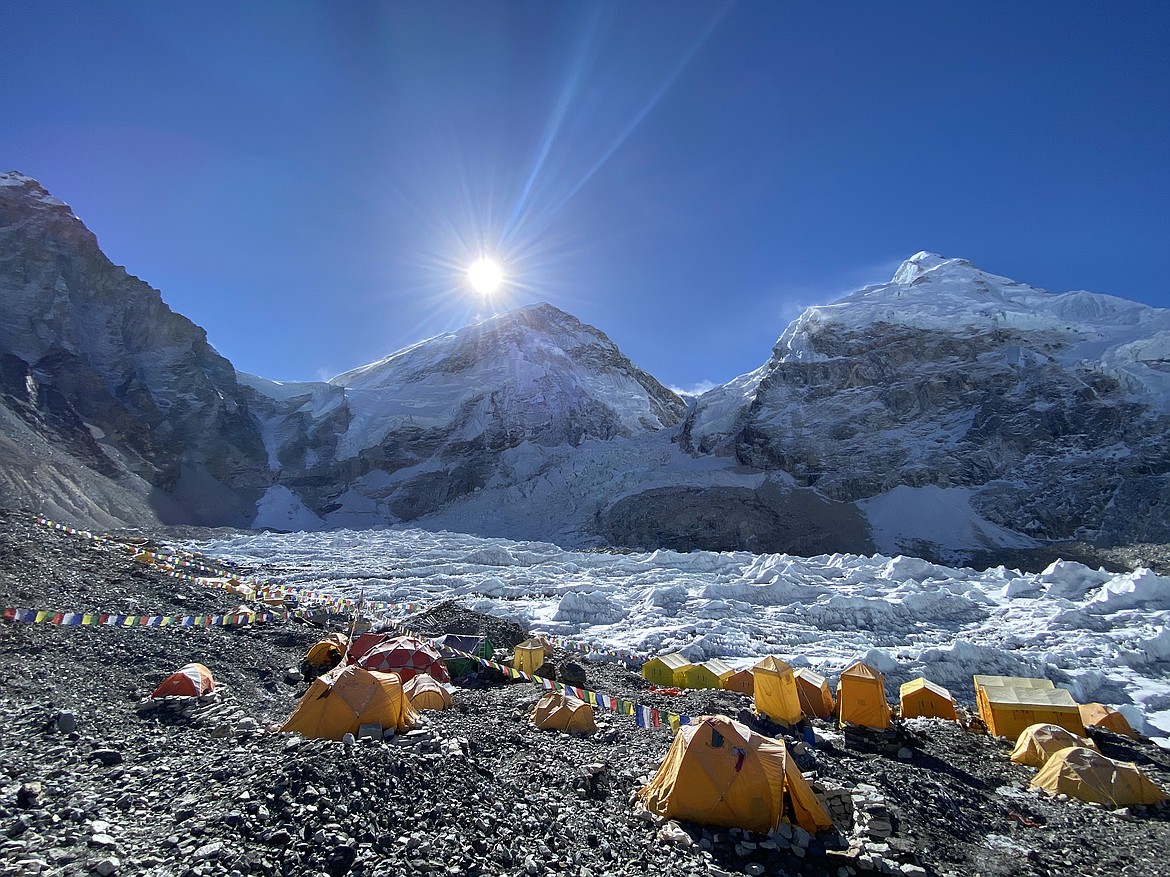 The sun rises over Everest Base Camp in Nepal. (Photo courtesy of Steve Stevens)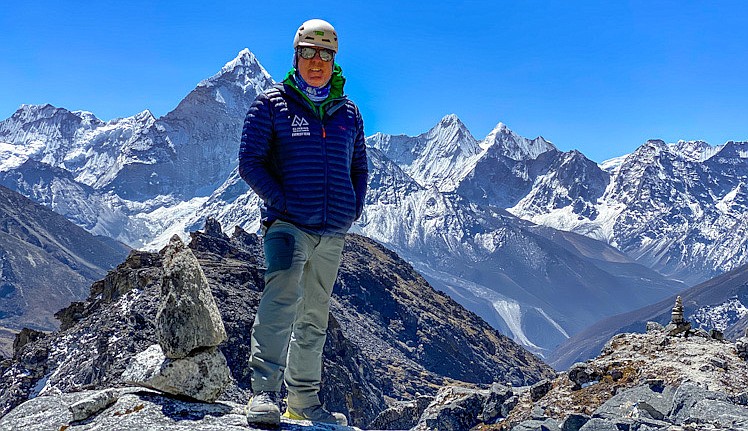 Steve Stevens recently achieved his dream of climbing Mt. Everest in the Himalayas in Nepal. (Photo courtesy of Steve Stevens)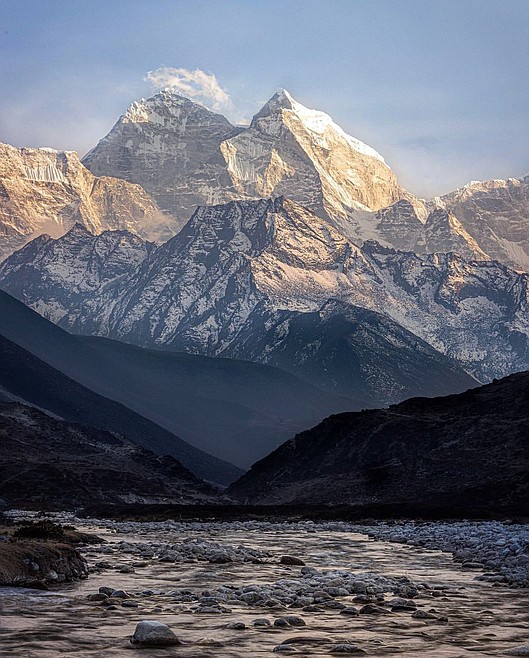 Sun sets on the Thame Khumbu Valley in Nepal on the path to Mt. Everest. (Photo courtesy of Steve Stevens)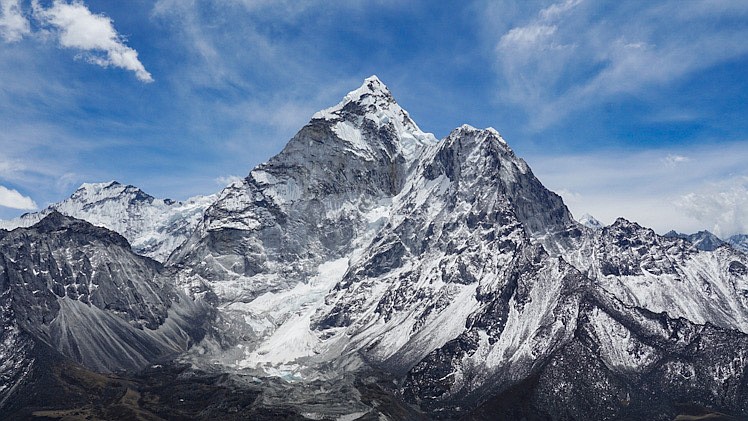 Mount Everest looms over the surrounding valley in Nepal. Flathead Valley golf pro Steve Stevens climbed the 29,029-foot peak in May. (Photo courtesy of Steve Stevens)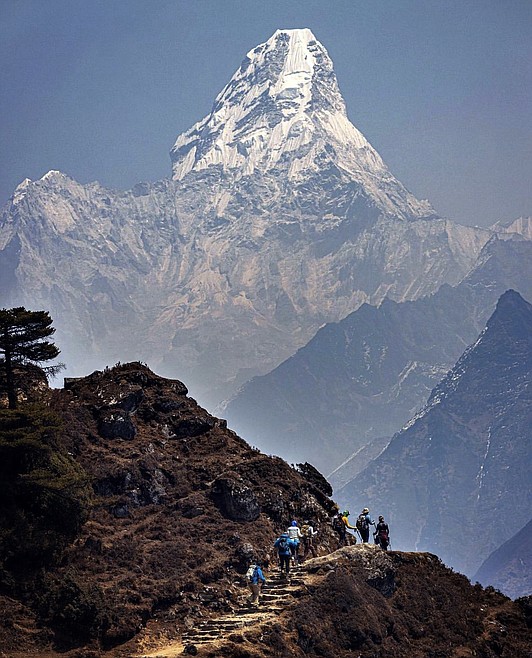 At 22,349 feet, Ama Dablam looms over the path from Namche to Everest Base Camp in Nepal. (Photo courtesy of Steve Stevens)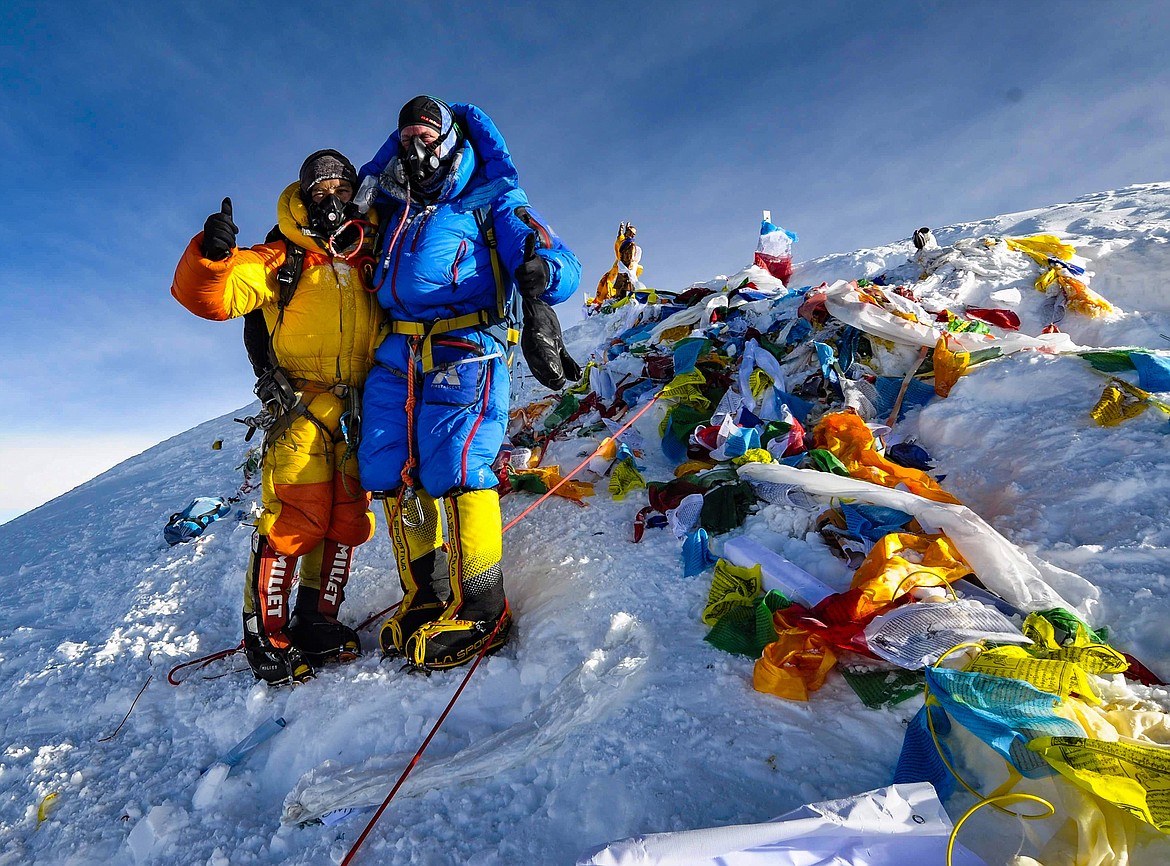 Pemba Tashi Sherpa (left) and Steve Stevens stop for a quick photo near the summit of Mt. Everest May 12. Tashi died in an accident on the mountain less than a week later. (Photo courtesy of Steve Stevens)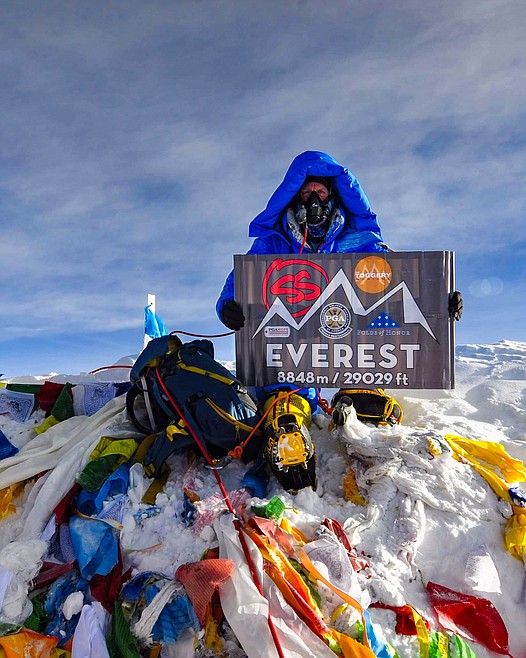 Steve Stevens celebrates at the top of the world, 29,029 feet above sea level on the summit of Mt. Everest, on May 12. (Photo courtesy of Steve Stevens)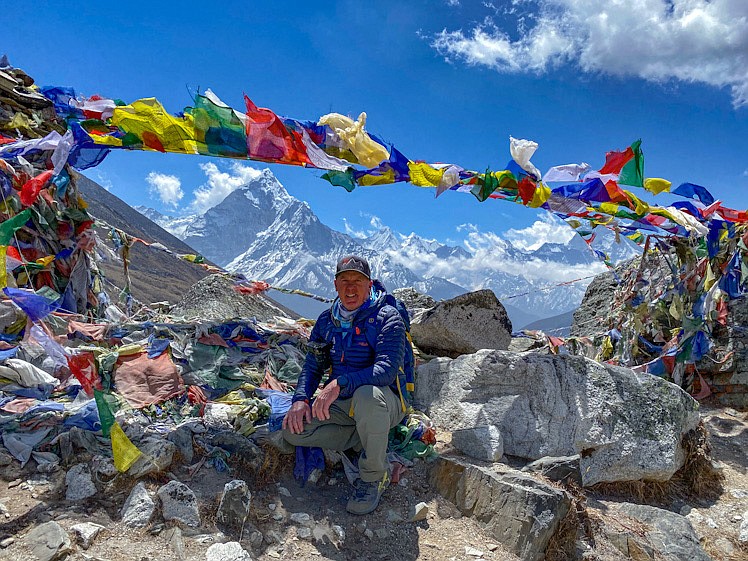 Steve Stevens stops for a quick photo with Mt. Everest in the background on his way to Base Camp. (Photo courtesy of Steve Stevens)
Previous
Next
by
JEREMY WEBER
Daily Inter Lake
|
June 6, 2021 12:00 AM
Forty-nine year old Steve Stevens has hit the wall. Sweating profusely and not feeling his best, he finds a large rock on which to take a break from his long climb.
It's 65 degrees. It's not supposed to be this hot at 22,000 feet, he keeps thinking. As the hot sun reflects off the snow and ice surrounding him, he looks up to see the imposing obstacle in front of him — the Lhotse Face — a near vertical wall of ice separating Stevens from the next rest stop on his way to the top of the world on Mount Everest.
Camp III sits more than 1,000 above him. A small village of tents clinging to the ice above on an uneven shelf carved by the Sherpas who carried the climber's gear ahead of them.
At this altitude, the air carries roughly 40% of the oxygen available at sea level. The body's increased production of red blood cells is meant to help carry more oxygen, but also thickens the blood to the consistency of ketchup. For most climbers, this altitude brings along with it headache, dizziness, fatigue, shortness of breath, loss of appetite, nausea and disturbed sleep. For an unfortunate few, it causes swelling in the brain, fluid buildup in the lungs and death.
This might not be as easy as he thought it would be.
Stevens is tantalizingly close to achieving the greatest dream of his life, but there is still so far to go.
For the local PGA golf professional, the dream of climbing Everest began at an early age.
"My mom says that when I was young, like 4 or 5, I would talk about Everest," he said. "I don't remember that, but I would always see pictures in books and would think in the back of my mind that I would like to climb it someday."
Everest remained a distant dream for decades until, in 2016, a friend inspired Stevens to take a trekking trip around the mountain passes of the Himalayas of Nepal. It was there, atop 18,000-foot Renjo La Pass on a clear fall day, that Stevens got his first glimpse of Everest.
"You are just blown away by how big it is. The pass is 18,000 feet, still well below Everest, but you can see the peak in the distance. I could see the snow blowing off the top in a big spin drift. It was awe-inspiring," Stevens recalled. "It's hard to describe just how big the Himalayas really are."
STEVENS SOON set to work, planning a trip to Argentina, where he would work on his mountaineering skills while climbing South America's tallest peak, 22,841-foot Aconcagua.
Again, had a slight delay in his plans as a fall from a roof left him with a shattered arm. After giving himself time to heal, Stevens successfully summited Aconcagua in January 2019.
Next up was 19,341-foot Mount Kilimanjaro in Tanzania, Africa's tallest mountain.
It was after ascending Kilimanjaro in December 2019 that a thought began to form in Stevens' mind. He would climb the Seven Summits, the tallest peak on each of the seven continents.
Stevens already had climbed to the top of the second tallest mountain in the group on Aconcagua and Kilimanjaro was the fourth tallest.
Next up was Everest.
With his sights set on the top of the world, Stevens began preparing himself for what he knew would be the toughest mental challenge of his life.
Physical endurance had not been a problem up to this point, and he expected Everest to be no different. The more than 25,000 steps a day he put in at work at the golf course during the spring, summer and fall had made the trips up Aconcagua and Kilimanjaro easier than he had ever expected. When he finally arrived at Everest, his endurance would surprise everyone, but once again, there were delays.
Stevens was set to join Climbing the Seven Summits, one of the world's leading mountain guiding, expedition and trekking services, on Everest in 2020, but the COVID-19 pandemic shut down all climbing activities during the narrow Everest climbing season that year.
Stevens was less than two weeks away from boarding his plane to Nepal when the trip had to be canceled.
"I was devastated, after a year of planning," he recalled.
Stevens' next planned adventure, an ascent of Vinson Massif in Antarctica also was cancelled by COVID in January 2021, but his dreams got back on track when he arrived in Nepal on March 30, determined to finally reach the top of Everest.
After weeks of training and acclimatizing to the thin air, Stevens and six of his fellow climbers walked out of Everest Base Camp at 3 a.m. on May 9. The final climb to the roof of the world had begun.
FIRST UP was a trip across the Khumbu Icefall. At 18,000 feet, the icefall is a treacherous maze of towering ice blocks and seemingly bottomless crevasses. With headlamps to light their way, Stevens and his fellow climbers made their way toward Camp I.
"It's dark, so you don't really see the dangers. You can't see how deep the crevasses are as you walk across the ladders over them," Stevens said. "You have to stay focused on where your next step is going to go."
After a five-hour climb to Camp I at 19,900 feet, Stevens and his group took on the surprisingly warm weather on their way to 21,300 feet and Camp II.
"It's hard to believe, but it was hot up there," Stevens said.
After spending the night in their individual tents, the group made time for a quick oxygen mask fitting the next morning, grabbed breakfast and set out for the next leg of their journey in down suits.
This was the day that came closest to ending Stevens' dream of reaching the summit.
"Up to this point, I had been the guy out in front leading the pack every single day. That day, I was the guy in the back," Stevens shared. "You are in the hot sun, in a down suit, wearing an oxygen mask and breathing hot air the whole time. I was not having a good day. My guide and I were bickering back and forth a little bit and 'What am I doing here' crept into my mind for the first time."
AS HE sat at the base of the Lhotse Face contemplating his options, the words of two friends and fellow climbers crept into Stevens' mind.
Bruce Graham, a climber Stevens had befriended at Base Camp and a man who had reached the summit in 2019, recently had told Stevens, "Remember while you are up there, if you can take one step, you can take another."
But the words of Ecuadorian guide Jaime Avila echoed the opposing argument, "It's better to come home with memories than to become a memory yourself."
Also in Stevens' mind were those back home and elsewhere who were following his progress online, making the trip with him in spirit, including Whitefish fourth-grader Clive Schmidt and Canadian eighth-grade teacher Sandra Klatt.
"It wasn't just me going on that journey. I took a lot of people up the mountain with me," Stevens said. "That's part of what keeps me going on these trips."
After half a Power Bar and half liter of water, Stevens' body made the decision for him: He was good to go.
After completing the grueling climb up the Lhotse Face, Stevens crawled into his tent at Camp III (24,500 feet) for some hard-earned sleep.
STEVENS WAS up again at 4:30 the following morning. After forcing down three bites of oatmeal, he, his guide Lhakba and Sherpa Pemba Tashi set out for Camp IV at 26,000 feet.
The group walked into Camp IV at 1:30 p.m., the last stop before the final push to the summit. Stevens and his guide, along with climbing partner Michael Neal and his guide, attempted to cram into a single tent to grab some rest, but sleep did not come easily.
"We really thought we were going to get a chance to sleep, but it turned out we had four people to a tent and four people do not fit in one tent," Stevens said. "You are lying there thinking about the summit, so it's not easy to sleep anyway."
At 8 p.m. on May 11, Stevens, Lhakba and Pemba walked out of Camp IV.
With Lhakba not feeling well and struggling in the high altitude, Pemba took control, passing a pair of slow-moving groups and leading Stevens toward the summit throughout the night.
As the first light of the approaching dawn began to brighten the sky, Stevens made his way across the Cornice Traverse, a 400-foot long horizontal section of rock and wind-carved snow with an 8,000-foot drop to the right and 10,000-foot drop-off to the left.
After a quick stop to change his oxygen bottle and grab a quick sip of water at the South Summit (28,704 feet), Stevens pressed on to the Hillary Step, a nearly-vertical 39-foot rock face that is the last major obstacle before the summit. It was here that Stevens witnessed a sight he had wanted to see his entire life.
"Everyone was looking toward the rising sun, but I was looking the other way. There was the perfect shadow of Everest stretching out to the horizon," he said. "That's a photo I have been waiting to take for 30 years. It was spectacular. I've seen a million sunrises in my life, but I will never see anything like that again."
It was also on the Hillary Step that Stevens had his first close encounter with one of the more than 100 human bodies scattered across the terrain of Everest.
"I knew I was going to see bodies at some point. That's something you know going in," he said.
As he climbed past the Hillary Step, Stevens was met by an amazing and rare sight, the summit of Everest with no other climbers upon it.
"You get up over the Hillary Step, and it just kind of flattens out. You think you are at the summit, but you are not. I'm walking across and all of a sudden I have tears in my eyes," he said. "I knew at that point that I was going to reach the summit. I just started laughing and I turned around and high-fived Lhakba."
Ten hours after setting out from Camp IV, Stevens, Lhakba and Pemba, along with Neal, his guide and Sherpa walked together onto the highest point on the planet at 5:54 a.m. on May 12 under clear skies. At 29,029 feet, they stood at the cruising altitude of most commercial jets.
"You really can't think when you get there. I did that three weeks ago and I still haven't been able to process what I did — and on the first try," Stevens reflected. "For that moment, I was the tallest person in the world. I was literally on the top of the world."
AFTER 30 minutes on the summit, the group began the descent. That's when disaster struck.
Having climbed through the night without his goggles after frozen condensation rendered them useless, Stevens suddenly found himself nearly blind as his corneas froze.
Unable to see ahead of him but able to see his feet, Stevens missed out on the views he had looked forward to on the way down as he carefully made his descent by placing his feet inside the footsteps of his guide in front of him.
Determined to make it back down to Camp II and thicker air, Stevens pushed past Camp IV and into a sudden snowstorm on his way to Camp III. It was there that he noticed that he could not feel his left foot.
Fearing frostbite, the group pressed on through the storm, descending the Lhotse Face in whiteout conditions and finally radioing for help before reaching Camp II.
When he finally removed his boot and socks, Stevens' fears were confirmed. He had three frozen, purple toes with white tips. He and his team worked quickly to battle the frostbite with warm water.
After catching a ride on a helicopter down to Base Camp, Stevens spent a few hours with his fellow climbers there before taking another helicopter to Kathmandu the next morning and a hospital room to treat his frozen toes and eyes.
While he has not yet regained full feeling in his toes, Stevens' eyesight quickly returned as he made his recovery. It was in the hospital that he found he had lost 31 pounds since leaving Kathmandu just six weeks prior.
While his struggles on the mountain were over, Stevens had one more obstacle to overcome before returning home, as the Nepalese government had shut down the country as COVID-19 surged. All flights were canceled, but the U.S. Embassy was able to charter a plane to get American citizens out of the country.
A few weeks before he was scheduled to return, Stevens stepped off the plane in Chicago, finally back in the United States, left to compare his experience on Everest to the other mountains he has climbed.
"Everest is just a completely different animal," he said. "You are in the mountains for so long and you have to mentally prepare yourself for that. It's hard to be away from home that long. It's hard to be in a sleeping bag and not a bed for that long. It's hard to not take a shower for weeks on end. It's a mental battle, beginning to end, but it is worth it."
Reporter Jeremy Weber may be reached at 758-4446 or jweber@dailyinterlake.com
Recent Headlines
---