Rumsey Eash, Ells fastest at Glacier Invite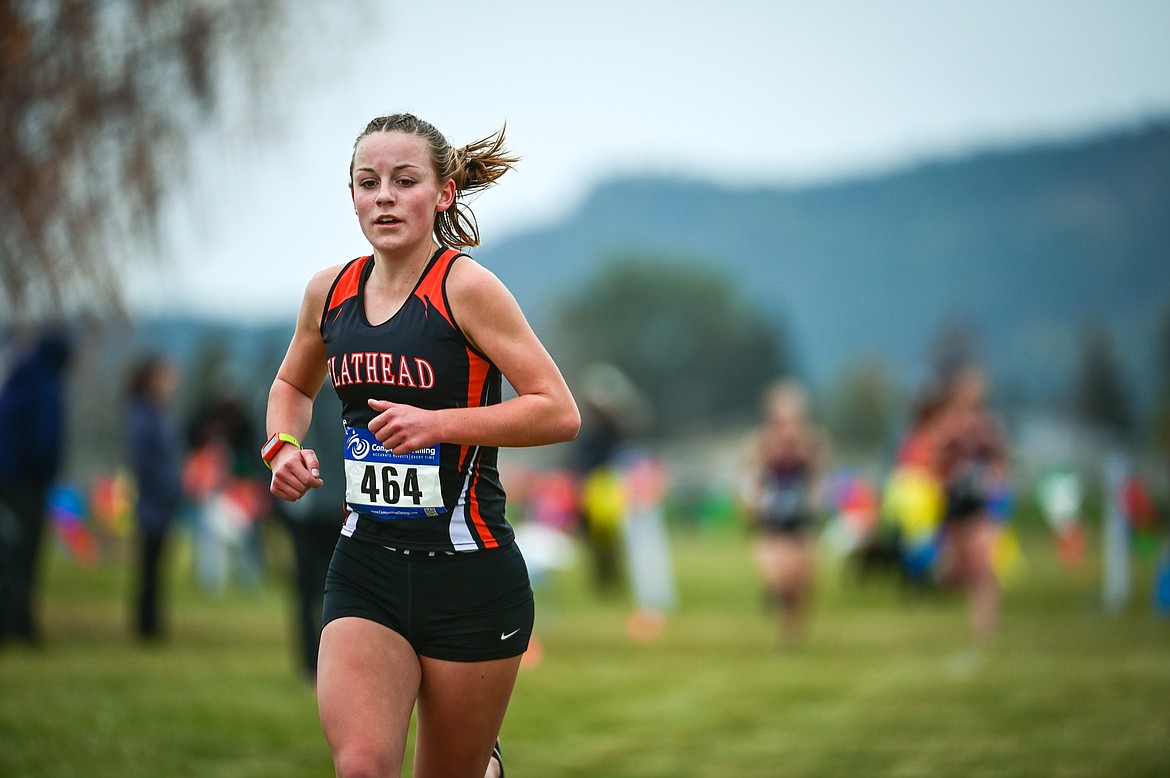 Flathead's Lilli Rumsey Eash begins her second lap at the Glacier Invite at Rebecca Farm on Wednesday, Oct. 13. (Casey Kreider/Daily Inter Lake)
by
Daily Inter Lake
|
October 13, 2021 10:08 PM
Wednesday's cross country meet at Rebecca Farm was called the Glacier Invitational, but with just three teams competing it felt like a crosstown.
So crown Flathead the city champs. Both the boys and girls won the team titles in chilly conditions, with Lilli Rumsey Eash taking the girls race and Gabriel Felton and Co. filling in nicely behind Glacier standout Sam Ells for the boys.
Felton ran his best time, 16 minutes, 32.2 seconds, and did it while pacing his teammates through the first of two laps around the course. Flathead's boys scored 24 points to 41 for Glacier (and 65 for Cut Bank). The Bravettes had 17 points to 42 for Glacier's girls.
For his part Ells went under 16 minutes for the fourth time this fall, winning in 15:50.36. Felton, a senior, can shoot for another PR at his next meet: The state championships at the University of Montana Golf Course on Oct. 23.
"He went out conservatively," Flathead coach Jesse Rumsey said of Felton. "Which was planned. It was great that he was able to help pace his teammates and still get a PR.
"Every single (Flathead) boy that ran today ran a season's best, which is awesome."
The list includes Eric Firestone (16:54.0), Bauer Hollman (17:05.5), Reilly Johnson (17:11.2) and Kesler Hughes (17:23.4).
"The boys really rose to the occasion as a team, and ran their fastest times," Rumsey said. "You can't ask for much more than that, with the last in-season meet."
Rumsey's daughter was among five Bravettes to set PRs as well. Rumsey Eash won in 18:58.7; the sophomore ranks fifth in Class AA. Madelaine Jellison, Josie Wilson, Bailey Wride and Afton Wride also ran their fastest.
"The majority of the girls ran the season's best," Rumsey said. "We needed that confidence boost for them.
"Lilli had a similar strategy to Gabe. She was able to go out and pace her teammates to PRs, and then still run her best."
Glacier's top girl finisher was senior Isabella Lane, who ran a PR of 20:17.1 while taking fourth.
A handful of runners from Class C Heart Butte competed along with the Class B Wolves of Cut Bank. James and Elijah Greene ran their fastest time for the Wolves.
Full results can be found at athletic.net.
Glacier Invitational
GIRLS
Team scores — Flathead 17, Glacier 42, Cut Bank 85.
Top 15 Individuals
1, Lilli Rumsey Eash, Flathead, 18:58.62; 2, Madelaine Jellison, Flathead, 19:59.95; 3, Josie Wilson, Flathead, 20:06.60; 4, Isabella Lane, Glacier, 20:17.07; 5, Bailey Wride, Flathead, 20:53.49; 6, Afton Wride, Flathead, 20;55.16; 7, Bailey Gable, Glacier, 20:55.63; 8, Anna Tretter, Glacier, 21:13.48; 9, Eley Alvrod, Flathead, 21:28.24; 10, Mikenna Conan, Flathead, 21:42.34; 11, Sierra Vickrey, Flathead, 21:46.70; 12, Aurora Baker, Flathead, 22:03.45; 13, Holly Skelton, Glacier, 22:04.68; 14, Nora Iams, Flathead, 22:15.52; 15, Beth Sorensen, Glacier, 22:20.70.
BOYS
Team scores — Flathead 24, Glacier 41, Cut Bank 75.
Top 15 Individuals
1, Sam Ells, Glacier, 15:50.36; 2, Gabriel Felton, Flathead, 16:32.20; 3, Eric Firestone, Glacier, 16:53.95; 4, Bauer Hollman, Flathead, 17 :05.43; 5, Reilly Johnson, Flathead 17:11.20; 6, Kesler Hughes, Flathead, 17:20.80; 7, Caden Masa, Flathead, 17:28.55; 8, James Greene, Cut Bank, 17:34.86; 9, Peter Wilson, Flathead, 17:37.11; 10, Samuel Aczas, Flathead, 17:45.58; 11, Jeff Lillard, Glacier, 17:52.02; 12, Ethan Bay, Flathead, 17:56.41; 13, Kasen Kastner, Flathead, 18:00.57; 14, MacGregor Adkins, Glacier, 18:03.27; 15, Elijah Greene, Cut Bank, 18:29.50.
---