Flathead boys basketball coach Johnsrud steps down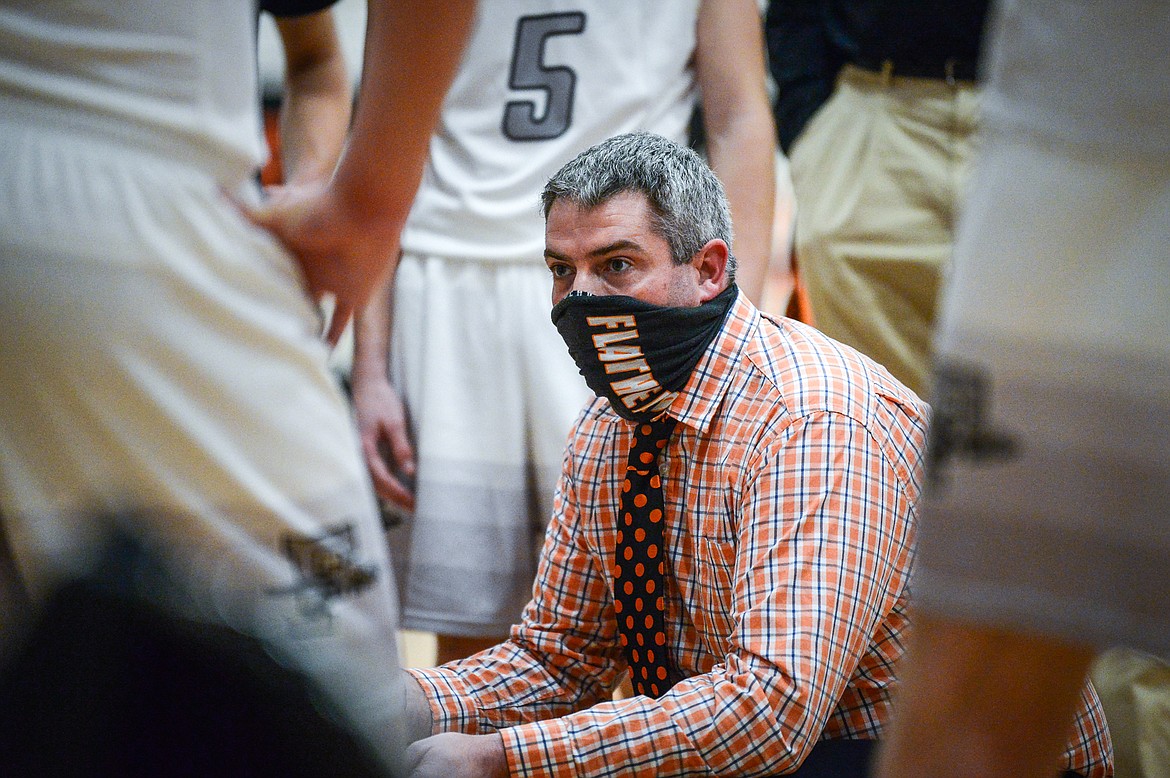 Flathead Braves head coach Dirk Johnsrud talks to his team during a timeout in the third quarter against Missoula Big Sky at Flathead High School on Saturday. (Casey Kreider/Daily Inter Lake)
by
FRITZ NEIGHBOR
Daily Inter Lake
|
March 24, 2023 3:00 PM
Flathead High is looking for a new boys basketball coach, after word came Friday that Dirk Johnsrud will no longer lead the program after three seasons at the helm.
A 3:48 p.m. email from Flathead High School activities director Bryce Wilson confirmed what independent sources had told the Daily Inter Lake. Wilson said Johnsrud had resigned as coach of the Braves.
"Dirk worked countless hours with players on and off the court," Wilson said in his email. "He held them accountable to high standards of conduct. Dirk is a very positive person who utilized Jon Gordon's books to help motivate his teams.
"As we move forward, we will work to continue to strive on building a quality basketball program at Flathead High School. His work ethic, time commitment, and dedication to the program truly was exemplary."
The move comes on the heels of a 1-19 campaign; the Braves won 11 games in three seasons under Johnsrud, who began coaching Flathead's sophomore boys under Fred Febach in 2014-15.
Johnsrud was junior varsity coach the next four seasons, spent one season coaching the freshman girls team at Flathead and then took over the boys program when Ross Gustafson stepped down after the 2019-20 campaign.
That was the pandemic year: Flathead started 4-3 on a shortened schedule and ended up 6-9 with a loss to Butte in a State AA play-in game. The Braves then went 4-16 the next season.
The program fell on tough times following the 2011-12 season, in which they went 13-12 with a surprising run to the State AA championship game, which Billings West won 61-48.
Fred Febach stepped down two years later; in his 12 seasons the Braves went 113-135. Ross Gustafson coached the next five seasons, going 41-67; his 2016-17 team is the last Flathead boys squad to make the State AA tournament.
"The process of finding a new head coach will start immediately with more details and a timeline to follow," Wilson's statement said.
Reached by phone Friday afternoon, Johnsrud was succinct.
"I resigned today," he said. "And I'd just like to thank (principal) Michelle Paine, Andrew Stiger, Matt Allison and athletic director Bryce Wilson for the tremendous opportunity.
"Flathead High School is the best school in the state, and we have great kids at Flathead."
Recent Headlines
---