Grizzlies subdue Bengals, 28-20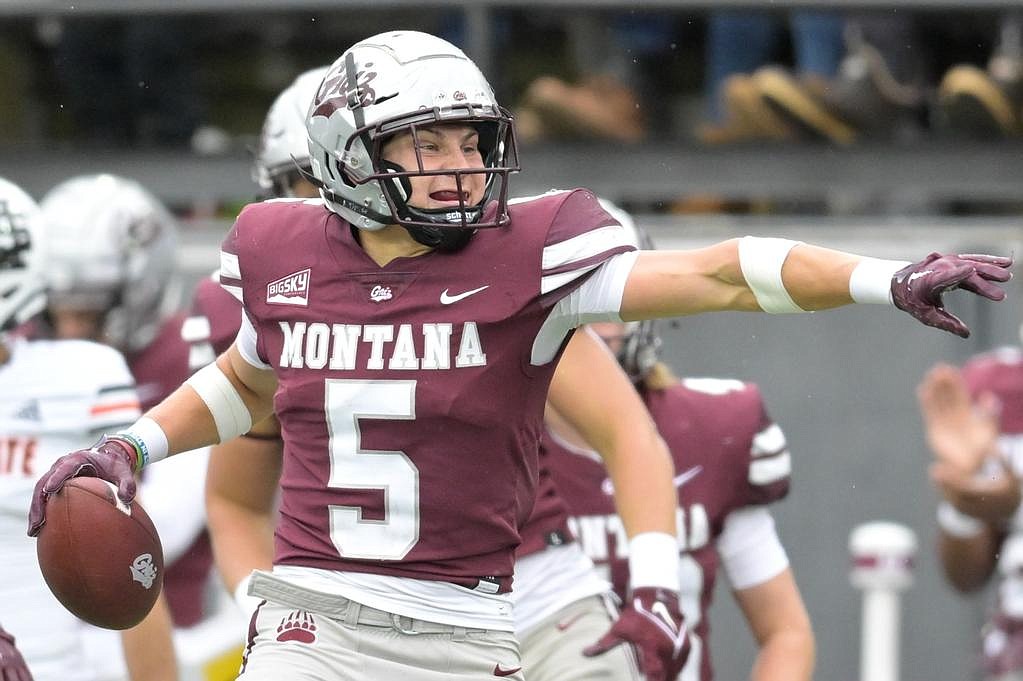 Montana's Garrett Graves (5) celebrates a first down on a fake punt during a game against the Idaho State Bengals at Washington-Grizzly Stadium on September 30. (UM Photo/Tommy Martino)
MISSOULA — Saturday will go down as a bounce-back win for the Montana Grizzlies, who rode Clifton McDowell's running and throwing to a 28-20 win over the Idaho State Bengals.
It was still a pretty subdued trio that showed up for the post-game press conference after the Grizzlies squared their Big Sky Conference record at 1-1.
"We're certainly excited to be 4-1 and to get a win on Homecoming," said head coach Bobby Hauck, who didn't sound it. "Great game. It was kind of a fun game to be a part of. A lot of things going on."
An offense that slumbered in a 28-14 loss at Northern Arizona came to life in the second half at Washington-Grizzly Stadium, with McDowell throwing a 2-yard touchdown pass to Aaron Fontes to break a 7-7 tie.
The TD was set up by Ronald Jackson's interception on the first play of the half. Playing over the top of a flat route that had been giving the Grizzlies issues, who hauled in an overthrow by Bengal quarterback Jordan Cooke.
The problem was that as the Grizzlies' run-first offense got going, so did ISU's pass-happy attack. Forbes' TD was answered by Cooke's 28-yard strike to Chadon James.
A reverse option pass by Griz receiver Sawyer Racanelli to Evan Shafer for another third-quarter TD was offset by Cooke's third touchdown pass, covering 6 yards to Cyrus Wallace early in the fourth quarter.
In the end mistakes cost the Bengals (1-4, 1-1 in league). Poised to tie the game after Wallace's TD, Cooke didn't handle a low PAT snap, took off and then slipped down to leave the Grizzlies ahead 21-20.
Down 28-20 but forcing a punt with 3:01 left, Cooke's third down pass to Wallace was picked off by Corbin Walker.
"They were throwing back-shoulders all game," said Walker, who made the pick while Wallace turned to the inside with 2:28 remaining.
McDowell, who ran for 66 yards (including 26 yards of losses) then turned in a twisting, tackle-breaking, helmet-losing 16-yard run for a game-clinching first down at ISU's 13. The senior was also 13 of 20 passing for 160 yards, with Junior Bergen catching seven passes for 100 yards..
"Just taking what the defense gives us," McDowell said.
It was clear with McDowell's starting nod that the Griz wanted to run, and they did on seven of their first nine plays. McDowell ran in from 8 yards out to cap a 58-yard, game-opening drive.
By the end the Griz ran the ball 51 times for 174 yards, while mixing in new faces on the offensive line (starting guard Hunter Mayginnes didn't play).
"If you watched the game last week, you knew they were going to try to run the ball more," first-year ISU coach Cody Hawkins said. "And 17 being the biggest tailback in the conference (McDowell stands 6-foot-4). … he can throw the ball well enough to do good stuff."
Asked what won the game, though, Hawkins was blunt: "They faked a punt and we threw a pick."
The fake came with UM facing fourth-and-1 at its own 42, nursing that 21-20 lead. Punter Travis Benham flung a pass to Eureka's Garrett Graves for a 15-yard gain.
"We were actually going to run it the first half; we had two of them on the call sheet," Hauck said. "I don't know if that's the smartest call, but we went for it. It was well-executed by those guys."
McDowell ran four times to pick up 20 of the remaining 43 yards; eventually Eli Gillman skated in from 3 yards out for the game's final score, with 7:37 left.
"Great call by Bobby," Hawkins said. "He's a special teams guru and they are always going to have that stuff in the bag.
"That was a tough one. Would have loved to have won that one."
"I think we should have won that game," asserted ISU safety Calvin Pitcher, who made eight tackles. "We had too many turnovers and penalties at important moments. We can compete with any team in this conference and I think today was a demonstration of that."
There seems to be some parity in the Big Sky, since ISU beat Northern Colorado last week and the Bears gave Weber State a tough battle Saturday. Montana, meanwhile, ran its win streak over ISU to 15 games.
"We didn't have a very good performance last week, and that's mildly stated," Hauck said. "We needed to play assignment football, do our job.
"Their second scoring drive we had guys slide back into that world where they weren't doing their assignment, and letting things get away but for the most part today we played assignment football. I'm proud of our team. I like our guys."
Recent Headlines
---