Paintball business takes aim at entertainment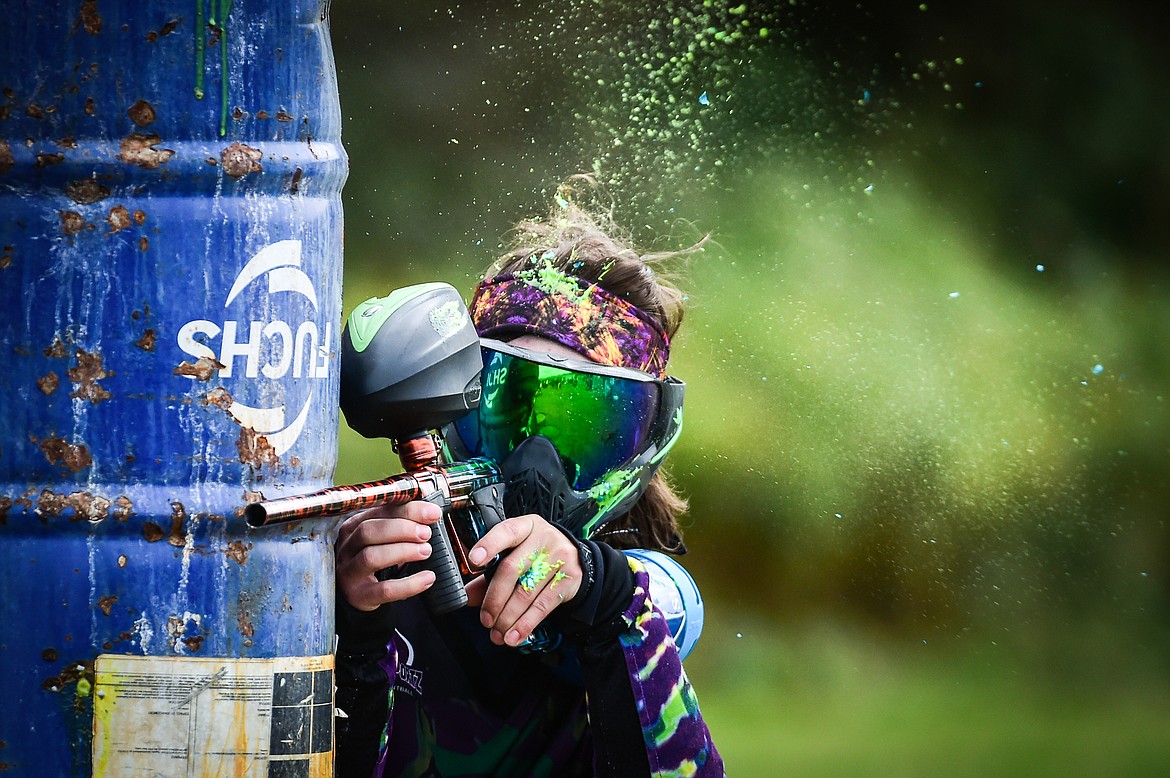 Paint splatter flies as a player gets hit during a game of five-on-five at Montana Action Paintball near Kila on Saturday, Sept. 23. (Casey Kreider/Daily Inter Lake)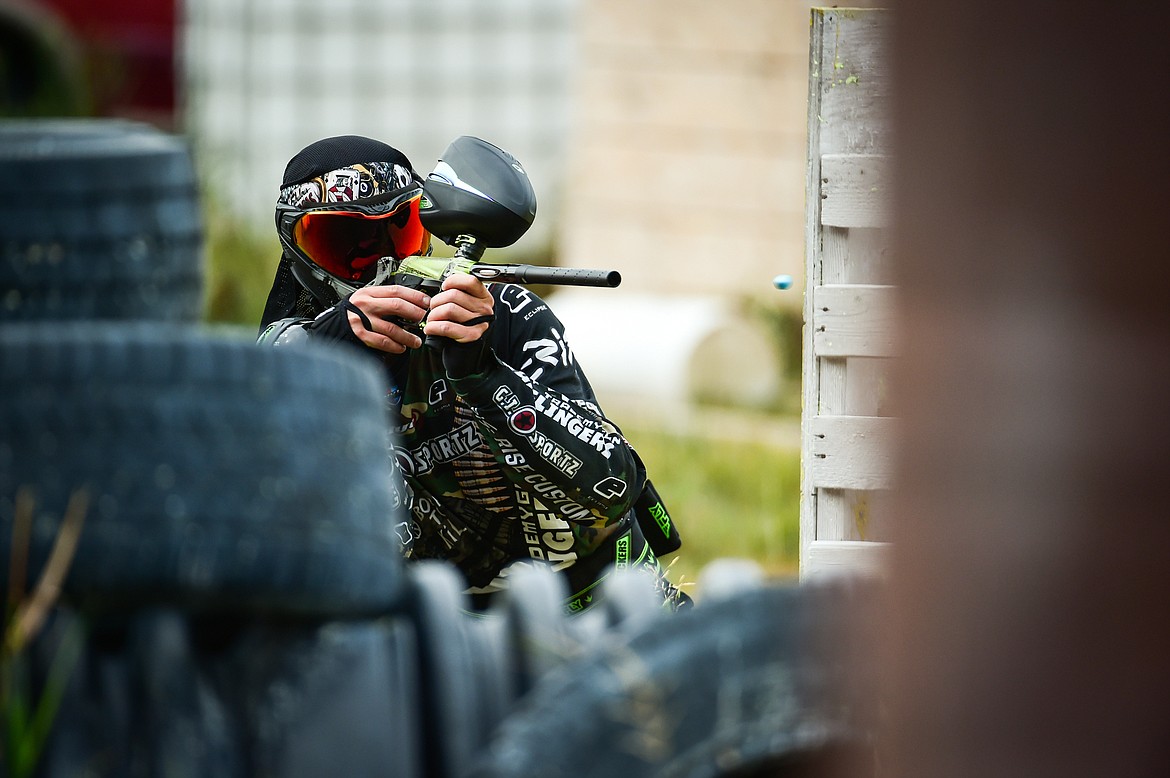 Players compete in a game of five-on-five on one of the courses at Montana Action Paintball near Kila on Saturday, Sept. 23. (Casey Kreider/Daily Inter Lake)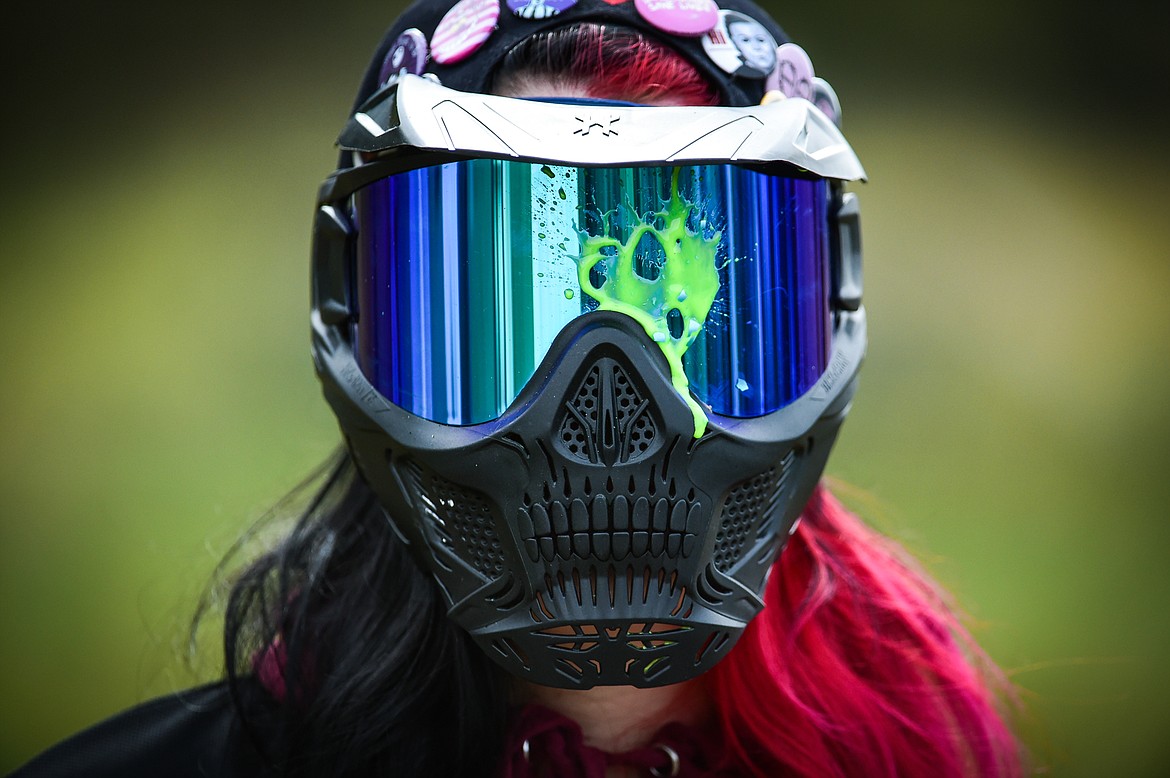 A player walks off the course after taking a paintball to the mask during a game of five-on-five at Montana Action Paintball near Kila on Saturday, Sept. 23. (Casey Kreider/Daily Inter Lake)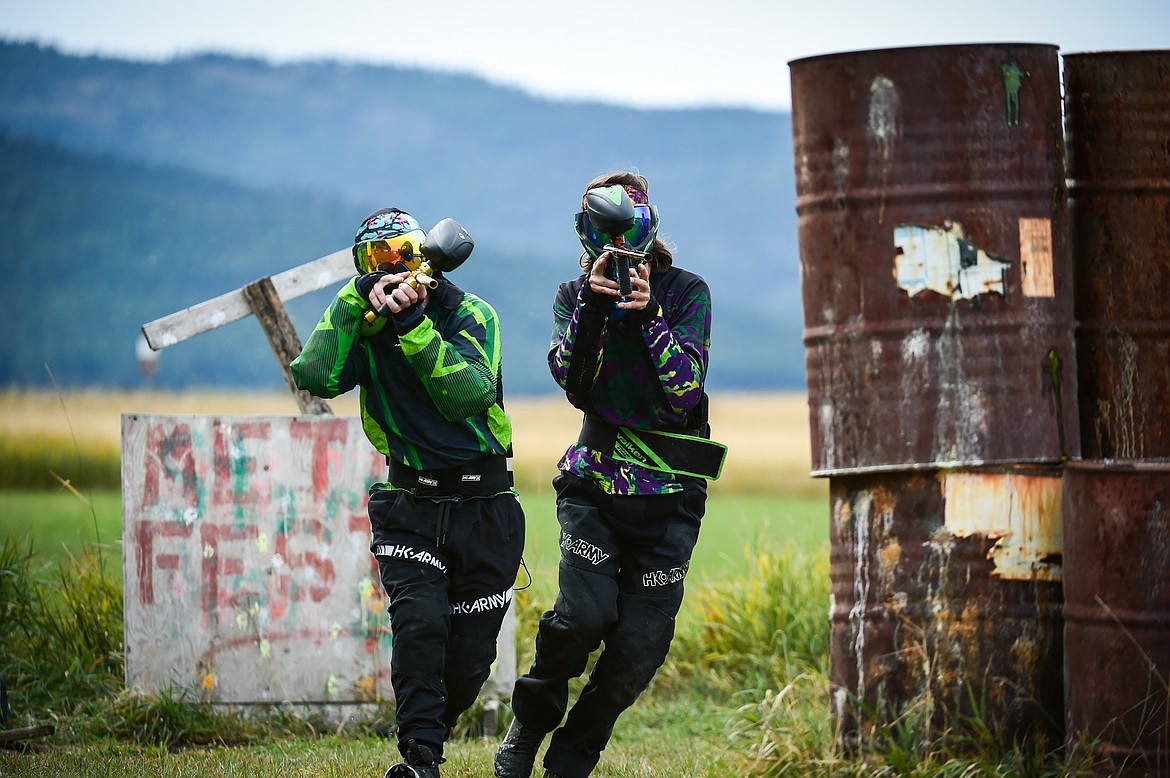 Players compete in a game of five-on-five on one of the courses at Montana Action Paintball near Kila on Saturday, Sept. 23. (Casey Kreider/Daily Inter Lake)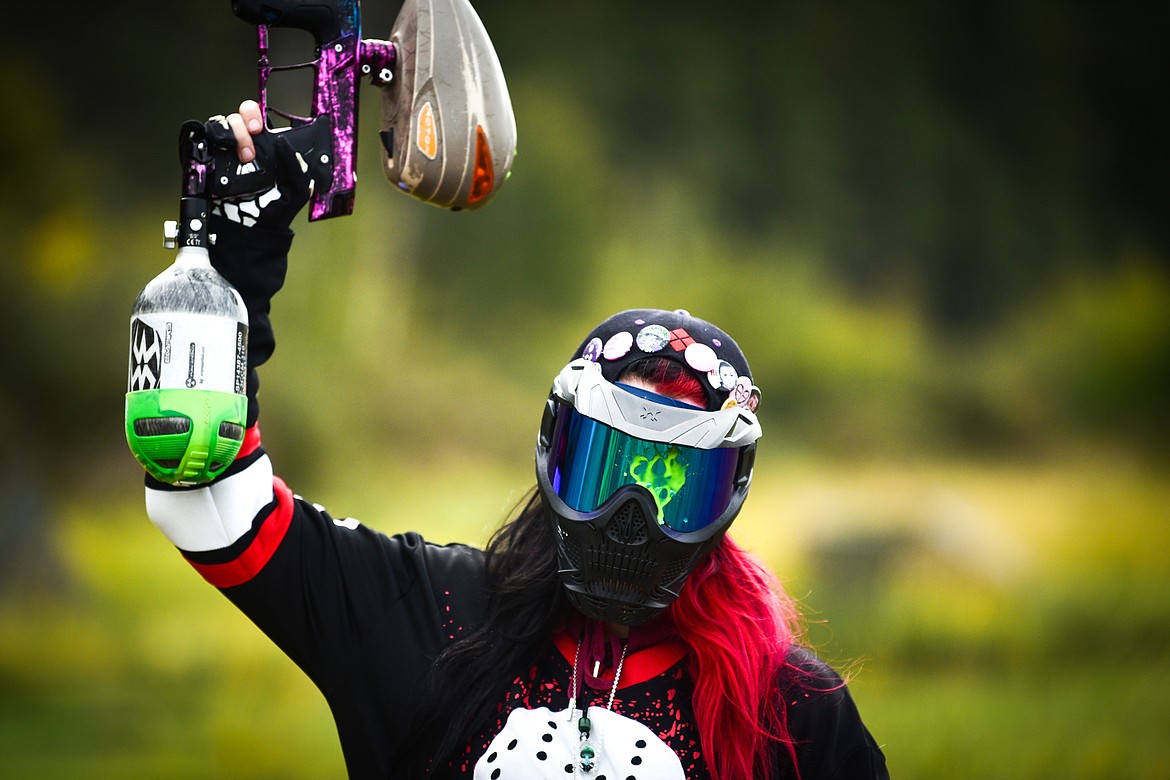 A player raises her arm and gun over her head to signify she's been shot during a game of five-on-five at Montana Action Paintball near Kila on Saturday, Sept. 23. (Casey Kreider/Daily Inter Lake)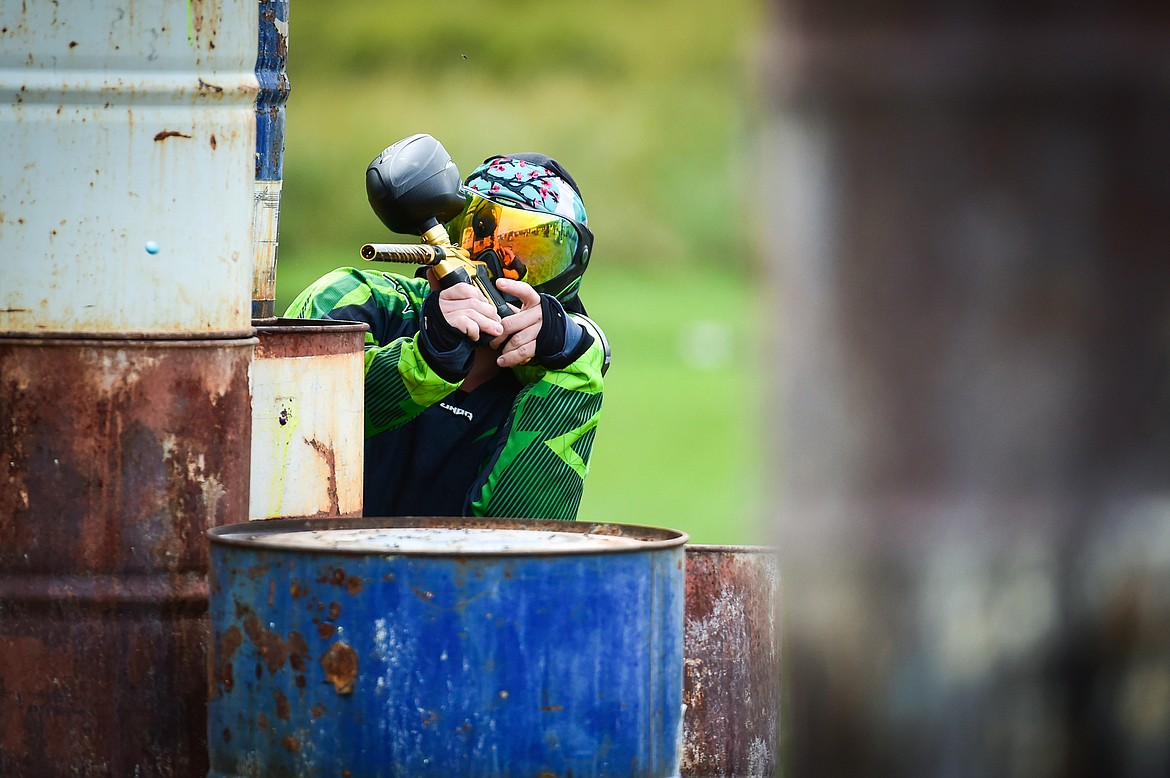 Players compete in a game of five-on-five on one of the courses at Montana Action Paintball near Kila on Saturday, Sept. 23. (Casey Kreider/Daily Inter Lake)
Previous
Next
With limited opportunities to play paintball in Montana, Nicholas Lynn embraced the responsibility for keeping the sport alive, and at only 18 years old, jumped head first into owning his first company, Montana Action Paintball.
"There was a paintball center in Columbia Falls that I was working at, and the old owner wanted to sell it and I thought, 'I bet I can swing that kind of money.' I was right out of high school and I ran it for two and a half years before looking for a new location."
Despite the housing hysteria that the pandemic caused, Lynn was able to secure a property to build a new facility in 2020. With the next closest paintball facility in Anaconda, Action Paintball aims to collaborate with the niche community of players by coordinating tournaments and making the sport more accessible.
"We work together with the other fields, and I'm friends with pretty much all the owners. There are [paintball facilities] in Great Falls, Anaconda, and two in Billings. There's one in Raptor, Idaho and Spokane and there's one in Calgary that is super popular," said Lynn. "We usually do one tournament per year, but my buddy in Great Falls does three per year."
In the future, Montana Action Paintball hopes to find an indoor space for foam-based weaponry battles or paintball using rubber paintballs. Winter in Montana can be a challenging time for paintball to thrive and having an indoor facility would allow employees to work more than just seasonally, but finding that perfect space has been a struggle, says Lynn.
"In the winter, the equipment doesn't work as well and can have malfunctions. Everything is sealed with an O ring, so it contracts in the cold and causes the paint to leak. There may be ways around that in the future, but it's very difficult because of how harsh our winters are," explained Lynn. "We're still working to get a space, and it's relatively inexpensive. We just need to find a place to do it that doesn't cost an arm and a leg."
From kids birthdays to high school sports teams and company outings, Montana Action Paintball accommodates parties small and large. There are also options for younger participants with gel, foam or water blasters.
With fall in full swing, Montana Action Paintball looks forward to hosting a paintball Zombie Trail every Saturday in October. Lynn says the trail is a truly unique experience where participants can blast their way through hordes of "zombies" on a hauntingly dark trail.
"We're building a mock city with a set path and we lead groups on the trail. In the past, we've had some kids as young as 7 or 8 and they think it's the coolest thing," said Lynn.
Foam parties are the company's latest addition to their recreational inventory where foam, beach balls, super soakers, music, and UV lights are delivered to an individual's residence to spice up any celebration. The foam is non-toxic, biodegradable, and safe for all skin types, according to their website.
"It's basically a bubble bath without the bath," Lynn said with a laugh. "We're looking at buying a firetruck and bringing it to birthday parties and letting people shoot the foam cannons. We can add colors to them too, so if someone wants to do a gender reveal party, for example, they can."
Montana Action Paintball offers free play on Saturdays from 11 a.m. to 4 p.m. and private parties during the week. They are located at 1717 Smith Lake Road in Kalispell and can be reached by phone 406-531-3607 or email montanaactionpaintball@gmail.com.
Reporter Summer Zalesky may be reached at szalesky@dailyinterlake.com.
Recent Headlines
---