May 31, 2023 midnight
Members of Kalispell's homeless community and the social workers who serve them are reporting an uptick in harassment and violence in city parks.
May 29, 2023 midnight
You can't say all the Kalispell Legion baseball teams do is win, but it's been pretty close in 2023.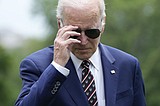 May 28, 2023 5 p.m.
With days to spare before a potential first-ever government default, President Joe Biden and House Speaker Kevin McCarthy reached final agreement Sunday on a deal to raise the nation's debt ceiling and worked to ensure enough support in Congress to pass the measure in the coming week.
---