Pink hair, big hopes for cancer help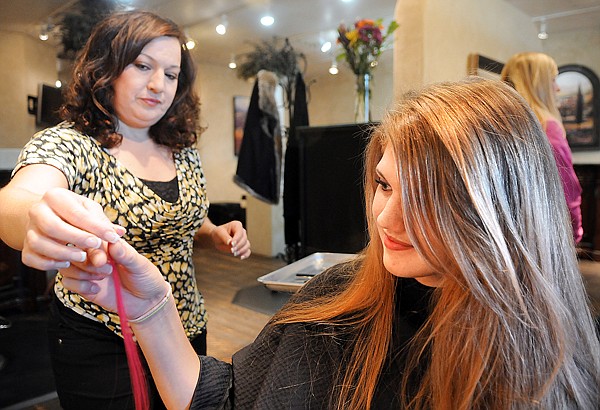 Bailey Aiken, a member of the Flathead sophomore volleyball team, gets a pink hair extension from Kay Bradley at Mirabelle in Kalispell on Saturday, October 2. Aiken and other team members all had the extensions added to their hair in advance of Dig the Pink, a Breast Cancer fundraiser which will take place this Thursday.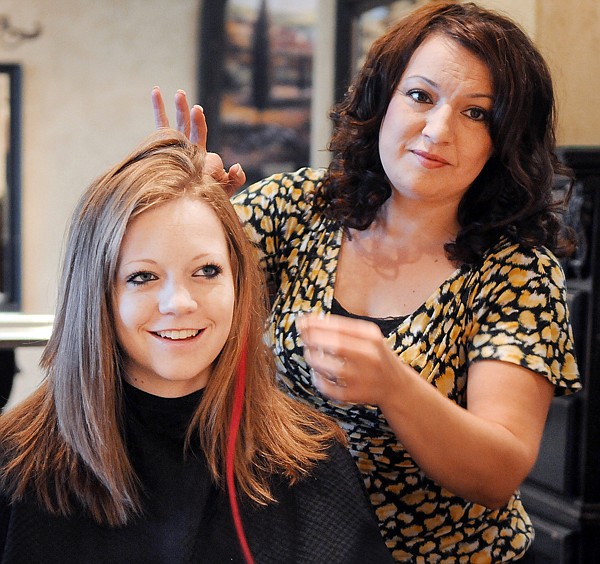 Jenna Olberding, a member of the Flathead sophomore volleyball team, gets a pink hair extension from Kay Bradley at Mirabelle in Kalispell on Saturday, October 2.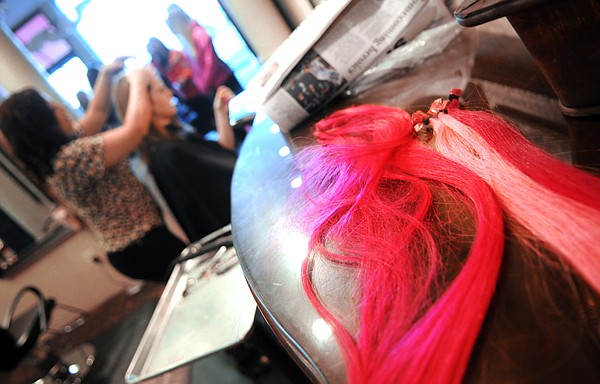 A set of "Pink Hair for Hope" extensions sits on the counter as members of the Flathead sophomore volleyball team have the extensions put in on Saturday, October 2, at Mirabelle salon in Kalispell.
Previous
Next
by
KRISTI ALBERTSON/Daily Inter Lake
|
October 16, 2010 2:00 AM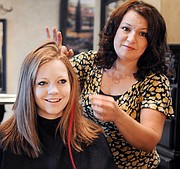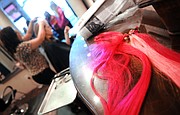 Yes, the girls on Flathead High School's sophomore volleyball team have pink streaks in their hair.
No, it's not because of teenage rebellion.
The sophomores and their coach got pink hair extensions to raise awareness of — and money for — breast cancer.
The pink streaks are courtesy of Bettina Patyk, whose daughter Briana is on the team. Patyk found out last year about a company that provides pink extensions for breast cancer awareness.
Amore, a salon in Kalispell, ran an advertisement about the false hair, and Patyk paid for Briana's team to get extensions there in 2009.
But Patyk's regular stylist is at Mirabelle, so this year she decided to see if the salon would join the fundraiser.
"This year I said, 'I'm just going to ask, since I go there, and see if they would be willing to do it,'" she said.
Mirabelle already was selling the extensions.
The salon has offered regular hair extensions since 2002, owner Kay Bradley said, and when the company she gets extensions from started offering pink hair for breast cancer research, Bradley began selling them as well.
"It's something we've been doing for years," she said.
The extensions come from So.Cap.USA, which worked with the National Breast Cancer Foundation and the American Cancer Society to create "Pink Hair for Hope," a campaign that has enlisted more than 375 salons in selling the extensions.
Customers can buy one for $10, all of which goes to breast cancer research.
While money only is donated during October (Breast Cancer Awareness Month), Bradley says she offers pink extensions year-round.
"I have a lot of clients who have breast cancer and who have survived breast cancer," she said. "I do it definitely to show my support of my clients that I love so much."
When a client asks for a pink extension to support a friend with breast cancer, Bradley donates the false hair.
"I just give them the pink extension. I never charge them for something like that," she said. "It's a personal thing between my and my clients."
Last year's freshman volleyball team wasn't sure how to react when Patyk told them about the pink streaks.
"At first they thought it was kind of weird, but when they got it, they loved it," she said. "So I said I would treat the girls again."
While the sophomore team has been sporting pink hair for a few weeks, the extensions will take on special significance Thursday. That's when Kalispell's volleyball teams participate in "Dig Pink," a fundraiser for breast cancer research.
It's also when Kalispell hosts teams from Helena. Freshman games begin at 4 p.m. with Flathead taking on Helena Capital and Glacier challenging Helena High.
Players hope to turn both gyms pink, with as many people in the crowd as possible wearing pink shirts. Dig Pink T-shirts are available for $10; to get one, contact a Flathead or Glacier volleyball player or call 758-0118.
T-shirts will be available the day of the event for $12.
Patyk said finding out about the fundraiser encouraged her to buy pink hair extensions for her daughter's team again.
"I thought it would be fun to get the girls more aware" of breast cancer, she said.
She said she also hoped the extensions would be springboards for the girls to share what they've learned with other people.
"With their pink hair they will be able to hopefully have a conversation about raising money for breast cancer," Patyk said.
For further information about the extensions, visit www.pinkhairforhope.com. For information about the Dig Pink fundraiser, visit www.side-out.org/application/teams/team_page/3131.
Reporter Kristi Albertson may be reached at 758-4438 or at kalbertson@dailyinterlake.com.
Recent Headlines
---