Anniversary
Who's celebrating an anniversary today? Find our latest anniversary records below.
Updated 5 months, 1 week ago
Jim and Wilene Bridger are celebrating their 50th anniversary.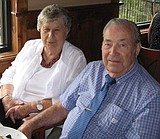 Updated 2 years, 4 months ago
Ken and Carolyn Wilson celebrated their 65th wedding anniversary July 26, 2018, at The Lodge at Whitefish Lake.
Updated 2 years, 5 months ago
David and Linda Peterson of Lakeside celebrated their 50th wedding anniversary recently in conjunction with a family reunion numbering 85 and hosted by their...
---