Bruce and Susan Tate
|
September 8, 2018 9:16 PM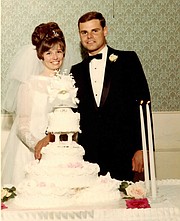 Bruce and Susan Tate of Whitefish recently celebrated their 50th anniversary at the North 40 Resort in Columbia Falls, with a catered dinner for family and friends. Many members of the original wedding party were in attendance.
The couple were married July 13, 1968, at the First Presbyterian Church in Missoula.
After they both graduated in 1968 from the University of Montana, Bruce, a Whitefish native, graduated from the Thunderbird Graduate School in Arizona. He began a career in wood product sales and built the Tates' home on Whitefish Lake. Susan was an elementary school teacher.
After Bruce's retirement in 2003, the couple continue to be involved in the Whitefish community and enjoy their grandchildren.
Their son Casey Tate and Heidi reside in Whitefish with grandsons Henry and Colter. Their daughter Tiffany Tate resides in Jackson Hole, Wyoming, with grandsons Rocco and Matteo and granddaughter Valentina Oldani.
Recent Headlines
---