Weddings & Engagements
Congratulations! Celebrate with us! Read below for the latest engagement announcements and wedding announcements, and find out how to share your own special day announcement here!
Updated 1 year, 8 months ago
Chick and Pam Leisinger of Bigfork announce the engagement of their son, C.R. Leisinger, to Tonya Flores, daught...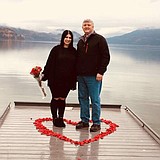 Updated 2 years ago
Jessica McNeil and Steven Fairchild were engaged Oct. 26 at Whitefish City Beach.
---