Bridgers celebrate 50th anniversary
|
September 27, 2020 12:00 AM
Jim and Wilene Bridger are celebrating their 50th anniversary.
They first saw each other on a bridge headed to and from the college rodeo in Roundup in May 1968 and met the following week; their courtship began with the song, "Getting to Know You." Their first date was rafting on the Yellowstone River.
They graduated from Eastern in 1970. Wilene began her teaching career in Columbia Falls. Jim moved to Columbia Falls and, two days later, on Sept. 26, 1970, they were married by Judge Shay on Ray and Colleen Allison's back deck. Jim began working at Glacier Park on the road crew and several other jobs before settling into a 28-year career for United Parcel Service. Wilene taught for 18 years, taking time off to raise their children, Joel and Paula. She taught across the county in multiple schools.
Joel was born November 1977 and, after many health challenges and surgeries, died in 2013.
The Bridgers have traveled to every Western state, Alaska, Bermuda, Canada and Mexico. They especially enjoy traveling to church conventions and opening their home to people from around the world.
Jim enjoys golfing, achieving a hole-in-one and participating in many pro-am tournaments. Wilene enjoys stamping, reading, attending Zumba classes and singing in choir. They enjoy playing games and have a nightly cribbage match.
After living in the Flathead Valley for nearly 50 years, they recently moved to Helena to be close to Paula, husband Chris, and grandchildren, Kayven, Percy and Wyatt.
They have postponed their plans for traveling and cruising for now, but are celebrating with family with shared parades and meals.
If you wish, please shower them with cards. (1213 Powder River Court Helena, MT 59602).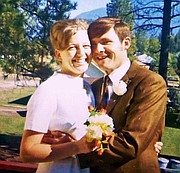 Recent Headlines
---