Spencer says threats of armed march just a 'joke'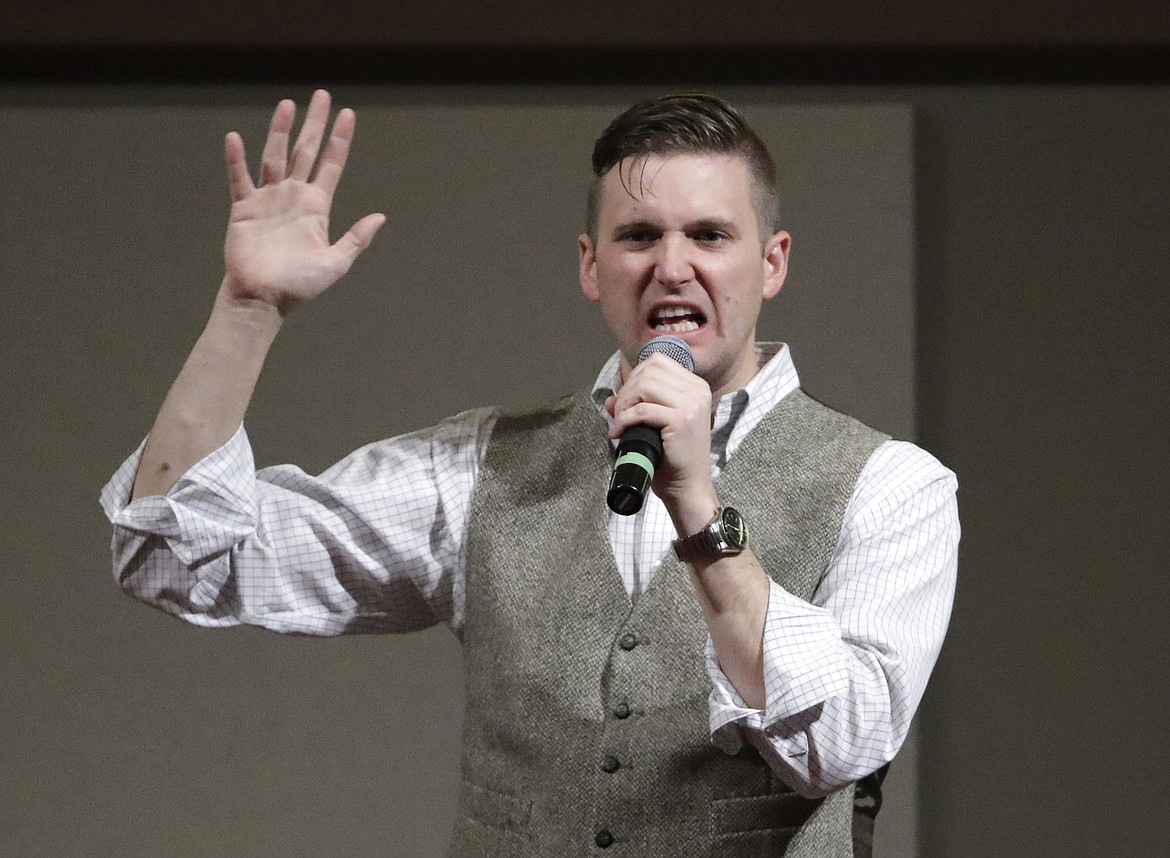 FILE - In this Dec. 6, 2016 file photo, Richard Spencer, who leads a movement that mixes racism, white nationalism and populism, speaks at the Texas A&M University campus in College Station, Texas. The Montana-based National Policy Institute, run by Spencer, who popularized the term "alternative right," is among groups of the white nationalist movement with tax-exempt status. (AP Photo/David J. Phillip, File)
by
Heidi Desch / Whitefish Pilot
|
December 28, 2016 6:19 PM
Richard Spencer says he doesn't want any negative publicity for Whitefish and that the threats of a neo-Nazi march through the city aren't actually going to happen.
"I don't want Whitefish to become the white nationalist [headquarters]," he said Wednesday afternoon. "I don't want to ruin Whitefish."
Spencer, who is a part-time resident of Whitefish, is president of the National Policy Institute, a white nationalist think-tank and publishing firm.
The Daily Stormer, a neo-Nazi and white supremacist blog, last week announced plans for an organized armed rally in Whitefish in January. The website had previously called for its followers to take "action" and "troll" Whitefish businesses and members of the Jewish community and the Love Lives Here advocacy group. The blog said it would call off the march if certain demands were met. The blog asked for an apology to Sherry Spencer, Richard Spencer's mother, after she claimed that she was pushed into selling her commercial building downtown over her son's beliefs.
On Tuesday, Montana's Congressional delegation along with Gov. Steve Bullock and Attorney General Tim Fox issued a letter condemning the potential march through town.
"We stand firmly together to send a clear message that ignorance, hatred and threats of violence are unacceptable and have no place in the town of Whitefish, or in any other community in Montana or across this nation," they said in the letter.
According to Spencer, there will be no neo-Nazi march and "the politicians shouldn't take it so seriously."
"It's a troll to trigger people," he added. "It's one site making jokes."
The issue has kept Whitefish in the national spotlight for several weeks.
"I just want it all to stop," Spencer said. "I'm kind of tired of this."
On Wednesday, he said he may post a video online addressing parties on both sides.
Spencer dismissed Andrew Anglin, who has authored the posts on the Daily Stormer regarding the Spencers in Whitefish. The Southern Poverty Law Center describes Anglin as a new-Nazi and he decorates his blog with Nazi symbols and pro-white nationalist imagery.
Spencer said he has no connection to Anglin and it would be impossible for him to influence the online posts, adding that Anglin is "rational and he is not going to engage in physical violence."
"He's totally wild — that's not my kind of thing," he said. "It's outlandish is what it is."
Admittedly, Spencer said he seeks publicity in spreading his beliefs, but he doesn't want this type of attention that he calls poisonous nonsense. For years, Spencer's white nationalist viewpoints flew under the radar of most Whitefish residents, but he began receiving global media attention following President-elect Donald Trump's victory. He said Trump's election will create a climate conducive to his alt-right white-nationalist views. Since then countless news articles have linked Spencer to Whitefish.
"Whitefish should not become synonymous with this," Spencer said. "Whitefish needs to be a ski and summer town. I think we should just stop."
Spencer reiterated that he has no connection to his mother's building at 22 Lupfer Ave., a mixed-use building with vacation rentals and commercial tenants. He said he previously rented an office in Whitefish in another building, but has since moved his office to Virgina.
Whitefish Mayor John Muhlfeld in December signed a proclamation that declared that "The City of Whitefish repudiates the ideas and ideology of the Whitefish nationalist and so called alt-right as a direct affront to our community's core values and principles." Two years ago Love Lives Here, a nonprofit that is an affiliate of the Montana Human Rights Network, urged the Whitefish City Council to pass an ordinance prohibiting "hate" organizations from doing business in the city.
Spencer claims that Love Lives Here wants to harass him into leaving town and seeks to have his mother to denounce him, while Whitefish leaders want to treat him as the "bogeyman." He said speaking with members of Love Lives Here is not productive, but he is willing to talk with town leaders about "what is best" for Whitefish.
"I'm going to stay here to spite them," he said. "If they don't stop all of this non-sense, I'm going to continue to fight back."
Recent Headlines
---