Ronan to open state's first co-op brewery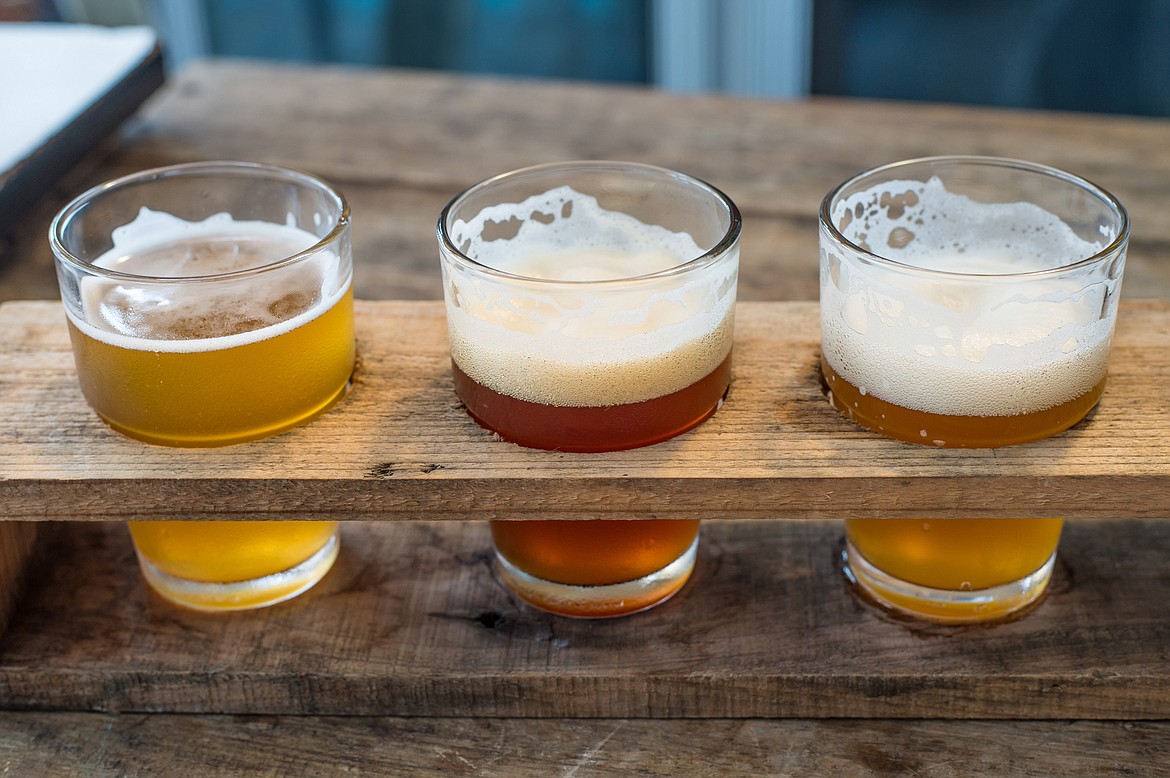 Craft beer samples in glasses. (Adobe stock image)
by
Peregrine Frissell Daily Inter Lake
|
January 7, 2018 11:27 AM
Main Street revitalization has become something of a trend in recent years. Most towns come up with a plan that guides zoning decisions, then try to draw entrepreneurs in with things such as tax incentives and offers for low-interest financing or help earning grants.
Ronan, a mid-sized town in the Mission Valley, is steaming ahead with its effort to retool downtown, hoping a successful cooperatively owned business will attract them in the future.
The Lake County Community Development Corp. is spearheading an effort to bring a cooperatively owned brewery to Main Street that town leaders hope will act as an anchor business, showing other entrepreneurs the town is hospitable and ready to support local products.
The group is in the midst of a campaign to sell ownership shares. It costs $250 to buy in, and after that those interested can buy more preferred stock. The initial $250 investment gets you voting rights to elect members of the board of directors and, for the first 200 people, slight discounts on growler fills and pints at the brewery once it opens.
The effort all began with a community assessment performed by a team from the Montana Economic Development Association in May 2016.
The association surveyed residents and local business owners about what they saw as Ronan's strengths and challenges and where they would like to see the town in the future, said Brianna Ewert, cooperative development program manager with the Lake County Community Development Corp.
It emerged that long-time residents felt that Main Street in Ronan used to be a gathering place for the entire valley, but in recent years it has fallen off its perch and no longer brought people into town.
"The top thing that emerged was that people wanted to see Ronan's Main Street revitalized," Ewert said. "People wanted to see something happen there."
The team recommended the town work to attract one strong anchor business that would be a success and send positive messages to potential business owners and motivate them to follow suit. Ewert's team began trying to figure out what local residents would like that to be.
"People talked about wanting to support the agricultural heritage of the community, and a lot of people mentioned breweries," Ewert said. "A brewery came up over and over again."
Since they lacked an actual brewer, they came up with the idea of starting a cooperatively owned brewery. Right now there are only about a half-dozen such breweries in the United States, but more are looking to come online soon, Ewert said.
They used Flying Bike Brewery in Seattle as a case study to learn more about what a cooperative brewery could look like, but Ewert said they found the most helpful parallels in Bathtub Row Brewing in Los Alamos, New Mexico.
That co-op measured its members in the hundreds rather than the thousands, and was willing to share their experiences to help guide the Ronan group through the early phases of organizing.
Ewert and her colleagues put on a community presentation to convey to residents the viability of a cooperative brewery on Main Street. They found that the niche breweries occupy in many small towns throughout Montana appeared to be very similar to what this project was looking to do, and they had received enthusiastic responses even from community members who weren't craft beer enthusiasts.
"The sense I've gotten is one reason cooperative and craft brewing is a good fit is that craft breweries really value that community fit already," Ewert said. "One of the things they really prioritized is having it be a really family-oriented space."
As of now, 171 people have bought ownership stakes in the brewery. The vast majority have come from the Mission Valley between Polson and Missoula, but they also have member-owners from Three Forks, Helena and Bozeman, along with places as far flung as Connecticut, Massachusetts and Colorado.
The goal was to raise $75,000 before the cooperative began to forge ahead and look for a place to set up shop and begin advertising for head brewers, said Rosie Goldich, food and agriculture program coordinator with the Lake County Community Development Corp.
They are nearing that goal, but still have early incentives available for nearly 30 more member-owners. The group is staging two upcoming events where interested folks can ask questions and invest. The first one is Jan. 16 from 5 to 7 p.m. at the 44 Bar in St. Ignatius. The second will be held on from 5 to 7 p.m. on Jan. 20 in Polson at Vine & Tap on Main Street. Updates can be found on the group's Facebook page, at www.facebook.com/RonanCooperativeBrewery/.
Following those drives, the first owner meeting will take place Feb. 10 in Ronan. There, the owners will elect a board of directors that will begin making decisions about a location and hiring employees and applying for the required federal and state permits and also establish a set of bylaws. People can still join as member-owners after that point, however.
"If everything goes seamlessly, there is definitely a goal to be open in 2018," Ewert said.
They don't expect any rules to be made that required a Montana brewer over an out-of-state hire, but they have been in early conversations with the brewing science program at Flathead Valley Community College and would love to see the place staffed with budding Montana brewers, Ewert said.
Gypsy Ray, executive director of the Lake County Community Development Corp., said the effort to start the brewery has been great for their organization as well. She said every day people walk in to their office in Ronan across from the movie theater and ask about the brewery, and she said its story illustrates perfectly what they do as an organization.
"Most people have no idea what we do," Ray said. "When we tell the story of the brewery, starting with the community assessment and leading to a brewery, which basically touches all faces of our organization, it's just such a great description of what we do."
The group acknowledges $250 isn't a small amount of money, but said they have been very pleased with the amount and socioeconomic diversity of member-owners to date.
"People in this community are so excited about this, $250 is a lot for some people in the community, but it seems to be fairly accessible for a lot of folks."
"I think a lot of people are really excited about that is they are literally able to invest in their community."
Reporter Peregrine Frissell can be reached at 758-4438 or pfrissell@dailyinterlake.com.
---