State says resources limited for road mowing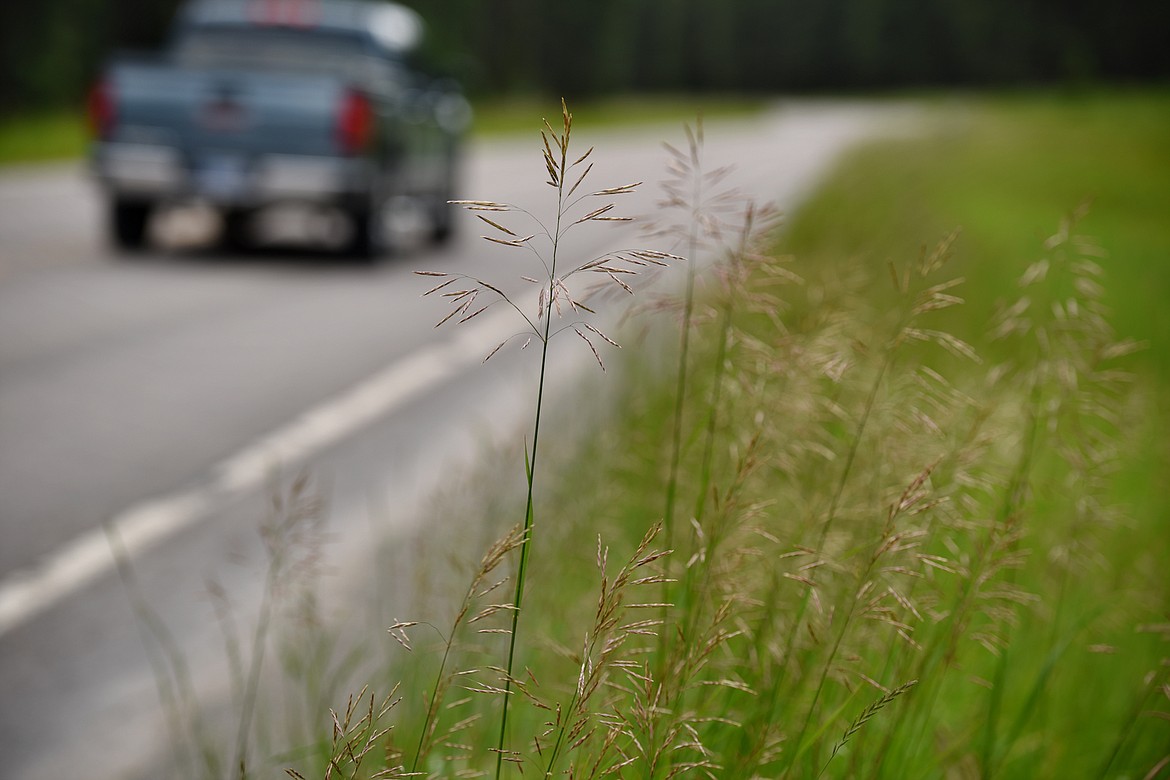 An unmowed section of Farm-to-Market Road on Monday, July 2. (Brenda Ahearn/Daily Inter Lake)
by
Lynnette Hintze / Daily Inter Lake
|
July 7, 2018 4:00 AM
Mowing the grass and weeds along state secondary highways such as Farm to Market Road is a Montana Department of Transportation responsibility, and it all boils down to equipment and manpower, the area highway chief said.
"It comes down to resources," Kalispell Division Maintenance Chief Justun Juelfs said, adding that mowing along Farm to Market Road "is on the short list" of highways to be mowed this summer.
He acknowledged receiving calls from residents concerned about the mowing schedule.
"What really is the hang-up is that there is a limited time to get the mowing done," Juelfs said, noting that grass and weeds can grow from 18 to 30 inches in the course of three weeks or so. There is also a limited number of mowers, he said, for the division's 1,700 lane miles of roadway.
The state maintains primary and secondary state roads, along with federal highways. The Kalispell maintenance area is one of 10 area offices throughout the state that help coordinate and manage field maintenance activities. It reaches from the Idaho border to the west, Montana 83 to the east, south of Polson and to the Canadian border north of Eureka. A staff of 62 highway workers handle the "full gamut" of maintenance year-round, from mowing to sign replacement and bridge repair, among other maintenance duties, Juelfs said.
West Valley resident Kip Willis recently wrote a letter to the Daily Inter Lake, complaining about the lack of mowing on Farm to Market Road.
"Other than the Swan Highway coming into Bigfork, it (Farm to Market Road) is probably the most dangerous road in the Flathead for deer incursions and accidents involving deer," Willis stated.
Flathead County Weed Superintendent Jed Fisher said the county used to mow along state secondary roads, but the state took over the job about six or seven years ago.
"They [the state] started out really good, guns blazing," Fisher said. "In the last couple years we've gotten complaints. They [the unmowed roadsides] are a risk and visibility issue."
Fisher said the county receives $70,000 a year for weed control along state secondary highways in the county, but his crews find it difficult to spray along roads such as Farm to Market Road that haven't been mowed.
"It's hard to get good coverage," Fisher said.
Fisher said he would be willing to have the county Weed Department consider a contract with the state to provide mowing service.
"If they [the state] don't have equipment and have the money, for our taxpayers I'd enter into a contract," Fisher said.
Features Editor Lynnette Hintze may be reached at 758-4421 or lhintze@dailyinterlake.com.
Recent Headlines
---