Browns celebrate 60th anniversary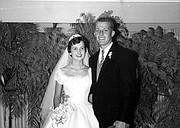 Harry and Nancy Brown, longtime residents of Whitefish, celebrated their 60th wedding anniversary June 21.
The couple were married June 21, 1958, in Summit, New Jersey. They met while students at Penn State and married shortly after graduation.
After living in several states they found the "Last Best Place" in Whitefish in the '70s and moved here together with their three children, Bonnie, Chuck and Sallie. After they all graduated from the University of Montana and had families of their own, the children all moved back to the Flathead Valley.
The Browns have seven grandchildren and three great-grandchildren. Bonnie Brown's children are Emily Nichols (Brendan), and David Hammett. Chuck and Julie Brown's children are Ryan, Kellie and Lauren. Sallie Brown's children are Amanda and Sean Foley. Their great-grandchildren are Riley Brown and Avery and Finley Nichols.
The Browns have been active in the community and had the pleasure of serving as Whitefish Winter Carnival's King Ullr LIV and Queen of the Snows in 2013. They feel blessed to have their family all living in the Flathead Valley. A family anniversary celebration is planned for next month.
---