Firehouse Subs opens new location in North Kalispell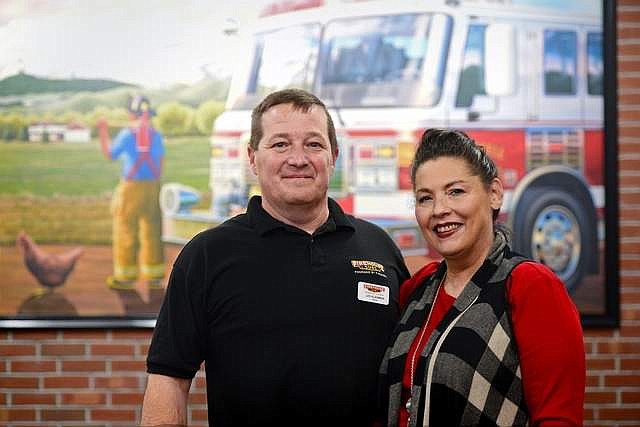 Les and Toni Ann Kleinman recently opened Firehouse Subs in North Kalispell.
(Casey Kreider photos/Daily Inter Lake)
by
BRET ANNE SERBIN
Daily Inter Lake
|
December 8, 2019 1:00 AM
Firehouse Subs opened Saturday in North Kalispell next to Coldstone Creamery. It's the second Montana location for the national sub chain known for its hot sandwiches and charity foundation.
"We not only serve food, but we serve the community as well," said owner Les Kleinman. The New York City native has had his sights set on living in Montana since visiting years ago during his 10 years of service with the U.S. Marine Corps.
"I'm so happy I could do this here in Montana," he said at a ribbon-cutting ceremony with the Kalispell Chamber of Commerce on Thursday.
"Our subs are a lot different than what you've probably tasted before," Kleinman promised. Top sellers include the Hook and Ladder Sub, made with turkey breast, Virginia ham, Monterey Jack cheese and a slew of selected condiments, as well as the Smokehouse Beef and Cheddar Brisket, made of smoked beef brisket, cheddar cheese and a "special combination of sauces."
Kleinman said Firehouse Subs is set apart by its specially made meats and the steamers the company uses to make the sandwiches. "The steam brings out the flavor," he explained.
So far, those who have tried Firehouse Subs for the first time at start-up events at the Kalispell location have loved them, Kleinman reported.
They also offer full-service catering, online ordering and delivery.
Portions of the sub sales go into the Firehouse Subs Public Safety Foundation, which gives out grants to first responders and other community organizations every financial quarter. Donations at the register and sales of recycled pickle buckets also go directly into the foundation.
Kleinman has worked with local first responders to submit grant applications, and he said a few of these have made it into the final round for this financial quarter. The grant recipients will be announced in January.
Already, donations at the Kalispell restaurant have exceeded Kleinman's expectations. He said early visitors are donating "twenties like crazy."
"Every single cent is going to go to that foundation," Kleinman reiterated.
He is excited to bring this opportunity to the Flathead Valley after working since April to open the restaurant. Part of the preparation included hiring more than two dozen employees. They are still considering applications, and Kleinman emphasized his goal is to provide the training and wages to take care of his workers. "I don't want turnover. That's my main thing," he stressed.
"That extra dollar or two I'm paying an hour is going to pay off," he added.
One of the current team members is his son, Mitchell. "Eventually, he'll own it," Kleinman said. "I want him to learn the whole process from the ground up."
Kleinman has big plans for the future of Firehouse Subs in Montana. He has already purchased a Missoula location that he hopes to be open in about a year, and he hopes to expand into Helena and Great Falls eventually, too.
Firehouse Subs is located at 110 Hutton Ranch Road, Suite 102. Hours are 10:30 a.m. to 9 p.m., seven days a week.
Reporter Bret Anne Serbin may be reached at bserbin@dailyinterlake.com or 758-4459.
---