Pumpkin spice belongs in pie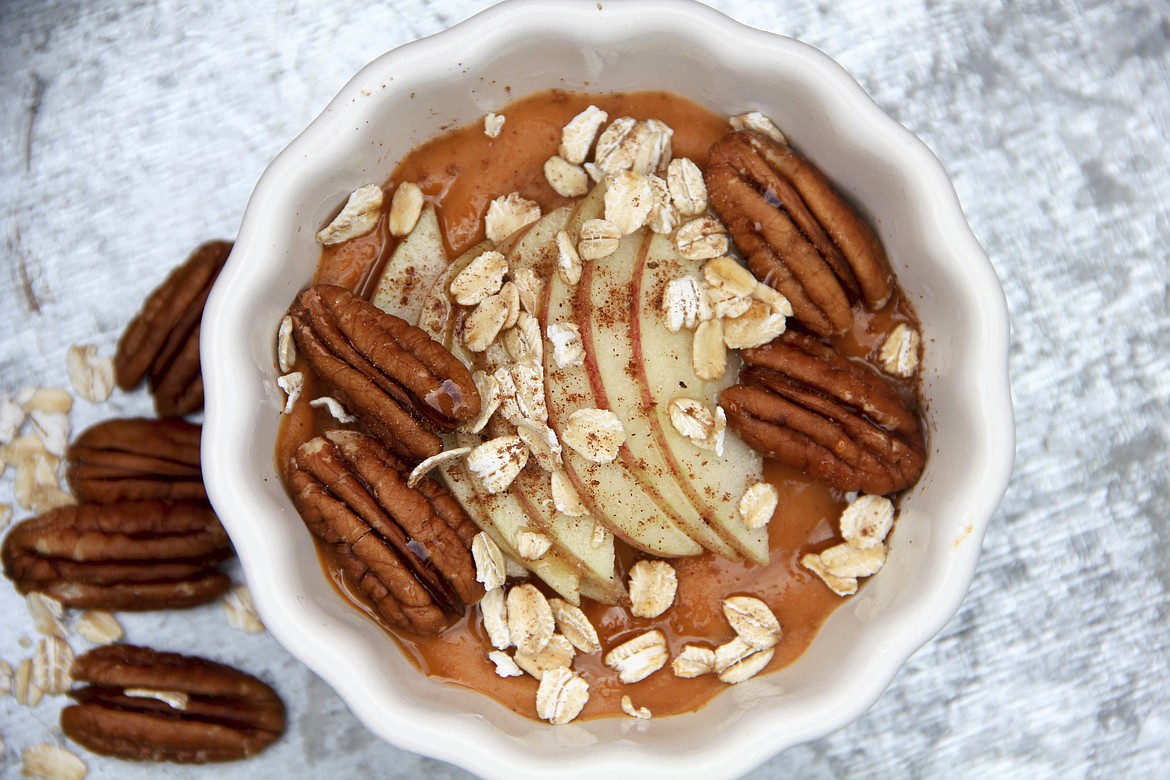 This Oct. 23, 2017 photo shows a pumpkin and spice breakfast bowl in Bethesda, Md. Loading up the freezer with these bowls is an excellent plan-ahead strategy, whether you're a mom of four, or you just want to streamline your mornings. (Melissa D'Arabian via AP)
|
October 20, 2019 4:00 AM
After years of listening to co-workers, friends and pretty much all of America gush about pumpkin spice, I finally took the plunge this week and ordered my first-ever pumpkin spice latte at Starbucks.
I plunked down $5 and prepared to be amazed. But as that first swallow of java washed down, no "Hallelujah Chorus" rang out. My initial reaction: "Meh, it's OK, I guess." It certainly wasn't the most delicious coffee drink I've ever had.
It was as I suspected. The hype of pumpkin spice that grips fans every fall (or late summer because Starbucks started serving pumpkin spice drinks in late August this year) is yet another example of blatant American consumerism. As I Google-searched pumpkin spice — a combination of spices that include cinnamon, ginger, nutmeg and allspice — I found that most major news outlets have weighed in on the craze, and you'll get a kick out of what I discovered.
Fox Business recently published a story announcing Spam is releasing a limited edition pumpkin spice variety of the iconic canned meat. The news outlet also listed what it deemed five of the "weirdest" pumpkin spice-flavored products, in addition to pumpkin spice Spam. Topping its list of unusual pumpkin spice-infused foods were chicken wing sauce, burgers, hummus shakes, Pringles and chicken wraps.
The New York Post also snapped up the pumpkin spice Spam news, declaring the flavor craze "is officially dead thanks to Spam." And, as a sure sign the fad is on its way out, the Post noted that "even Martha Stewart is over it."
The Java Lush website pointed out other ridiculous pumpkin spice foods, including pumpkin spice Jell-O, Oreo cookies, Peeps, Jif peanut butter, Blue Diamond almonds, Country Crock margarine and Trident gum, among other products.
Just because you can put pumpkin spice in something (everything) doesn't mean it's a good idea. I enjoyed a recent article by Rasha Ali in USA Today titled "Enough is enough! For the respect of food, we need to draw the line with pumpkin spice."
"Not everyone needs to hop on the pumpkin spice train," the USA Today piece stated. "Sometimes, it's OK to let the train pass. Miss the train. Just let it go."
Food and drink companies aren't about to let this cash cow go anytime soon, though. Using data from Nielsen and Forbes' accounting of pumpkin spice latte consumption, Forbes reported last year that "the pumpkin spice industrial complex in 2018 is a more-than $600 million market." Starbucks' pumpkin spice latte sales account for about $110 million of the pumpkin spice market," Forbes said.
A statistic from the Forbes report I found shocking is that pumpkin-flavored dog food accounted for $109.5 million of that $600 million!
Starbucks started the pumpkin spice latte "PSL" craze in 2003, and sells some 424 million of the popular coffee drinks annually.
I doubt I'll be able to convince my younger co-workers that pumpkin spice is simply an overrated craze. One colleague declared Starbucks' new pumpkin cream cold brew is nothing short of "amazing." Another colleague gushed about a local coffee shop that uses real pumpkin puree in its pumpkin spice drinks. Don't pooh-pooh pumpkin spice until you've tried that particular local coffee, she admonished.
So there you have it. The craze continues. As for me, I'll put pumpkin spice in my pie at Thanksgiving and call it good.
News Editor Lynnette Hintze may be reached at 758-4421 or lhintze@dailyinterlake.com.
---