Columbia Falls purchases propane school buses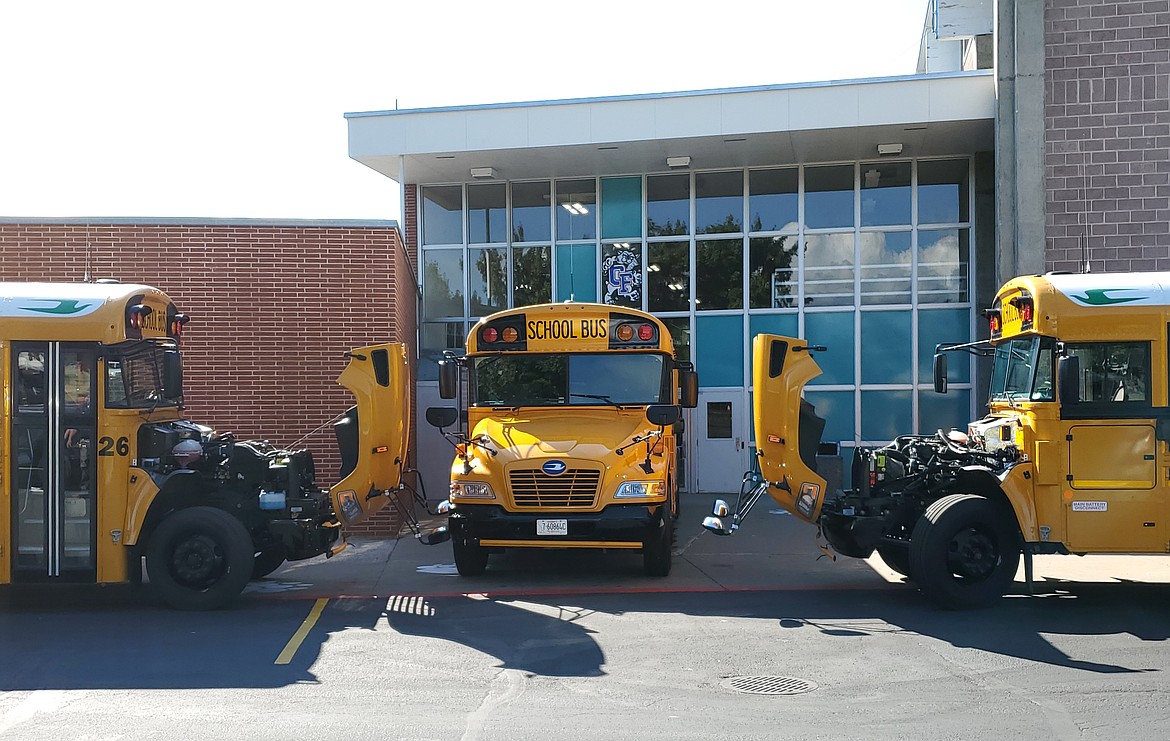 COLUMBIA FALLS School District has purchased three propane buses to replace old diesel ones. The district anticipates savings in fuel and maintenance costs.
by
Hilary Matheson Daily Inter Lake
|
September 20, 2019 4:00 AM
Columbia Falls School District plans to save thousands on fuel and maintenance costs and reduce greenhouse gas emissions with the purchase of three propane buses.
The Blue Bird Vision Propane buses replace old diesel buses. Students and staff can spot the new buses by looking for a little green bird on the sides.
School district Clerk Dustin Zuffelato said the district paid approximately $120,000 for each propane bus, compared to a diesel bus at $134,000. The buses are paid for through the district bus depreciation fund.
Fuel costs are also anticipated to be less, which is important when the district's fleet of 31 buses travels an average of 230,000 miles total per year.
The district could realize a 20% fuel savings, or $15,000 per year based on current prices.
"The operating cost for diesel is [33 cents] per mile or [an] annual operating cost of $76,187," Zuffelato explained. "The operating cost for propane is projected to be [26 cents] per mile or $60,260 per year."
The district has contracted with CityServiceValcon to provide the propane fuel. The company installed a fuel station near the school at no charge to the school district.
Maintenance expenses are also anticipated to be reduced, according Columbia Falls School District Transportation and Maintenance Director Bob Rupp.
Rupp said the current diesel buses have more complex systems and parts to meet emission standards, which Ryan Zic, vice president of school bus sales for ROUSH CleanTech, the propane fuel system manufacturer, also noted.
"All the components on the exhaust system to clean up diesel before enters atmosphere ... those components are very expensive," Zic said.
"They're much more streamlined and straightforward — everything from less oil per oil change and lower cost of oil filters — which has to do with the fuel being considerably cleaner."
There are also environmental and health benefits of the clean-burning fuel in reducing pollutants found in higher amounts in diesel emissions can trigger such as respiratory issues.
Zic also noted that propane is nontoxic. According to the U.S. Department of Energy's Alternative Fuels Data Center "If spilled or released from a vehicle, it presents no threat to soil, surface water, or groundwater.
"Natural resources are important in Montana and propane can't contaminate groundwater like gas and diesel can," he said.
Propane fuel is liquid when stored under intense pressure, but if it leaks or spills, for example, it evaporates, unlike diesel.
"Drops of diesel eventually seep into the ground," Zic said.
Zic said the propane fuel tank is located between the bus frame rails, behind the rear axle, and is encapsulated by steel plates.
"The tanks themselves are very strong," he said in comparison to gas or diesel fuel tanks.
Rupp also noted the new buses run quieter and heat up faster in the cold.
In searching for alternatives to replace the diesel buses, the district looked at electric and compressed natural gas when the time came to replace the buses.
"Our school board concluded that propane was the best price and fit for our needs," said Columbia Falls Superintendent Steve Bradshaw. "We are a cost-conscious community, and saving taxpayer dollars while reducing emissions is a priority for our school district."
Rupp said he started looking into diesel alternatives when the district, in addition to Kalispell and Whitefish, were asked to participate in a study on school bus electrification as part of a master's student's dissertation.
In looking at electric buses, Rupp said the price was too expensive for the district. He also doesn't think the technology is there yet with battery life concerned how often a bus driver would have to charge up on along his or her route, or if the weather was cold.
Rupp found out that Browning School District has been using propane buses for several years and contacted their transportation department to learn more. He said also test drove propane buses owned by a local busing contractor.
"We're pretty excited about it," Rupp said. "I know it's going to save the district in just the maintenance alone."
The goal is to replace the fleet with propane buses as the vehicles are scheduled for replacement.
Reporter Hilary Matheson may be reached at 758-4431 or hmatheson@dailyinterlake.com.
Recent Headlines
---