Glacier High student uses 3D printers to make masks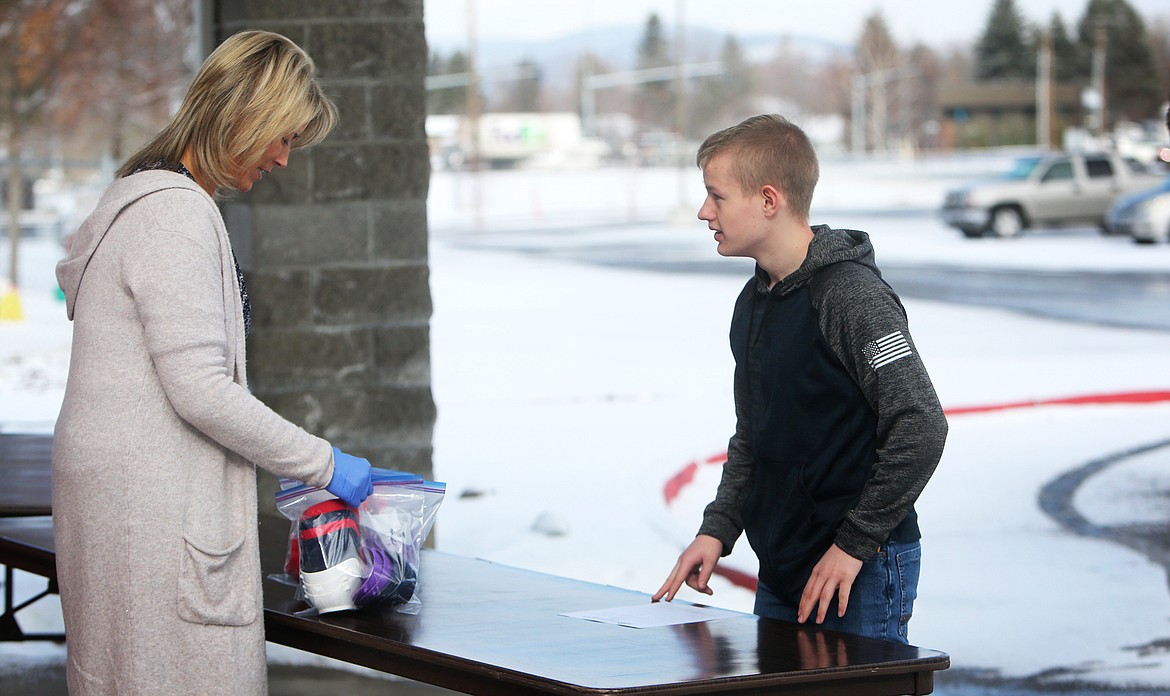 Glacier High School sophomore Trevor Seals, 16, drops off two bags full of 3D-printed N95 masks at the Summit Medical Fitness Center on Friday. (Mackenzie Reiss/Daily Inter Lake)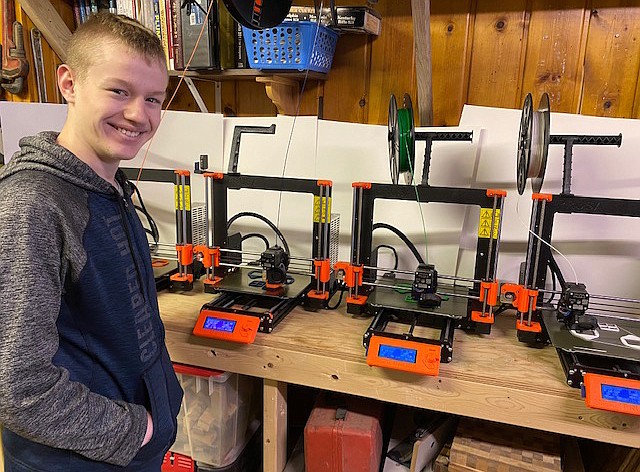 Trevor Seals, a sophomore at Glacier High School, is using four of the school's 3D printers to make N95 masks for Kalispell Regional Medical Center. (Courtesy Lincoln Seals)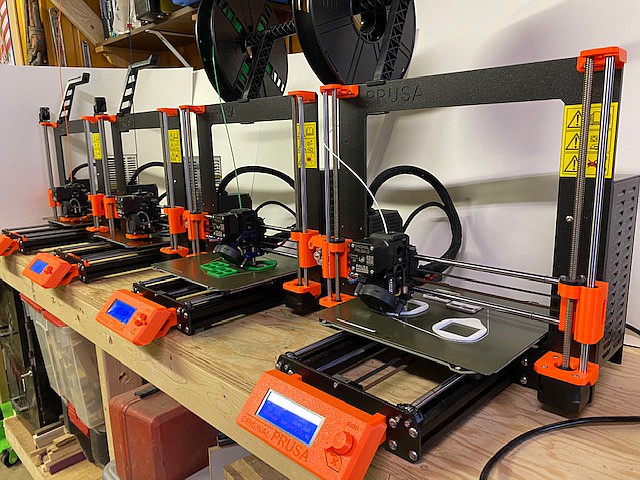 Trevor Seals, a sophomore at Glacier High School, is using four of the school's 3D printers to make N95 masks for Kalispell Regional Medical Center. (Courtesy Lincoln Seals)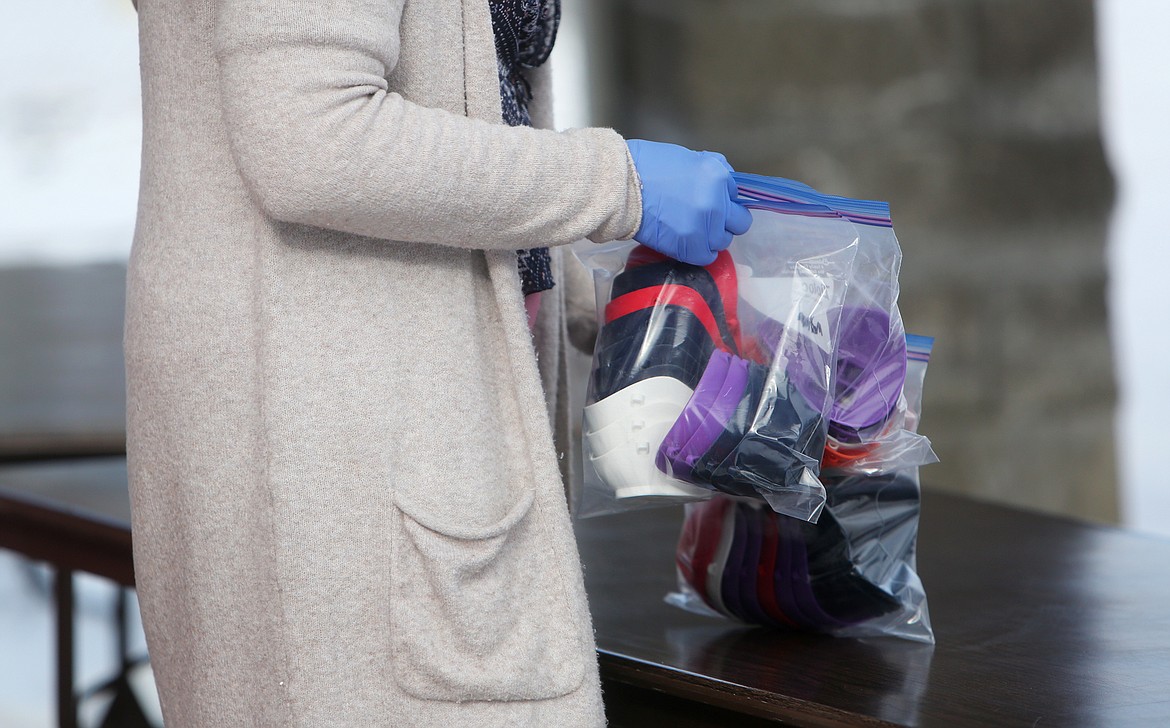 An employee picks up a bag of N95 masks donated by Trevor Seals on Friday morning at the Summit Medical Fitness Center. (Mackenzie Reiss/Daily Inter Lake)
Previous
Next
by
MACKENZIE REISS
Daily Inter Lake
|
April 7, 2020 1:00 AM
Glacier High School sophomore Trevor Seals has been fascinated with 3D printers ever since he began working with them in Troy Smith's engineering class.
Seals started out printing puzzles to donate to Toys for Tots.
That soon evolved into rockets, which he launched from his grandparents' pasture.
And then key rings for Straight Blast Gym.
But his latest venture is a little bit different — he's not printing for fun, but to fill a need.
He's among a handful of people in the Flathead Valley using 3D printers to produce N95 masks. Ever since the coronavirus pandemic hit, the need for these protective masks has ballooned — especially within the health-care industry. In many hospitals around the country, providers are forced to reuse their N95 masks, which should be shed between patient interactions, according to the Centers for Disease Control, while others in more dire straits are getting through their shifts with only bandannas and cloth masks to protect them.
Schools were being approached about using their 3D printers to make masks, however, Seal's engineering teacher had just returned from New Zealand and was self-quarantined. But Seals knew he had the skills to run the printer. He and his father, Lincoln, asked the high school if they might operate the printers instead. The school sent four printers, worth thousands of dollars, home with the 16-year-old , and he's been printing around the clock ever since.
"I like being part of a group that's trying to do something good," Trevor said. "I'd rather be part of the solution than part of the problem."
Lincoln was impressed with Glacier High's willingness to give his son a chance with the printers.
"To trust a student to bring home a couple thousand dollars' worth of printers and provide all the material and be as supportive as they have is just amazing," he said. "It just speaks volumes for the school."
So far, Trevor has donated 85 masks to Kalispell Regional Medical Center and dropped off another couple of dozen on Friday. Not every 3D printed mask is perfect, but he said 87% of what they produce is good enough to be donated.
Some of the printers can produce two masks at a time, which takes about nine hours. And to make sure things run smoothly, he sets alarms throughout the night to check on his operation every two hours.
"If you don't check on them they can make quite a mess," he noted. "They're really good printers, but they have their flaws."
Lincoln is proud of his son for undertaking such a project — along with Trevor's twin brother, who has been helping with the endeavor as well.
"We have several good friends that are employed at the hospital," Lincoln noted. "To see my boys choose not to sit and be part of the problem, but to try to help has just been amazing. To see the skill and the talent that he has with these things that he learned from Mr. Smith is phenomenal."
Trevor is planning to keep printing masks for the foreseeable future, to ensure the local hospital is well-stocked, should their own supplies run dry.
"We're just trying to help the hospital out as much as we can," Trevor added.
Reporter Mackenzie Reiss may be reached at 758-4433 or mreiss@dailyinterlake.com.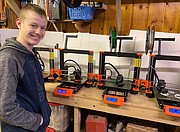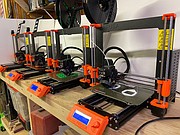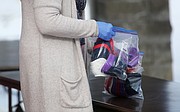 ---