Local company steps up to produce masks for first responders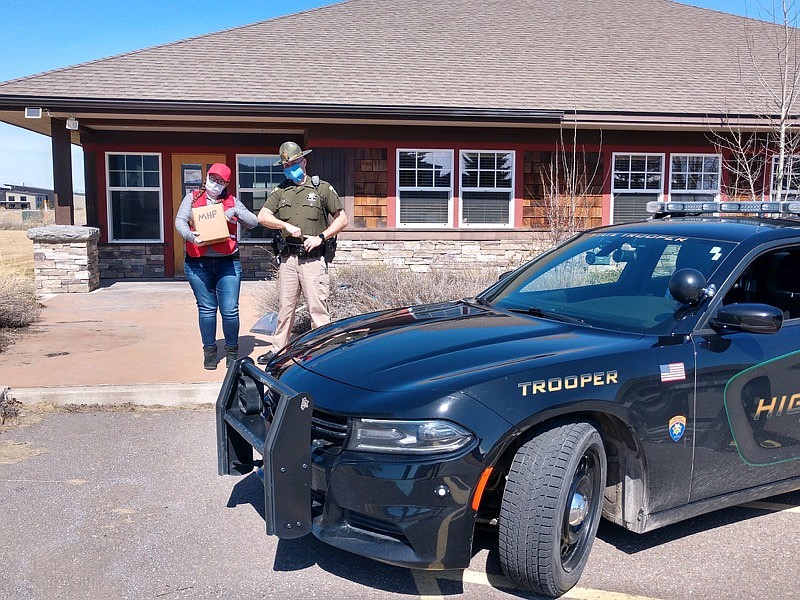 Amanda Hart, co-owner of Hartstone Designs, gives Montana Highway Patrol trooper Laramie Stefani 60 masks that are being donated to the department through an individual funding donation on Wednesday, April 8. (Photo courtesy of Amanda Hart)
by
WHITNEY ENGLAND
Daily Inter Lake
|
April 9, 2020 1:00 AM
The need for cloth masks increases daily, especially following the recent update to the Centers for Disease Control's coronavirus guidelines that states everyone should be wearing protection on their face outside of the home.
Hartstone Designs, a Kalispell manufacturing company that most recently was producing furniture, has altered its business model and is stepping up to assist in mask production. After discussing with police departments across the valley, Hartstone Designs owners Amanda and Colton Hart discovered many first responders do not have any face protection.
"Right now there are a lot of people donating to the hospital, and we definitely still plan on donating to the hospital," Amanda said. "But just a lot of first responders are also struggling to find masks. Kalispell Police Department, the chief said that he has 41 officers out at any time who don't have proper protection at all and they just can't get it."
She added that after talking to Montana Highway Patrol, Whitefish Police and Kalispell Police, those three agencies alone need nearly 300 masks to protect their officers. Hartstone also wants to produce masks for firefighters, EMTs, hospitals and any other workers who are risking their own health in order to serve the community.
The company aims to help the Flathead Valley's front lines by using donations from community members and local businesses to create masks. An individual donor already funded the production of 60 masks for the Montana Highway Patrol, which Hartstone Designs donated to the agency on Wednesday.
People may donate to fund masks for first responders at any time on the website hartstonedesigns.com, but Friday the company is hosting a special donate-a-thon event.
Hartstone Designs has a circle driveway and Amanda said they plan to use it as a drive-thru for donations. People who wish to donate will not have to leave their car and an employee will come out to collect the money.
The masks will also be available for any front-line workers to purchase for $5 at the event. Amanda said although they hope to be able to donate masks to officers, firefighters and hospital workers for free in the future, many of them need the masks immediately.
"We don't want to have to charge the hospital or the first responders; we're hoping we can get businesses and community members to support," Amanda said. "So that is just an option that they can come if they need it that day; that's just [serving] more of an instant need."
A $5 donation supports the production of one mask, but people are welcome to give as much or as little money as they can afford.
"Every bit helps," Amanda said. "It helps keep our employees employed so that we can go a little bit longer. Currently we have enough funding to go about a week and then we'll need more funding at that point."
As another aspect of helping the local community, the Harts are looking to provide temporary employment for people who recently lost their jobs when this disaster struck. They already hired three people and are looking for two more to start right away. With the community's support through donations, Amanda said they could make numerous masks for essential workers as well as provide up to 50 people with employment opportunities depending on funding received.
Since sewing machines are in high demand currently, the Harts are paying their employees extra for bringing their own sewing machine. The company has a 5,000-square-foot warehouse and has mapped out work areas 6 feet apart to continue social distancing while producing the masks.
The mask design came from a nurse in New York and has many essential features such as tie-behind straps and a metal, adjustable nose wire. It is produced from two layers of 100% cotton fabric and has an optional filter pocket.
The Harts are hoping the donate-a-thon will kick-start mass production for these protective coverings and help the many workers who are trying to flatten the curve.
"We can overcome this if we come together, is really the biggest message that we're trying to get out there," Amanda said.
Event Details: Donate-a-thon is Friday, April 10, from 10 a.m. to 6 p.m. at 150 Industrial Court, Kalispell, MT 59901. Inquiries on ways to help can be addressed to info@hartstonedesigns.com.
For donors: You may donate online at hartstonedesigns.com or mail a check addressed to Hartstone Designs sent to: 150 Industrial Ct. in Kalispell, MT 59901
Whitney England may be reached at 758-4419 or wengland@dailyinterlake.com
---