Outdoor apparel firm makes masks and gowns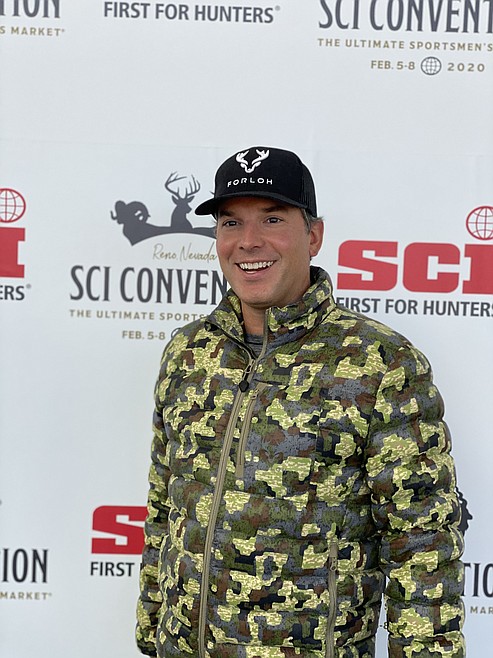 FORLOH CEO Andy Techmanski of Whitefish appears in FORLOH gear at the Safari Club International Convention in Reno, Nevada, in February 2020. (Courtesy photos)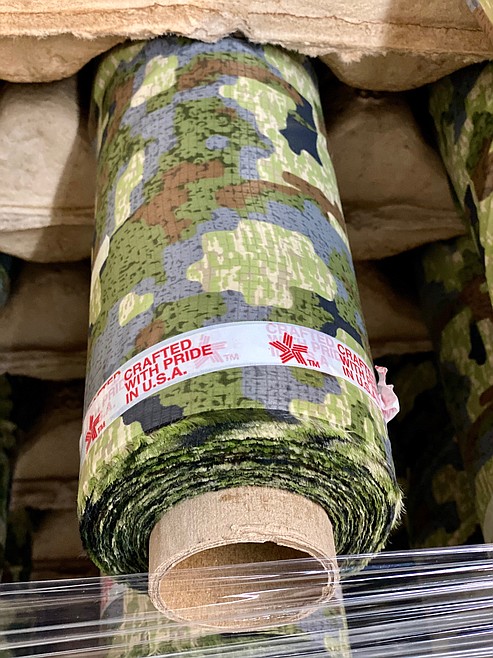 FORLOH camouflage fabric sports a "Crafted with pride in U.S.A." sticker.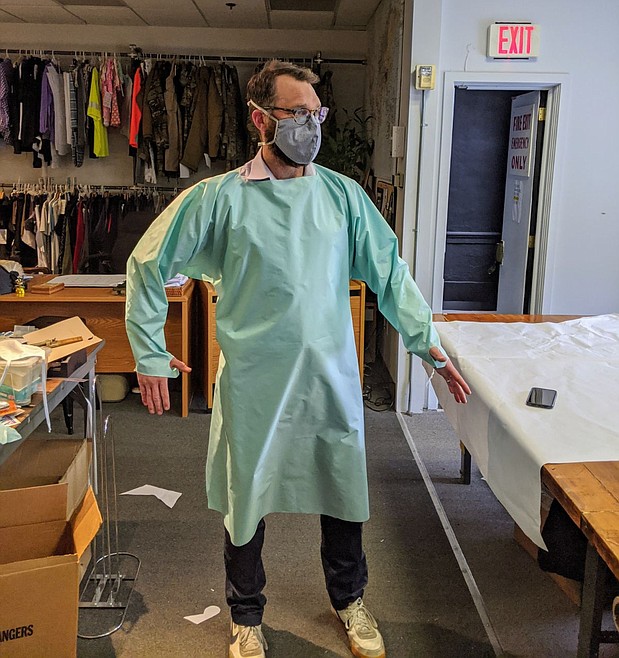 An employee at a FORLOH facility tries on a medical mask and gown made by the outdoor apparel company.
Previous
Next
by
BRET ANNE SERBIN
Daily Inter Lake
|
April 12, 2020 1:00 AM
Andy Techmanski is always on the hunt for new ways to use business to help others. That's why the Whitefish businessman recently transformed his new outdoor apparel company FORLOH (For the Love of Hunting) into production facilities for personal protective equipment (PPE) to support health-care workers battling COVID-19 in the Flathead Valley and beyond.
"A good entrepreneur can switch gears and be able to add value," Techmanski said, two weeks after pivoting from producing rain gear and base layers to creating hospital masks and gowns. "There was no better place for my resources and my people to be focusing on."
Techmanski started bringing FORLOH to life in May 2019. The original idea was to "focus on becoming the new premier hunting/fishing/outdoor apparel brand" with 100% of production taking place in the United States. He partnered with Merrow Manufacturing, LLC, in Massachusetts and started up production facilities on the East Coast, with plans to bring the products to market this spring.
But as news of the novel coronavirus spread, Techmanski said he realized the company had the manufacturing capability and textile expertise to switch into making PPE for health-care workers.
"As the coronavirus started kicking up…we started to come together and say, we have fabric, design teams and manufacturing," Techmanski said. "The know-how was there, so we switched gears."
REALIGNING A a fledgling business isn't an easy transition, but Techmanski is no stranger to challenges. His previous experience includes operating Whitefish Energy, the small Whitefish-based company that in 2017 drew scrutiny over its contract with Puerto Rico's public utility company to fix the island's electrical grid following Hurricane Maria.
Concerns were raised about Whitefish Energy's $300 million contract to restore the island's electricity and Techmanski's possible connections to then-Secretary of the Interior Ryan Zinke, of Whitefish, to secure the contract.
The contract was canceled just weeks after it was put in place, but Whitefish Energy is still reportedly owed millions of dollars for its work there.
Techmanski has denied working with Zinke on the contract and insists the dealings were above-board and Whitefish Energy had a big impact in helping Puerto Rico recover from the hurricane.
Now, Techmanski has a new focus for his business experience and humanitarian interests.
AS A Montanan with a love for all things outdoors, Techmanski envisioned FORLOH as a "tech company" for outdoor apparel.
The priority, he said, is "to make outdoor apparel better" with "the best and most technical garments." FORLOH products, which are anticipated to be available this summer, include base layers, mid-layers and rain gear with exceptional innovations like NASA-certified space technology that reflects heat back to the body and a brand-new scent control mechanism that rapidly assimilates foreign odors.
"We took it a step further," Techmanski said of just about every aspect of his gear, from zippers to goose feathers. "It's just loaded with tech."
Techmanski said FORLOH is the only company in the world using many of these special technologies, but all of the production is being done on U.S. soil.
"We want to improve the industry as a whole and move manufacturing back here," he emphasized.
The Whitefish resident also wants his company to help out his hometown. He plans on opening FORLOH's flagship retail showroom on Central Avenue in Whitefish, next to Wild Coffee Company. He also expects to operate the company's customer service department from the same building, headquarter the business in Whitefish and open a shipping fulfillment and product development facility in Columbia Falls.
He anticipates hiring 25 to 50 local employees across these bases in the next year. "The greatest benefactors are the folks that live in the valley," he stated.
IN THE meantime, Techmanski's focus is on using his capabilities to help address the COVID-19 pandemic.
He approached the virus outbreak with the same attitude he has toward his hunting gear: "let's create a sustainable, domestic product that is superior to what's coming into the market."
Techmanski's wife has worked as a nurse practitioner at Kalispell Regional Medical Center, and FORLOH's business partner, Merrow Manufacturing, is based in Massachusetts with close connections to the COVID-19 Task Force in Boston. Using this expertise and the company's stockpiles of fabric, Techmanski transitioned into producing masks and gowns over the course of one week in March.
He said the adjustment is simply "what a responsible company would do."
In the first few weeks since launching the effort, FORLOH has already produced thousands of hospital gowns and established partnerships with Kalispell Regional, as well as New York City and others fighting the pandemic.
"If there's an opportunity to help, I tend to dive on that opportunity," he noted.
Techmanski still hopes FORLOH's outdoor apparel will be available to consumers this summer, and the opening date for its Whitefish showroom is scheduled for July 1. But he already feels the company is fulfilling its mission, "to give the consumer the best of the best," whether the consumer is a hunter, angler or nurse practitioner.
Reporter Bret Anne Serbin may be reached at (406)-758-4459 or bserbin@dailyinterlake.com.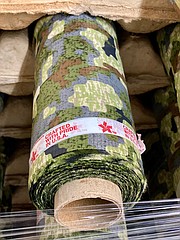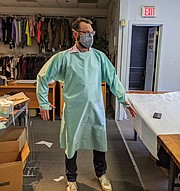 ---